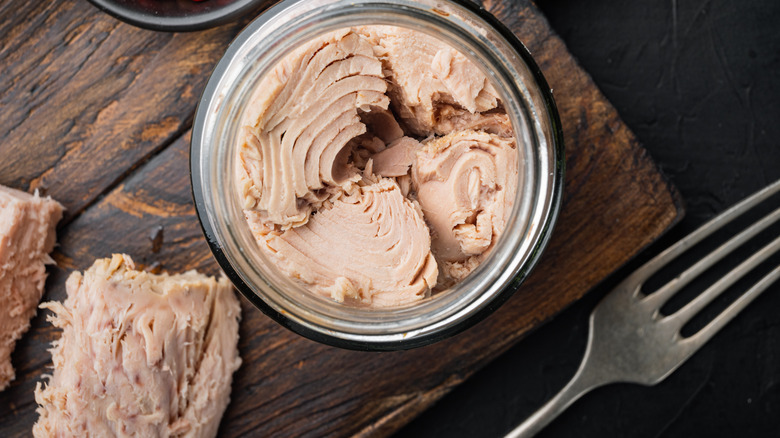 All canned tunas are created equal, right? Not exactly. In fact, it's amazing how much of a variety you can find on the market, even between tunas with comparable ingredients! Think about it, you know bad tuna when you taste it, smell it, or stick a fork in it. On the other hand, great tuna is light, fresh, meaty, and versatile. It can yield the perfect tuna casserole, a mouthwatering tuna melt, or a delectable, creamy topping for butter crackers.
Understandably, with so many brands on the market these days, it can feel overwhelming to choose the best one. If you've grown bored of your current tuna brand and need to part ways, fear not. We've done all the hard work in order to spare you from the misery of the dreaded soupy tunas, the oily tunas, tunas with scales, the bone-dry tunas, and the tunas that smell rotten. Here's our list of the best and worst tuna brands on the market today.
15. Century Tuna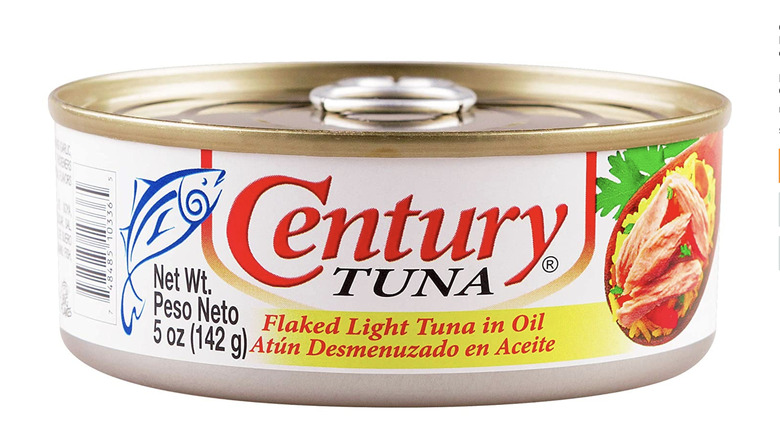 While moist tuna is a must, greasy tuna can be completely off-putting. Since many tunas are packed in oil, it can be hard to know if you're purchasing something appetizing or cringe-worthy. We found this version of Century Tuna to fall into the cringe-worthy category because the can is filled to the brim with oil and pre-flaked, saturating each flake in excess oil.
Sadly, it ranked low on our list for more reasons than just that. The fish is packed in vegetable oil, specifically soya oil (soybean oil) which is highly refined. Also included in their very long list of ingredients are tuna flakes, water, brown sugar, natural ground spices (garlic, ginger, onion, cinnamon, chili), iodized salt, thickeners (guar gum, cornstarch), whey powder, and artificial flavors (tuna, chicken). Because they include whey in their canned tuna (for some strange reason), milk is an allergen in addition to soy from the use of soybean oil. Offered at $0.50 per ounce, it doesn't even compete on price (via Amazon).
14. Bumble Bee Lemon Sesame & Ginger
Flavored tunas certainly sound great in theory. Rather than mixing your own flavors ahead of time, you can just pop a travel-friendly to-go container of deliciously seasoned tuna into your bag and peel back the lid when you're ready to eat it. If you love the idea of this, beware, not all flavored tunas are a win.
While the flavor combination of sesame and ginger sounds fancy, it may not be the best combination for packaged tuna. This combination of citrus and ginger makes for a somewhat chemical, cleaning detergent type of smell and taste. Perhaps even more disheartening is the price point. At $2.50 per ounce, this tuna is the most expensive tuna on our list (via Amazon). While it does come in travel-friendly packaging (with a spoon included), other comparable flavored tunas are four times less expensive, more highly rated on flavor, and also offer the same convenient packaging. Unfortunately for Bumble Bee, there's no way we can justify the cost of this particular product, especially with its disappointing flavor profile.
13. Great Value Chunk Light Tuna in Vegetable Oil
While we love that the Walmart brand Great Value is easily accessible, and in fact a really great value most of the time, you may want to leave this can of tuna on the shelf. This tuna takes on a bit of a mushy quality and is hard to drain all the oil from. If you're looking to make tuna salad, the addition of more fat from mayo can be overwhelmingly greasy.
While the label states that the tuna is packed, it looks more like tuna bits floating in oil. Quality is a concern as one might find bone and skin mixed into their tuna, as other online reviewers had. Additionally, the ingredient list states that the tuna's packed in soybean oil making the product inedible for those with soy allergies. However, the price literally can't be matched. At $0.14 per ounce, this can of tuna is the cheapest on our list and likely the cheapest you'll find anywhere (via Walmart).
12. Chicken of the Sea Infusions, Lemon & Thyme
Although Bumble Bee couldn't create a winning flavored tuna offering, Chicken of the Sea seemed to win this category on flavor. As an Amazon Choice and bestseller, it's clear that skipjack tuna, extra virgin olive oil, water, thyme, lemon, salt, and lemon oil flavor are a winning combination. The fact that they sell this fish in a convenient cup with a lid (spork included) makes it easy to take on the go. However, this product scored low on our list for the fact that their flavored tuna packs range from $0.69 – $1.07 per ounce, and each cup contains a little less than 3 ounces of meat, which is about 2 – 4.5 times more expensive than a standard can of good-quality tuna (via Amazon).
Considering each serving is only 140 calories, it's likely you'll only eat this as a snack or need to purchase other food items to round out a complete meal (via Amazon). The question is, would you prefer your tuna to already be seasoned and sold in a fancy cup, or could you mix your own seasonings and store in a Tupperware instead?
11. Safe Catch White Albacore Tuna
If you're a tuna purist and sustainable tuna is important to you, take a look at the Safe Catch, a brand claiming to test each tuna they catch for mercury content. There's no added water, oil, or fillers, making tuna the only ingredient in each can. As a result, the fish does taste fresher and has a meatier quality to it.
The company states that they slow cook their fish to retain the inherent moisture of the tuna and to boost the natural flavor of the fish without relying on additives. They suggest mixing the juices from the can along with your tuna for the best taste and texture. When mixed, it's subtle in flavor, not overly fishy, and the texture is meaty. Due to its lightness and versatility, we've ranked it as one of the higher-rated canned tunas on our list. It also hit higher marks due to the pop-top lid feature that allows you to take it anywhere. However, the lack of seasoning and flavoring would likely require additional prepping and ingredients. The biggest detractor was the price. At $0.72 – $0.90 per ounce, it's one of the pricier tunas on the market (via Amazon).
10. Trader Joe's Albacore Tuna in olive oil
Trader Joe's is typically known for its competitive pricing, but we had to wonder why this can of tuna was so expensive. While it is packed in olive oil and has salt added, it's still priced at $0.62 – $0.90 per ounce making it one of the more expensive brands on our list (via Amazon). Was it the taste or texture that justified the price? Not for us.
In fact, the taste was very lackluster and the texture was broken and mushy. Unless you use a large amount of mayonnaise, it's very hard to make the tuna stick together. Additionally, because the pieces were so small, many tuna bits drained out along with the oil. Despite the subpar taste and texture, one thing we appreciated was the simple ingredients they use. Although their olive oil wasn't "extra," it still had a pleasant taste, and the slight hint of salt enhanced the overall flavor.
9. Kirkland Albacore Solid White Tuna
Kirkland is the Costco store brand name which typically boasts a higher value than their competitors. However, online pricing can go as high as $0.48 per ounce, making their water-packed tuna pricier than comparable tuna brands (via Amazon). Some consumers have warned that prices can be much higher online than in-store for this particular product, so if you're looking for the best deal, in-store shopping may be the way to go. Despite the above-average pricing, the taste and texture were very good. They keep their ingredients simple using just tuna, water, and salt. An additional plus was the chunkiness of the tuna, which made it seem more meaty and robust.
For things like tuna salad or tuna casserole, this is a good option where the meatiness and texture of the tuna enhance the dish. And you won't get an overly fishy smell or taste with this brand either, which is another reason we love it so much.
8. Freshé
If you're tired of plain old tuna packed in water, you be may on the market for the jazzier version Freshé is serving up. With so many exotic flavor profiles like Provence Nicoise, Sicilian Caponata, Aztec Ensalada, and Thai Sriracha, you won't have to worry about creating your own tuna salad recipes. The portable-friendly packaging adds an additional layer of delicious convenience, allowing consumers to toss the can into their bag, pop the top, and eat right away without the need for additional seasonings or oils.
While this brand is revolutionizing canned tuna to make it anything but bland or boring, they charge a premium price for their innovation. Averaging around $1 per ounce, this is one of the more expensive brands on the market emphasizing the fact that this is a gourmet version of canned fish (via Amazon). It ranks higher on our list despite the steep price because they're delicious, convenient, and culturally inclusive, combining some of the best flavor combinations from around the globe.
7. Chicken of the Sea Chunk Light
Chicken of the Sea Chunk Light tuna boasts exceptional reviews and we agree that there's much to love about this product. Priced at $0.28 per ounce, it's highly affordable while still maintaining great overall quality (via Amazon). We also appreciate that this iconic brand can be found in almost any grocery store across the country. While the availability factor and pricing are definite positives, we found that their addition of soy-containing vegetable broth in the ingredients could be problematic for those who can't tolerate soy. Despite the minor negative, the flavor of the tuna is very mild and doesn't smell or taste overly fishy like other tuna products. Additionally, we love that it's moist and meaty making it a great option for cooking recipes like casseroles. For those who don't like smaller chunks and prefer more thick, meaty chunks, you may want to choose solid tuna instead.
6. Whole Foods 365 Albacore Wild Tuna
The Whole Foods 365 store brand is known for offering quality products at a competitive price (though that's not always the case). At $0.50 per ounce, we found this tuna product to be a little more expensive than other comparable products in this category, but we thought that the quality made up for it (via Amazon).
One of the best positives about this product was the minimal and recognizable ingredient list including just tuna and water. The quality and mild taste make it highly versatile for any tuna recipe you're looking to create. Once drained, it appears to be slightly dryer in texture than other brands, so additional oil or moisture will likely be needed in order to yield a moist, tender-tasting tuna. However, the inherent texture is more firm and can hold up under the weight of heavier added ingredients like cheese and mayonnaise. One thing we didn't love was the fact that it was difficult to open and required a can opener, making this product less portable and convenient than others.
5. StarKist Tuna Creations Honey BBQ
StarKist is one of the leading tuna brands across the nation and it's easy to see why. They have evolved their brand to include a wide variety of offerings at affordable prices. One of the tastiest products you can find under this brand name is the Honey BBQ tuna creation, one of the many flavored tuna products of the creation line.
This particular flavor is one of their most popular and an Amazon bestseller. We love that this product expands how we think about eating tuna beyond the standard mayo and chives version. Their BBQ tuna is meaty and flavorful enough that it can be piled onto a bun the way one might pile pulled pork barbecue. Although it has a longer list of ingredients and goes well beyond the standard addition of olive oil and salt than standard tuna, we love that there's nothing boring about this product. Additionally, it's conveniently packaged in a tearable pouch so you can easily take it to work or camping. Although many flavored versions of tuna are steeper in price, StarKist has kept their prices very reasonable at just $0.38 per ounce (per this writing), which is on average about a third of the price of comparable, competitive products (via Amazon).
4. Genova Premium Yellowfin Tuna
With the simplest, high-quality ingredients of just tuna, extra virgin olive oil, and sea salt, it's easy to love this tuna brand. Some of the other things we really love are the texture, taste, and value. While some tuna brands take on more of a grated texture, Genova has thicker chunks yielding a more meaty texture. The taste was another high point for this brand, likely because they pack their fish in extra-virgin olive oil instead of soybean oil, yielding a more complex flavor profile. In addition to the sea salt, we found it flavorful and moist enough to eat on its own without the addition of mayo or other spices and seasonings, unless of course, you wanted to add them. At the time of this writing, this brand at $0.42 per ounce is a good value for those wanting higher quality ingredients (via Amazon). While it doesn't have the most spectacular packaging, they design the cans as flip-tops allowing them to be portable and easy to open.
3. Great Value Chunk Light Tuna in Water
Great Value's tuna packed in vegetable oil wasn't a winner in our book, but Great Value tuna packed in water is a much better choice. Not so surprisingly, this canned tuna ranks highest in overall value pricing out at just $0.14 per ounce, one of the lowest-priced fishes on our list (via Walmart). Because it's packed in water, it has a light and fresh mouthfeel. The delicate texture makes it easy to flake and scoop onto crackers. Those with soy allergies should be aware this can of tuna contains soy though and there seems to be an overall inconsistent quality where some cans had bits of bone and skin in them. While bone and skin are edible, it may be off-putting for some, especially with regards to canned tuna. The lack of flip-top convenience may also be a negative factor for those who want to take it on the run.
2. Raincoast Trading Wild Albacore Tuna
Consider this tuna brand the fancier of the bunch. While it's an Amazon bestseller with phenomenal reviews, you have to get past the price tag of around $1 an ounce in order to try it (via Amazon). We found that the quality matched the pricing for the most part. First, there's no oil or water added and the fish is cooked only once during the canning process, while most others cook the fish twice and need to add oil or water to the can to prevent drying. Raincoast uses small, young albacore making it one of the purest choices, low in mercury and other pollutants that may affect taste and quality. It's hand-packed and has one of the meatiest textures of all the brands. While it may not be the best value for your money, it certainly ranks as one of our best-tasting, plain tunas. If sustainable sourcing is important to you, this company claims full transparency in sourcing and a commitment to preserving the marine habitat.
1. Wild Planet Skipjack Wild Tuna
Wild Planet Skipjack Wild Tuna ranks as our all-around best can of tuna. Without added water or oil, you'll only be tasting pure ingredients, which smell more like fresh seawater than pungent fish. We consider this product the freshest, most mild-tasting, and moist of all the canned tuna brands. Due to its meaty, rich texture, it makes for the best tuna casseroles and salads and because it's not packed in oil, it doesn't have a greasy mouthfeel or quality. One-hundred percent pure tuna and sea salt are the only ingredients that make it into each can, making it a versatile choice for various cooking methods and preparations.
Not planning to cook a casserole or mix with mayo? No problem! The pull-top function of the can also makes it a great choice for a quick and easy way to pop the top and eat it on the go. Sustainable sourcing practices make this brand a little extra delicious. At $0.57 per ounce, it's moderately priced for the value it provides including transparency of ingredients, quality ingredients, portability, taste, and texture (via Walmart).