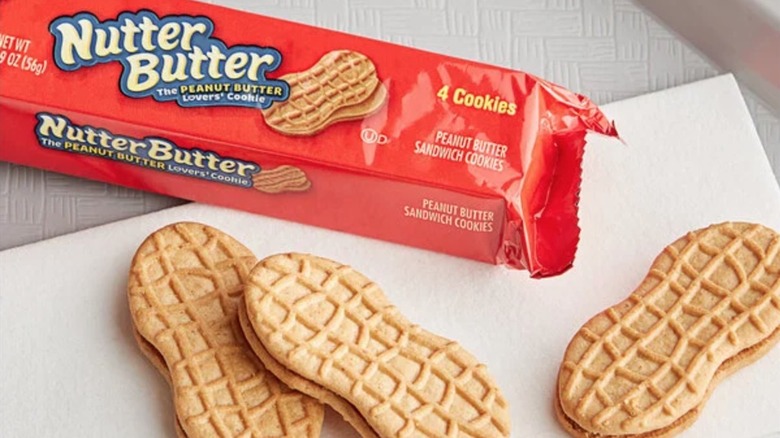 "Would you like another Nutter Butter peanut butter sandwich cookie?" is a question that's fun to ask but even more fun to answer. Because if you're lucky enough, responding with "yes" will result in you getting to devour one of the tastiest snacks ever invented on U.S. soil. First introduced in 1969, per a Mondelez International press release, Nutter Butter has spent the past five decades as one of the world's most prominent grocery store cookies. With its one-of-a-kind peanut-shape, peanut butter biscuit base, creamy and real peanut butter filling, and dual-sided waffle pattern, it's an iconic piece of design and cookie history. Unless you have a peanut allergy, there's a good chance you agree it's the pinnacle of all PB treats.
Today, Nutter Butter is the top-selling peanut butter sandwich cookie in the country, and it seems that the brand doesn't plan on slowing down any time soon. In addition to the original sandwich cookies, the company currently produces a variety of Nutter Butter products, including Double Nutty cookies, Nutter Butter bites, and Nutter Butter wafers (via Snackworks). However, despite its near omnipresence, surprisingly little information about Nutter Butter is out there in the open.
No one knows who actually invented the Nutter Butter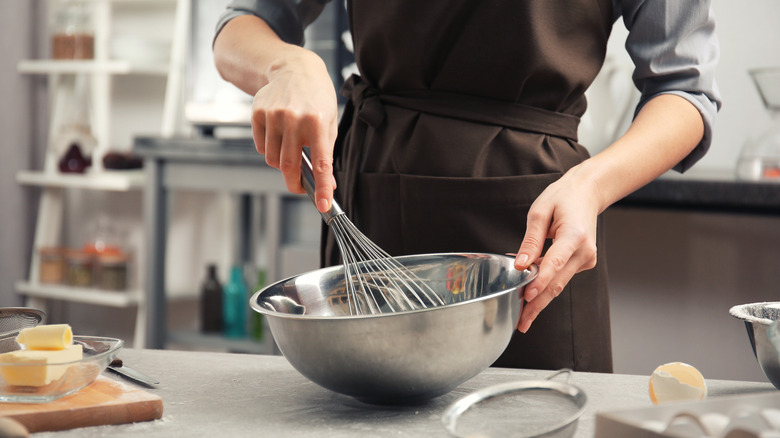 According to ABC News, Americans have been enjoying peanut butter cookies since at least the 1910s. Nutter Butter, however, didn't come around until half a century later in 1969, thanks to the likes of cookie giant Nabisco. The details of the story, however, remain a bit muddled to this day. In fact, according to AdWeek, not even Nabisco is clear on who actually came up with the famous peanut-shaped design, let alone the recipe for it. Former Nabisco design engineer William Turnier is in part responsible for creating the cookies, since he is widely credited with developing the unforgettable waffle pattern that gives Nutter Butters their signature look (via USA Today).
However, Nabisco says the design was more of a team effort, telling Indy Week in 2011 that the idea that any one individual is solely responsible for its cookie designs is purely fictitious. "We have no way of knowing who came up with the actual visual concept of what each new cookie would look like," an anonymous staffer said. The lack of information about Nutter Butters' origin doesn't seem to bother the company, though. "Even those of us working on the brand don't have all the answers," Tracey Benitz, Nutter Butter's associate director, told AdWeek. As for who developed the actual recipe, it looks like that's going to remain an utter Nutter Butter mystery.
Some people thought the Nutter Butter mascot was creepy
Those who are old enough to remember Nutter Butter ads on television might recall Nabisco's infamous Nutter Butter cartoon commercials from the 1970s, which featured an appearance by the brand's mascot, the Nutter Butter Man, who offered the cookies to kids on the playground (via YouTube). Though Nabisco never released an official statement on the matter, it may be clear to many people from his image that The Nutter Butter Man was inspired by Willy Wonka, a character played by actor Gene Wilder in a film released in 1971 (via IMDB). With his fiery red hair, oversized top hat, and bowtie, he looks like a dead ringer for the famous candy factory leader.
However, while many folks think fondly of Wilder's Wonka, the same can't be said for the Nutter Butter Man. Some commenters on the video of the old ad pointed out how bizarre it was that it freely depicted an unsupervised child taking treats from a total stranger, calling it "creepy." Eventually, Nabisco abandoned the mascot, as well as cartoon ads entirely. This may have been because the cookie sold so well that it didn't actually need additional advertising, at least in Serious Eats' opinion. In any case, it was probably for the best. As blogger Michael's TV Tray bluntly put it, the Nutter Butter Man was a representation of "why today's parents don't allow their children to go to the park unaccompanied."