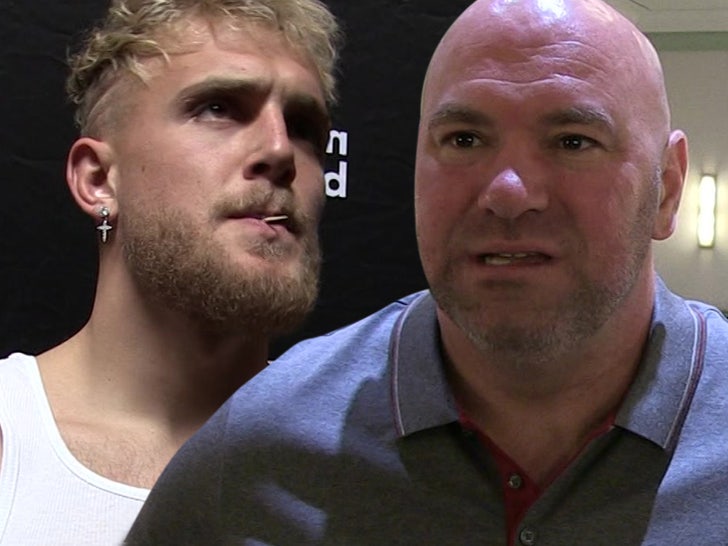 5:48 PM PT — Dana White didn't waste any time … firing back at Jake Paul after the Problem Child issued a list of demands he said the UFC prez must meet if he wished to set up a Paul vs. Jorge Masvidal fight in the UFC.
Jake Paul says he's willing to get inside the Octagon against Jorge Masvidal for a UFC fight — but first, he wants Dana White to do a few things.
The YouTuber just laid out his terms and conditions for a potential bout against Gamebred … saying he wants UFC fighters to get what he feels they deserve.
In a public post to the UFC boss, Jake wrote … "Happy new year @danawhite. Here is a real challenge for you… I will immediately retire from boxing and fight Jorge Masvidal in the UFC if you agree to (the following)."
You can read JP's letter for yourself, but to summarize — he's asking fighters get a $50k minimum payout fight … as well as more of the MMA giant's yearly earnings.
Jake claims UFC generated about a billion dollars in 2021 alone — so essentially, he's saying $500 mil should be earmarked and divvied up among the talent themselves.
There's more … Jake wants Dana to put a focus on healthcare for fighters.
If Dana implements these asks by March 31, JP says he'll retire from boxing and come on over for a 1-fight deal with JM.
As you may know, there's been a lot of talk about a would-be fight between these two — with Masvidal himself stoking the flames and issuing a challenge, with certain caveats.
Ball's in Dana's court now!
Originally Published — 1 PM PT