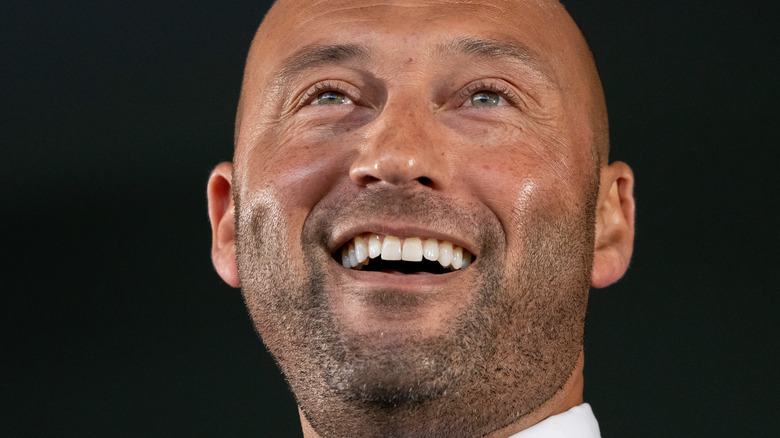 When it comes to Derek Jeter's dating history, he consistently batted way over .300. The former NY Yankees shortstop-turned-business mogul-turned-Miami Marlins co-owner wined and dined some of Hollywood's hottest — or was alleged to, anyway.
Unlike his fellow former Yankee, Alex Rodriguez, Jeter was conscious of always being the star of the baseball field, not the tabloids. He kept his private life strictly private. As per Bleacher Report, he was all about the game, not seeking publicity outside of that.
Baseball is a sport packed full of scandals and controversies. Still, somehow, over the years, Jeter managed to escape all and any — earning himself the nickname of "Mr. Clean" (via NJ.com). "You have to assume that everything you do is public knowledge," Jeter told Sports Illustrated shortly after announcing his retirement. "Everything. Because now everyone is a reporter. Everyone is a photographer. Someone can take a picture and make a story, which has happened plenty of times, and twist it and turn it any way they want to. You used to be able to go out … it's all I've known. I've been here since I was 20."
So exactly how "clean" was "Mr. Clean" when it came to his bachelor days' scoring position? Tie up your cleats, folks — we're going to hit for the cycle with the truth about Derek Jeter's dating history.
Mariah Carey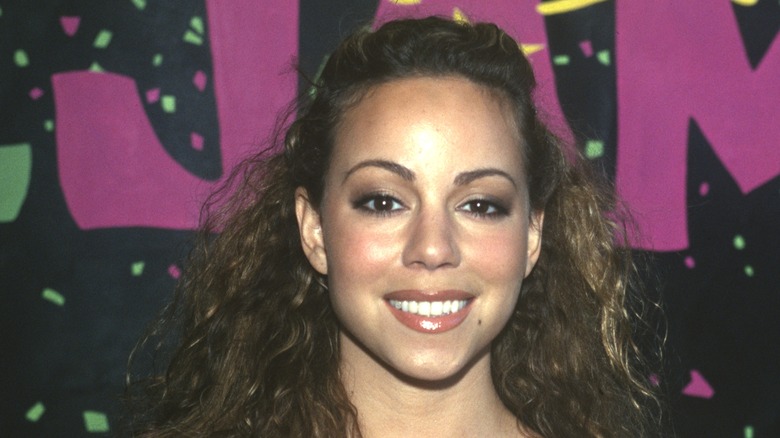 When Mariah Carey first met Derek Jeter, she was still in a relationship with her first husband, Tommy Mottola. According to Carey, their marriage was far from a happy one. "Many reasonable people have questioned why I married Tommy. But none of them questioned the decision more than I did," she wrote in her memoir, "The Meaning of Mariah Carey." The singer claims that Mottola was emotionally abusive and controlling — allegations that the music world head honcho has vehemently denied (via Billboard).
Either way, Carey says she had an escape bag packed and ready just in case she found the opportunity to flee. And that opportunity came in 1998, in the form of a 6′ 3" New York Yankees baseball star. Despite only dating for a short time, Derek Jeter swept Carey off of her feet. She told Oprah Winfrey that he proved to be the "catalyst" for her eventually leaving Mottola.
"It was so sensual," Carey wrote about their brief affair (via Page Six). "Everything was so new and sweet, down to the smooth texture of his honey-dropped skin. It was so heady, so intoxicating, and I was so vulnerable. I was in touch with a fire I didn't know I had inside." After telling Vulture that she and Jeter started flirting via text after meeting at a dinner party, Carey admitted that he was the inspiration for two of her songs, "The Roof" and "My All."
Bridget Hall and Lara Dutta
When you're a multi-millionaire baseball ace, it's not too much of a seventh-inning stretch to catch yourself a smoking hot hookup. However, Derek Jeter hit it out of the park by allegedly dating not one but two top models during the early aughts.
Jeter purportedly launched his model girlfriend run by hooking up with Sports Illustrated cover girl Bridget Hall. As per Your Tango, the couple got together for a hot minute, or two, in early 2000. Neither spoke publicly about their rumored romance and were never photographed together — so, as is the case with much of the notoriously private Jeter's private life, it's speculative. One thing's for sure, though — they definitely would have made a priddy pair.
According to Fox Sports, Jeter also saw Lara Dutta in 2000 — although they apparently went on to date for a year. The Indian-born model had recently won the coveted title of Miss Universe when she reportedly started seeing the star athlete. The couple kept their alleged romance on the down low, never publicly confirming they were dating and not being spotted out and about on the town together. However, they were caught on camera cozying up courtside at a New York Knicks and Vancouver Grizzlies game at Madison Square Garden in November 2000. As a New Yorker, it's pretty much a given that Jeter would have been thrilled at the result: The Knicks won 97-72 (as per ESPN).