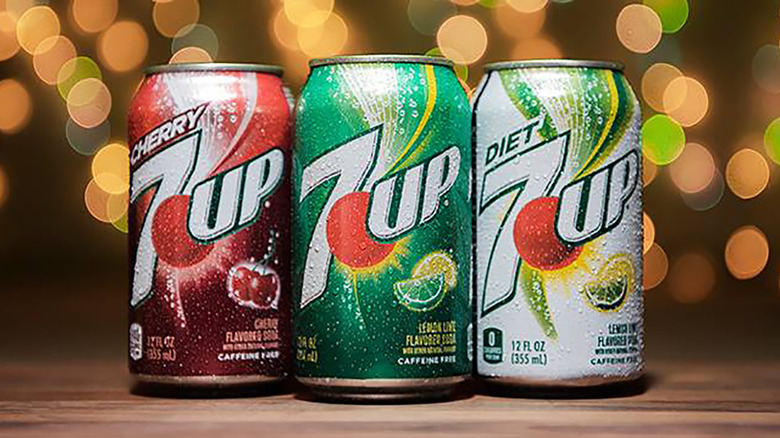 It can be difficult to stand out when you're part of a large family. Even having a couple of siblings can be enough to take the attention off of you, and that's not taking into consideration nieces, nephews, and cousins. But now imagine if you had to compete with more than 100 family members, and despite ups and downs still held an impressive piece of the spotlight for decades. This in a nutshell is 7UP's story.
Known for its lemon-lime flavor, 7UP is one of more than 125 different beverages manufactured by Keurig Dr Pepper, the eighth-largest food and beverage company in the United States (via Keurig Dr Pepper). However, this wasn't always the case. Prior to 2008, another well-known name in the food industry, Cadbury, owned the Dr Pepper Snapple Group, which manufactured 7UP (via Dr Pepper Snapple Group). With so many coffees, teas, waters, soft drinks, and juices being produced by the same company (not to mention outside competitors like Pepsi and Coca-Cola), it wouldn't be surprising if 7UP got lost in the shuffle. Surprisingly, it hasn't, and remains incredibly popular.
According to Newsweek, 7UP ranked as the 10th-most popular soda in the United States in 2021, earning just shy of $1 billion in sales. The brand's current success is just the latest chapter in the history of this soft drink — a history that spans more than 90 years.