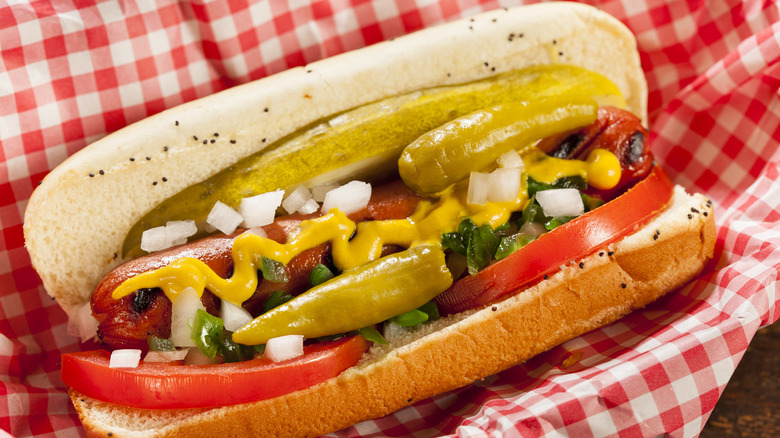 Hot dogs. Frankfurters. Tube steaks. Weenies. Whatever you call them, there's no denying that these versatile sausages are an American standby. From backyard grills to fast-food joints to pots of baked beans, we find a way to sneak weenies into just about any setting here in the good old U.S.A. This country is also a tapestry of different regional hot dog styles, with iterations as diverse as the bacon-wrapped Sonoran dog and the cream cheese-slathered Seattle dog. The Chicago dog, with its abundant garnishes, is arguably the king of all the regional hot dog variations. Although the style is often defined by its toppings, no hot dog can really call itself a Chicago dog unless the frank is made by Vienna Beef.
While hot dogs don't have the most stellar reputation from a quality perspective, you don't have to worry about finding pig snouts our broken glass in you Vienna Beef franks. These hot dogs are still made the old-fashioned way, from cuts of beef you might actually recognize, like brisket (via Serious Eats). That meat is stuffed into a natural casing, then smoked with real hickory sawdust. All in all, Vienna produces an elevated tube steak, and they've been doing it for well over a century. If you want to learn more about Chicago's favorite hot dog, keep on reading.
It all started with the 1893 Chicago World's Fair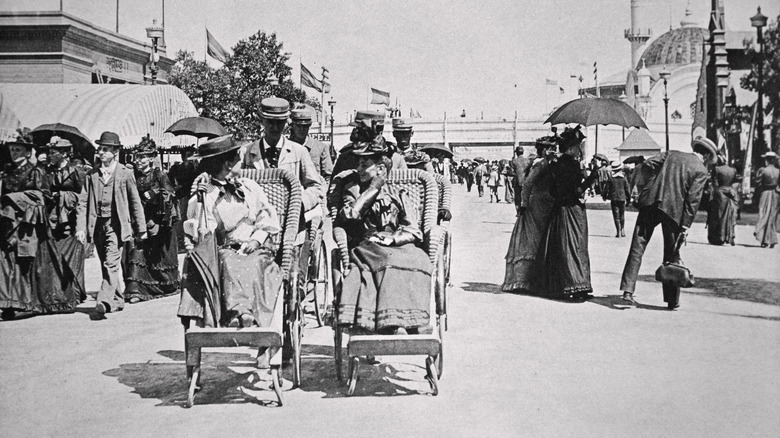 The 1893 Chicago World's Fair (or officially, the World's Columbian Exposition), is responsible for so many American food innovations that it's hard to keep track of all of them. Classic brands like Cracker Jack, Heinz, and Pabst Blue Ribbon beer all got their first big break from the event (via NPR). Vienna Beef hot dogs are another great American food that launched during that momentous event.
According to the company's official history, Vienna Beef hot dogs made their debut at the World's Fair when two Austro-Hungarian sausage makers, Emil Reichel and Samuel Ladany, sold their new wieners to attendees. Per Funding Universe, the name of the company was an allusion to Vienna, Austria, which was notable for making high-quality sausages. The hot dogs were such a smash hit that the pair were able to open their own store just a year later. Demand quickly grew beyond what one storefront could satisfy, so Vienna Beef started distributing its meats to Chicago-area restaurants and groceries by the turn of the century.
The Depression and World War II improved Vienna Beef's fortunes
While the Great Depression was a time of hardship and deprivation for many, it was a boon to Vienna Beef's bottom line. According to Funding Universe, since hot dogs were cheap, they became a preferred meal for money-conscious Chicagoans during the Depression. The Depression years coincided with an explosion in the number of hot dog stands in the city, a trend that the Vienna company actively promoted and encouraged. The company taught aspiring hot dog vendors the tricks of the trade, only asking that the budding entrepreneurs exclusively sell Vienna Beef hot dogs and adorn their stands with Vienna Beef-branded signage in exchange.
Hot dogs continued to grow in popularity during World War II and the post-war era, partly as a result of wartime rationing, and partly because they were convenient. A Vienna Beef Facebook post commemorates the legacy of Henry Davis, a salesman who is responsible for opening several hundred Vienna hot dog stands during this period. Per the company's website, Vienna Beef products began showing up in cities outside of Chicago during the post-war years as well.