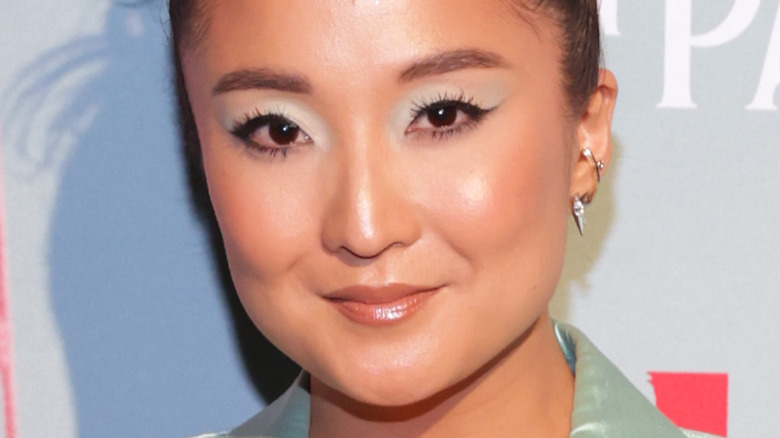 Chances are, you know her best as Mindy, the bubbly Korean American singer and BFF to the titular character in "Emily in Paris." The role is probably Ashley Park's biggest to date. However, she's hardly new to the acting (or singing) world. The charismatic star first got her start on Broadway after graduating from the University of Michigan with a degree in musical theater. She appeared in shows like "Mamma Mia!," "The King And I," and "Sunday in the Park with George," before landing the iconic part of Gretchen Wieners in the musical version of "Mean Girls."
She has also appeared in a few TV shows over the years, such as "Nightcap" and "Tales of the City." And, in 2021, she landed a role in "Girls5eva." Even though "Emily in Paris" is still going strong, Park doesn't seem to be slowing down any time soon. As of 2022, she has five projects coming up, including a Jessica Gao TV movie and an Adele Lim film. Curious to learn more about this up-and-coming star of the stage and screen? Here are the things you never knew about Ashely Park.
Ashley Park grew up obsessed with theater and performing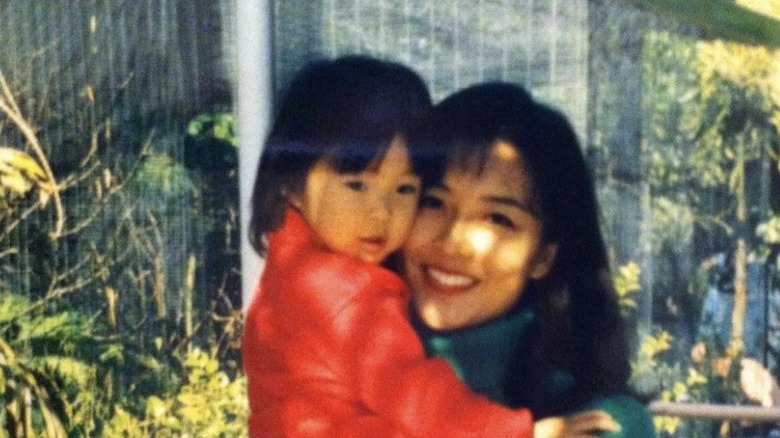 While some actors discover the craft later in life, this wasn't the case with Ashley Park. As the actress explained to W Magazine, she was always artistic, playing piano, taking dance classes, and singing in choir from a young age. As she told Broadway.com, she started dancing when she was just three years old. "There's videos of me in these sequined outfits," she recalled. In one video that Park posted on Twitter, it's pretty clear that she has always felt right at home on the stage.
Then, in grade six, she was "bit by the theater bug," as she recalled to W. Apparently, she discovered theater by listening to Broadway musical recordings. "My perception of Broadway at the time was that Broadway was like a building, far away," she said. Apparently, "The Sound of Music" was her favorite movie at the time. "I was always fascinated by music coming into the story and characters singing in a way that opens up the story to propel it forward," she explained.
Ashley Park doesn't come from a particularly artistic family
Watching Ashley Park perform, it would be easy to assume that acting, singing, and performing are in her DNA. However, as it turns out, she didn't really get her artistic tendencies from her parents — at least not at first glance. "Neither of my parents are in show-business at all," she told Interview Magazine. In fact, she even described her father as being "basically tone-deaf."
Even though her parents didn't work in theater or film, they encouraged their daughter's natural musical abilities, signing her up for dance classes and piano lessons at a young age. As Park put it, "They have great showmanship as people."
While Park's parents may not have worked in the arts, she does have a second cousin, Justin H. Min, who is also an actor. It seems that performing might run in Park's family after all!
Ashley Park had a serious health scare in high school
Ashley Park's journey hasn't always been easy. When she was 15 years old, she was diagnosed with leukemia and she ended up being taken out of school and hospitalized for eight months.
For years, Park was worried about being defined by her illness. "I never wanted to be just the Asian girl, just the 'whatever' girl, and then I got to 16 and was the bald girl and the sick girl," she told Cosmopolitan. However, Park eventually realized that she could embrace her experience and be proud of what she achieved after her recovery.
In fact, Park now understands that she became the person she is today because of the experience. "My cancer experience is, I think, the reason I do theater," she explained to Broadway.com. "As soon as I was out of the hospital, all I wanted to do is be around people." It sounds like Park has really learned how to see the bright side of this incredibly challenging experience.
Ashley Park's musical theater dreams came true in her early career
After finishing high school, Ashley Park knew she wanted to pursue acting, so she studied musical theater at the University of Michigan. Shortly after graduating in 2013, she made her professional debut in "Mamma Mia!" She then appeared in "Cinderella," "The King and I," and "Sunday in the Park with George." Then, of course, she landed the role of Gretchen in "Mean Girls." In short, she had a career that most musical theater actresses could only dream of.
Not only did Park get to act in several iconic musicals, she got to experience a wide variety of work. As she explained to BUILD Series, she felt that her career trajectory was a dream come true. "Graduating as a musical theater major, [the three] things you really want to do, like, the pillars of musical theater, are a Rodgers and Hammerstein show, a Sondheim show, and then to create a new original character." And that's exactly what she got to do. It really doesn't get much better than that!
Here's how Ashely Park approached the part of Gretchen in Mean Girls
Taking on the role of Gretchen Wieners in the Broadway musical version of "Mean Girls" was no easy task for Ashley Park. After all, Gretchen was already a hugely popular character thanks to Lacey Chabert's portrayal in the 2004 film.
Park was careful not to copy Chabert in her performance. "Everyone knows Lacey Chabert as Gretchen," she explained to Interview Magazine. "I would never want to do an imitation of that." Instead, she started from scratch by looking at the script. "What I realized is that no matter what Gretchen's doing, no matter what secrets she's spilling, she's trying to be a good friend," Park said. Park fell in love with Gretchen because she realized that she was just like any other teenage girl — she's just looking to be accepted. As she put it, "She's the fragile wannabe, tender, dance party, just-wants-to-please-her-leader girl." It's no wonder Park earned herself a Tony nomination for the role!
Ashley Park wants to bring Asian American diversity to the screen and stage
As an Asian American, Ashley Park is passionate about using her platform to promote diversity in the arts. When she took on the role of Mindy in "Emily in Paris," for instance, she felt that she had the opportunity to portray a fully-fleshed out Asian character on screen who wasn't defined by their ethnicity. "The greatest part of it is that when people recognise me or reach out to me about Mindy, they love her so much," she told Vogue. "I love that there's an Asian person on-screen who everybody associates with kindness, humour, and comfort."
And in 2021, Park was proud to join the cast of Adele Lim's first feature film. When she watched scenes of the project, she was blown away. She explained to Harper's Bazaar, "This was the first time I saw Asian women especially getting to be all of these different things that a human is — and for the benefit of their own story."
Ashley Park's Emily In Paris audition was pretty hectic
Auditioning can be hard for any actor — especially when you're already pretty busy. When Ashley Park got her "Emily in Paris" audition, she was in the middle of not one but two jobs — a play at the Williamstown Theater Festival and a Sondheim concert at Lincoln Center. "I remember getting the audition and being like, 'Oh, my God, I have actually no time to go in for this. Can I self-tape it?'" she recalled to Harper's Bazaar.
Luckily, she found a window of time when she could audition in person. But, she ended up being late and having to learn her lines on the subway. "I usually hate looking at audition sites in the subway because I think it's tacky," she confessed. She broke her rule for this audition and learned her lines on the train anyway.
Luckily, Park felt an instant connection with the character and was able to memorize her lines quickly. As she told WWD, "I felt so genuinely in tune with the thought process of the character." In fact, the show's costume assistant even happened to take a picture of Park on her way to the audition because of how perfect her outfit was for the character (via Vulture)! And the rest is history.
Ashley Park is a Sex and the City fan and used it for her role in Emily in Paris
Any actress would have been happy to be cast in "Emily in Paris," but for Ashley Park, it was an extra special role. Park was already a huge fan of the show's creator, Darren Star, as she loves another Star-created series, "Sex and the City."
In fact, her knowledge of "Sex and the City" ended up coming in handy when it came to portraying Mindy in "Emily in Paris." As Park explained to Vulture, she and the rest of the team decided that all of the characters on the show were "on the spectrum" of the famous four friends in "Sex and the City." Park went on, explaining, "Emily lives in the Charlotte-Carrie world, and Mindy lives in the Carrie-Samantha-Miranda world."
As for Park herself? Well, she said she wished she was a Samantha, but in reality, she's more of a Carrie. "I like to observe life the way she does," she said. It's pretty clear that Park knows her "Sex and the City!"
Here's how Ashley Park helped create Mindy's original song in Season 2 of Emily in Paris
If you've seen Season 2 of "Emily in Paris," you may remember that Mindy, Ashley Park's character, sang a pretty amazing song called "Mon Soleil." As it turns out, Park was actually quite involved in the process of creating the song. As Park told Vogue, Darren Star had initially suggested that Mindy sing her own song. So, Park had approached her friend, songwriter Freddy Wexley, who helped them create the perfect song.
"It was very important to us that the song really is a story piece," Park said. "As the song is being sung, the characters are going through something." As Park explained, they managed to use the song in the story as part of her character's new relationship.
Park went on to explain that she isn't sure whether the song will be released as an official single, but they are "looking into it." Fingers crossed!
Ashley Park is super close to her Emily in Paris co-star Lily Collins
In "Emily in Paris," Ashley Park plays Mindy, the newfound BFF of Emily Cooper, who is played by Lily Collins. Their friendship is totally believable — and for a good reason. It turns out, the pair are also besties in real life, even though they only met when filming the show's first season.
"We met at this part of our lives where we were ready to become the versions of ourselves we were always wanting to be," Park said to Cosmopolitan. Since that first meeting, the pair have had a ball both on and off set. Apparently, the pair are constantly laughing together — in fact, some of the scenes that made it into the show are actually just clips of the two actresses actually laughing together after breaking character! As Collins told Glamour, meeting Park was like meeting "a friendship soulmate." Could these two be any cuter?
Ashley Park stayed incredibly busy throughout the pandemic
During the COVID-19 pandemic, many of us slowed down. We worked from home, canceled holidays, and cut back on socializing. For Ashley Park, however, this was never really an option — she was just too busy!
As Park reccounted to L'Officiel, for the first few months of the pandemic, she moved back in with her parents and sister in Texas for a few months. Then, she returned to New York to pack her things as she was moving apartments. Then, she moved to LA, where she stayed with her friend, "Mean Girls" co-star Jonalyn Saxer for a few months. Then it was back to New York, where Park finally settled down in her brand new apartment on the Upper West Side.
But Park stayed busy even after her final move. She also found time to film "Girls5eva," a movie called "Mr. Malcolm's List" and Season 2 of "Emily in Paris." Park certainly is busy, pandemic or no pandemic.
This is what Ashley Park watched as a kid
Much like other children of her generation, Ashley Park had a few predictable favorite TV shows and movies as a kid. Her absolute favorite was "Friends." "I think when I really got into my high school and college years, 'Friends' [was my favorite show]," she told Harper's Bazaar. "I know every episode back and forth."
And by the sounds of things, Park was also a huge Disney fan. When asked about her childhood crushes, she replied, "Definitely Simba and Aladdin." Apparently, she even met an Aladdin look-alike at Disney world when she was still young.
And, of course, like just about every other Millennial, Park was a huge fan of "Mean Girls" as a teen. As she told Backstage, "I don't remember a time when I hadn't seen the movie. It's so ingrained in our generation's rhetoric, especially among my friends growing up."
Even Ashley Park gets nervous sometimes
Ashley Park has been performing on stage since she was a toddler — but even after starring in shows on Broadway and appearing alongside huge stars in a Netflix series, she still gets stage fright every now and then.
As Park explained to Interview Magazine, she's has learned over the course of her career to embrace her nerves. "Now nerves have become second-nature," she said. "You know, being an actor is so masochistic." Even though she goes through all of the things that could go wrong on stage, she's learned to work through the fear. Pretty impressive if you ask us!
And, in "Emily in Paris," Park got a little nervous when she had to sing by herself without a scene partner to perform with. "I'm not a concert singer," she explained to Town & Country. "I get too nervous when it's just me, so this was a growing experience for me, too, to sing in a natural way." Even if Park gets nervous, we would never know watching her perform!
Ashley Park landed her first leading role after Emily in Paris
It's clear that Ashley Park's career is just going to get bigger and bigger. While she's gained tons of new fans as Mindy in "Emily in Paris," she has plenty of other exciting projects lined up. One of the most exciting for Park is a comedy produced by Seth Rogan's company. As the actress explained to Vogue, this was her first real leading role. "It was the first time I was the number one on a call sheet," she said. "Even in Broadway, I haven't been 'the lead.'"
The project included a cast with three other Asian women and an Asian production team. "I just have never seen Asian women getting to be funny, raunchy, smart, heartfelt, and sexy but for the benefit of our story rather than for the benefit of another person's story," she went on. It sounds like this project will be hugely important for Park. And we can't wait to see what else she does next!