Movie stars get paid to pretend on camera. They fight, they laugh, they swoon, and they sob all in an attempt to tell meaningful stories and keep us, the general public, thoroughly entertained and engaged. All of that is all in a day's work for a silver-screen celebrity. But when it comes to shooting those iconic kissing scenes we love to watch? Well, the glamorous gig can definitely take a turn from awesome to awkward.
As one can imagine, smooching on set can sometimes feel incredibly uncomfortable for an actor. Just think about how you would feel in that situation. But, occasionally, two Hollywood hotties have undeniable chemistry, resulting in an amazing, sexy, and entirely captivating kiss — that just happens to have been caught on camera.
While many A-listers remain tight-lipped about locking lips with co-stars, other celebrities love to kiss and tell. Megan Fox, Zac Efron, Paula Patton, Ethan Hawke, Bryce Dallas Howard, and Sarah Michelle Gellar are just a few Tinseltown talents who have revealed their all-time favorite on-screen kisses. Want to know more? Read on for all the juicy tidbits.
Zac Efron said Zendaya was his greatest on-screen kiss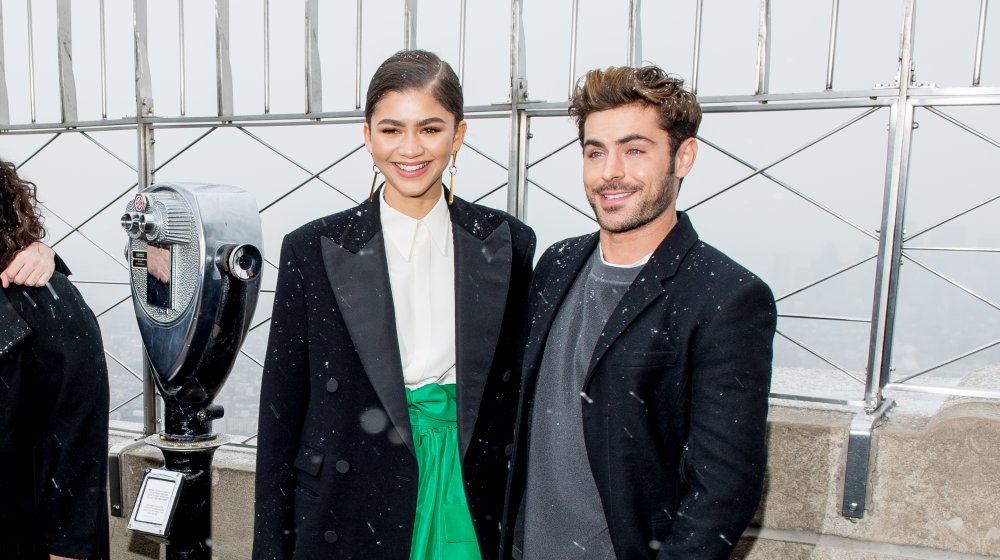 Do not tell Vanessa Hudgens, but her ex-boyfriend and High School Musical co-star, Zac Efron, does not consider her to be his best on-screen kiss (via IMDb). Ouch!
Indeed, the Disney TV tween turned big-time silver screen actor told People that his on-cam romantic romp with Zendaya in the movie The Greatest Showman was actually his "favorite kiss … ever." He elaborated that the chemistry was real and the moment was magical: "At this point for these characters, it's so built up, the tension between them is so strong, and literally, just a glance between them is electric … And when they finally have the courage in that moment to finally connect and get that kiss, it's that epic musical moment," he said.
Zendaya echoed Efron's emotional response to the storied smooch: "It's not just another kiss. It's different. We try to take ourselves out of it and become these two characters, and that's their moment" (via People).
Sharon Stone nodded to Robert DeNiro as her best on-screen kiss
Sharon Stone may have more than basic instincts when it comes to kissing her co-stars. While she has had her fair share of on-screen make-out partners, the actress told Andy Cohen on Bravo's Watch What Happens Live that "Robert DeNiro was for sure the best kisser." And she seemed pretty confident in her answer, too.
Stone starred opposite the iconic actor in the 1995 Scorsese mob movie Casino (via IMDb). Still, she admitted that, while the kiss was "far and away" her favorite of all time, her memory might be clouded by her immense admiration for the man.
She elaborated to Cohen that she was so excited to have the opportunity to "sit across the table" from him, collaborate, and keep on pace with his talent. "I was just so madly in love with him as an actress to start with that he probably could have hit me in the head with a hammer and I would've been 'Oh yeah!'"
Penn Badgley's best on-screen kissing partner is also his worst
When asked by Andy Cohen on Watch What Happens Live who his favorite on-screen kissing partner of all time has been, Badgley reluctantly admitted that it was his on and off-screen Gossip Girl ex-girlfriend, Blake Lively: "I'll say Blake because we actually had a relationship at the time." But he also said that his worst kissing partner was "Blake after we broke up." Touché.
Nevertheless, whether the two were getting hot and heavy behind the scenes or just making nice for the cameras, the pair kept it professional and hid any personal feelings, however amorous — or not. Badgley told Cohen, "I think we should both pat ourselves on the back for getting through it because, you know, anything is complicated in that way, and we handled it."
In fact, in a Gossip Girl tribute feature in Vanity Fair, the show's executive producer Joshua Safran said that he had no clue when the couple had broken up because the two successfully reined in their emotions on set and compartmentalized the drama. Just imagine not only having to work with your ex but actually having to kiss your ex as well! We'll pass.
Paula Patton loved Tom Cruise's on-screen kiss — and breath
Paula Patton knows a thing or two about smooching co-stars. She has had plenty of practice puckering up with high-profile actors like Denzel Washington in the 2006 film Deja Vu (via IMDb). Nevertheless, the actress, mom, and ex-wife of singer Robin Thicke got bashful when asked about her best on-screen kiss during an interview on Live With Kelly and Ryan.
She tried to avoid the question, responding that "they're all really good because they're kisses and they're cute." But she eventually succumbed to the celebrity peer pressure, nodding to her Mission Impossible: Ghost Protocol co-star: "It's not the best but it was great. I will tell you that the kiss from Tom Cruise was a surprise." What is more, she even complimented what must be a credit to his personal hygiene habits, saying, "He had amazing breath. It wasn't minty — it was just perfect."
Bryce Dallas Howard enjoyed kissing Chris Pratt on screen
Who wouldn't want to get up close and personal with Chris Pratt for an on-screen kiss? Bryce Dallas Howard told People that her Jurassic World co-star is just "perfect in every way" (as if we did not already know that on our own). Furthermore, Howard elaborated that his breath is "like Starburst." Eye-candy and mouth-candy, indeed. Katherine Schwarzenneger is one lucky lady to be married to this sugar-lipped hottie (via Instagram).
Still, Howard had even more to divulge to the magazine about kissing co-stars. While her smooch with Pratt took the cake, she said locking lips with her Gold co-star, Matthew McConaughey, was not too shabby either: "He was drinking a lot of, I think it was tea stuff, a lot of fake alcohol, so it was pretty good … It was like some sort of good, healthy aesthetic substitute for alcohol." The description doesn't exactly make our knees buckle, but we certainly wouldn't oppose a tea-flavored tongue-tangling session with McConaughey either.
Ethan Hawke said that Angelina Jolie takes the cake for on-screen kissing
Ethan Hawke has been around the block and back again, with a career that started back in the mid-to-late-1980s with name-making roles in movies like Dead Poet's Society, White Fang 2, and Reality Bites (via IMDb). But even with decades of experience (and so many on-screen make-out sessions to boast about!) under his proverbial belt, the actor had no difficulty instantly identifying his all-time favorite on-cam kissing partner when asked by a fan on Watch What Happens Live: "With all due respect … I will say the best on-screen kiss I've ever had is Angelina Jolie."
When Andy Cohen asked for more details as to what made the spark so special? He elaborated: "Why is Amadeus Wolfgang Mozart a genius? I'm talking. Angelina Jolie was born to whittle men — to make them weak. When she kisses you, you don't know your name. I'm just telling the truth here." The two starred opposite each other in the 2004 thriller Taking Lives (via IMDb).
Amy Adams was taken aback by Will Ferrell's on-screen kissing moves
Amy Adams has gotten to kiss some pretty enchanting leading men in her Hollywood day — from ultimate dreamboat Patrick Dempsey to heartthrob Leonardo DiCaprio. Still, according to People, when Rachael Ray asked about her favorite on-screen kiss, the actress said she was completely caught off guard by the most unlikely candidate: Will Ferrell. Starring opposite the comedic actor in Talladega Nights: The Ballad of Ricky Bobby, she learned that "he's a fantastic kisser," admitting, "I was not expecting that."
And while Ferrell might get the top prize in Adams book, she also admitted to Ray that Patrick Dempsey is "lovely," too, and that she was so excited to pucker up with DiCaprio in Catch Me If You Can: "I'd had all these fantasies about him from Titanic." Adams seems to dish out all the kissing compliments. She once told Extra that Jennifer Lawrence gave a great kiss in American Hustle, adding that "she has very soft lips."
Anna Friel seconded that Will Ferrell has on-screen kissing skills
According to SheKnows, actress Anna Friel once singled out Will Ferrell as a solid on-screen kisser, as well (the funnyman must really know what he is doing!). "You wouldn't expect it from him but he is a really good kisser … And he's got twinkly blue eyes and he was gentler than I thought that he perhaps might be. So if anyone needs a good kiss they should just get on the phone and ask Will." Duly noted.
A ringing recommendation indeed, it seems like Friel may have had a bit of a crush on her Land of the Lost on-screen love interest (via IMDb). In an interview with GQ, Friel reiterated swooning for Ferrell: "I think Will's gorgeous. I find him really attractive. He gets down to his underpants at one point — there's a sexy, slow-motion Baywatch shot where he gets out of a swimming pool."
Emma Thomson praised Meryl Streep's on-screen kiss talent
During a BBC Radio 1 interview, kids got to ask Emma Thompson all sorts of silly, out-there, and awkward questions — including who her best on-screen kiss was. After explaining that she always hands out and recommends "kissing gum" before shooting a particularly romantic scene, Thompson cheekily replied, "Meryl Streep's a very good snogger. I had to snog her in Angels in America, and she was method about it … There was no stone unturned, my God, that's for sure." Rather than leave it at that with her eight-year-old interviewer, Thomspon kept the fun going, elaborating on her inner monologue mid-make out session: "Blimey, what is she doing here? Mining for jewels?"
Furthermore, the Brit and iconic actress shared her simple wish for all of her on-camera kissing mates: "All you hope for is that they haven't had a tuna sandwich just before the kiss." Yes, kissing gum for the win.
Ryan Reynolds enjoyed his on-screen kiss with Anna Kendrick
Leave it to Ryan Reynolds a.k.a. @vancityreynolds to get cheeky with fans — and co-stars — on Twitter. When a follower tweeted to ask the Deadpool star what it was like smooching Anna Kendrick in their film, The Voices (via IMDb), the witty social media funnyman did not need to max out at 140 characters to say his piece. He simply replied: "Like taking your face to Awesometown."
Many Twitter followers were quick to point out that Reynold's wife, Blake Lively, might not be too keen on his eager, enthusiastic response. But we think that she probably took in all in stride. After all, Reynolds is known for his tweet-happy humor. As for Anna Kendrick? She clearly could not resist the opportunity to jump on the on-screen kiss tweet bandwagon (or should we say locomotive?): "That IS the Kendrick-train guarantee. With local stops in Awkwardville and Tolerableshire." Choo-choo!
Megan Fox said things got foxy during an on-screen kiss with Shia LaBeouf
When asked during an interview with E! News if she had a favorite on-screen kiss, Fox did not miss a beat, matter-of-factly replying "Shia LaBeouf." Ooh LaBeouf!
Of course, this revelation should come as no big shock. The pair were rumored to be more than just co-stars while filming Transformers — so was it art imitating life? LaBeouf eventually confirmed their off-screen romance (via CNN): "Look, you're on the set for six months, with someone who's rooting to be attracted to you, and you're rooting to be attracted to them … I never understood the separation of work and life in that situation. But the time I spent with Megan was our own thing, and I think you can see the chemistry onscreen."
Years later, Fox finally came clean on her end during a talk with Andy Cohen on his Bravo show, Watch What Happens Live: "I mean I would confirm that it was romantic … I love him. I have never been really quiet about that, I love him."
Sarah Michelle Gellar had her best on-screen kiss with Selma Blair
If you have never seen Cruel Intentions, stop everything you are doing and have a watch (we will wait). The 1999 sexy flick was ahead of its time, and is the guilty pleasure, starring Reese Witherspoon, Ryan Phillippe, Sarah Michelle Gellar, and Selma Blair, we all need right now (via IMDb).
One of the most memorable scenes is when Gellar's character teaches Blair's character how to French kiss. Gellar called this out as her all-time favorite on-screen kiss during an interview on Kiis FM (via Daily Mail). When the duo won the MTV Movie Award for best kiss (via MTV.com), they even recreated their pucker-up moment for flashing cameras — and they have continued to do this for years. Even a pandemic couldn't stop them from keeping the tradition alive. In 2020, Gellar posted a selfie on Instagram of Blair kissing her through a rhinestone-embellished face mask.
Hopefully, Gellar's hubby Freddie Prinze Jr. isn't too insulted that his other half ranks Blair's kiss above his own. The husband and wife have kissed on-screen as well, as noted by the Daily Mail.
Jennifer Lopez and Josh Lucas were each other's best on-screen kisses
When asked about her best on-screen kiss by a call-in fan on Watch What Happens Live, Lopez didn't have to think twice. "I would have to say — it came right to my mind. I did a movie called An Unfinished Life …. I had a love interest … played by Josh Lucas … I felt like, I would hope he would say the same — that we had a very good kiss. And we had a love scene in the back of this truck — it was kind of uncomfortable, and I think we were both really nervous, to be honest … We just jumped on each other when they said 'action.'"
When Andy Cohen turned the tables on Josh Lucas in a separate interview on the Bravo show, the actor reciprocated with compliments: "You know I've got to agree with Jennifer Lopez … She was phenomenal … We have a phenomenal sex scene in the car that was so good I guess it was cut out because they needed to get a rating that was a little more PG."
Hugh Grant granted Renee Zellweger top on-screen kiss honors
Hugh Grant gave his Bridget Jones's Diary (via IMDb) co-star high praise for their on-screen kiss, saying she's a "top snogger" on the Alan Carr's Chatty Man Show (via Daily Mail). And she must be — you've got to give Grant's opinion some credence. After all, he is the ultimate British naughty boy. Grant admitted in the interview that he and on-screen rival Colin Firth engaged in "competitive snogging," and that one would "have to ask Renee who she preferred." He quipped, "I think Colin tried too hard."
While we're sure there was some sincerity to his complimentary comments, you have to take this ranking with a grain of salt, as Grant also said that he "can't think of a leading lady" he has "not fancied." He elaborated: "You have got to fancy them as otherwise it is no fun. What is the point of doing a film? … I am very queeny about who I play opposite."
One actress he may not have enjoyed smooching quite as much as Zellweger? Julia Roberts. He joked about his Notting Hill co-star with his interviewers: "It's a big mouth. I was aware of a faint echo when I was kissing her."