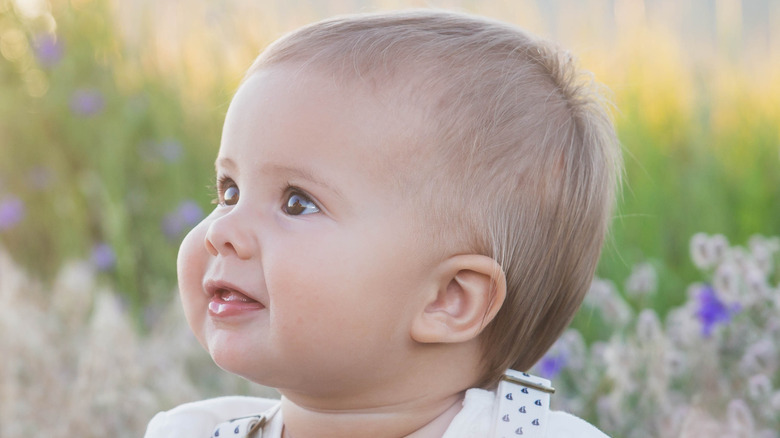 Picture this: You are living countryside with your boo (or dreaming of someday living countryside), expecting your first child, and have been searching for the most perfect Southern baby name for your newborn. The only issue is, there are so many cute names to choose from! Rustic country baby names are becoming more and more popular across the country. When you think of incorporating Southern charm into your lifestyle, you think of nature, comfort, a feeling of home, and of course lots of adventure and sophistication. From rugged choices like Tucker and Keith to beautiful and sweet baby girl names like Daisy and Maybelle, there are all kinds of country names to choose from.
If you are a country-loving couple looking to name your baby something equally as Southern and sweet, look no further! We have gathered the cutest baby names for your little pumpkin, based on famous country artists, songs, places, and everything in between!
Jackson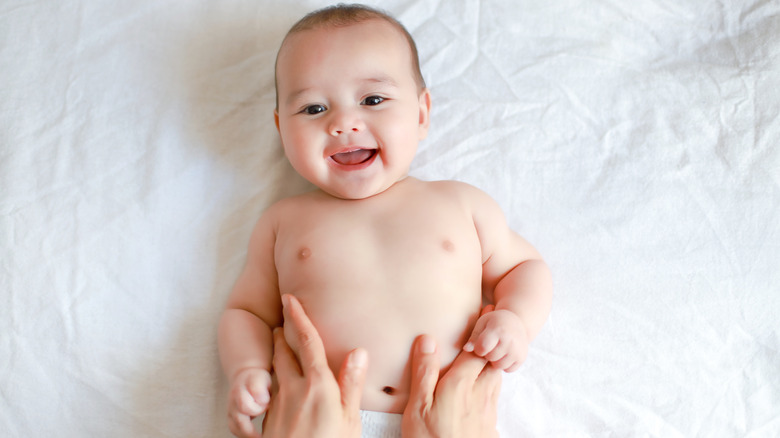 First up, we've got the name Jackson! Jackson is undoubtedly one of the most popular Southern baby names. It originally comes from English origin, meaning "Son of Jack" (via Nameberry). In 2010, the name reached the Top 25 on the Social Security Administration's list of popular baby names, and has only grown higher in popularity since. Believe it or not, it even surpassed the name John, which we all know is commonly used for male names. Not to mention, Jackson is a popular location name down South, including Mississippi's capital.
If you are thinking of naming your newborn after popular artists, Alan Jackson is very well known in the country music industry. And who could ever forget about Jackson Stewart on "Hannah Montana," played by Jason Earles? Oh, and of course, music legend Michael Jackson. Last but not least, you can't forget about the country song titled "Jackson" by Johnny Cash and June Carter for the ultimate Southern vibes. The opportunities are endless with this name!
Maybelle
Try to prove us wrong, but the name Maybelle is one of the most beautiful names for a baby girl. Even if you aren't totally hooked on the spelling, it derived from the name Mabel, so that is always an option. Mabel is of Latin origin, meaning "lovable" (via Nameberry), and it brings some extra spice to an old Victorian name. It's been used for ages, especially back in the 1880s and 1890s, when it was one of the Top 20 names for females. There are plenty of celebrities with the name, including Maybelle Carter, an American musician from The Carter Family, and American actress Mabel Normand. Normand made an everlasting impact on television, as she's known for being Charlie Chaplin's mentor and the first actor to have her name in a studio, so she's a pretty big deal. If you haven't already considered adding this sweet name to your 2022 list of baby names, now is your chance!
Cash
C'mon, how cute is the name Cash? It's super similar to Nash (which honestly, is equally adorable) and is that short and sweet name you've been looking for in your endless search for baby names. According to Nameberry, the name Cash is of English origin, meaning "hollow." Any lover of all things country knows one iconic person with this name: the one and only Johnny Cash. If country music isn't your thing, allow us to explain who the legend is. Johnny Cash is an American singer, songwriter, and actor born in 1932 who made an enormous impact on country and gospel music. He's well known for producing "Ring of Fire," "Hurt," and "Folsom Prison Blues," songs you have most definitely tapped your toes to before.
This sweet Southern name is perfect for your little one. It's unique, modern, one syllable (if that's your thing) and a name for a total rock star in the making. Similar names to Cash are Chance, Colt, Knox, Ace, Cruz, and Dash.
Faith
Not only is Faith perfect for a cute little country gal, but it is also a well-known virtue name! Similar to Grace, Hope, and Charity, the name Faith became the most popular girl name amongst the Puritans during the 17th century (via Nameberry). The name is of Latin origin, and although this name is one of the most commonly used, BabyCenter reports that it is ranking at 23 in the year 2022 in popularity, and has risen 117 spots since 2021. Country singer Faith Hill has the name, and Nicole Kidman and Keith Urban are well-known for using it for their daughter. It's been around for ages, yet is still one of the most popular baby girl names, so it's doing something right!
It's short, sweet, connects with spirituality (if that is something super important to you), and gives that Southern belle charm that will surely melt your hearts. If you can't get into the name Faith, there are plenty of other country and spiritual-related baby names to choose from, such as Hope, Autumn, Hannah, Haven, and Charity.
Colton
Up next, we've got the name Colton! This is one of those super underground names that isn't as popular as the rest, but is still incredibly cute. This name is of English origin, and according to BabyCenter, ranks at No. 189 in popularity in 2022. It actually decreased in popularity since 2021, dropping a total of 121 spots on the website's ranking list. It's creative, rustic, and honestly, we can totally see it being used for the cute country boy in the movies that every character inevitably falls in love with. There are plenty of celebrities with this name, including Colton Underwood from Bachelor Nation, and Colton Haynes from "Teen Wolf." Not to mention, American singer Colton Dixon, TV personality Colton Cumbie, and actor Colton James all share the name. Like the name Colton, but want to make sure your baby name has a few good nicknames? Don't sweat it, because there are plenty that go along with this one, including Colt, Cole, and Chase.
Georgia
Who doesn't love the name Georgia for a sweet little Southern belle? Stemming from the male name George, this feminine name is rising the ranks in popularity. Georgia is of English descent, meaning "farmer" (via Nameberry) and honestly, if Georgia is on your mind (see what we did there?) then you better think fast! This is one of most popular names that takes inspiration from a state, amongst Montana, Carolina and Virginia, and there are lots of famous people with the name as well. Just to name a few, we've got painter Georgia O'Keeffe, country singers Georgia Middleman and Haley Georgia, and jazz singer Georgia Brown. Plus, she will have plenty of songs to sing and dance to with her name in it! Ray Charles blessed us with "Georgia on My Mind" in 1960, a song that absolutely soothes our souls to this day. Even John Mayer released a song with the name in the title, called "Why Georgia," which was released in 2001.
Gavin
Can't think of a boy name that isn't totally basic but still gives that rustic country boy charm that we all know and love? The name Gavin is a cute one that will totally steal your heart! According to Nameberry, it is of Celtic origin, meaning "white hawk," and has some deep Scottish roots. The Social Security Administration reports that the name was at its most popular back in 2008, and 2,570 kids were given the name in 2020! One might associate this name with American singer-songwriter Gavin Degraw, who released the hits "I Don't Want to Be," "Not Over You," and "Chariot." BabyCenter ranked this name at 182 on their list of popularity in 2021, so although it isn't super popular, that just means not many people will have it, so your baby will definitely have a more unique moniker.
Maisie
Want a name that is equally as country as it is glam? Maisie it is, then! It originated from Scotland, means "pearl," (via Namebery) and is typically short for Margaret or Mary, which are both incredibly feminine and timely names for women. Not only is it fit for a Southern belle, but it is also empowering and strong. Just look at Maisie Williams from "Game of Thrones," for example. Some other names and nicknames associated with Maisie are Melissa, Marissa, Mabel, and May. You might want to add those to your list, ASAP!
The Social Security Administration reported that the name was at its most popular back in 2019, and 760 children were born with the name Maisie in 2020. Maisie is a great option for a baby girl whose parents are looking for a name that is out of the box, original, and cool enough to not become super common over time.
Carson
Keep it country with the name Carson for your little one! This name is totally worth adding to your list of unique Southern name options for 2022. Nameberry reported that Carson is one of the "most long-running popular androgynous baby names" and has that little touch of "Wild West" you are looking for. You can thank frontiersman Kit Carson for that! There are also multiple TV personalities and athletes that hold the name as well, such as Carson Daly, Carson Kressley, NFL player Carson Wentz, and retired quarterback Carson Palmer. Carson hit its peak back in 2018 (via Social Security Agency) and had a total of 4,165 births with the name in 2020, which represents 0.227% of total males born in the United States. You can also opt to spell the name as Carsen or Karson, if that suits your fancy.
If you aren't totally digging the name Carson, other similar names include Carter, Camden, Connor, and Colton.
Paisley
If you love the name Daisy, then you are seriously going to fall head over heels for Paisley! There might be some couples out there who aren't crazy about this name, but Paisley is perfect for those who want to capture a sense of sweetness and originality in one name. According to the Social Security Administration, Paisley was only used in 0.247% of female births in the United States in 2020. This name was at its most popular in 2017, so it's definitely been some time since the name was in its prime. However, it's not super outdated to the point that your baby is going to have heads turn whenever their name is revealed.
The meaning behind the name Paisley is "church," according to Nameberry, and it is of Scottish descent. Not only is it super cute, but the nicknames are even more adorable. Try Pay Pay, Pais, or even Parsley. And yes, before you question us and turn your head in disgust, Parsley is absolutely a nickname!
Luke
Okay, so hear us out. We know that the name Luke is pretty typical for most men and is commonly used, but it does have that rustic and strong vibe to it that is perfect for any Southern baby boy! While the name has been around for years, the Social Security Administration reported that it hit its peak back in 2015. Even in 2020, there were a total of 7,734 boys born with the name, making up 0.422% of total male births in the United States. Luke is of Greek origin, meaning "man from Lucania" (via Nameberry) and is usually short for Lucas. The name is cool, short, and can also be related to spirituality, thanks to the Gospel of Luke. Or if you are a lover of all things "Star Wars," maybe naming your baby after Luke Skywalker isn't necessarily the worst thing in the world. The name definitely has a chill cowboy vibe to it, but it is pretty popular, so that is something to consider if you are trying to find something a bit more original. Like the name but can't think of an equally as cute nickname? Adding an -ie or -y sound always adds an extra amount excitement. Try Lukie, Lu, Lulu, Luca, and Louie.
Daisy
Daisy is one of those timeless names that truly never goes out of style. If you're looking for a name that still fits into today's pop culture and has that Southern charm, you have definitely found it in this one. If there is a baby name you are taking with you into 2022, let it be this one. Daisy is an English name meaning "day's eye," based on how the petals of the flowers of the same name open at daybreak. According to Nameberry, it's described as "fresh, wholesome, and energetic" and is one of the most popular girl names that start with the letter D. And if you are a fan of Katy Perry, then you've already heard her hit single, "Daisies," which is all about strength and women's empowerment — and she used the name for her own daughter, too.
If you aren't completely sold yet, maybe some stats will help you make your decision. The Social Security Administration reported that the name was at its most popular in 2003. 1,877 girls were born with the name Daisy in 2020, which represents 0.107% of total female births in the country. Grab your list of baby names, because this beauty should be at the top!
Keith
All right, country music fans, you knew this one was coming. Keith is a super popular name amongst Southern boys, so of course we had to add it into our list! First things first: This name is short and sweet, and has remained a pretty popular name over time. Nameberry reported that Keith is of Scottish origin, meaning "wood," and was especially popular in the 1960s and early 1970s when it was in the Top 40 of the most common names. If you love to tap your toes and sway along to some Keith Urban, then this name is most definitely for you. Other celebrities that have the name are author Keith Walker, actor Keith Davids, and country singer Toby Keith. The name hit its peak popularity in 2000 (via Social Security Administration), when 1,525 boys in the United States were born with the name. Although in 2020, there were only 456 kids given the name, it is still pretty common amongst older generations.
Not set on Keith? Try Kyle, Kevin, Noah, or Michael.
Belle
Talk about a true Southern belle! This name is effortlessly flawless. Seriously, it literally means "beautiful." Given its French roots, the name Belle goes way, way back to the 1880s, when it was part of the Top 100 most popular female names (via Nameberry). However, it got booted from the list in 1934, and didn't return to the US Top 1000 names until 2016. It has charm, class, and is a combination of other names that are more common, like Isabella, Maybelle, or Bella. The Social Security Administration reported that in 2020, there were 252 girls named Belle born in the United States. So there is definitely room for improvement in popularity, making it even more unique. Although there are plenty of variations of the name, Belle itself is so beautiful. Not to mention the influence it has had in TV shows, books, and movies. We could never forget the iconic character Belle Watling from "Gone With the Wind," or Disney princess Belle from "Beauty and the "Beast." Whichever way inspires you the most, you seriously should consider adding this name to your list.
Tucker
Last but certainly not least, we've got the name Tucker. This is definitely a country name if we've ever heard one. Tucker is rugged, rustic, and perfect for any cowboy in the making. Even just saying it out loud in a Southern accent sounds fitting. Although it can be both a first and last name, the name Tucker isn't incredibly popular. According to BabyCenter, Tucker is sitting at ranking 263 in popularity of male names, and actually went down 76 spots in 2021. As noted by Nameberry, Tucker is of English origin, meaning "fabric pleater" or "tailor." Honestly, any parent would be happy with this strong name for their baby boy, even if it isn't super popular. In 2020, 1,997 kids were born with the name (via the Social Security Administration), representing 0.109% of total male births that year, and was at its most popular in 2016. There are plenty of nicknames that go with it, as well, including Tuck or Tucky. If you are really trying to keep your baby's name classic country, this one is definitely for you!