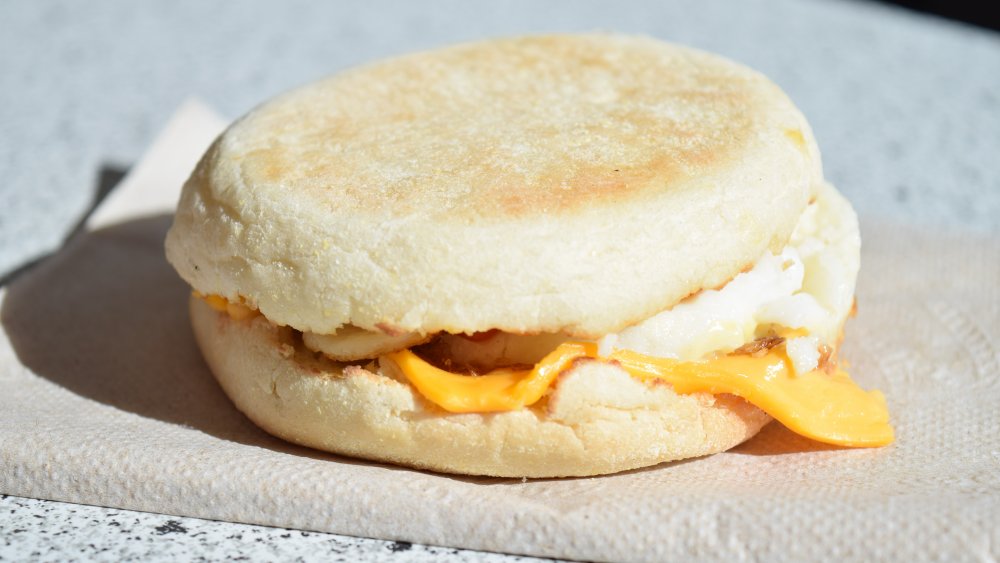 With the rise of brunch culture in the U.S., one fast-food trend might seem like it's falling by the wayside: the humble breakfast sandwich. It may not be synonymous with bottomless mimosas, Sunday Fundays, and $30 avocado toast, but it's still a staple of American cuisine. It's the perfect beginning to any early-morning road trip, and even though it may not be polished enough to end up on your Instagram feed, you can't deny the pleasure of waking up to one of these classics on a busy morning.
But let's be clear: As much as we love fast food breakfast sandwiches, it's true that not all are created equally. Some restaurant chains got in on the breakfast sandwich trend early, such as McDonald's, which created its Egg McMuffin back in 1970. Others, like Subway, didn't pick it up as quickly, with the sub chain only offering sporadic breakfast options at select locations since 2010.
In the meantime, certain breakfast menus, and breakfast sandwiches, specifically, have risen to the top of the pack and are now customer favorites across the country. Here's your guide to the best — and worst — breakfast sandwich options at some of your favorite fast food spots.
14. Sonic Drive-In: Breakfast Toaster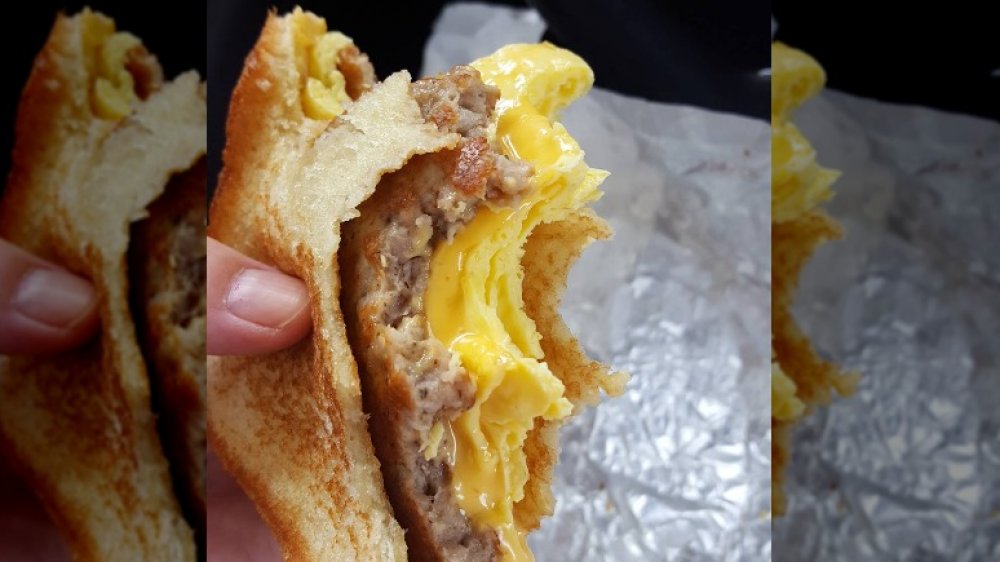 Sonic Drive-In may not be the first spot that comes to mind when you're looking for a fast food breakfast, but it does offer a surprising number of options. If you want a breakfast sandwich, though, you'll have to opt for the Breakfast Toaster, as it's the only sandwich on the breakfast menu. It's made with eggs and cheese placed between two thick slabs of Texas toast. Customers have the choice of adding ham, bacon, or sausage to complete the order.
It doesn't sound too bad, but the issue is more in the execution than in the concept. With the fattiness from the egg, cheese, and meat, the extra fat from the Texas toast can be overkill. Add to that the fact it can sometimes feel like you're biting into more bread than protein, and it's a breakfast that can often fall flat. The saving grace? You can order your Breakfast Toaster with a side of tater tots, which is essential if you're still determined to eat at a Sonic for breakfast.
13. Subway: Bacon, egg, and cheese flatbread
It's no secret that Subway doesn't offer the best breakfast around. It did get a late start in the game and largely used its breakfast offerings to boost sales after the recession in the late 00s. While the restaurant saw some success at first, it didn't last long. In 2018, Subway stopped requiring its franchisees to open at 7 a.m. to serve breakfast menu items, though some stores have continued their early-morning sales — though with fewer options. One of the ones that's left? The bacon, egg, and cheese flatbread.
Sure, the bacon, egg, and cheese are all fine. But few fast food customers are going to wake up in the morning craving a flatbread over a biscuit or a even wrap, like many other restaurants offer. The floppy texture of this sandwich just doesn't make the cut for many.
But one thing that Subway breakfast does offer that other spots don't is the ability to customize your order (which is why we all love Subway in the first place). While most other fast food breakfast sandwiches are explicitly vegetable-free (no, hash browns as a side don't count), you can easily add veggies to your morning-time Subway order.