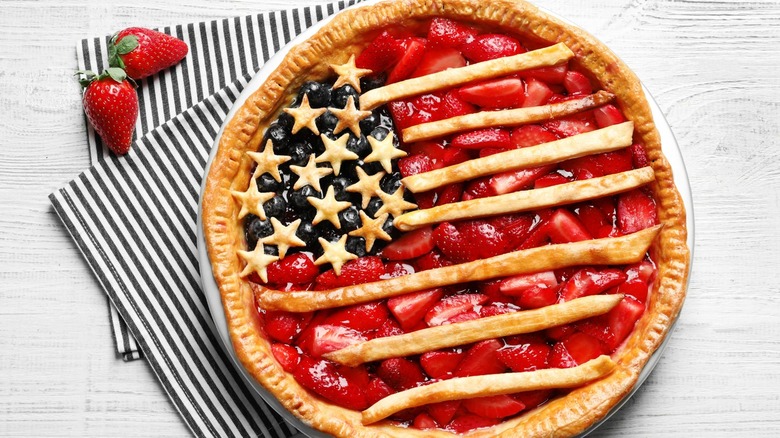 From sea to shining sea, the United States is full of tasty desserts. Apple pie, red velvet cake, and baked Alaska all call this country home, along with dozens of other iconic treats. Thanks to preserved traditions, Yankees have been making the same home-cooked cookies, cakes, and custards for generations.
These desserts typically have a noticeable American flair. They're either made using scraps of domestic shelf-stable ingredients — like Rice Krispies, graham crackers, or peanut butter, or they're of the melting pot variety — brought here by immigrants and sometimes Americanized by indulgent citizens.
Within the country, regionally beloved goodies are also a thing. It's easy to see how history has played a part in that. In corn-laden Midwestern states like Nebraska, sweets involve popcorn. In whiskey-filled Kentucky, you'll find bourbon in the candies. Sampling these recipes easily illuminates a part of a state's food culture — hopefully, a delicious one. For your next road trip, don't forget to leave room for dessert. Here are the absolute best desserts in every state.
Alabama: Lane Cake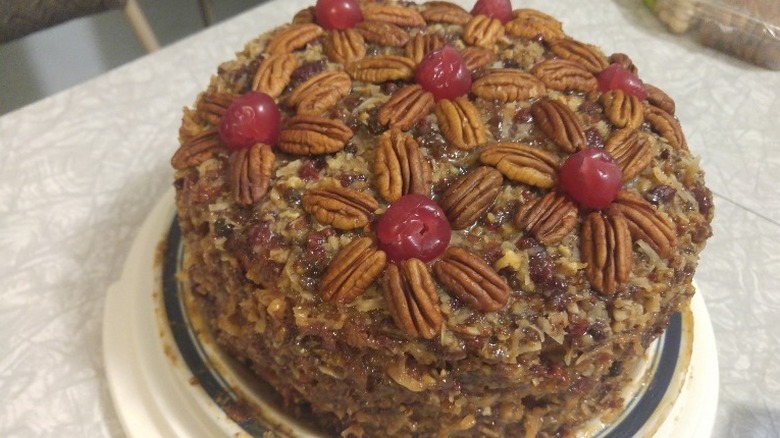 In Alabama, lane cake is one of the state's most cherished treats. This sweet consists of three to four layers of vanilla cake held together by raisins soaked in bourbon (via Mom Loves Baking). White frosting and cherries sometimes decorate the top but not always. Kumquats, pecans, and coconut are also occasionally added to the bourbon-raisin filling, according to Rouses.
Alabama's dessert is so iconic, it's even been immortalized in the Southern-set "To Kill a Mockingbird," written by Alabama native Harper Lee. In the famous '60s book, Lee writes, "Miss Maudie Atkinson baked a Lane cake so loaded with shinny it made me tight." The term "shinny" refers to the cake's alcohol, and "tight" means that the person eating it got drunk, explained Alabama.com. This delicious and intoxicating treat has been a staple of home cooks since at least the 1920s (via Tori Vey). Thanks to the preservation of the lane cake in family cookbooks, we'll be eating this boozy dessert for a while to come.