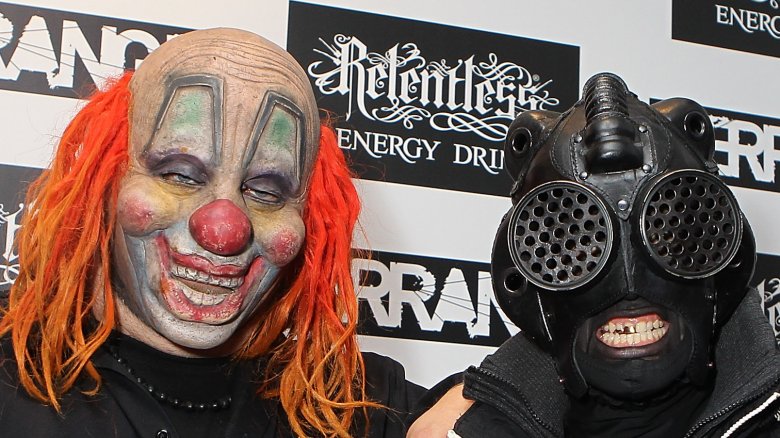 The masked, boiler suit-wearing members of Slipknot have been disrupting the music scene since 1995 with their percussion-laden metal. The respectable length of their career is no accident, as their eye-catching uniforms, chaotic concerts, aggressive music, and brutal lyrics come with a healthy dose of genuine musical talent. With three No. 1 Billboard 200 albums to their name, few people can deny that they're a creative force to be reckoned with, no matter how deliberately off-putting their stage antics and ever-evolving masks may be.
Still, their significant success hasn't come without a cost. Slipknot is a large collective, and as you can probably imagine, there are all sorts of strange characters behind the custom-made horror movie masks. As such, the band's history is full of odd events and deep-cutting tragedies, and most everyone in the group has a tragic tale to tell. Let's take a look at the many awful incidents that have shocked a band that's more accustomed to do the shocking themselves. This is the tragic real-life story of Slipknot.
The death of Slipknot's Paul Gray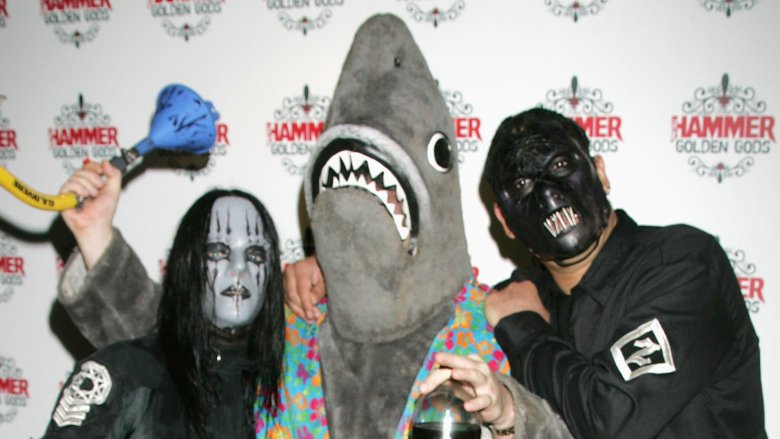 Paul Gray (pictured on the right) was Slipknot's surprisingly warm heart. As Loudwire tells us, the bassist-songwriter was a pleasant man who remained friendly and down-to-earth despite his success. Unfortunately, there's a reason he's described in the past tense. Like everyone, Gray had a "dark side," and his particular one was drug addiction. By the time Slipknot was preparing their third album in 2003, he was so deep in his heroin hole that the rest of the band actually staged an intervention.
Gray eventually kicked his drug habit with his future wife, Brenna … for a while. Though he seemed to be the sober pillar of strength and calm amidst his significantly more chaotic bandmates even (and especially) when they were touring, he unexpectedly succumbed to an accidental overdose of fentanyl and morphine in 2010. It was later revealed he also had a "substantial quantity" of Xanax in his system, and that he "showed signs of significant heart disease." He was only 38, and Brenna was expecting their child.
The bassist's shocking death shook Slipknot to the core, and they held a tearful video press conference to address the tragedy. Brenna stood with the band at first, but soon started blaming them for not helping Gray. Ultimate Classic Rock reports that Gray's doctor Daniel Baldi, who prescribed him Xanax despite his addiction, was eventually taken to court for 10 counts of manslaughter. He was acquitted in 2018, though his legal battle with Brenna continues.
Chris Fehn's lawsuit against Slipknot
In 2019, a storm tore through the Slipknot camp. As Loudwire reports, the group's long-serving percussionist Chris Fehn — he with the long-nosed mask — was suing the rest of the group, claiming that Slipknot's business structure had gotten so confusing that other band members (and their business manager) were essentially stealing money, and demanded forensic accounting to see precisely how much money he was owed. The rest of the band was less than delighted by the percussionist's actions, and promptly kicked him out of the group with a public statement that made no bones about their feelings. "Chris knows why he is no longer a part of Slipknot," it read. "We are disappointed that he chose to point fingers and manufacture claims, rather than doing what was necessary to continue to be a part of Slipknot. We would have preferred he not take the path that he has, but evolution in all things is a necessary part of this life." Ouch.
According to Blabbermouth, Fehn has gone on to specify singer Corey Taylor and band leader Shawn Crahan as the people who he feels are receiving undue amounts of money. Still, despite his incendiary accusations, the Pinocchio-masked musician appears to hold out hope of returning to the Slipknot fold "someday."
Slipknot's Shawn "Clown" Crahan almost drowned in a stage stunt gone wrong
Slipknot percussionist Shawn "Clown" Crahan likes his stage antics with a healthy dose of GG Allin. As Louder tells us, Crahan has a tendency to go in "the zone" during live shows, and behave so dangerously that his wife would later tell him: "You're pushing it too far. If you die, you're just going to be some guy in a book somewhere."
For a while, Crahan was actually quite intrigued at the prospect of winning the Darwin Award in the category of heavy metal performances. However, one particular incident taught him to avoid turning his inner beast (clown?) up to 11. One of his early go-to stunts was jumping headfirst into a garbage can, then falling over and kicking people in the legs while using the can to protect himself from inevitable counter-attacks. Unfortunately, one particular time on Ozzfest, the barrel he dived into was partially filled with water and he got stuck.
For roughly 35 seconds, Crahan's head was submerged and he was certain that he was going to die. The watery deathtrap was ultimately pushed over and the Clown lived to rock another day, but the terrifying experience taught him to rein in his performances … at least a little, as he says he still welcomes a healthy dose of personal pain during performances, comparing it to "bloodletting."
The Slipknot recording session from hell
Slipknot's 2001 sophomore album Iowa is as brutal as they come. According to Revolver, at least part of the album's sound may very well stem from the fact that its recording was an absolute horror show. The band was in a rather dark place thanks to the sudden and unexpected fame their first album had brought them, and the copious sex and drugs that tend to come with rock stardom had hollowed them out and left them depressed. Producer Ross Robinson broke his back during the recording and was confined in a wheelchair. Singer Corey Taylor had personal issues and a drinking problem, and ultimately resorted to cutting himself with broken glass during recordings just so he could "feel something." Both guitar player Jim Root and DJ Sid Wilson (pictured) had nasty breakdowns, and Wilson's even ended up on the record — his eerie sound booth freak-out became the album's haunting intro, "515."
After the album was done, things didn't get much easier. The worn-out band now had to deal with a record company that had quietly expected a chart-friendly follow-up to their hit record, and now had to figure out how to work with the absurdly angry Iowa instead. Even the album's touring and promotion cycle brought little reprieve to Slipknot: Iowa came out a week before 9/11, and the band's aggressive music was banned from many radio stations in the aftermath of the terror attack.
Mick Thomson's knife fight with his brother
You'd think that Slipknot's hulking guitarist Mick Thomson would have little to fear in a physical confrontation, but as Rolling Stone tells us, in 2015 he was in a fight so bad that he left in an ambulance. Of course, in the interest of accurate reporting it must be mentioned that the person who put Thomson in hospital was his own brother Andrew, and that the Slipknot man very much returned the favor.
As the two men left the scene in two ambulances, this was the reported situation: The Thomson brothers had been enjoying a few drinks in a house in Clive, Iowa, when they started fighting for reasons unknown. The inebriated battle progressed to the building's front yard, and at some point knives entered the equation. Both men suffered "non-life-threatening stab wounds," with Mick arguably the worse for wear due to taking one in the back of his head. Fortunately, both brothers survived the potentially deadly battle, though the police did note that "neither individual was very cooperative" when the authorities eventually arrived.
Neither Andrew nor Mick wanted to press charges in the aftermath, but Clive police did charge them with "disorderly conduct by fighting." Still, this potentially lethal case of sibling disagreement had at least one positive outcome: It probably doesn't hurt Thomson's heavy metal credentials that he can now casually state that he was once stabbed in the head.
The teenage near-death experience of Slipknot's Corey Taylor
Many members of Slipknot have had rough patches in their lives, but few started as early and as hard as vocalist Corey Taylor. As Blabbermouth tells us, the 15-year-old Taylor was living in a trailer park where, according to the singer himself, the activities were somewhat limited: "At a place like that, there's only two things to do, really – you take drugs, and you f**k."
As such, the young Taylor developed a taste for narcotics. He particularly enjoyed cocaine and methamphetamine, to the point where they nearly killed him. One time, the teenage Taylor woke up in a trash can 12 miles from his home, with no shirt, no shoes, and blood on his face. He eventually discovered that he had lost "a couple of days." He thinks he was at a party and overdosed, and instead of taking him to a hospital, his "friends" merely dumped him in the trash can with the assumption that he was dead.
Terrifying as the experience must have been, this particular dark cloud ultimately had a silver lining: During his long walk back home, young Taylor decided that he has to get out of that place. Suffice to say, he followed through.
The tragic death of Shawn "Clown" Crahan's daughter
Sometimes, the greatest tragedies in life happen not to you, but to your loved ones. As Consequence of Sound reports, Slipknot percussionist Shawn Crahan (right) experienced the most frightful thing that can happen to a father in 2019, when his youngest daughter, 22-year-old Gabrielle, unexpectedly died. According to TMZ, the cause of death was accidental drug overdose. Gabrielle Crahan's demise was particularly devastating because it seemed that her life was going pretty well. Although she reportedly did have a history of drug use, she had posted a sobriety coin on Instagram just days before the incident, indicating that she was five months sober.
While undoubtedly devastated, Crahan handled this ultimate tragedy with the kind of poise and grace one wouldn't necessarily expect from a man who wears a clown mask and wreaks havoc for a living. In an elegant Facebook message to the band's fans, he thanked everyone for their support, apologized for not being able to personally reply to everyone who has reached out, and expressed gratitude for the "energy shared" and the "empathy, positivity & strength" people had displayed.
Joey Jordison's illness
Slipknot's first major lineup change since the death of Paul Gray came in December 2013 when, as Louder reports, the band ousted their longtime drummer, Joey Jordison. The whole situation was rather mysterious, as singer Corey Taylor said that the decision had been extremely painful. "When we parted with Joe it was honestly because of necessity," the vocalist commented. "Starting to move on without him was one of the most difficult things we've ever done – just as hard, in a lot of ways, as trying to move on without Paul."
So, since Jordison was clearly important to the group, why on earth did they "part ways" with the guy? The truth didn't emerge until 2016, when Jordison revealed at Metal Hammer's Golden Gods awards ceremony (via Louder) that his departure was prompted by a medical condition. Jordison suffers from a form of multiple sclerosis called transverse myelitis, and this nasty nerve disease caused him to "lose" the use of his legs and rendered him unable to play his instrument for months. He eventually managed to push back the disease and regain his drumming ability, but describes the experience as something he "wouldn't wish on [his] worst enemy." However, he has absolutely zero ill will toward his former band over his departure, and wishes Slipknot "nothing but luck and the best of praise."
Slipknot fan deaths
Thanks to a cruel twist of fate, at least three people have reportedly died at Slipknot's live shows over the years. As Blabbermouth tells us, a 21-year-old student from Michigan died after going into cardiac arrest while attending a Slipknot concert in 2005. NME reports that in 2009, a concert in the band's home state of Iowa saw a 29-year-old concertgoer suddenly collapse and, oddly, also have a fatal cardiac arrest.
According to Loudwire, the most recent incident happened in 2019, when a 62-year-old fan was enjoying a mosh pit at Slipknot's Knotfest concert in Tinley Park, Illinois, but took a hit and "collapsed" outside the pit. The fallen fan started having a seizure, and the venue's lack of organization meant that staff couldn't reach the man until 15 to 25 minutes later. At that point, CPR came too late, and he ultimately passed away. Tragically, this happened mere weeks after the band had expertly defused a potentially dangerous situation during another Knotfest show in San Bernardino, California. Canoe writes that singer Corey Taylor stopped the concert to allow medical staff to reach and treat injured fans. "No one is f**king getting hurt on my f**king watch, do you understand me?" he roared in the microphone. "Back the f**k up!"
Slipknot's connection to a high school swordsman incident
In 2008, Slipknot was going through a rough patch. As the Guardian tells us, the band had been forced to cancel several shows because drummer Joey Jordison broke his ankle, but something even worse loomed in the distant land of South Africa. In the city of Krugersdorp, a 18-year-old student rampaged through Nic Diederich Technical High School, waving a sword and slashing at people … while dressed in a mask and costume that resembled Jordison's stage outfit. The student killed one person and injured another two, and people soon started pointing fingers at the band. "He came here camouflaged as the guy from Slipknot," said a director of a local student support network. "We know the wrong kind of music and drugs have bad effects. Young people need to be informed of the effects of bad Satanic music."
Slipknot initially declined to comment the incident, but as Blender (via Gigwise) notes, singer Corey Taylor eventually expressed his shock, and also pointed out that the band and its music can hardly be blamed for the actions of a disturbed person. Fortunately, South African authorities agreed with the vocalist. "Whenever there is a murder, people jump to conclusions, and always God or Satan told the killers to do it," a senior police officer opined. "These notions shouldn't be taken seriously because it is straightforward: someone, of their own free will, can kill another person."
The San Bernardino murder
Today, Slipknot have been around long enough that people know what to expect of them, but in 2003, they were still relatively new kids on the block. Their most recent album was the brutal Iowa and it was easy to see them as unpredictable and shocking (because, well, they were). Maybe that's why the police linked the band to the murder committed by two metal fans from San Bernardino, California, as MTV News reports. To be fair, 20-year-old Jason Lamar Harris and 16-year-old Amber Rose Riley had stabbed their 22-year-old friend more than 20 times before slitting his throat, and specifically stated that they were listening to Slipknot both before and after the deed. According to the Press-Enterprise (via Blabbermouth), they were particularly invested in the band's song "Disasterpiece," which features some rather gruesome throat slashing-themed lyrics, so maybe it's understandable that the cops arched an eyebrow.
Of course, it soon transpired that the duo had been planning to kill their victim for months, and had already made one unsuccessful attempt to do it, so it's not like Slipknot hypnotized them to commit bloody crimes on a whim. Regardless of the duo's taste in music, they were both tried as adults due to the nature of their crime. As Los Angeles Daily News writes, Harris was ultimately sentenced to 50 years to life in prison and Riley got 26 years to life.
The too-soon death of Joey Jordison
Joey Jordison was an integral part of Slipknot, giving the band its name and doing drum duty all the way up to 2013. Unfortunately, Rolling Stone says that year he was diagnosed with a form of multiple sclerosis that took away the use of his legs, making playing impossible, and he left the band. But after years of working out to get his legs moving again, Jordison was able to return to music, although that didn't include returning to Slipknot.
But tragically, his family announced that Joey Jordison died in his sleep on July 26, 2021, aged just 46. No cause of death was released along with the announcement, but TMZ reported that according to police, there were no illegal drugs found in Jordison's house and foul play was not suspected.
The statement from Jordison's family read, in part, that if you knew him, you knew about his "quick wit, his gentle personality, giant heart, and his love for all things family and music." Based on the outpouring of sympathy on Twitter, this was definitely true. Drummer Alex Bent, whose band Trivium toured with Slipknot many times, tweeted, "I don't have words, to call him an inspiration would be an understatement. Countless hours studying every move behind the kit. I owe so much to Joey Jordison and could never imagine being where I am today without his influence. RIP." It was one of many such tributes to the legend.