You've likely heard of Cooper's Hawk, a chain that combines restaurants with wine tasting rooms. With over 40 locations nationwide, according to the company's.website, you may have even been to one. Cooper's Hawk is known for its welcoming environment and upscale (but not too upscale) feel. By encouraging consumers to join its wine club, Cooper's Hawk retains customers and builds its fan base.
Per its website, Cooper's Hawk was founded by then 29-year-old Tim McEnery in 2005. The original location debuted in Orland Park, Illinois. At the time, McEnery was the only winemaker. He would make the wine on the property in a 974-gallon tank (via Cooper's Hawk).
Before opening up Cooper's Hawk, McEnery worked as a restaurant manager, according to The Wall Street Journal. After visiting a small winery in suburban Illinois, he developed a business plan for his vision of a restaurant and winery duo. While it was a good idea in theory, McEnery quickly realized why it was not done often. The Wall Street Journal says that after three and a half years of working on his business plan and jumping through many legal hoops, McEnery finally broke ground on the first location. It was clearly worth the effort, as Cooper's Hawk now makes $340 million in annual revenue, per the Cooper's Hawk website.
Cooper's Hawk's food menu is designed to pair with wine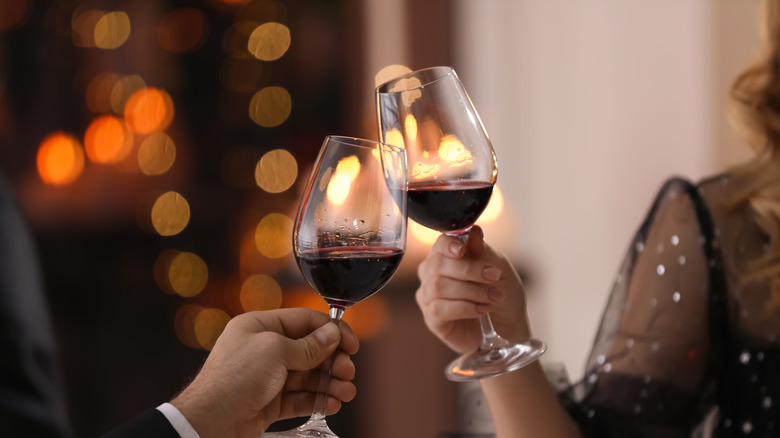 The most unique thing about Cooper's Hawk is that each location offers a full restaurant and wine tasting room. Matt McMillin, the Vice President of Culinary and Beverage Innovation, heads up the culinary direction of the kitchen (via Cooper's Hawk). With plenty of culinary experience working in fine-dining kitchens and opening restaurant concepts in Chicago, McMillin is a seasoned chef who once served as a judge on an episode of Bobby Flay's "Throwdown."
The food at Cooper's Hawk focuses on American dishes but also draws inspiration from global influences. With over 100 items on the menu, Cooper's Hawk focuses on highlighting seasonal ingredients and scratch-making everything in-house. Each item is paired with a specific Cooper's Hawk wine on the menu, making it easy for restaurant patrons to enjoy a delicious meal with a wine pairing. We can attest that their food is truly delicious. You won't feel like you are eating in a chain restaurant, but rather a hip spot serving up generous portions of food.
Cooper's Hawk buys its grapes from international growers
Cooper's Hawk partners with many winegrowers internationally and nationally, seeking grapes from regions including California, Washington, Oregon, Italy, Australia, Portugal, and France (via Cooper's Hawk). By sourcing grapes from these regions, Cooper's Hawk can ensure that the grapes are grown in the best conditions in terms of weather, soil, climate, etc. without having to try to establish vineyards in its home base in Illinois.
The grapes sourced in these locations travel to Woodridge, Illinois to be processed at the Cooper's Hawk wine factory, which produces all of the wines for all of the Cooper's Hawk locations. It is here where the wine is oak-aged, bottled, and distributed. The winery produces 700,000 cases of wine each year. Clearly, this process works well for them as the company has won over 500 wine awards in both national and international competitions, according to its website.