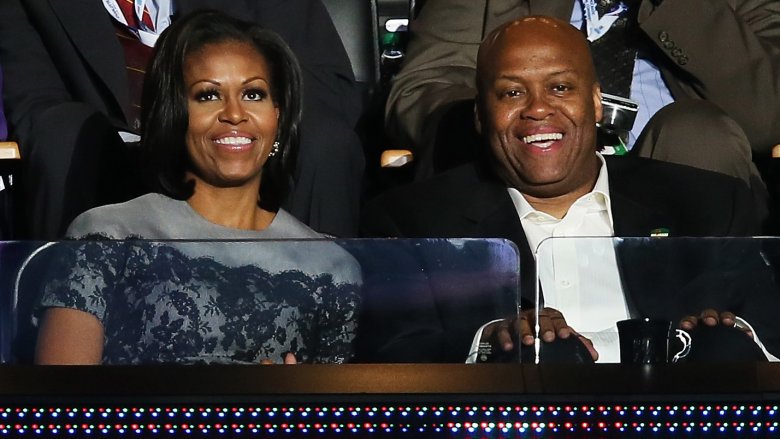 While Craig Robinson might be a lesser-known member of the Obama clan, he has played a pivotal role in the life of his sister, former first lady Michelle Obama (who was born Michelle Robinson). "You have been my protector since the day I was born," she wrote to her brother in her memoir, Becoming. "You have made me laugh more than any other person on this earth. You are the best brother a sister could ask for, a loving and caring son, husband, and father."
Robinson and his sister are so close that, without his seal of approval, the Obamas might not even have gotten married. He's not just the sibling of one of the most famous and influential women in the world, though. Robinson is also a gifted athlete with an Ivy League education whose resume would be impressive even if it weren't for his famous sister and brother-in-law. So who exactly is this man who plays such a big part in Michelle Obama's life? Let's get to know more about her brother, Craig Robinson.
The Robinson kids were raised with a strong work ethic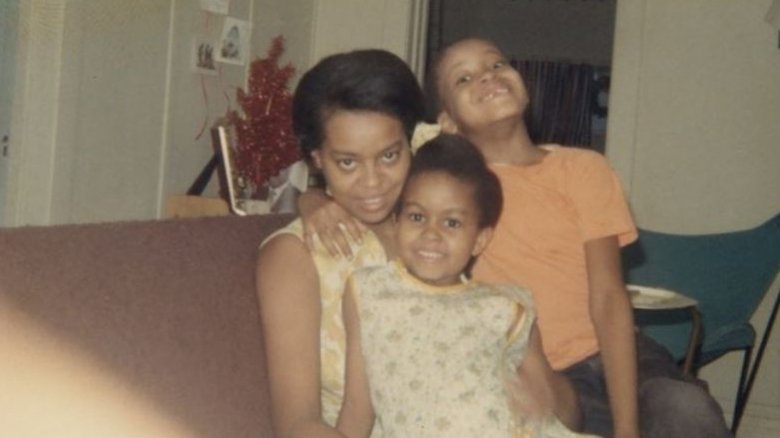 Both of the Robinson kids grew up to be extraordinarily successful. Aside from being blessed with talent and brains, their mother, Marian Robinson, also pushed them to excel. She gave them math and reading workbooks so that they could practice their academic skills at home and get ahead of their grade level. She also instilled in them a strong work ethic, teaching them the importance of discipline. The Robinson matriarch told The New York Times that she raised both of her children to speak their minds — something that became apparent in their future careers.
She also made sure that they did their share of the housework. "If we had a chore, we had to do it right," said Robinson. The Robinsons might not have been coddled as kids, but it looks like their mom's parenting style more than paid off, and has a lot to do with the way they turned out.
He's their mom's favorite
Marian Robinson is close to both of her children but she has a special bond with her little boy. Both of the siblings admit that Robinson is their mother's favorite, although Obama doesn't seem to be hurt by that fact, and is able to laugh about it. Even when she was the first lady, she said her mom still played favorites. "I am the First Lady but my mother is like, 'When is Craig coming?,'" Obama told Good Morning America. "I'm like, 'I live in the White House. What more do I have to do?'"
Marian moved into the White House during the Obama presidency and helped look after her granddaughters, Malia and Sasha, but she did so at Robinson's urging. He explained that she doesn't like to be "intrusive" and was reluctant to move into the presidential residence, until he sweetened the deal. "I just sort of positioned it like, you will helping your granddaughters out, number one, and if you move into the White House, then I'll come to visit you more," he said.
He and Michelle have always been close
Some siblings might fight and compete with each other, but Robinson and his sister have always had a close bond. It's a good thing that they got along, since their childhood home was quite small. The two even shared a bedroom growing up, with a divider between their beds to give them some privacy.
"We were always close because we were close in age, two years," Robinson told the New York Post. "My parents never made it that, 'It's OK, she can't do this because she's a girl.' She played sports with me, rode bikes with me. She got to do everything I got to do. We were friends and playmates growing up. To the point my mom said, 'You got to stop worrying about your sister. She can do stuff on her own.' I would make sure she was included or taken care of before I can start enjoying myself."
He's one of the best basketball players in Ivy League history
Michelle Obama launched the Let's Move! campaign while she was first lady to help America's kids be more active and live healthy lifestyles. Athleticism is something that runs in the Robinson family; sports were important to the Robinsons as kids and was a big part of their childhood. "We used to play everything, and it started with playing catch in the house," Robinson said at an Aspen Institute forum on youth sports (via The Washington Post).
Pursuing his love for sports, Robinson became one of the best basketball players in Ivy League history. Robinson scored 1,441 points during his college career, and was named Ivy League Player of the Year two years in a row. He was also selected twice for First Team All-Ivy, and earned three Ivy League titles. As if that wasn't impressive enough, Robinson went on to be selected in the fourth round of the NBA draft, although he never ended up playing in the professional league.
Michelle Obama went to Princeton to follow in her brother's footsteps
The future first lady admired her older brother so much that she followed him to Princeton. The school might have provided them with a stellar education, but the Robinsons were subjected to racial discrimination at the overwhelmingly white school. When Obama started at the Ivy League school in 1981, she was just one of 94 black freshmen out of a class of over 1,100. Her roommate's mother went so far as to petition the school to give her daughter a white roommate.
"If you're young and black and from the South Side, there are always going to be people who feel you should not be there," Robinson told the New York Times. "You build up a thick skin." While some people might not have wanted her at the school because of her race, Obama could at least revel in being the younger sister of a star athlete. She was known as "Craig's little sis" on campus.
He had a successful career in banking, but his heart remained on the basketball court
After earning his degree in sociology, Robinson played professional basketball in the U.K. for the Manchester Giants, but he wasn't stopping there. After retiring from pro ball, he earned a master's degree in business administration and embarked on a career in banking, becoming a vice president at Morgan Stanley Dean Witter.
Banking earned Robinson a lot of money, but Robinson felt unfulfilled in his job. His true passion was in basketball, and he left banking in order to accept a position as an assistant basketball coach at Northwestern University for a fraction of the salary. "I was coaching part-time in youth leagues and high schools," he told Inc. "My business success, albeit good — in fact, maybe even grand by some measures — wasn't bringing me the kind of pleasure and joy that I felt when I was coaching."
After Northwestern, Robinson would go on to coach at two more colleges, Oregon State and Brown University.
He worked for ESPN
Robinson has also shared his athletic expertise with ESPN, where he took on a position as a men's college basketball analyst. In a press release, ESPN coordinating producer Chris Farrow praised Robinson's "knowledge, insight and understanding of the game."
Robinson landed the gig after being let go from his position at Oregon State, and used the job as an opportunity to scope out the possibility of scoring a job with the NBA. He wasn't sure if his expertise would line up with the professional league, but, in true Robinson fashion, kept hustling. "What I would do was, when I was preparing to do my television job, if I was ever in or near a city that had an NBA team, I'd just call up the folks there and see if I could come by and just talk to people, network," he told The Undefeated. After a while, his networking paid off, earning him a position with the Milwaukee Bucks in 2016 where he was vice president of player and organizational development.
The Knicks wouldn't be the same without him
In 2017, Robinson was hired by the New York Knicks where he serves as vice president of player development. The position is far more than just a job to him. "This was an opportunity to work on the biggest stage there is in this industry, and with such a historically relevant organization like the Knicks, and with a tough task," he told The Undefeated.
Robinson is especially excited for the opportunity to mentor young players. "The best part about it for me is that it happens both on and off the court," he said. "I think you need to have both if you're trying to really help players develop. …The on-the-court stuff is extremely important to these guys. When they realize that it's as important to you as it is to them, that's when you can have an impact on their off-the-court lives. They start to trust you and have a relationship with you. That's when they start listening."
At the 2008 Democratic Convention, he gave a speech introducing his sister
Robinson isn't too active in the political sphere, but he did help out his brother-in-law in 2008 when he first ran for president. At that year's Democratic National Convention, Robinson gave a speech introducing his sister, the future first lady of the United States. His love for his sister really shone through in his words as he told the world what a great first lady she would be.
"This is the person who used to play the piano to call me down before my big games in high school," he said. "This was the person who, even though we were only allowed one hour of television a night, somehow managed to memorize every single episode of The Brady Bunch. But when I really think back, I can also see how the person that she is today was formed in the experiences we shared growing up. We worked hard. We studied hard. We had parents who wanted more for us than they had and always being reminded that in this country of all countries, those things were possible."
Like his sister, he's the author of a memoir
Michelle Obama blew up the charts late in 2018 with the release of her memoir, Becoming, which was an instant bestseller. She's not the only member of her family to have some serious writing chops, though. You probably know that her husband has a few books under his belt, but her brother has also written a memoir of his own. A Game of Character: A Family Journey from Chicago's Southside to the Ivy League and Beyond was published in 2010 and discusses growing up in the Robinson household and the later success of Robinson and his sister. Another member of the family shared their gift for storytelling in his memoir; the foreword was written by none other than their mother, Marian Robinson.
Family is at the center of Robinson's book. The memoir was written in memory of his father, Fraser Robinson III, who passed away in 1991. Robinson also dedicated the book to his family, who he calls "my life, my everything."
He knew Barack Obama was a good guy because of how he played basketball
Michelle Obama might have fallen for Barack on her own, but she still wanted her family to approve of him. Fortunately, Robinson knew that his sister's boyfriend was a good person after a game of pickup basketball. "Craig's opinion of Barack mattered to me and my brother knew how to read people, especially in the context of a game," Obama wrote in Becoming.
That one game told the basketball star everything he needed to know about his sister's boyfriend. "I realized he wasn't selfish," Robinson told the New York Post. "He wasn't greedy. He showed character on the court. He called fouls and gave up fouls. You have to trust the guys you're playing with in pickup, they'll make the right call. He did all of that. I was able to get back to her and say, 'He seems like a pretty good guy.' The best thing about it I told her is he didn't just pass me the ball because he was dating my sister."
While Robinson doesn't credit himself with making the famed Obama marriage happen, he did say that he thinks he "moved it in the right direction."
"I've always found that you have to work a little bit harder to prove yourself when you're African-American"
Robinson has a long list of talents and, aside from being a writer, athlete, and financial whiz, is also an entrepreneur. He is one of the founders of Loop Capital, a minority-owned investment bank, brokerage, and advisory firm that operates globally.
In an interview with Inc., Robinson gave advice to African-Americans and other minorities looking to start their own businesses. "We're still in a time when being African-American can be viewed as a hindrance, especially in the business world," he said. "I've always found that you have to work a little bit harder to prove yourself when you're African-American. There's nothing wrong with that. You just have to be prepared for it."
He reminded prospective entrepreneurs that they will have to conduct business with people from all sorts of backgrounds, which could pose a challenge. "Your customers aren't going to be all African-Americans or people of color," he said. "Many of your customers aren't going to give you the benefit of the doubt."
Barack is one of the biggest supporters of his career
She might be the sister of a fantastic basketball player, but Michelle Obama is not actually a huge basketball fan. "She had grown not to like it because she got dragged to so many different basketball games," Robinson explained to the New York Post. "She never played. Part of the reason she didn't play, it wasn't the same attention paid to women's basketball. She could've been a really good player. But she came to the games at Princeton because everyone was going. If everyone wasn't going and I wasn't playing, she wouldn't have gone."
Fortunately, there's another Obama who is a massive basketball aficionado and excitedly follows Robinson's career: his brother-in-law, Barack. The former president is his number one fan. The rest of the family supports Robinson, but it's Barack who is "the most excited" about his brother-in-law's position with the Knicks, Robinson told The Undefeated. "My sister's just happy that I'm happy and that my wife and kids are happy," he said. "I think Barack is very excited to see what we're going to do with the Knicks."