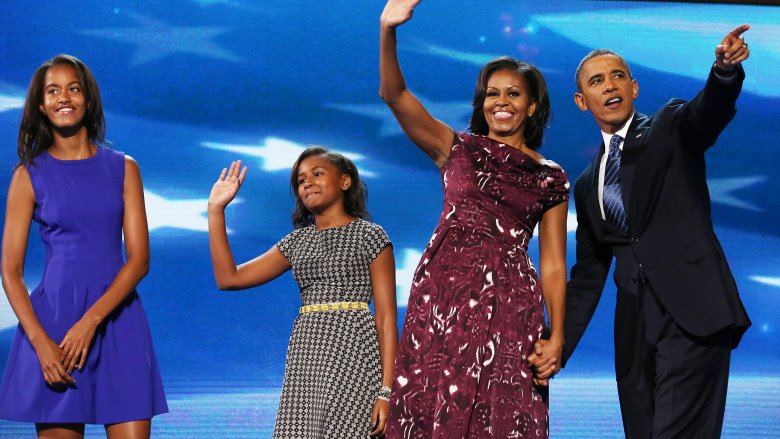 The Obamas called the White House home from 2009 to 2017. Now that they've moved out of their famed address into a normal home with doorbells, things have changed quite a bit for the former first family. Though they stayed in Washington, D.C. so Sasha Obama could finish school with her friends (barring big sis Malia Obama, who's off at Harvard and globe-trotting with her British boyfriend), it seems like the family is hardly in one place for too long.
In an interview with Ellen DeGeneres (via Today), Michelle Obama said "home is where we make it. We were in the White House for eight years, but it wasn't the house, it was us in it. It was our values and our love for each other, and we just move that to another house."
Move to another house they did — a huge $8.1 million pad, and then a yacht, and then a white water raft in Bali. There's no denying the Obamas have been living it up since their time in the White House concluded. When they're not hanging out with A-list celebs such as Oprah Winfrey and Tom Hanks, they're embarking on brand new career endeavors — from writing memoirs to producing Netflix films. Here's what the former first family has been up to since shipping out of 1600 Pennsylvania Ave.
The Obamas' epic year of vacations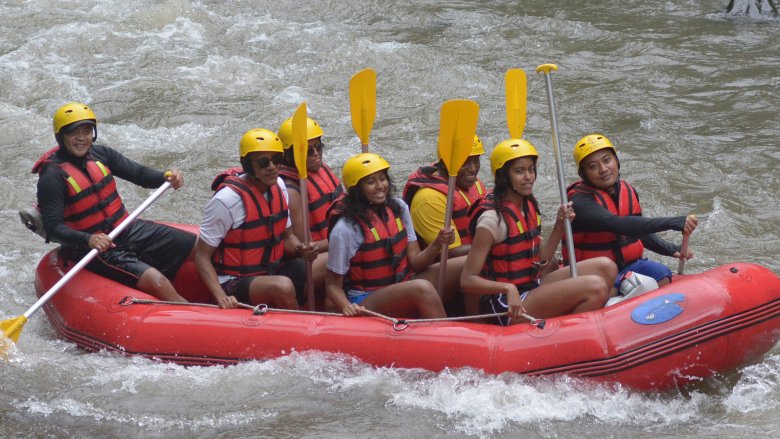 What better way to celebrate graduating from the White House than with an epic gap year? In 2017, that's just what the Obamas did. Who else gets to hang out with Oprah Winfrey, Tom Hanks and Bruce Springsteen on a yacht in the tropics?
According to People, the former first couple and a collection of iconic celebs stayed on a "450-foot yacht" in Tahiti in April 2017. They reportedly ate lunch on Vanilla Island, stopped over at Taha'a Island, shipped out to Bora Bora, and probably had at least one of Oprah's famous margaritas. It should be noted that Oprah wouldn't divulge the nitty gritty details about their epic time. "What happens on the boat, stays on the boat," she said (via People).
The following month, the Obamas jet set to Tuscany, where — according to the Daily Mail — Michelle Obama showed off her bare shoulders. Barack Obama reportedly let loose by undoing the top button of his polo.
After that, the Obamas moved course to a full-fledged family outing in Indonesia — Barack's old stomping grounds (with a brief popover to Guam on their way). According to E! News, the family stayed at a Four Seasons that cost $2,300 per night and enjoyed a day of white water rafting. There's currently no word on how much it costs for the Secret Service to rent a raft vs. a Mar-a-Lago golf cart.
Malia lived it up at Lolla
Without the confines of the White House, Malia Obama has been given free reign to be a normal (albeit massively famous) college student. If you believe the hype, there may be no one who enjoyed the 2017 Lollapalooza music festival more than the former first kid. Honestly, it's probably impossible to enjoy the dirt and port-o-potties as much as a 19-year-old not yet jaded by decades of working plumbing (though, the White House bathrooms are probably pretty nice.)
According to TMZ, Malia was out of her cage and doing just fine as she "headbanged and writhed on the ground" with her friends during The Killers' headlining set. She reportedly rocked out so hard that she needed to hitch a ride on a golf cart at the end of the show. TMZ claims she looked "kinda dazed," but headbanging all day will do that. Footage obtained by the tabloid depicted Malia looking mighty tired as she was escorted out. Girl, remember to stay hydrated next time!