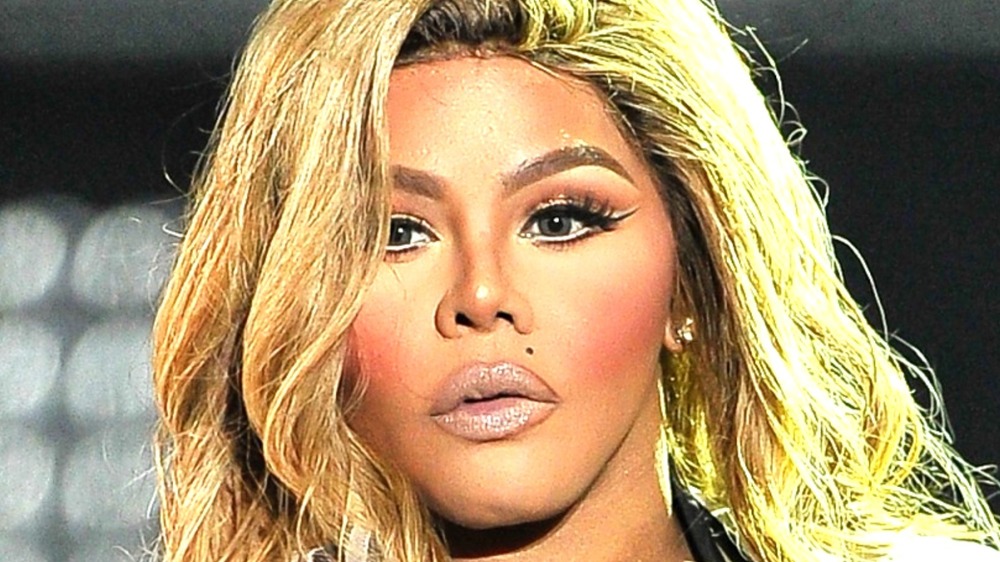 Rap, more so than other forms of music, tends to have an expectation of a certain expensive lifestyle artists have to follow. When you write songs about how much money you spend all the time, you have to display those things in real life. So the rap lifestyle is full of stereotypes like heavy gold chains, flashy cars, and private jets. For a lot of the most successful rappers, that lifestyle is sustainable while also putting money away for a rainy day. But rap is also filled with former stars who go completely broke.
Oftentimes the expensive jewelry and transportation and mansions don't help. Plus, there are plenty of rappers who fall seriously behind on child support. But quite a few bankruptcies could seemingly be avoided if rap school taught one simple rule: You need to pay your taxes. Yes, every single year. This apparently comes as shock to many artists. Here are rappers who went totally broke.
50 Cent owed a lot of money for doing illegal stuff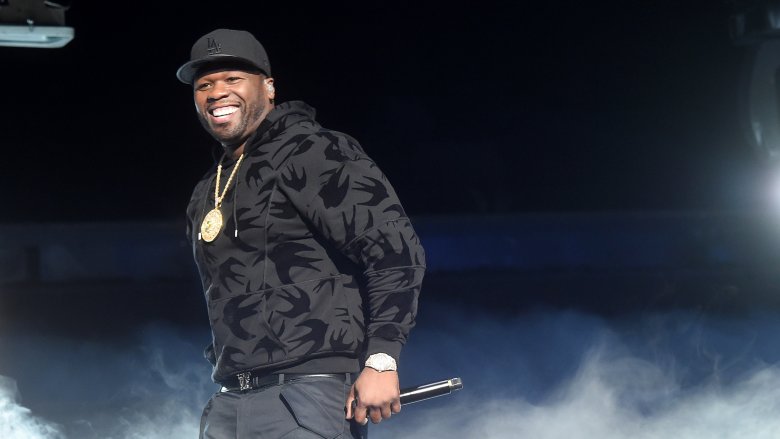 For 50 Cent, cash flow seemed to be endless at one point. In 2015, the New York Post reported he'd sold almost 30 million albums, made a reported $60 million to $100 million on his investment in Vitamin Water, had endorsement deals with companies including Reebok and Right Guard, plus owned a successful record label and clothing company. The Washington Post estimated his net worth at half a billion dollars in 2010.
When 50 Cent filed for bankruptcy in 2015, he was making $185,000 a month, but $72,000 went to his 18-bedroom house and almost everything else went to "other expenses." While he admitted he had recently bought a Rolls-Royce, he said most of the cars, jewelry, and jets he showed off on social media were actually borrowed or rented.
But his big problems came from the illegal stuff he did. Due to a feud he had with Rick Ross, he decided to shame the mother of Ross' child. 50 Cent purchased a sex tape of the woman, added a voiceover making fun of her, and put it online without her knowledge or consent. Super not okay. A judge ordered him to pay $7 million in damages. He was also found guilty of copying his G-Unit headphone design from another company, and a judge made him pay $17 million for that transgression. 50 Cent immediately filed for bankruptcy, saying these judgments plus other debts exceeded his mere $25 million net worth.
In 2016, he settled his bankruptcy case, promising to pay $23 million to his creditors over five years.
MC Hammer had 200 people on his payroll
MC Hammer probably had good reason to think the fat times would never end. His album Please Hammer, Don't Hurt 'Em, which came out in 1990, is still one of the best-selling hip-hop albums of all time. Forbes estimated Hammer's net worth at that time was around $33 million. But just six years later, he filed for bankruptcy in one of the most famous celebrity financial disasters of all time.
We have detailed knowledge of where all the money went. First, there was the $30 million mansion, reports Time. Then there was possibly the most epic entourage ever. Hammer employed 200 people on his payroll, which Time says cost $500,000 every month, but Hammer told Oprah that it could be "a million dollars a month at times." When he filed for bankruptcy, he said he had several hundred creditors. The 36-page list included his brother, numerous lawyers, the IRS, a couple banks, American Express, limousine companies, department stores, and utility companies, and he even owed football player Deion Sanders half a million dollars.
Hammer said he "lost his heart" and didn't use the money as a "blessing" to himself but to too many other people. Still, in 2011 he told Oprah that even if he could, he wouldn't go back and change anything. He believes in the butterfly effect, and that if things had been different, he wouldn't have his kids or the "peace" he has now.
Lil Kim failed to save her home
She wasn't lying in her song: It has definitely been all about the Benjamins for Lil Kim, who has had trouble paying her mortgage. CNBC reports her bank first started foreclosure proceedings in 2010, and in 2015, the two parties were still trying to work things out. But by 2017, a judge ruled she'd had her chance. According to the Los Angeles Times, a year later the bank foreclosed on her New Jersey mansion, and Kim filed Chapter 13 bankruptcy protection.
She had some major debts. Besides being over $650,000 behind on her house, she owed the IRS more than a million in back taxes. TMZ adds she was $186,000 behind on legal bills and was $4 million in the hole overall. Apparently, her income plummeted in just one year, from $823,659 in 2016 to $398,000 in 2017. In 2018 she said she was making about $18,000 a month, but out of that had to budget $2,000 for her staff, another $2,000 for her wardrobe, and $10,000 for travel.
Kim was desperate to save the mansion she bought in 2002 and filed to stop it going to public auction. (The opening bid was set at just $100.) She told the court she was "committed to saving [her] home and reorganizing [her] debts." But the mortgage company said she was still missing payments. And Kim had a major setback when the court decided she was in so deep that legally she was too broke to qualify for Chapter 13's specific type of bankruptcy.
DMX owed over a million dollars in child support
It turns out that X is not, in fact, "gon' give it to ya" if "it" is money he owes you. According to the Guardian, DMX had five No. 1 albums and was "one of the most successful rappers of the late 1990s," but despite the money that must have been flowing in at one point, his finances are a disaster.
BET says he filed for bankruptcy in 2009 but was denied by the court because he "unreasonably delayed" the case. Things apparently didn't get better, since he tried again in 2013, with his manager saying that DMX's "financial strains [had] been inhibiting his career for several years," blaming the problems on "poor financial management by prior representation." DMX said he only had $50,000 in assets, earned as little as $1,677 a month, and was between $1 million and $10 million in debt, including owing $21,000 on a leased car and a whopping $1.24 million in child support. But the judge threw out this bankruptcy filing as well, citing inconsistencies that made DMX seem untrustworthy.
DMX then filed yet another time in 2016, reports The Dirty. This time he said he owed even more money and had absolutely no money in his bank account and no assets at all, except his house, which he was trying to save from foreclosure. Finally, in 2018, the IRS came for the $2.29 million DMX owed them, and he ended up spending a year in jail for tax evasion.
Lisa Lopes borrowed money to pay for her bankruptcy lawyer
TLC formed in 1991 and by 1994 they had two hit albums, three No. 1 singles, and two Grammy awards. But while their professional lives might have been at an all-time high, for the rapper of the group, Lisa "Left Eye" Lopes, this was marred by an extremely messy personal life, according to Biography.
Lopes was dating football player Andre Rison. The Boom Box describes their relationship as "highly combustible," and Lopes said he abused her, although charges were eventually dropped. Then on June 8, 1994, Rison went out with his friends. Lopes also went out drinking but got home before her boyfriend. When Rison returned, a massive fight started. Lopes was "reportedly angry because he bought himself lots of new sneakers, without getting her any." Things got physical on both sides. Finally, Rison left. That's when Lopes allegedly grabbed a pair of the sneakers she was so mad about and set it on fire in a bathtub. Soon the whole house was in flames.
Amazingly, Lopes got off with a $10,000 fine and probation. Rison even forgave her, and their relationship continued. But the mansion was insured by Lloyd's of London and they were a lot less forgiving than Rison. The Guardian says the $1.3 million claim the company filed against Lopes forced her (and indirectly, the rest of the group) into bankruptcy. Rison got to show just how magnanimous he could be when he loaned Lopes and her bandmates $15,000 each so they could hire bankruptcy lawyers.
Bow Wow couldn't afford his Ferrari
Bow Wow (formerly Lil' Bow Wow) started releasing music when he was 13. Since then he's had hit records and moved into acting, starring in movies and TV shows. So you'd think he'd have a decent amount of cash saved up over the years. But that could not be further from the truth based on what he told a judge in 2012.
According to TMZ, during a child custody case, Bow Wow informed the court he made just $4,000 a month and only had $1,500 in his bank account. He also merely leased a relatively modest car. That might be because four years earlier, he'd leased a Ferrari F430 and within months was behind on payments. The leasing company came for their money and Bow Wow got stuck with a bill of over $200,000. He didn't pay it, and by 2012, interest took the total to almost $300,000.
By 2017, he still appeared unable to afford the lifestyle he thought he should project online. The Daily Beast reports that he posted a picture of a private jet on Instagram with a caption heavily implying he was going to fly to New York in it. But then someone saw him flying commercial and posted a picture to Twitter. Another internet detective discovered the picture of the private jet was actually from a Florida company's website. In 2018, he called money "evil" and claimed he would give his away to fans, so maybe he's wanted to be broke this whole time.
Wyclef Jean gave money to everyone
Wyclef Jean topped the charts as a member of The Fugees, with their album The Score going 6x platinum. He also had a successful solo career. But wherever the money went, it was not into his bank account.
In 2010, according to the Smoking Gun, Jean was hit with $2.1 million in tax liens from the IRS. Four years later, his former lawyers filed a legal judgment claiming he owed them $100,000, and that despite setting up a payment plan, they hadn't received a penny. By then Jean owed the IRS $2.9 million, having apparently not bothered to pay them either. An email from his business manager to the lawyers said in the "most professional verbiage," "there ain't no money" [sic].
This might be why Jean used the charity he set up like his personal piggy bank. Business Insider reports that in 2012, Yéle Haiti folded, after spending less than half of $16 million it raised on actual charitable stuff. Some shady transactions included Jean paying himself $100,000 to perform at a charity concert, the hundreds of thousands of charity dollars paid to his "family, friends, and defense attorneys," not to mention the $100,000 that went to Jean's alleged mistress.
The accusations were so bad and so memorable that when Jean did a Reddit AMA in 2016, people jumped on him about the fraud. But Jean denies everything, and said in an interview with Money that year, his biggest mistake was becoming "a bank for a certain number of people."
Young Buck tried to hide money from the IRS
The IRS was absolutely not playing when Young Buck owed them hundreds of thousands of dollars in back taxes. According to NPR, agents raided his house and took basically everything of value, including "his white leather dining chairs, his watches, his craps table, his tattoo kit. Even his refrigerator." (They eventually loaned him the fridge back.) The rapper would later claim they took things they shouldn't have, like equipment he needed to work and stuff that belonged to his kids, although the IRS denied these accusations. The plan was to auction everything off (although this was delayed), his music catalog went up for sale, and he was even in danger of losing the trademark on his rap name.
The tax issue might not have been completely Young Buck's fault, since there seemed to be some miscommunication between his lawyer and business manager about who was supposed to pay them. And when taxes did get paid, attempts were made to deduct watches as a business expense, since Young Buck need to have "a certain look." It didn't fly.
But taxes weren't his only financial problems. Twenty-two creditors submitted claims totaling $11.5 million. Then Young Buck allegedly tried to hide an appearance fee he received in the middle of the bankruptcy case, by having the money wired to an undisclosed bank account. This was, of course, an exceptionally stupid thing to do and could have meant his filing was dismissed, but in the end it still went forward.
Xzibit didn't budget for the end of his TV show
Xzibit had a flourishing rap career starting in 1996, with a platinum and two gold albums long before he started hosting Pimp My Ride on MTV. But the popular show, where people brought their old, beat-up cars in for custom makeovers, seemed to be his real cash cow. It only lasted from 2004 to 2007, and the show's cancellation seemed to take Xzibit and his bank account by surprise.
According to Detroit News, in 2007, Xzibit earned $497,175, but the year after he lost his lucrative TV gig he only made $67,510. This was a problem considering the lifestyle he got used to during the good years. He owned homes in California and New Mexico, and by 2009, his 7,650-square-foot mansion was facing "imminent foreclosure." He also didn't own a car, even when hosting a show about them, instead wasting money leasing a Range Rover for $2,230 a month. By 2010, he found himself $1.4 million in debt.
Xzibit also had a problem paying taxes, and he couldn't totally blame his show's cancellation for that since he failed to pay up in 2006 and 2007, and then 2009 as well. Between 2008 and 2010, the IRS came for their money, demanding just under a million in back taxes. Xzibit tried to file for bankruptcy, but his filings were dismissed and his property liened.
Nas said paying child support would bankrupt him
Nas has had a long and successful career, showing up on the Billboard Hot 100 chart nearly two dozen times between 1994 and 2018. He married fellow artist Kelis in 2005, but things went south pretty fast. By 2009, she had filed for divorce while pregnant with their first child.
Whatever bad things went on in their marriage, Nas' terrible financial situation became clear during the divorce. Essence says while settling on the child support amount Nas would contribute, the rapper claimed he owed his manager $700,000 and the IRS millions. But he was still required to pay over $50,000 a month in support. He really might not have had the money, though, because before they were even divorced, Kelis said Nas wasn't fulfilling his obligations. The judge ruled he owed her $300,000 in back child support and alimony, according to DJ Booth. But Nas said paying the amount would bankrupt him. His lawyer argued he made "substantially less" than the $150,000 Kelis claimed Nas pulled down a month. He had to set up a payment plan to afford the bill.
Then in 2012, Nas lost his Georgia home when he failed to make mortgage payments. The bank took it and sold it at auction. Kelis wasn't the only ex not getting paid, either. TMZ reported the mother of Nas' daughter took him to court in 2014 and said he was a "repeat criminal non-supporter" who owed her more than $11,000 in child support.
Fat Joe doesn't want young rappers to make his mistakes
Fat Joe released 10 albums before his first run-in with the tax man in 2010. Then it was only $105,000 owed to the state of New Jersey and he was able to pay it back before he got in big trouble, according to Bossip. But by 2012, things had gotten a lot worse.
Despite earning over $3 million in 2007 and 2008, Joe decided to not pay the more than $700,000 he owed the IRS on it, reports USA Today. He faced up to two years in prison, but before he was sentenced, he worked hard to pay the bill, as well as doing a bunch of charity work, like donating computers to schools. Reuters says Joe also accepted the blame, saying while there was "a lot going on" the years he failed to file it was still his responsibility. And more than 60 people sent in letters on his behalf saying how awesome he was. The judge took all this into account, but Joe still served four months in prison. Perhaps the worst was that his 6-year-old daughter was taunted in school about her dad going to jail. But his daughter's woes must not have had that much of an effect on him since in 2016 he found himself in hot water with the IRS again. This time he owed $1.1 million.
In a 2019 interview, Joe implored young rappers to have a solid business plan and not to make his mistakes, like wasting millions on jewelry and private planes.
Trick Daddy filed for bankruptcy three times
Trick Daddy came up in the Miami rap scene, and the self-styled thug specialized in rapping about the thug life and thug issues. He routinely released album-length sagas that nearly topped the album chart, including Thugs Are Us, Thug Holiday, and Thug Matrimony: Married to the Streets. Millions bumped his big hits throughout the early millennium, such as "Let's Go," "Sugar (Gimme Some)," and "Take it to Da House."
By the late 2010s, Trick Daddy wasn't raking in the cash the way he once did. According to court filings obtained by Bossip, the rapper reported earnings of $75,000 in 2016 and just $17,000 in the first few months of 2017, which is when he filed for Chapter 13 bankruptcy. That's a dubious milestone for anybody, but for Trick Daddy it marked the third time in three years that he had to file for legal arrangements to avoid complete ruin. The rapper's previous bankruptcy agreements were canceled because he didn't make payment plans, and he filed when he did in May 2017 to stop the auction of his Florida home. At the time, he claimed his assets were valued somewhere between $100,000 and $500,000 but had absolutely no cash on hand or money in the bank. Meanwhile, he owed $280,000 on his home, $290,000 in back taxes, and $57,000 in unpaid child support.
Memphis Bleek was down to his last $100
As part of the roster of Jay-Z's Roc-A-Fella Records, Memphis Bleek (or Malik Cox, officially) was one of hip-hop's biggest young stars in the late '90s and early 2000s. His first four LPs, Coming of Age, The Understanding, and M.A.D.E. all sold well on the backs of memorable era hits like "It's Alright," "Is That Your Chick (The Lost Verses)," and "Memphis Bleek Is…" Unfortunately, Bleek hasn't had a major hit in well over a decade and now, Memphis Bleek Is, well, hurting financially.
He released his last studio album in 2005, and the money slowly stopped coming in. And so, in March 2016, according to Bossip, Bleek had little choice but to file for Chapter 13 bankruptcy in a New Jersey U.S. Federal Court. By that point, his liabilities and debts amounted to more than $380,000 — he owed $335,000 on his home in New Jersey, $24,000 on his car, $9,000 in back taxes, and $13,000 in court fees. He had little mean of paying that all off in a timely fashion. His assets totaled around $274,000 and that his business banking account balance was $0, while his personal account boasted just $100.
T-Pain squandered $40 million
The sound of T-Pain was the sound of hip-hop in the mid-2000s. His partially rapped, partially sung style of vocalizing predated practitioners like Drake and Post Malone on his long list of indefatigable party anthems about partying (and women), including "I'm Sprung," "I'm in Luv (Wit a Stripper)," "Bartender," and the #1 hit "Buy U a Drank (Shawty Snappin')." He also provided the hook on plenty of other smash hits for others, including Jamie Foxx's "Blame It," Chris Brown's "Kiss Kiss," and Flo Rida's "Low." And let's not forget T-Pain's quirks, like his fondness for big sunglasses and Auto-Tune.
When the era of T-Pain's dominance ended, he'd made a staggering amount of money: $40 million by the performer's estimation, as he told radio show The Breakfast Club (via USA Today) in 2019. And then he lost all of it. He's okay now, but he blames his losses on poor real estate investment decisions. "I was letting my manager do it and he was way more optimistic than I was," said T-Pain. "He would just buy complete dumps and think that we can just paint and then we should be fine. Never sold anything that we bought." At one point, T-Pain says he was so broke he had to borrow money to buy his kids a meal at Burger King.
Mase left rap and didn't pay his taxes
Puff Daddy dominated 1997. While simultaneously eulogizing and promoting his late friend and musical partner the Notorious B.I.G. by taking "Hypnotize" and "I'll Be Missing You" to the top of the charts, he also gave guest spots to his protege, Mase, on the #1 hits "Can't Nobody Hold Me Down" and "Mo Money Mo Problems." Mase released his first solo album Harlem World in late 1997, generating big 10 hits in his own name, including "Feel So Good," "What You Want," and "Lookin' at Me."
Not long after the release of his second album Double Up in 1999, Mase abruptly retired from music and became a Christian pastor, although he ultimately returned to rap in 2004 with Welcome Back. However, according to TMZ, Mase's musical revival may have been motivated purely by financial concerns. In 2012, the IRS filed documents in Florida alleging that the rapper owed nearly $125,000 in back taxes dating all the way back to the years 2000, 2001, and 2004.
Birdman went from Cash Money Millionaire to evicted
More than just a rapper, Birdman is the co-founder of Cash Money Records. From the '90s on, the label has been wildly successful, responsible for bringing the music of icons past and present like Drake, Lil Wayne, Nicki Minaj, and Juvenile to the masses. Birdman himself was part of two of his company's supergroups: the duo Big Tymers (with producer Mannie Fresh) and the Cash Money Millionaires (alongside Lil Wayne, B.G., and Juvenile). In all, Birdman (or Bryan Williams) did well enough to land at #4 on Forbes' list of the richest rappers with an estimated net worth of $110 million. And yet, something must have gone very wrong along the way.
According to The Blast, a company called EMG Transfer Agent issued Birdman a whopping $12 million loan to start a vodka company. The rapper used his palatial Miami home (outfitted with a professional studio) as collateral. In 2017, EMG sued Birdman, alleging that he defaulted on the loan and planned to use the money not for a business, but to pay off personal bills. The company asked for $20 million, accounting for legal fees and interest. Birdman argued that the loan was predatory, and thus he didn't do anything wrong. Nevertheless, Birdman lost his house in the legal battle, and in late 2019 asked a judge to block EMG from seizing profits on music produced in the home's studio.
Luther Campbell was broke in the USA
Luther Campbell, aka Luke, aka Uncle Luke, is probably better known for his legal maneuvers than he is for his music. He helped make Floridian rap nationally prominent as the leader of The 2 Live Crew in the '80s. Its third album, the steamy As Nasty as They Wanna Be, which included the top 30 hit "Me So Horny," went double platinum, but the US District Court for the Southern District of Florida ruled it obscene, although that finding was later overturned.
In response, Campbell and his Crew recorded "Banned in the U.S.A.," an interpolation-meets-cover of Bruce Springsteen's "Born in the U.S.A," which hit the Billboard top 20. According to the South Florida Sun-Sentinel, Campbell also ran a label, Luke Records, which released two albums by rapper M.C. Shy D. (Peter Jones). In 1994, Campbell lost a lawsuit to the musician, with a judge ordering him to pay out $1.6 million, including nearly $700,000 in withheld royalties. Campbell hadn't forked over the money by 1995, so Jones placed a lien on some choice Miami property Campbell owned, which would lead to a sale to pay off the legal debt. To prevent the sale, Campbell filed for bankruptcy protection in June of that year.