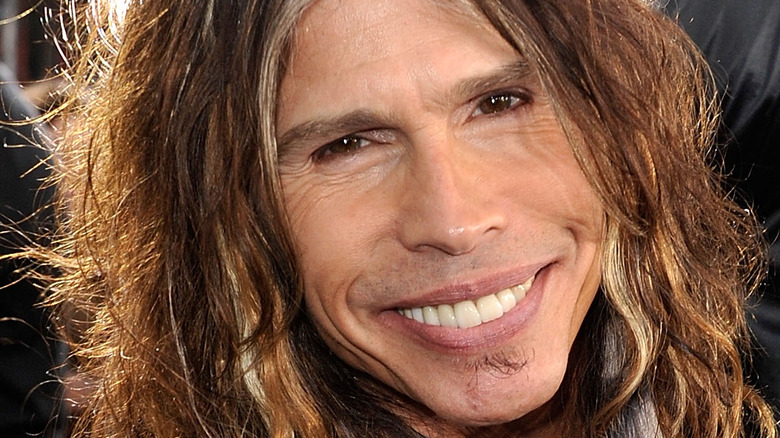 This article contains references to drug use, addiction, abortion, and child abuse.
Having spent a lifetime as the debauched harlequin at the forefront of Aerosmith, rock's loudest mouthpiece may have finally mellowed in his golden years. As a result, Steven Tyler's transformation is turning heads, but just how did he get that to point? The rock legend has undergone a fair amount of evolution in his life, with his style, music, and even professional trajectory changing course at various milestones.
Sartorially, the "Sweet Emotion" singer has a colorful history with pushing against gender norms. In his autobiography, "Does the Noise In My Head Bother You?", he even expressed that he identifies with "the stronger of the species" just as much as he does being male, describing his gender identity as being half male, half female. However, his style choices have also leaned toward a libertine romanticism — something potentially picked up from his childhood.
According to Rolling Stone, the former "American Idol" judge was raised in Yonkers, New York, where his pianist father helped him to appreciate the work of romantic classical composers including Chopin, Bach, and Beethoven. Crucially, Tyler explained that before rock and roll, he "cut [his] teeth on" playing drums to accompany his father's tame "society music" performances. Something which led to a crucial realization for the young star — he wanted to impress girls, and this wasn't cutting it. He explained, "Girls would come in, look at the band and go, 'Ugh!' Roll their eyes," he said.
Thus began Tyler's first transformation.
Drugs, rebellion, and rock and roll magic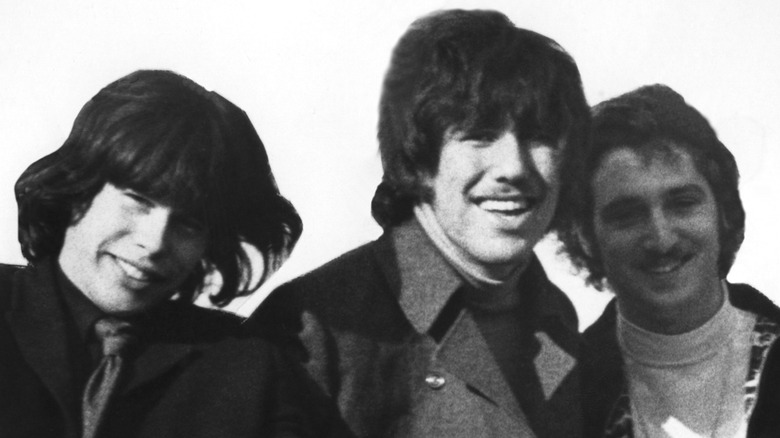 Coming of age in the '60s, Steven Tyler used a two-prong attack with which to navigate adolescence: rock and roll and drugs. In his autobiography, the singer wrote about how he and his friends would attend "high school tripping our brains out" on acid, and smoking pot while listening to The Beatles. As Tyler acknowledged in a Rolling Stone interview, he even got "busted for pot" in high school when "they put a narc in ceramics class."
The 17 year-old was arrested and promptly "thrown out of high school" for the misdemeanor — but hey, at least he "didn't have to go to Vietnam." Instead, Tyler discovered music, and as Rolling Stone put it, "spent his wonder years zooming all over the '60s New York scene, playing with a succession of bands" including Chain Reaction (pictured above).
It was during this time that he first made a lasting musical connection with Aerosmith guitarist Joe Perry. In his new friend, he saw an opportunity to replicate the "two guys" "magic element" of rock: The Rolling Stones had Keith Richards and Mick Jagger, The Beatles had Paul McCartney and John Lennon. Their own project could have them. "I never had a brother," he told Haute Living, "and nothing looked as cool as Joe Perry." The duo — who would soon become one of rock's most notorious sets of frenemies — moved to Boston, where Aerosmith was waiting to be born.
The arrival of Aerosmith
Aerosmith began the band's impressive ascent in Boston at the beginning of the '70s, and with it, Steven Tyler's style transformation was in its infancy. Primarily influenced by British culture, such as the structured flamboyance of "Mod English [and] Carnaby Street" styles, Tyler was "made fun of" for his look, but he didn't care. By 1971, he was having "over-the-top" looks tailor-made for him, prompting Joe Perry to regularly ask, "That looks great. Do they make that for men?" as Tyler recalled to WWD.
In 1970, Aerosmith played their first gig at a Boston High School, with Tyler wearing a school basketball shirt he'd swiped from the locker room. The Boston Globe recalled that the band wasn't "particularly memorable," though "they were getting pretty good." By the time the band had signed to a major label and released their first two albums — in 1972 and 1974, respectively — the music press was salivating over the coarse promise of the band.
In their review of Aerosmith's second album, "Get Your Wings," for instance, Rolling Stone described the band's sound as "an agile balance between Yardbirds- and Who-styled rock and Seventies heavy metal" which "surge[d] with pent-up fury," but not too much. In Tyler, they saw an artist with raw power and a vocal "whose discipline is evident no matter how he shrieks, growls, or spits out the lyrics." And with that, a rock star was born.