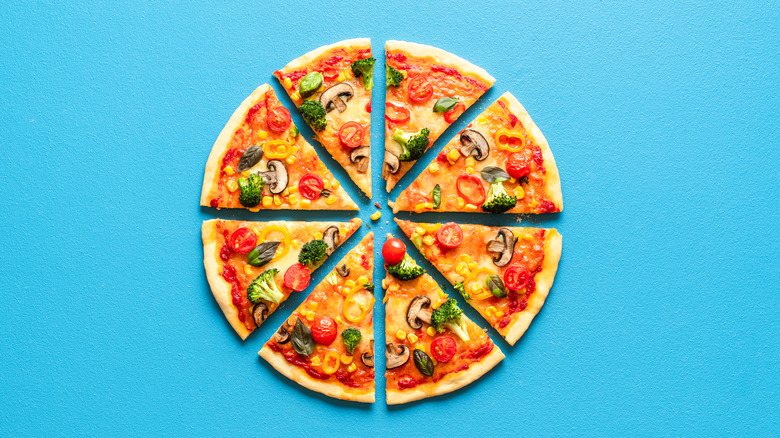 Pizza in the morning. Pizza in the evening. Pizza at suppertime. The song is a classic for a reason. We simply can not get enough. When that crunchy crust meets the robust sauce and a luscious layer of cheese, we are sent a-singing. We will be eternally grateful for our friends over in Italy who are credited with inventing the food we find out selves coming back for again and again, slice after slice. After all, there's a reason Americans ingest about 3 billion pizzas a year from over 71,000 pizzerias in the United States. Holy pepperoni!
Our faithful leader of Flavortown — also known as Guy Fieri — has entertained us on our small screens for over 15 years, most notably with everyone's guilty pleasure, the downright iconic series "Diners, Drive-Ins and Dives." Throughout the insanely popular Food Network show, our boy has scarfed down his fair share of pizzas, from sea to shining sea and literally everywhere in between. No stone was left unturned and no small town was left behind. We scoured through over 400 episodes of the series to discover the very best pizza we've ever seen Guy take on.
Pizzeria Luigi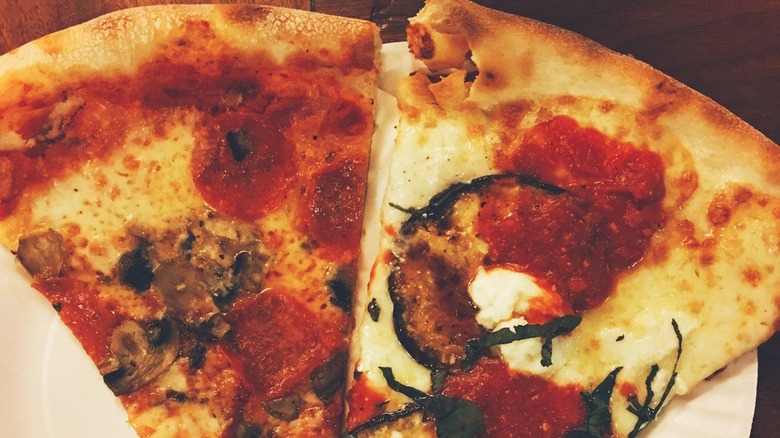 Our list kicks off on the West Coast at one of the hottest pizza spots in Southern California, Pizzeria Luigi in San Diego. With several outposts throughout the city, these slingers of slices have legit Italian roots — its owner, Luigi Agostini, was born in Italy but immigrated to the state to make quite the name for himself. Since opening in 2004, he has garnered a loyal following that keeps returning for his brilliantly executed New York City-style pizza … and it is not just the guests that keep returning. In fact, the counter service spot has actually been featured on Triple D a whopping three times. What makes Pizzeria Luigi stand out from the rest of the local competition? Pies here are served thin — as a classic New York-style pizza should be — and utterly ginormous.
Menu favorites include the "Crime Scene" pizza with ricotta, meatball, and marinara dots, and the "Leonardo" with mozzarella, parmesan, and pesto — but it was the El Diablo pizza that caught the attention of Mr. Fieri. This hot option combines diced pepperoni, sausage, meatball, red onion, jalapeno, crushed red peppers, sriracha, and hot sauce for one fire-breathing heck of a good time. It's not all pizzas; impressively, they have vegetarian and vegan pizza, salads, wings, stromboli, calzones, pizza rolls, sandwiches, and pasta dishes in addition to a large menu of craft beers.
Junkyard Extreme Burgers & Brats
So maybe the phrase "junkyard" and 'restaurant' don't exactly go hand in hand, but this next one will have you rethinking what it means to judge a book by its cover. Located in the tiny town of Junction City, Oregon, Junkyard Extreme Burgers and Brats is the hottest restaurant in town — it also happens to be the only restaurant in town. With a downright wild and crazy menu, you can only imagine that Guy had an absolute ball here.
"Extreme" in their title so you already know they do things the right way — or maybe so wrong it has to be right? We're talking about ¼ pound franks served a dozen different ways — from a classic New York with stone-ground mustard, sauerkraut, and onions, to an inventive pizza dog with mozzarella cheese, onions, pizza sauce, pepperoni, and olives on junkyard's signature fried cheese and parmesan. What's fried cheese, you may ask? These are not mozzarella sticks, but their wildly creative take on pizza that is crustless and made from, you guessed it, cheese. It was their signature burger, The Big Block, that blew Guy away with a monstrous 1 pound of meat and a full cup of cheese. Further proving, bigger is better.
Joe's Squared
When we head to Baltimore, we are on the lookout for one thing: seafood! If you're looking for your seafood and pizza fix tackled in one spot, look no further than Joe's Squared. This neighborhood bar is a local haunt serving up the best slice of square pizza in the city using only the freshest of ingredients. The crust is made from a 200-year starter dough, and then the pizzas are off to the anthracite burning oven where they are charred to perfection at 900 degrees. It's art, y'all.
When Fieri made the pilgrimage to Joe's Squared, he brought a very special friend in tow — local celebrity, Duff "Ace of Cakes" Goldman. Together, they unlocked the secret of square pizza, and hilarity ultimate ensued. The two were wowed by the joint's bacon and clam that continues to be a house favorite. This unique pizza offering combines roasted garlic cream with clams, maple-smoked bacon, sweet onion, fresh mozzarella, Romano, Asiago, and oregano. They also boost other creative twists like a cumin-braised lamb pizza with roasted eggplant and the Irish with corned beef and potato. Listen to Duff and Guy. Joe's Squared is a must-visit when visiting the "Charm City."
Fat Sully's
Denver, Colorado is known for quite a few things — from its rich, mountain air to its bustling cocktail scene. It also has the claim to fame of leaving the loud-mouth chatterbox that is Guy Fieri nearly speechless. That all happened when he visited Fat Sully's. The pizza joint is serving up quite literally ginormous New York Style hand-tossed 'za at a whopping 26-inches in diameter — which they refer to as "big-ass pizza," fittingly. Now with locations in Kansas City, Missouri, and Colorado Springs, it was the original locale that Fieri made the voyage to.
A man that has seen a lot in his day was taken about once he came face to face with their pizza. He proclaimed: "That's not only the biggest pizza we've ever shot on Triple D, I honestly gotta say, It's one of the best." Mic drop. In addition to their larger-than-life pizzas, they also have other standout options like a double smashburger on a garlic butter toasted brioche bun and fried Sully's dough dessert knots tossed with crumbled Oreos.
Big Jim's in 'The Run'
When you think of Pittsburgh, PA — also known as Steel Town U.S.A. — your mind might instantly go to the thought of pierogi. While there's nothing wrong with nibbling on the delicious creation that was birthed here, we usually head to Big Jim's in "The Run." If you're not from the area and curious what "the run" means, that's simply the nickname for the tiny sub-neighborhood where this local watering hole resides. This neighborhood spot has been wowing locals and visitors alike since 1977, and enchanted audiences on Triple D since Fieri stopped by.
Here, it is all about the portions, and they are hefty, to say the least. Big Jim's Calzone takes up to 45 minutes to prepare and is stuffed with the works — including ham, salami, capicola, onions, pepperoni, green peppers, mushrooms, Provolone cheese, and sauce. While the Reuben is a local favorite and loaded with ½ pound of corned beef, it was the veal cutlet ala Parmigiana that captivated Fieri. The cutlet was nearly the size of Guy's head and left him borderline speechless as he was only able to mutter out to the word "ridiculous." One thing is for sure, you will not leave here hungry.
Pizzeria Lola
Once we heard Pizzeria Lola was named after the owner's gentle and pizza-loving Weimaraner, we were all in. Located in Minneapolis, MN, this neighborhood spot is the brainchild of Ann Kim, an acclaimed chef and 2019 James Beard "Best Chef Midwest" winner. When you're here, you're family, and that's just the type of atmosphere Kim continues to culminate. The modern pizzeria does wood-fired pizzas extremely well, complete with some Korean inspirations (more on that to come!) and a standout global wine list.
The restaurant's cornerstone is a Le Panyol oven imported from France that uses clay dating back to the 16th century. I'm sure you can only imagine that Fieri was impressed with the joint, and you'd be correct. On his Triple D visit, he ended up sampling three of their signature pizzas — My Sha-Roni, the Lazy ZaZa, and the Sunnyside. — and all three were a total hit. He was particularly dazzled by the Lazy ZaZa which features kimchi, Korean sausage, serrano pepper, soy-chili glaze, and sesame. Color us impressed!
Naked City Pizza
"Let's get naked!" may not be the phrase you want to hear after shoveling a pizza in your pie hole, but in Las Vegas, all bets are off. Over 10 years later and some location changeups along the way, Naked City Pizza is still delighting its faithful fans with the ultimate sin — decadent pizza. Naked City launched in 2009 as a hot dog cart (for real!) that quickly garnered a following which would lead them to becoming a sandwich shop in the parking lot of beloved dive bar Dino's. Location changes, new leases, and the pandemic aside, the business is going strong and still dishing out their lust-worthy suicide fries with habanero garlic sauce and a hot pepper blend.
We can only assume that Fieri jumped at the chance to head off the strip and check this place out. While he loved the suicide fries it was the Guinea Pie that sent him to pizza heaven. The Sicilian style pizza wowed him thanks to its rich and creamy white garlic sauce that was topped with meatballs, spinach, mozzarella, and ricotta. It even landed them on two specialty "Diners, Drive-ins and Dives," including "Vegas Great" and "Best of Pizza." They hit the jackpot for sure!
Broders' Cucina Italiana
Located in South Minneapolis, the roots of Broder's Cucina Italiana run deep. The family-owned restaurant, complete with an Italian deli and grocery, has been in operation for four decades serving up their homestyle Italian dishes to a flock of loyal locals. Pasta is made fresh each and every day with nearly two-dozen different types of pasta and risotto. It's a labor of love for the multi-generation operation that prides itself on using only the highest quality of ingredients.
It was the New York style pizza that set Fieri towards the neighborhood spot. On his visit, he sampled a multitude of selections from the menu that reads like a "best of Italian" list, but he absolutely devoured their classic slices of pizza along with their house-made fettuccine with classic emilia Romagna meat sauce. The viewers agreed, because hungry viewers flocked to the restaurant following its airing for a taste of what Fieri had.
Piccini Wood Fired Brick Oven Pizza
When you are visiting the Garden State — also known as New Jersey — pizza shops are practically a dime a dozen … but not all are created equal. The state that has graced us with the Boss and the illusive meat that is pork roll, but it is also is home to Piccini Wood Fired Brick Oven Pizza. Located in the tourist mecca of Ocean City, this homey, cash-only eatery serves up a range of our favorite Italian staples, including sandwiches, pasta, and of course, pizza. Helmed by a husband-wife duo who are former educators, the spot is known for its line-up of over 30 gourmet and classic wood fired, brick oven pizzas.
On Guy's visit to the coastal Jersey shore town, he went with a classic chicken and farfalle with vodka sauce and a not-so-classic take on pizza: their bacon cheeseburger pie. While a little out there, it somehow works. A base of ketchup and mustard is topped with shredded American and Colby jack cheese, ground beef, bacon, confettied pickles, and onions. This is just the beginning of their wild creations that also include a potato skin pie, old bay crab pizza, and taco pizza. Nevertheless, Guy can guarantee a visit here will be anything but a vanilla experience for your tastebuds.
The Original Vito & Nick's Pizzeria
We are here to expand your mind, friends. A deep-dish pizza is practically a rite of passage for any visit to Chicago, but we are asking you to give thin crust a chance. For over 70 years, The Original Vito & Nick's Pizzeria has been captivating Chicago with their cracker-like, thin-crust pizza, using the same family recipe to this day. The must-have here is without a doubt their Italian Beef twist on a pizza— an ode to their old days as a sandwich shop. Their spin on the classic sandwich that originated in the city is much like the original with tender slices of beef that are made in-house using a family recipe. It is so popular that they typically serve more than 65 Italian beef pizzas an hour on any given day.
On Guy's visit, he popped in for this signature pie as well the breakfast pizza — a classic cheese pizza topped with an egg pizza and fried pepperoni. The highlight of the visit may have been the prime viewing of their large staff operating effortlessly in a packed kitchen during the height of service. Dinner and a show? Count us in!
Pastabilities
We head next to the pizza-riddled state of New York for the next place on our list — where the "Pastabilities" are endless. Actually, the spot is called Pastabilities and it is located upstate in Syracuse. In operation since the early 1980s, the contemporary eater feels homey thanks to its brick-adorned décor. With Italian-American fare as its focus, you can nibble on a selection of their homemade pasta dishes topped with any number of their housemade sauces, including their famous spicy hot tomato oil and fresh vegan basil pesto.
While Fieri was wowed by their hot tomato oil as well as their rigatoni with spicy tomato cream sauce, it was one of the inventive appetizer options that landed them on the "Best of Pizza" special of "Diners, Drive-Ins and Dives." Forget the meatball sliders and the turmeric roasted beets and carrots when looking to pick an appetizer, it's the duck bacon flatbread pizza that has landed this joint on the map. It all begins with a flatbread crust that is made in-house at their bakery just across the street. Impressive, eh? That crust is then topped with house-cured, smoked duck bacon, Humboldt Fog aged goat cheese, mozzarella, tart cherries, shallots, cracked black pepper, and a pomegranate drizzle. Fieri proclaimed it to be: "one of the best duck dishes I've ever had."
Pizza Palace
Who hasn't dreamed about living in a Palace fit for a king or queen? What about a Pizza Palace? Well, now you have got our attention. Located in Knoxville, the Pizza Palace has been bringing quality bites to its hungry guests of Eastern Tennessee for over half a century. A vintage sign beckons wide-eyed folks into its comforting atmosphere that is more reminiscent of a diner than a standard restaurant. While they are known for their famous Greek salad (of which Guy has sampled!), hand-breaded onion rings, and homemade spaghetti with meat sauce, it is their namesake that has made this place a true landmark of the Southeast. Their made-from-scratch pizzas are downright famous and worthy of their addition on our list.
Pizza Palace appeared on one of the earlier episodes of "Diners, Drive-Ins and Dives" in 2007, but Fieri continues to support them. Their most recent Triple D appearance was part of special take-out addition where Fieri was sent ingredients from the restaurant and faced with the challenge of preparing a signature dish. Was Fieri up for the challenge? You bet he was!
Pinky G's
The next hotspot on our list also happens to have made multiple appearances on the hit Food Network series. Pinky G's may be located in Jackson Hole, Wyoming, but they see no limit in their geography bringing their award-winning, New York style hand tossed pizzas to the masses. They are even available nationwide via Goldbelly should the pizza craving strike. This local hangout serves up comforting food in a chill, tavern-like setting. Their pizzas are not so ordinary with unique toppings and twists on classic, like BBQ Porky G'za with a tangy BBQ base that is topped with Kurobuta pulled pork and red and green peppers.
Just how big of a fan is Fieri since he's featured the awarding-winning spot a whopping 3 times on his show? He even created his own pizza, aptly name Guy's Pie, that combines garlic oil, shredded mozzarella, ricotta cheese, blue cheese crumbles, roasted chicken, shredded pepperoni, and is topped with hot sauce and blue cheese dressing. Their most recent appearance on Triple D's Takeout Edition featured Guy and his son, Hunter, attempting to make their famous pepperoni and sausage Stromboli from scratch.
Carluccio's Coal Fired Pizza
We head back to the great state of New Jersey for the next drool-worthy mention on our list. At Carluccio's Coal Fired Pizza in Northfield, just twenty minutes outside of Atlantic City, it is all about the options. In addition to a standard Jersey-style crust, they also offer flatbread, New York style, or Sicilian, all of which are cooked to well done perfection in their coal-fired pizza oven at over 1,000 degrees. If that wasn't overwhelming enough, the family-owned and run establishment also dishes out an outstanding selection of specialty pastas, including orecchiette "Carluccio's way" with Italian sausage and cannellini beans.
Can't decide what to order? Go with Guy and get their famous Grandma's pie, a house favorite. This thicker crust pizza is topped with a chunky San Marzano tomato sauce, homemade mozzarella, extra virgin olive oil, fresh basil, and oregano. Trust us. You can not go wrong with anything you order from this South Jersey institution.
Hops & Pie
Sonny & Cher. Peanut Butter & Jelly. Beer & Pizza. Name a more iconic duo? We will wait. At Hops & Pie in Denver, Colorado, it is all about the two finest things in life coming together in an atmosphere that is both welcoming and cozy — and that is all thanks to a husband-wife duo who gave up their roles in fine dining for something a little more laid back. The entire made from scratch menu is expertly paired with craft beers, including 22 taps of forever rotating brews. In addition to standout smoked meats, the industry vets serve up pizza in a variety of styles, including Detroit, pan, traditional, and even gluten-free.
What dish caught the eye of Mr. Fieri? He was downright caught off guard by the beer-braised brisket pizza. This mouthwatering pizza is loaded with a brisket that is brined for up to 10 days before it is braised in a beer mixture for 5 hours. So how did this unique concoction rate in his eyes? He believed the dough to be "remarkable" and the combination and layers of flavors to be "dynamite." What more could you want out of a glowing review?