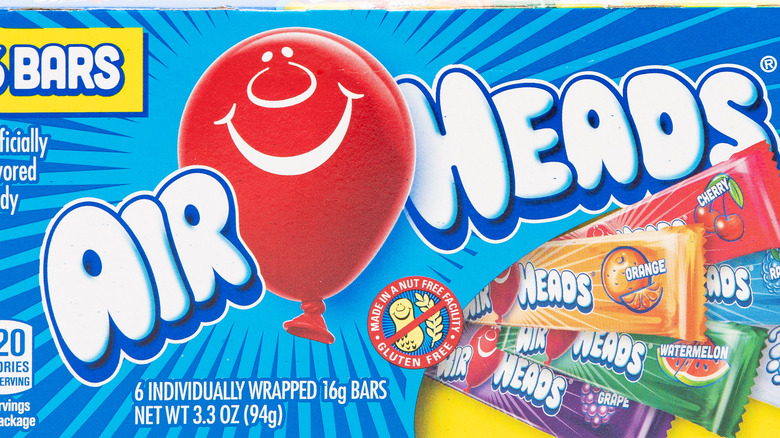 For many a millennial, grabbing a pack of Airheads candy was a childhood staple. The fruity candy snack is one known to many for its unique chewy texture and packaging, featuring a red balloon with a smile you can guarantee is as happy as the candy has made us. Airheads have only been around for a short few decades, so far, but the memorable treat has had a history just as fun-filled as the candy itself.
Owned by Perfetti Van Melle, Airheads has been one of its best-selling candies, alongside another popular chewy candy — Mentos. It has garnered itself multiple different shapes, forms, and flavors to fit everyone's taste buds and kids even had a hand in its creation. So, what is the untold truth behind the popular Airheads candy? How did it get its start? Mashed has done the research into this delicious candy and dug up all the things you may have never known, so keep on reading to find out everything you've ever wondered about Airheads.
Airheads were turned down by distributors at first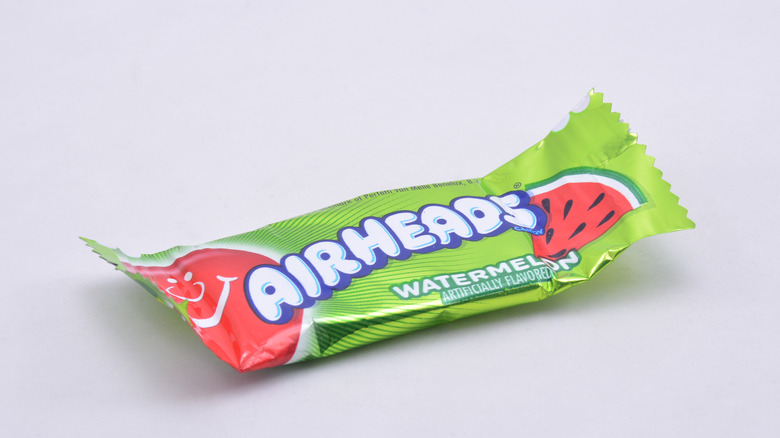 Who would've thought anybody would ever deny the tastiness of a piece of chewy Airheads taffy? On August 7, 1985, the candy was brought to life, but during its initial pitch sessions, many accounts surprisingly turned the idea down, according to its inventor, Steve Bruner, on CandyFavorites.com. This led the original team to put its product in several distribution houses where a promise to pick it up if profits were not made was placed.
"Ultimately, the young consumers knew a lot more then many of the buyers. We aggressively gained distribution in New York and Los Angelis and word of mouth spread. We started getting fan mail and we knew things were headed in the right direction," Bruner said in his written recollection.
It was sold for just a low price of 25 cents when it was first brought to the shelves, starting out with just one flavor.
The Airheads name came from kids themselves
We all know kids love candy the most, especially when they're bouncing off the walls after downing a few pieces of it, but what you may not have known is that it was kids who chose the Airheads name.
"I was taught at M&M/Mars that a name takes a little over a generation to become part of [the] confectionary landscape, unless you use a phrase or name that everyone has heard before. I went to my sons and asked the question. What would you call your friend who did something silly? They came up with all kinds of monikers, but the most intriguing was Airhead. So I set up focus groups first to see what they thought of the name itself it rated very high with children nine through fifteen," Bruner said in his CandyFavorites recollection. "Then I took out my doodle pad and drew the name on a sheet with a balloon face."
And thus, the Airheads brand was completely born, taking over as a staple in a generation's childhood.
The first flavor wasn't cherry or strawberry, but just red
Unbeknownst to many, Airheads didn't always come in the multiple flavors we've all enjoyed. In fact, in its early days, it was only available in one flavor — red.
"We did not call it Cherry or Strawberry just simply Airheads. We wanted the consumer to decide if they liked the red flavor. I had learned years earlier that the east coast preferred strawberry and the center of the country wanted cherry. I agree there is a difference, however, kids see red and grab it," Bruner said in his written recollection on CandyFavorites.com. As profits came in and the idea of extending the Airheads line came about, more flavors were added, as well as new slogans for the candy.
"On [the] wrapper, I used play on words, a new high in fruity flavors. Coming out of the hippie generation the words high could be used in many different ways. I thought it was apropos of a balloon graphic and it worked," Bruner stated.
Airheads are available in eight flavors
One of the best things about this candy is the variety of different flavors to choose from, eight in total. The whole list of flavors includes orange, cherry, grape, White Mystery, watermelon, green apple, pink lemonade, and strawberry.
One Amazon reviewer, S. Dillon, spoke about the level of addiction each of these decadent flavors causes, stating, "I bought them for my kids and ended up eating most of them myself. Why??? Because they are delicious. If you lack self-control and any sense of dignity like me but don't want to look in the mirror with disgust… AVOID these. They will lure you into a sugar filled state of self-loathing to be rivaled by a weekend in Vegas. Your mouth will be brightly colored so hiding your gluttony is a futile endeavor. You can't wash away this kind of shame. Just don't do it."
We'd have to agree with the reviewer. Don't buy it in bulk unless you're really looking to really feed your Airheads cravings.
White Mystery is created with leftover flavors
The biggest mystery of Airheads flavors is the White Mystery flavor itself. Many years have gone by without its creators allowing us to know what the flavor actually is and its always been a true guessing game. Is it strawberry? Grape? Watermelon? The truth has remained unknown, but you'll be happy to hear we at Mashed have finally figured it out. Drumroll, please …
They're created from leftover flavors (via ZOMG!Candy)! Yes, you read it, right. The white mystery flavor packaged in its recognizable silver wrapper is created from flavors leftover from the creation of other Airheads. Hitting the market in late summer 1993, according to Matthew Fenton, the idea for White Mystery Airheads was the result of a letter from a fan and took off in sales almost immediately. Even further, the flavor made its way into the Taco Bell menu for a limited time in the form of a freeze, as well as cast its own Jones soda flavor.
With the White Mystery Airheads, you really could be getting any variety of flavors and that's why it never tastes exactly the same, which makes it all the more exciting to try and figure out. With so many flavor options, who knows what you might get!
Airheads are vegan and gluten-free
Many may not know that Airheads are actually healthy (okay, maybe that's a stretch) for you in a few ways, the main fact being they're vegan and gluten-free, according to the candy brand's official website. This means mostly anybody can enjoy them, with the candy even making its way onto People for the Ethical Treatment of Animals (PETA)'s "Vegan Candies to Try This Halloween" list this year.
Despite the original Airheads candy being gluten-free, it turns out one of its extensions is surprisingly not. Airheads Xtremes are peanut and tree nut-free, but unfortunately contain wheat ingredients, meaning they're not as easy to enjoy for everyone. Actually, many of the brand's products, aside from the original Airheads lineup, contain wheat products, surprisingly, but that doesn't have to put a damper on your Halloween celebrations this year because the original lineup is always there to meet all of your taste buds' needs.
Even further, one regular-sized piece of Airheads candy is only 60 calories and contains no fat or sodium, while only containing 11 grams of sugar, according to its nutrition sheet. That sounds to us like the perfect candy to indulge in.
Between 3 million and 4 million Airheads are created daily
Obviously, the creation of this candy is the most important part and that's why three to four million bars are put together for the candy shelves daily with the machines whipping out a total of 3,000 pounds of Airheads (per WDRB). The bars are produced in Erlanger, Kentucky in a production plant that would have gone unnoticed without the delicious smells making their way out of it (per Rewind & Capture).
"As soon as you get out of the car in the morning, you can smell it. Whether it's the cherry or whatever flavor we're running for the day. We've got a five day, 24-hour operation. On extreme, we run basically seven days a week," VP of Manufacturing at Perfetti Van Melle Speed Rick Speed told WDRB.
With a variety of different flavors, shapes, and sizes, you have to admire the hard work of all of those who work in the plant day and night for all us fans of the taffy to have Airheads to enjoy.
Multiple extensions of Airheads have been created
A staple of the Airheads line has been the deliciously sour ropes we all know as Airheads Xtremes. "They're sour, but not in a toxic way. They've got a dusting of sugar crystals to keep them from sticky, but they're soft and chewy," said CandyBlog in a review of the treat. "The best thing about them is that the flavor lasts all the way through the chew. Some chews lose their initial flavor, like they've been dusted or something when you chew them. But these are tangy and sweet all the way to the end."
But, the Xtremes ropes aren't the only Airheads spinoff that has come from its manufacturer. More varieties of the candy have been added throughout the years, including the chewy Airheads Bites, Airheads Soft Filled Bites, Airheads Gummies, Airheads Gum, Airheads Xtremes Bites, and of course, Airheads Xtremes Sourfuls. With so many options to choose from in the Airheads line, you have to wonder if the brand is set to completely take over the candy industry. All jokes aside, each version of the candy has offered fans the deliciousness of the classic Airheads in many different forms and it has led to real success for the company. For instance, according to Owler, the candy brand earns an estimated $45.3 million dollar annual revenue in candy sales, which we'd say is pretty good!
One Saints player inspired his own Airheads flavor and beer
There aren't many football players like Saint's player Alvin Kamara and there aren't many loves like the one he has for the Airheads candy brand. That's why when Airheads teamed up with the NFL's 2017 Offensive Rookie of the Year (per SaintsWire), it was a perfect match. It started out with a billboard with the Airheads brand shouting out Kamara in a congratulatory message for winning his award near the Mercedes-Benz Superdome, according to Nola. It was the result of a partnership between the two. So, when the football player received customized extra-watermelon Airheads with his own face and signature on the packaging to share with his Saint's teammates, his love for the brand reached a new level.
And that's why Meil Brewery and Taproom released an Airheads beer inspired by Kamara, according to WGNO. Called Ak-41, the limited-time beer was a cream ale brewed with 20 pounds of Airheads Xtremes.
"It is a unique beer because we added candy to a beer that is light and easy-going. When we found out about Kamara's love for Airheads we decided to brew a beer that is unique to Saints football. The beer tastes a little sour, but mostly tastes like candy without being sweet like a soda," Co-owner Alex Peyroux told the news site. According to ESPN, this was also the first time the brewery used candy in its beer.
A Chicago restaurant created an Airheads Xtremes chicken sandwich
As if a beer company using Airheads Xtremes wasn't enough, a restaurant in Chicago created a chicken sandwich with the bun made entirely out of the candy. Created by Frances' Deli & Brunchery, the Chicken Candy Sandy was available for a limited time in the summer of 2021 and consisted of fried chicken, coleslaw, spicy mayo, pickles, and of course, the Airheads Xtremes bun (per MarketWatch). And for those questioning the sandwich, Vice President of Marketing for Perfetti Van Melle North America Craig Cuchra pointed to the moon landing in the official press release (per PR Newswire).
"Before the moon landing, there was no moon landing. It was the first time anybody ever landed on it," Cuchra said. "So there's some precedent of people not ever doing something before and then suddenly doing the thing they never did. It is exactly like that. And on July 6, 2021, we're launching into space and planting our flag on that big gray rock in the sky … which in this case is a perfect metaphor for making a fried chicken sandwich with a candy bun." Uh, okay.
With so many innovative ideas, it's no wonder Airheads is one of our favorite candy brands and we can't wait to see what exactly will come from it next!