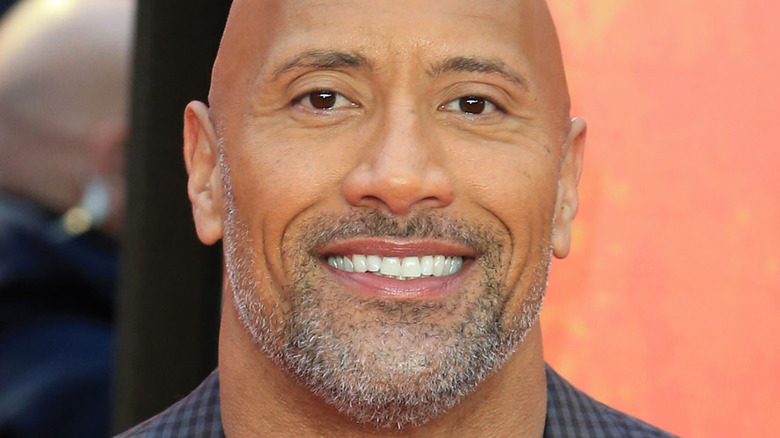 Dwayne Johnson has come a long way from his humble childhood in Hawaii, amassing a legion of fans and wealth (his estimated net worth clocks in at a whopping $400 million), first as a professional wrestler and then as an A-list actor. Johnson joined the WWE in 1996 and didn't officially retire until 2019, but most fans these days will likely know him best from the big screen or his very active social media presence. It's not all love, however, and Johnson does have his share of celebrity haters, but it's nothing he hasn't dealt with before.
As he recently revealed, as a young child, he had to put up with school classmates who thought he was a girl. Later on, he was faced with skeptics in the wrestling world and almost shunned his stage name, The Rock, because he wanted so badly to be taken seriously. What's more, he's also dealt with a slew of trials and tribulations over the years that even his most die-hard fans won't know about. Those include a number of tough instances that plagued Johnson from his teen years all the way up into adulthood. These are the tragic details about Dwayne Johnson's life.
He faced eviction as a teen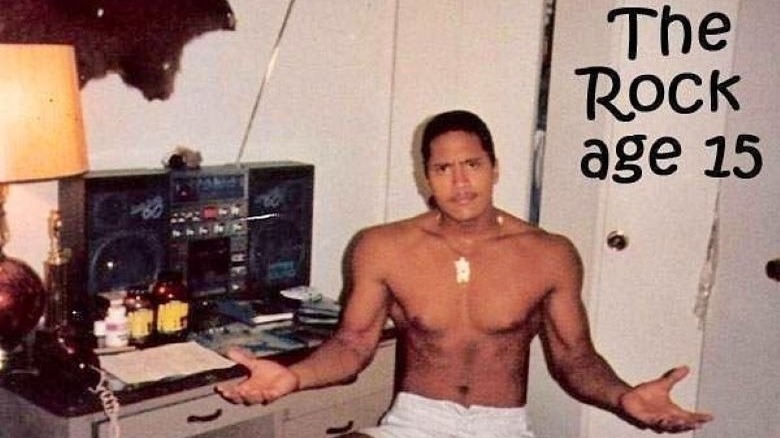 Long before he was the highest-paid male actor in Hollywood, earning an impressive $87.5 million in 2020, per Forbes, Dwayne Johnson was a teen watching his family struggle with money. His dad, Rocky, was on the road, pursuing his professional wrestling career while Johnson and his mom, Ata, stayed behind in her native Hawaii. Speaking of those years with The Hollywood Reporter, the wrestler-turned-actor admitted that, as a kid, his future didn't exactly look bright.
For one, he was getting into "frequent trouble with the law" after joining a gang that would steal from "the most affluent stores in Waikiki." For another, the "Jumanji" star looked on as his mother's car was repossessed, and a week later, they were kicked out of their house, an "efficiency that cost $120 a week." Johnson remembered going home to find "a padlock on the door and an eviction notice" and his mom "bawling. She just started crying and breaking down," asking, "'Where are we going to live? What are we going to do?'"
Watching his mom struggle to keep a roof over their heads was a "tipping point." It was then that Johnson asked himself, "What can I control with these two hands?" and realized that "the only thing I could do was train and build my body. The successful men I knew were men who built their bodies," he explained. So that's what he did, setting his sights on the NFL and landing a full football scholarship to the University of Miami.
His mother's suicide attempt
Just a year after Dwayne Johnson watched his mother brought to tears by an eviction, he witnessed her attempt to take her own life. In 2018, while shooting "Ballers," the actor took to Instagram to share a behind-the-scenes shot of himself filming a particularly emotional scene in which his character visited the grave of a brother who committed suicide. Sharing that it "got me thinkin'" about his own experience, he revealed that his mom "tried to check out" while driving on Interstate 65 in Nashville when he was just 15.
Opening up about the incident, Johnson told his fans how his mom got out of the car and "walked into oncoming traffic" as "big rigs and cars [were] swerving outta the way not to hit her." He quickly hopped out, "grabbed her and pulled her back on the gravel shoulder of the road," saving her life.
Johnson was thankful that they "got lucky that day" because that "ain't always the case," but the experience shook him to his very core. As he told Express in 2018, it pushed him into a deep depression. "I reached a point where I didn't want to do a thing or go anywhere. I was crying constantly," he admitted but shared that he and his mother — who still has "no recollection of it whatsoever" — have "both healed." He concluded by encouraging everyone to "always […] pay attention when other people are in pain."
If you or anyone you know is having suicidal thoughts, please call the National Suicide Prevention Lifeline​ at​ 1-800-273-TALK (8255)​.
Dwayne Johnson had depression
Dwayne Johnson may seem like the ultimate tough guy, but as he confessed to The Hollywood Reporter in 2014, he's battled depression on multiple occasions. When he was a freshman, for example, a major injury in which his "shoulder popped out of its socket and was just hanging there" forced him off the football field and into a dark place. While he "didn't know why I didn't want to do anything," he dropped out of university and moved in with his parents.
Eventually, his coach got him back in school, but the 1995 NFL draft came and went without him. Johnson was eventually drafted by the Canadian Football League but was dropped just a year after signing. This time, "there was no injury. It's just, 'That's it. You're not good enough.' That was very sobering," he admitted.
And it wasn't just his career that was "dashed" — his girlfriend also broke up with him. "That was my absolute worst time," he shared, telling Express, "I was devastated and depressed." With just "seven bucks to my name," Johnson eventually found his calling, following in his dad's footsteps in the WWE. In 1997, his love life got better too when he married Dany Garcia, and then his acting career took off with 2001's "The Mummy Returns." But depression can strike at any time, and it did following his 2008 divorce. "Once I manned up and became accountable for the mess I was in, that's when it all hit me," he told The Hollywood Reporter.
The Rock's advice: Ask for help
Dwayne Johnson began speaking candidly about his fight with depression while encouraging others to do the same. That's because, as he tweeted in 2018, it took him a long time to realize that "depression never discriminates" and that "the key is to not be afraid to open up. Especially us dudes have a tendency to keep it in." He added, "You're not alone."
Taking to Instagram in 2021, Johnson shared more of his long journey to the realization that "asking for help is not our weakness, it's actually our superpower." In the post, the actor linked to an interview with People in which he spoke of his first experience with depression at 18. Admitting he "had no idea what depression was," he shared how, "back then, depression was also called 'Get off the couch and get your s*** together and change what's happening here.'"
But that wasn't the right approach to overcoming his struggles, and he didn't really begin healing until he realized that "asking for help is actually the most powerful thing you can do and it's not a weakness. Men especially fall into this trap of being really adverse to vulnerability. But the truth is you have to, hopefully over time, learn to embrace that."
Dwayne Johnson's divorce
Dwayne Johnson and Dany Garcia tied the knot in 1997 and enjoyed a decade together before calling it quits in 2007. Following their split, they remained incredibly close, so much so that Garcia continued to work as her ex's manager, per People. As she told the outlet, their history actually helped them succeed in business because "we have that extra layer of trust that can only come from family. We are just a different family, and we keep adding new people." She noted that they continue to spend holidays together with their respective partners and kids. But that doesn't mean their divorce was easy.
As Johnson told The Hollywood Reporter in 2014, the end of his marriage actually pushed him into a depression, making him face tough questions like, "What kind of dad does this make me? What kind of man will I now become?" He then admitted how "failing at marriage and as a husband was a heavy thing, and divorce had that special way of knocking me on my a**."
Later speaking with WSJ magazine in 2019, the actor also shared how it took him over 10 years to become open to the idea of getting married again. He and Lauren Hashian had tied the knot earlier that year after 12 years of dating, and Johnson shared that his past played a role in his reluctance to walk down the aisle. "My divorce did a number on me," he confessed, explaining, "I wasn't fearful of getting married again, there was just some hesitancy."
A family emergency
In March 2018, Dwayne Johnson and his family were shaken up by something he "would never want to happen to any of you." Taking to Instagram, the actor revealed that he and Lauren Hashian (who was pregnant with their second child at the time) had to rush their daughter, Jasmine, to the hospital in the middle of the night. "Things got a lil' hairy this weekend," he shared in the post's caption, which included a video with further explanation of the harrowing event. Conceding that "emergencies do happen," he told his followers, "We were up all night with something scary that happened with our little baby girl Jasmine, who is okay now."
Calling those who cared for his daughter "so caring, compassionate and so responsive," he thanked everyone who helped, including LAFD first responders and the UCLA medical team. "We're grateful to you all and if you ever need anything, I got your back," he promised.
Johnson didn't share any more details at the time, but told Extra a few weeks later that the ordeal began "in the middle of the night" when they heard Jasmine had "a croupy cough" and "a problem breathing in that moment." They called 9-1-1 and the "LAFD came so quick and I was very proud of them and very grateful for them, too."
Dwayne Johnson lost two close friends
Paul Walker's death in a California car crash in 2013 shook Hollywood as peers and fans alike mourned the actor. Among all those grieving was his "Fast & Furious" co-star, Dwayne Johnson. Recalling the very moment he learned of Walker's death, the actor told The Hollywood Reporter he was driving with Lauren Hashian when the news broke. "I pulled over and looked at my messages and had a moment where I just caught my breath," he remembered. The pair then "said a prayer" for Walker's daughter, drove home, and that's when they "started bawling."
That wouldn't be the only time Johnson was struck by the loss of a beloved colleague. In 2020, he lost another friend when WWE star Shad Gaspard died in a freak accident on Venice Beach. The 39-year-old was swimming with his 10-year-old son, per TMZ, when they got pulled into a rip current. While lifeguards were able to save the child, Gaspard disappeared, and his body was found on the beach three days later.
Taking to Instagram after the tragic accident, Johnson admitted, "This one hurts." Calling Gaspard a "great guy" with a "warrior spirit," he made sure to share his friend's heroic actions with the world, underscoring how "Shad drowned in the ocean, but not before instructing lifeguards to save his 10yr old son first. That's the love of a father," he gushed, admitting, "This is a tough one to process." Taking to Twitter, he reiterated, "Man, this is a tough one. A really tough one."
The Rock's career injuries
Dwayne Johnson's ripped physique is the stuff of envy, but his body has taken a real beating over the years. Most recently, a 2013 fight against John Cena at WrestleMania 29 pushed him into emergency surgery. While in the ring, Johnson couldn't feel or "really move" his leg and needed to "rely on momentum" to get around, but he decided to finish the match because "I gave my word."
He did but soon learned the injuries were worse than he thought: He had torn his rectus tendon and adductor muscle. Speaking with The Hollywood Reporter, he recalled opting out of surgery until, two days later, a doctor discovered he had a massive hernia. Explaining the condition, he shared how "your abdominal wall gets weak and your organs push through," and needless to say, surgery was no longer optional. Recalling the injury to WIRED, he shared how he "tore the top of my quad off my pelvis," which "caused a chain reaction and it tore my abdomen wall. I had to do a triple hernia emergency surgery."
It hasn't stopped Johnson from working out at 4:15am, but his long list of career injuries, which he shared on Instagram in 2021, proves just how difficult it really is to be a professional athlete. Said injuries include a ruptured Achilles' tendon, three lower back disc herniations, and two lower back disc ruptures, and have required numerous surgeries, including four knee surgeries and a complete shoulder reconstruction. Ouch.
Losing his dad
Dwayne Johnson didn't always have the best relationship with his dad, Rocky. As a teen, he was angry with his father for being "absent" and for making the family move 13 times, sometimes staying in one place for just a few months, per The Hollywood Reporter. Their bond eventually strengthened, however, and Rocky, a WWE Hall of Famer, mentored his son when he decided to follow in his footsteps.
But in January 2020, Rocky suddenly died, per WWE, at the age of 75. As Johnson shared on Instagram, he didn't get to say goodbye. "Dad, I wish I had one more shot to tell you, I love you, before you crossed over to the other side," he wrote, adding, "I'm in pain." He later revealed his dad "had been battling a cold and infection" before suffering "a deep vein thrombosis, which is essentially a blood clot in the leg." That clot broke free and traveled to his lung, and "he died very quickly from a massive heart attack." Admitting he found "great comfort" in learning that his dad "went fast," Johnson encouraged his followers to hug their loved ones because "you never know what's around the corner."
Adding to the pain, Johnson also lost his "pro wrestling mentor and father figure" later that year when WWE star Pat Patterson died in December 2020. As he told WIRED, "I lost my father and my father figure in the same year."