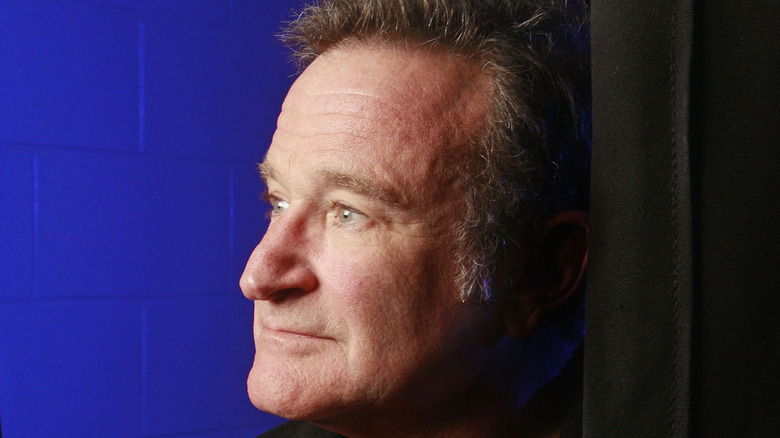 Robin Williams was undoubtedly one of the greatest entertainers of all time. From his comedic role as Mork in the award-winning "Mork and Mindy" sitcom to his unforgettable character in "Mrs. Doubtfire," along with every entertaining piece in between, the man remains a Hollywood icon. When he died by suicide in August of 2014, the world was shocked, his family shattered, and everyone was left wondering … why?
Vanity Fair reports that in May of 2014 Robin was diagnosed with Parkinson's disease, which left him overwhelmed and, as his son Zak explains, with "internal anguish." It wasn't until after his death that an autopsy revealed he had been misdiagnosed and actually had a brain disease called Lewy body dementia.
Until recently, there was little knowledge of what transpired prior to Williams' devastating death, but a 2020 documentary titled "Robin's Wish" reveals the traumatic series of events (via Spectrum News 1). The film, directed by Tylor Norwood, offers a look into the life of the legend behind the smile and the laughs and the details of the battle he was fighting within himself.
Zak Williams speaks out on his father's illness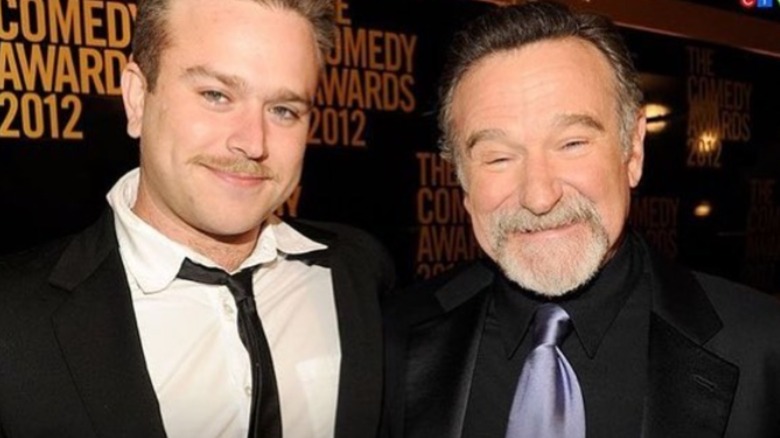 In July 2020, Robin Williams' son, Zak Williams, revealed intimate details about his father's "frustration" before his death on a podcast episode of "The Genius Life" with Max Lugavere (via People). Zak opened up about his father's feelings and behaviors prior to his death, and shared that Williams was having trouble focusing, which further agitated him. "There was a focus issue that frustrated him, there were issues associated with how he felt and also from a neurological perspective he didn't feel great," Zak recalled.
In a biography written by David Itzkoff titled "Robin," it is reported that his physical symptoms, which seemed unrelated to each other at the time, began in October of 2013, when Williams began to experience gastrointestinal issues, sleeping difficulties, trouble with his vision, and tremors in his left arm (via Vanity Fair).
Zak, mental health advocate and CEO of Prepare Your Mind (PYM), shares that his dad's mental and emotional symptoms grew worse over the course of the two years prior to his death, and that the medicine prescribed to the "Good Morning Vietnam" star only caused more harm, stating, "They're also really hard on the mind and the body."
What is Lewy body dementia
According to the Mayo Clinic, Lewy body dementia is the second most common type of progressive dementia, with Alzheimer's disease being the first. With this type of dementia, protein deposits, or Lewy bodies, develop in the nerve cells in areas of the brain that are crucial for cognitive function, memory, and motor control.
Lewy bodies can also be found in those living with Parkinson's disease. The symptoms are sometimes similar and can include bad posture, rigid muscles, and trouble with movement (via Alzheimer's Association). The overlap of symptoms between the two diseases offers a possible reason for the "Good Will Hunting" star's misdiagnosis.
Although Williams was diagnosed with Parkinson's, his son Zak mentioned on "The Genius Life" podcast that "What he was going through didn't match one to one [with what] many Parkinson's patients experience," he continued. "So, I think that was hard for him." Zak also went on to say that the Lewy body dementia symptoms severely affected Williams' career, as it created "challenges performing his craft," (via People).
Similar symptoms between Parkinson's and Lewy body dementia
According to Vanity Fair, in the documentary, "Robins Wish," family and friends of Williams describe how the symptoms he was experiencing were causing him extreme anguish. His wife, Susan Schneider Williams, revealed, "Robin was losing his mind and he was aware of it," and all who knew him watched him slowly decline. Susan believed that the diagnosis of Parkinson's disease offered some hope, that finally after all the searching they had found an answer and could begin proper treatment, but sadly, she says, "My heart swelled with hope. But somehow I knew Robin was not buying it."
Symptoms of Parkinson's disease include tremors, speech changes, impaired balance, and bradykinesia which is the slowing of movement (via Mayo Clinic). Lewy body dementia can cause malfunction of the nervous system, changes in reasoning, hallucinations, visual impairments, and Parkinson's-like symptoms such as imbalance and bradykinesia (per Alzheimer's Association).
The American Parkinson Disease Association reports that the diseases are very similar, and the major difference between Lewy body dementia and Parkinson's disease dementia is the time frame in which the cognitive decline develops in relation to the movement issues. While Lewy bodies are a feature of multiple brain conditions, including Parkinson's disease, there is no way to test for the bodies, and an autopsy is the only way to confirm their presence (via Medical News Today).
The mental health link to Lewy body dementia
Both Lewy body dementia and Parkinson's disease have an impact on a person's mental health. In a paper published by the American Academy of Neurology, major depression is cited as an initial symptom in Lewy body dementia. The Parkinson's Foundation states that anxiety and depression are likely to affect those with the disease, reporting that 40% of Parkinson's patients will develop an anxiety disorder, while 50% or more are likely to experience depression.
According to the book "Robin," Robin Williams struggled with depression and severe anxiety well before he was diagnosed with Parkinson's (via Vanity Fair). People reports that Zak Williams explained during a 2020 "Doctor Oz" episode that, "I was acutely aware of my dad's struggles with depression, it manifested in addiction at times, and he took great lengths to support his well-being and mental health, especially when he was challenged."