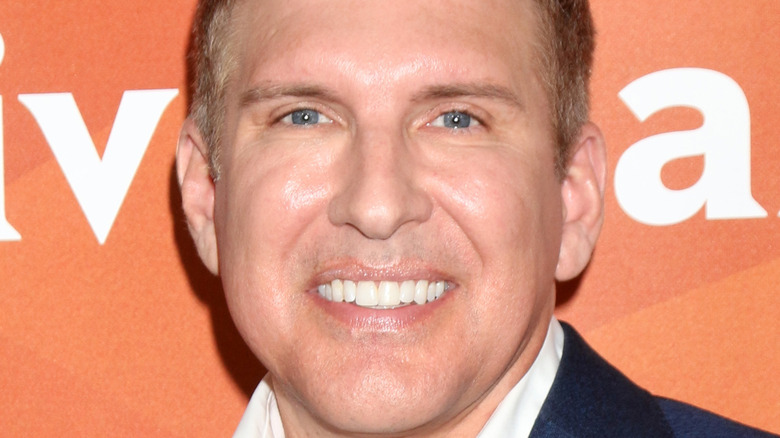 In the crowded genre of reality television, it can be hard to stand out, but that's never been an issue for the Chrisley family of "Chrisley Knows Best." The southern stars have been going strong on USA Network since 2014, proving that they have both mass appeal and staying power — not an easy feat for the vast majority of reality television personalities. Whether it's Todd Chrisley's southern drawl, the antics of Chase Chrisley, Savannah Chrisley's dating life, or Chloe Chrisley's adorableness, fans keep returning to "Chrisley Knows Best" — and frankly we're here for all of it, grandma included.
If you're a longtime viewer of the reality series, then you might be tempted to think that you know all there is to know about the Chrisley clan. After all, they do allow cameras into their home and broadcast their intimate lives to the viewing public. But in spite of their candor, there's still stuff about this affable family that might not be on your radar. To that end, sit back and enjoy as we present to you what you don't know about "Chrisley Knows Best."
The stars of Chrisley Knows Best aren't as rich as you think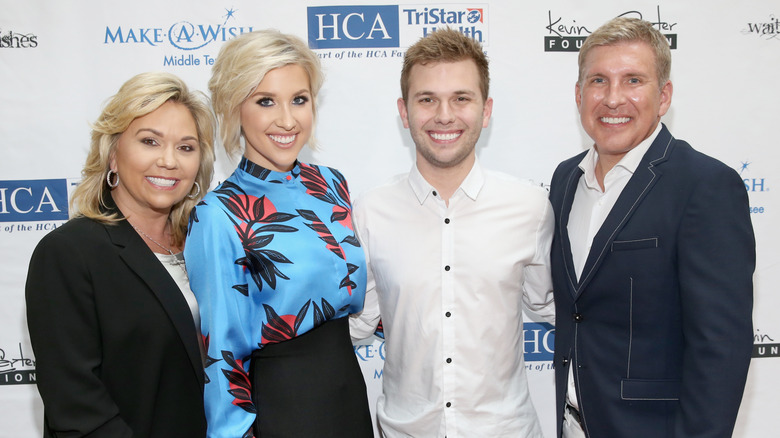 Based on what you see on "Chrisley Knows Best" when the cameras are rolling, you'd be hard-pressed to suspect that they're anything but rolling in the dough. For one, each member of the cast has a seriously nice wardrobe, and they all drive some rather impressive vehicles. Don't forget the palatial estate that the Chrisleys call home, or the elegant furnishings inside of the home, either.
However, from what we were able to dig up, the Chrisleys' financial situation isn't nearly as rosy as it seems. According to People, Todd Chrisley had to file for bankruptcy back in 2012 to the tune of almost $45 million, thanks to a real estate SNAFU. "He guaranteed a real estate development loan and it failed," Chrisley's lawyer explained to the magazine. "He was on the hook for $30 million. If he hadn't had that happen, he would have been fine, financially." Okay, maybe, but the Chrisley patriarch also had other bills at the time, including a half-million dollar debt to the IRS, a cool $12 million in mortgages, and $4.4 million owed to his wife.
Per the Daily Mail, Todd — who is reportedly worth negative $5 million, according to Celebrity Net Worth – agreed to settle his bankruptcy case in 2014, though things still aren't exactly on the up and up for the Chrisley family yet.
The Chrisleys were embroiled in a tax evasion scandal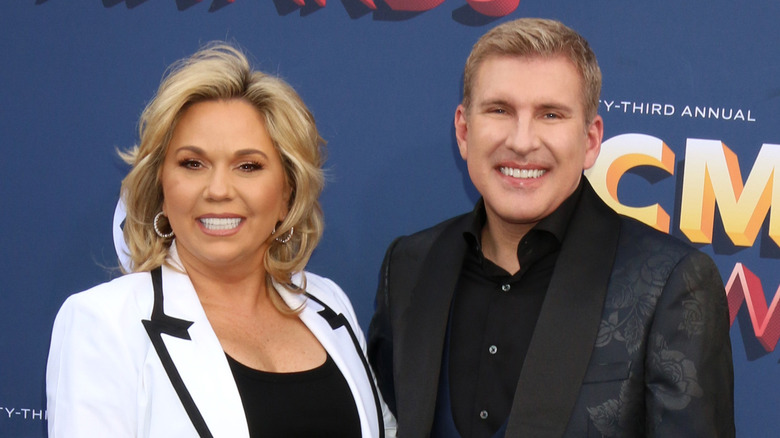 Todd Chrisley's bankruptcy filing isn't the only financial scandal that's plagued the stars of "Chrisley Knows Best," as he and Julie Chrisley were also charged with tax evasion. According to 11 Alive, the Georgia Department of Revenue accused the Chrisleys of owing $2 million in state taxes between the years of 2008 through 2016. Yikes.
Fortunately, things mostly worked out for the Chrisleys, who forked over $147,944.75 (and were refunded $66,000 of it) to settle these matters in 2019. The settlement also detailed that the only year the Chrisleys actually owed for was 2009, which was offset by other years in which they were due refunds. "Julie and I knew all along that we had done nothing wrong and that when the facts all came out, we would be fine," Todd revealed in a statement. "We're just glad that the Department of Revenue was willing to keep an open mind and look at all the evidence."
While the Chrisleys' issues with the state of Georgia seem to be settled, there are still federal tax charges — including "wire fraud, conspiracy to commit wire fraud, conspiracy to commit bank fraud, and tax evasion" — to face, as noted by another piece by 11 Alive. Todd maintained their innocence in a 2019 Instagram post, and says that he and his family "have nothing to hide."