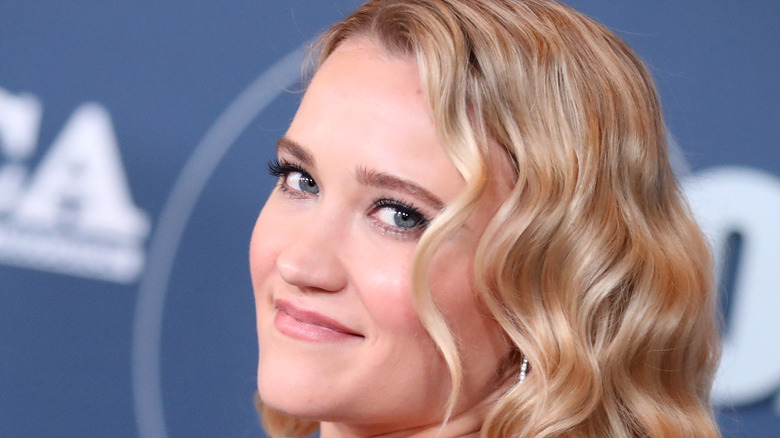 The most popular Disney Channel shows have a special kind of staying power with their fans. "Hannah Montana," which concluded in 2011, is arguably one of the most beloved Disney series from that era, and the cast is a big reason why. And one of the shining stars of that fantastic roster is Emily Osment. As Lilly Truscott, best friend and keeper of Miley Stewart's big secret, Osment showcased her tremendous comedic timing and natural chemistry with series lead Miley Cyrus.
And "Hannah Montana" wasn't Osment's first trip to the acting rodeo. Rather, she followed in brother Haley Joel Osment's footsteps from a very young age. "I started acting the same time I started riding a bike, and when you're riding a bike you're not thinking, Oh God, what if I fall? Or, maybe you are," she told Backstage. "But it's just one of those things that it's so exhilarating and it's so fun, you don't think about all of the ramifications of it — or you don't think about the process." If acting is a bike ride, then Emily Osment is a champion cyclist who seeks every new thrill with precision.
There's a lot that longtime Disney fans might not know about Osment, from her work on screen to her identity as a musician. How did this talented woman get her start and what happened to her after the Disney Channel days? Read on and rock out the show.
On Mom, Emily Osment showed her serious side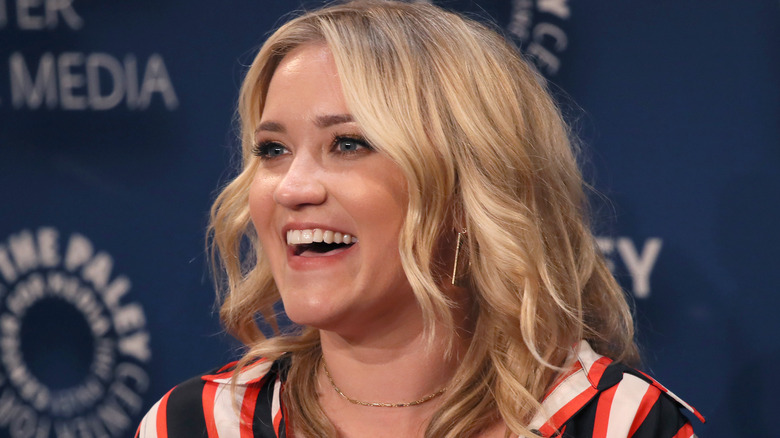 Among Emily Osment's earliest television credits are guest spots on "Friends" and "3rd Rock from the Sun," and it seems that she took to the sitcom form like a duck to water. While promoting "Hannah Montana: The Movie" in 2009, Osment talked to Tribute about the differences between silver and small screen projects. "It's just, when you do a TV show, you have 23 minutes to make sure everything comes full circle, you introduce a story, you have the problem and then you resolve it," she said. "It's more shock and funny and in the movie it just seems more real. … I mean, you can see in the movie Miley and I didn't wear any makeup at all. And we brought everything down a lot, to make it feel like a real movie, like it was real."
In adulthood, the actor exercised her skills for a serious part that just so happened to exist within a sitcom. She appeared on CBS series "Mom" in 2015 and 2016 as a teen named Jodi who struggled with addiction. When CBS noted Jodi was "a departure from past roles" she had played, Osment replied, " I think every actor can agree that when you've been playing a certain character for awhile — no matter what that role is — it's always attractive to try something that's different." She described the "unique experience" of portraying a "very, very dramatic role in a four-camera sitcom setting."
Music is one of Emily Osment's passions
Acting and music are pillars of Emily Osment's existence, and Disney Channel is widely known for cultivating musical talent within its young actors. Miley Cyrus, Demi Lovato, and Selena Gomez of course come to mind, but Osment also happened to be honing her musical abilities while sharing the spotlight with the others. When Osment was a teenager, she explained to Tribute that she was into making music long before her she "got involved with the Disney Channel." She also said her "whole family is musical" and she'd written songs when she was still in elementary school. In 2009, Osment told The Virginian-Pilot that brother Haley Joel Osment played "every instrument under the sun. It was like, 'walk, talk, act, play music.'" Emily said she was a Beatles fan and emphasized that her own music was "pure me — from the heart."
She released her first song, "I Don't Think About It," in 2007. The track and music video coincided with her role in R.L. Stine's "The Haunting Hour: Don't Think About It." Despite a hectic filming schedule, the star was determined to pursue both creative avenues. "I won't give up either music or acting," she said in The Virginian-Pilot. "I'd quit both before I gave up one."