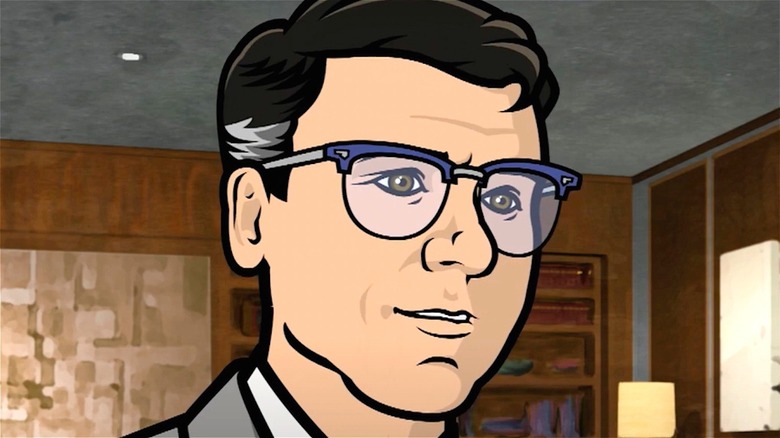 Every "Archer" fan knows about Cyril Figgis, the timid and somewhat pathetic accountant at ISIS (per Archer Fandom). Originally depicted as the weaker foil to protagonist Sterling Archer, Cyril develops over the course of the series from a powerless, sex-addicted office clerk, to a fellow field agent. Though he is still treated as a punching bag by Archer and the others, he is a consistent and invaluable member of the ISIS team, even serving as the CEO of the Figgis Detective Agency after ISIS had been shut down and blacklisted.
For all Cyril's unique character qualities, however, there is something that makes him stand out among other characters in television. If you've watched other shows like "Rick and Morty," "30 Rock," or even commercials for Progressive (viewable on YouTube), then you may have noticed that Cyril sounds very familiar. That's because Cyril's voice actor, Chris Parnell, is an exceptionally prolific actor and comedian with a career stretching back almost three decades.
Chris Parnell got his start taking minor sitcom roles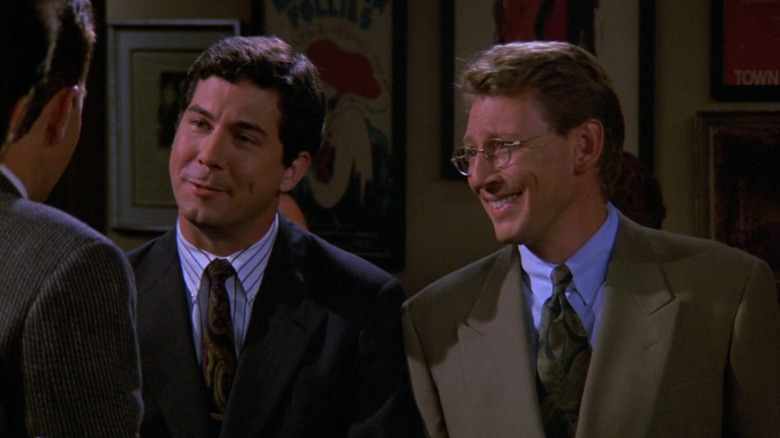 Before we talk about Parnell's well known role in "Rick and Morty" or his time as a main cast member of "Saturday Night Live," it's important to go over Parnell's earliest roles. According to the actor's IMDb page, Parnell has been acting since the mid-1990s, with his first credited appearance occurring in the TV series "Hope and Gloria" in 1996. Not long after that, Parnell appeared as a toy salesman in the Arnold Schwarzenegger Christmas film "Jingle All The Way." Parnell's comedic legacy, however, would begin with an appearance in the final season of "Seinfeld," as an NBC executive.
In an interview with "The Rich Eisen Show" (posted on YouTube), Parnell talked about his experience on "Seinfeld," saying, "it was awesome to be part of that unbelievable show." However, at the time of his appearance in 1997, Parnell was not especially well-known. He had just started landing various small sitcom roles, and managed to get into "Seinfeld" through its normal auditions. Regardless, his appearance in the acclaimed series would prove to be the beginning of a long and successful comedy career.
Of course, that wasn't the only notable series where Parnell worked during those early years. He also appeared in episodes of "The Jamie Foxx Show," "Friends," "As Told by Ginger," and more.
Parnell makes it big in Saturday Night Live
Following Chris Parnell's early roles, it's clear that his time on "Saturday Night Live" served as his first major recurring role. Parnell was a cast member of "SNL" for eight seasons between 1998 and 2006. During that time, he was involved in many of the series' most iconic sketches. This includes the infamous "More Cowbell" sketch with Christopher Walken, as well as the Lonely Island collaborative short, "Lazy Sunday," starring Parnell and Andy Samberg.
Outside of actual sketches, Parnell had a storied eight years on "SNL." He served as a cast member for much longer than average, and during that time was fired twice. The first time happened after his third season, and Parnell remembers it as his lowest point while on the series.
"Some people go in there with guns blazing like Will Ferrell and Jimmy [Fallon]," Parnell said in an interview with Vulture. "They're just right there and off with the gun. For me, it took me a bit longer to build up my confidence and find my footing and as soon as I was feeling like I had done that I got cut loose and that was pretty hard."
However, things changed when several cast members and writers stuck up for Parnell. Eventually, "SNL" creator Lorne Michaels admitted that axing Parnell was a mistake, and Parnell was asked to come back. Parnell then stayed on "SNL" until he was fired again in 2006 for budget reasons.
Dr. Leo Spaceman on 30 Rock was a bit spacey
Parnell had his fair share of other roles while on "SNL" — among them, playing a side character in the film "Anchorman: The Legend of Ron Burgundy." However, his next recurring role came in the "SNL"-inspired sitcom "30 Rock," in which he played Dr. Leo Spaceman (pronounced spa-che-man). Though he wasn't a main cast member, Dr. Spaceman proved to be one of the more memorable side characters in "30 Rock" history. Known for being hilariously ill-informed about medicine despite also retaining a positive reputation among patients, the mad doctor appeared on the show for 24 episodes between 2006 and 2012.
"[Tina Fey and Robert Carlock] had me in mind for Dr. Spaceman," Parnell told Rich Eisen. "'Cause I had worked with them for quite a few years at 'SNL,' and what a gift. You don't get to do characters (like him) that often."
Dr. Spaceman's eccentricities knew no bounds. From not knowing where the human heart is located, to believing that science is "whatever we want it to be," Spaceman left a lasting impression on fans. However, Dr. Spaceman was still only a recurring role. It isn't until the premiere of "Archer" in 2009 that Parnell resumed being a central cast member in a TV series. Four years after that, Parnell landed another starring role in one of the biggest animated series in recent history.
Chris Parnell is Jerry Smith in Rick and Morty
There's no understating how big "Rick and Morty" has gotten since it premiered in 2013, and there's no denying the role that Chris Parnell's character, Jerry Smith, had to play in that. As the father of the Smith family, Jerry plays a similar role to Cyril as the show's pathetic punching bag. Even so, his actions and the relationship he has with the rest of the Smiths cement him as one of the most vital characters in the series.
"[Jerry is] an awesome part to play," Parnell said in an interview with The Paley Center for Media (also posted on YouTube). "I love playing inept people who are blindly sure of themselves, this confidence that is generally unwarranted. It's a fun setup. But Jerry can surprise us sometimes, with him plotting to take out Rick in 'The Whirly Dirly Conspiracy.' Every now and then we'll get to see a side of Jerry that's always a fun revelation."
Ironically, despite the fact that Parnell loves Jerry and "Rick and Morty," Parnell actually knows very little about how fans think of his character. Parnell doesn't use social media very often, and according to an interview with The Verge, has steered fairly clear of the internet's obsession with the series. Things like Pickle Rick and the great Schezwan Sauce debacle aren't of much interest to him, which may actually be helpful when it comes to playing Jerry as faithfully to the script as possible.
That's just the tip of the Parnell-berg
While "Archer" and "Rick and Morty" are important series, they still only scratch the surface of his career. Since he began appearing in shows in 1996, he has never shied away from making short appearances as an episode's funniest character. Whether it be voice work or live action, Chris Parnell can be found in all corners of television. He has appeared in everything from "Brooklyn Nine-Nine" as the disgraced lawyer Geoffrey Hoytsman (above), to the Netflix original series "Unbreakable Kimmy Schmidt." He has sporadically shown up in various episodes of Comedy Central's "Drunk History," and has wormed his way into films like "21 Jump Street."
Outside of "Archer" and "Rick and Morty," Parnell has also shown up in animated sitcoms like "Family Guy" and "American Dad." His distinctive voice can be heard as the narrator of "Adam Ruins Everything," and as The Fly in "Hotel Transylvania." Because of his wide presence, it's almost impossible to enjoy TV or films at all without encountering Chris Parnell in some way, even if you don't watch his popular shows like "Rick and Morty," "SNL," or "Archer." Like many great actors, Parnell is almost famous without being famous. He may not be a major Hollywood superstar, but it's impossible to say that he hasn't had an important influence on TV.