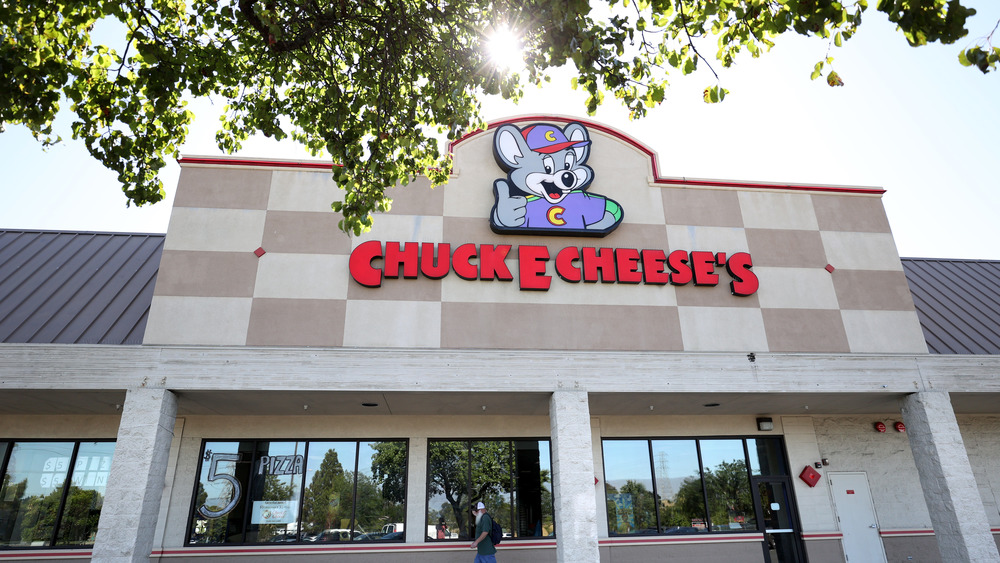 There are some places you know you just have to visit because of the food. Whether it's the hot new spot in town that just opened up or a long-standing restaurant in a destination you've wanted to visit for a while now, it's always a thrill to go to these kinds of restaurants if you're a true foodie.
There are other places, however, that are less known for their sophisticated cuisine and more known for their ball pits and birthday party packages. Alas, when you're at such a place and your stomach starts to rumble, you're going to want to chow down on something. But what?
Well, if you find yourself at Chuck E. Cheese and don't know what to order, you shouldn't worry. That's because we've decided to rank their menu items so you know which ones are worth trying and which you should probably leave alone. We'll start with the worst and work our way all the way to the best, so make sure you get to the end to see what we'd recommend the next time you're at a child's birthday party.
14. Chuck E. Cheese's Unicorn Churros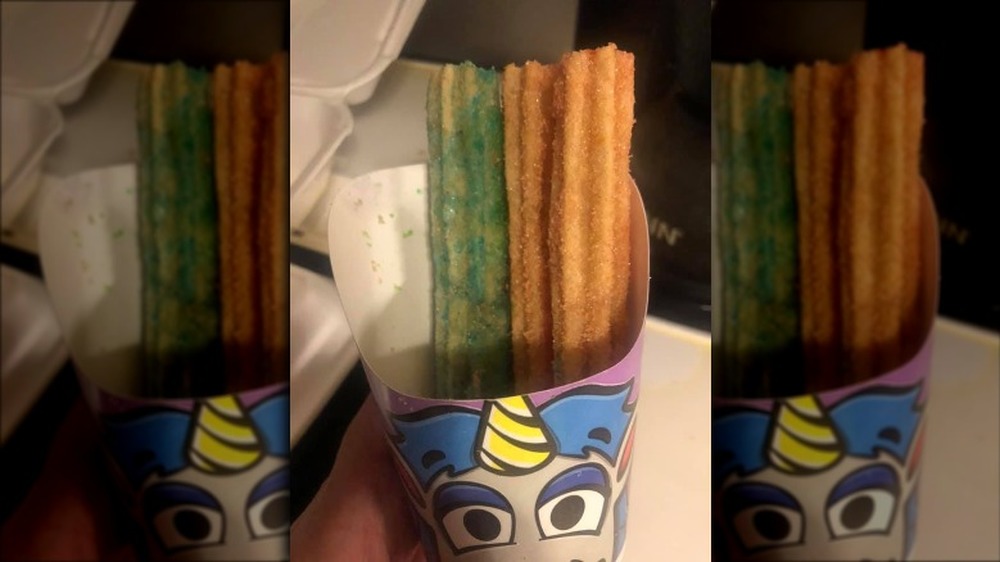 A quality churro is a glorious thing, a delicacy to be enjoyed with an espresso overlooking a view of Madrid. It's fried and has a crispy exterior but somehow stays soft and pliable inside. Whether you dip it in liquid chocolate (hint: You should definitely dip it in liquid chocolate) or you eat it plain, it's a simple but essential morning treat when you want something on the indulgent side.
However, the churros that you'll find at Chuck E. Cheese are … not that. They're called Unicorn Churros, and they come in a variety of brightly hued shades. This is your first warning sign that these things are up to no good. Only after you take your first bite will you realize that the color actually comes with a flavor as well. Sour apple, cherry, and blue raspberry sugar coat the already super-sweet churros to create a veritable rainbow of regret.
To add insult to injury, these things are baked — not fried. If there were an International Code of Churros, baking a churro would be a major offense. The Impulsive Buy reviewed this dessert, and what they had to say wasn't all that positive either: "First and foremost, the churro itself is really doughy. Because it's baked, it doesn't quite have a crispy exterior."
We're going to have to pass on this dessert the next time we're at the famed indoor playground.
13. Chuck E. Cheese's Gluten-Free Pizza
Listen, we know that some people have no choice but to be gluten-free. Maybe you have celiac, or maybe you just don't feel well when you eat gluten. By all means, if you don't have a choice, opt for this gluten-free option if you just need to get something in your belly to ease the hunger pains.
On the other hand, if you have a choice in what to order, it should definitely not be this pizza. Why? Let's start with the texture. It doesn't taste or feel like a normal pizza crust. We know it's gluten-free, but there are definitely better gluten-free options out there.
Just think about it. Is Chuck E. Cheese the best place to grab a pizza? Definitely not. If they're not even that good at the regular stuff, why would you trust them to make you a more-finicky gluten-free pie? Unless you're super hungry and won't be leaving anytime soon, we have to advise against this order.
12. Chuck E. Cheese's Veggie Platter
The veggie platter didn't end up at this position on our list because we don't like veggies. That couldn't be further from the truth. Raw vegetables can make any heavy meal come alive and feel fresh, and we even like snacking on them on their own. However, what you'll get when you go to Chuck E. Cheese? Just not that impressive.
It's the most basic veggie platter you could possibly imagine. It features broccoli, celery, carrots, and tomatoes, and you get to choose from bleu cheese or ranch dressing. While there's nothing wrong with this kind of veggie plate, it's something you could get from just about any grocery store in your local area.
If we're going out to eat, we expect something a little more thoughtful than something that comes straight out of your Albertsons' produce section. Of course, if you want to add some freshness to your meal at Chuck E. Cheese, this may just be your best option. At least the kids will probably have a few bites.
11. Chuck E. Cheese's Cake
When you order a cake from Chuck E. Cheese, you shouldn't expect too much. You're not necessarily going to get a bad cake, by any means. You're just going to get the most run-of-the-mill cake you could imagine. Have you had better? Certainly, yes.
But if you keep in mind the purpose of the joint, the cake is perfectly acceptable. After all, the kids are going to like it, and that's what really matters. You get to choose either chocolate or vanilla cake, so whatever your little one's preference, they'll have you covered.
One thing we actually like about the cakes at Chuck E. Cheese? When you order ahead, you can actually have them prepare a cake that's personalized with your kid's favorite character. They can choose from characters from Paw Patrol, Barbie, and more, which is sure to result in a lot of smiles.
However, one thing you should keep in mind when you're having a birthday party at Chuck E. Cheese is the fact that you can actually bring your own cake with you. So, if you're good at baking or you just want to pick up something a little bit nicer from your local bakery, that may just be the way to go.
10. Chuck E. Cheese's French fries
If we're honest, there's not too much to say about the fries at Chuck E. Cheese. They're made of potatoes, and they're just kind of … there. Are they bad? Not really. They taste fine, and biting into one isn't going to make you grimace and keep you from reaching for another. But in the realm of French fries, you can definitely do better.
The texture is a little bit soggy for our taste, but there's a good chance that kind of thing varies from store to store. There's also not a lot of salt on these fries. That's a good thing for your health, we guess, but when it comes to flavor, it just means that these fries could be better.
If you want to enjoy a side with your chicken nugget platter, an order of fries from Chuck E. Cheese might just hit the spot. But it's probably not anything you'd want to order on its own.
9. Chuck E. Cheese's Cheesy Bread
This is where things start looking up. While it may not be the best item on the menu, we can't deny that the cheesy bread from Chuck E. Cheese is pretty good. Apparently, other people agree with us, as there seems to be a demand for a copycat recipe that you can make at home.
The bread is nice and soft, with enough texture to make every mouthful an enjoyable one. Mozzarella and cheddar cheese are combined to create a cheesy masterpiece that blesses the soft-baked bread. But the best part about this dish is undoubtedly the garlic spread. If we're honest, the garlic spread is the entire reason why we like the cheesy bread at this spot.
There are also different choices for dipping sauces when you order this item. You could always go for a ranch dressing. But if you want to take our advice, we suggest you opt for the marinara instead. It adds some depth to the cheesy bread and doesn't make you feel like you're loading yourself up with too much dairy.
8. Chuck E. Cheese's Wings Platter
Ready for some wings? Luckily for you, there are several different wing varieties you can get at Chuck E. Cheese. Choose from traditional bone-in wings (clearly the better option) or boneless white meat nuggets that even the kids will love. Then, you have your choice of sauce. Want something that's on the spicier side? In that case, you have to try the hot buffalo. Maybe you prefer your wings on the sweeter side. That's when you should go for the sweet chili option. You can also get smoky BBQ or just plain wings. Isn't that a ton of options — more than you might expect from an indoor play place?
Then, when you get the wings platter, you get the choice of mixing and matching all your favorites. The wings platter feeds about six people, so everyone can chow down on their order of choice. You can get three different types of wings so there's something for everyone. That makes it easy to ensure that everyone in your crew is well-fed.
The wings are pretty average, but they're not bad. We do like the hot buffalo sauce because it packs a zesty kick. And the plain wings are great for picky eaters.
7. Chuck E. Cheese's Veggie Pizza
When you go somewhere like Chuck E. Cheese, you can almost guarantee there's going to be some pizza around. After all, what else would you eat at a child's birthday party? Well, just because you're vegetarian doesn't mean you have to miss out on the assortment of pies you'll find at Chuck E. Cheese. They have a veggie pizza that's better than you might expect.
It's made with a wide variety of veggies, including olives, mushrooms, green peppers, red onions, and tomatoes. We love how many veggies they pack onto each slice — it makes you feel like you're making a healthy decision even when you're throwing back slice after slice of pizza.
For a pizza you'd find at a play place, it's pretty good. The cheese and the crust aren't the tastiest in the world, but when you smother it all with fresh veggies, it's actually something you'd want to order. Whether you're vegetarian or just want to take a break from meat for a meal, this is a solid option.
6. Chuck E. Cheese's Five Meat Pizza
While we do like the veggie pizza at Chuck E. Cheese, we think that the five meat pizza is just a bit better. It's heavy, for sure, but when you want something indulgent (like when you're dealing with 20 kids who are bouncing off the walls due to their increased sugar consumption), this pizza is the way to go. It's piled high with, you guessed it, five types of meat, including ham, bacon, sausage, pepperoni, and ground beef. They all come together to create a hearty pizza that will actually have you craving another bite.
Although Mel Magazine describes this pizza as a "five-meat symphony of cholesterol," we'd prefer not to think about what a single slice of this stuff is doing to our arteries. As long as you don't think about what's been in the ball pit and as long as you don't look up the nutrition info for this pizza, you're on the right track.
5. Chuck E. Cheese's salad bar
We were pleasantly surprised by the salad bar at Chuck E. Cheese. In fact, it's so good that we had to put it toward the top of our list. Why, you ask? Well, in a spot that's known for screaming children, bright fluorescent lights, and forced small talk with other parents, you wouldn't expect there to be any food options that actually make you feel good. But if you just need some energy and freshness in your day, then the Chuck E. Cheese salad bar is where to be.
You start with the greens, and then you can add in all the veggies you like. There is a lot to choose from, so no matter what kind of salad you like, you'll have plenty of options. It's the perfect side to a slice of pizza or even all by itself if you're trying to eat clean.
While The Beachwood Reporter wasn't absolutely thrilled with the salad bar at Chuck E. Cheese, they did point to the freshness and quality of the veggies. And really, at a place like this, we think that's all you can ask.
4. Chuck E. Cheese's Giant Warm Cookie
You and the little ones are likely going to scarf down plenty of pizza at your time at Chuck E. Cheese. But here's a warning for you: Don't fill up too much. That's because you're definitely going to want to get a bite of the Giant Warm Cookie. This chocolate chip cookie is so big that they actually cut it like a pizza, so that means you only have to get one for the entire family.
A young YouTube reviewer decided to try it out to see how she liked it. Considering she had already eaten half of it by the time she made the video, it would appear that she enjoyed it. She goes on to say that it's good, but it's definitely better when they first make it.
We agree. This may not be a custom bakery chocolate chip cookie, but cookie pizza is always going to taste good. However, when you warm it up, it takes this simple dessert to a whole new level.
3. Chuck E. Cheese's Supreme Pizza
Now, you already know we liked the veggie pizza. The five meat pizza was even better. So, what do you think would happen if you were to combine the two? That's basically what you're going to get when you order the supreme pizza from Chuck E. Cheese. It's got a mix of all your favorite meats, like pepperoni, beef, and sausage. But it doesn't end there. It's also piled high with a ton of veggies, like mushrooms, green peppers, red onions, and olives.
While we aren't thrilled with the crust of any of the pizzas at this family fun center, we can't deny that the supreme pizza is downright tasty. When you want absolutely every topping you can fit into your mouth, this pie is the way to go. Plus, since it's got so many extras on top, the kids may not want to share with you as much as they would with a normal slice of cheese. More for you, right?
2. Chuck E. Cheese's Chicken Nugget Platter
If you're looking for the tastiest entree on the menu, you have to order the chicken nugget platter. Yes, it is just as glorious as it sounds. Who doesn't want to dig into an entire platter of nuggets? These chicken nuggets have a nice, crispy exterior that gives way to juicy chicken that you'll want to eat more and more of.
And when you order this dish, it's not like you're going to have to share your portion of nuggets with everyone else. Since you can order a whole platter, you're actually getting enough nuggets to feed about eight people. And the best part? You can choose your very own sauces to mix and match. You get four different options, so choose wisely for the best dunks.
Whether you're trying to feed your whole family or you have an entire party along with you, this is one order that nearly everyone will adore. All hail the nugget.
1. Chuck E. Cheese's Dippin' Dots
While the most beloved item on our menu isn't exclusive to Chuck E. Cheese, it definitely earned its place in the top spot. If you've never had Dippin' Dots before, you need to go get yourself some immediately. Yes, it really is an emergency. Not until you taste these sweet, tiny nuggets of cream can you say you've truly lived.
This ice cream is flash frozen, resulting in little pieces of ice cream instead of a solid lump that you can scoop. The treat was invented by a microbiologist, and it may just be the greatest gift that science has given us apart from penicillin.
They're cold, they're creamy, they come in a ton of flavors. No matter how many slices of pizza or chicken nuggets you've eaten, you can still manage to throw back some Dippin' Dots. Don't let the kids have all the fun on this one. If you're going to buy one food item while you're at Chuck E. Cheese, you have to make sure it's the Dippin' Dots. You can thank us later.