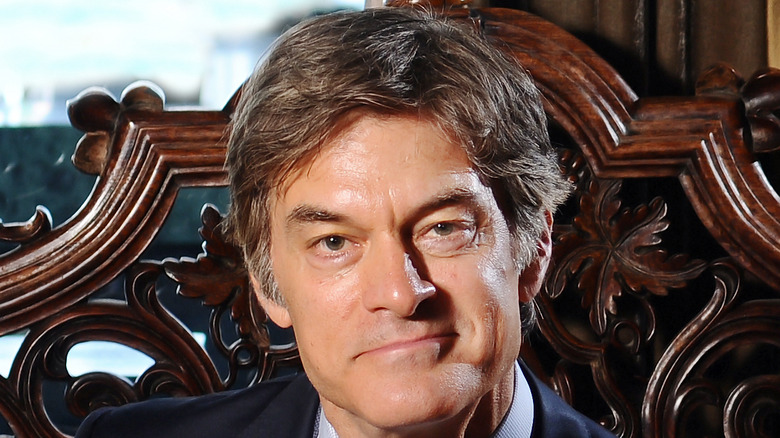 The following article contains material about conversion therapy and weight loss.
Mehmet Cengiz Oz, more commonly known as Dr. Oz, is a Turkish-American doctor, author, and television personality, per Britannica. He's best known for his talk show "The Dr. Oz Show" and his "You" series of health and wellness books. Oz was raised in Delaware by his parents, both Turkish immigrants. His father was a surgeon, and according to a profile of Oz in The New Yorker, inspired Oz's career in medicine. Oz's Turkish heritage was very important to his family, and to him. They often traveled to Turkey, and Oz even served in the Turkish military so he could maintain dual citizenship. His time in Turkey also shaped his medical career. There, he was introduced to many of the holistic approaches to health that later became his hallmarks.
Oz graduated from Harvard University and went on to receive his medical degree from the University of Pennsylvania. He pursued a double major and received his M.B.A. at the same as his M.D. Oz went on to the Columbia-Presbyterian Medical Center for his medical and surgical residencies, and eventually became a surgical resident there. Oz first started experimenting with alternative medicine during his time at Columbia-Presbyterian. He began incorporating practices like reiki, acupuncture, and meditation into his treatment plans and gathering evidence as to their efficacy. Outside the operating room, Oz penned several health and wellness books aimed at integrating holistic practices into everyday life. He also gained a reputation for giving health and wellness advice that wasn't backed by scientific evidence, making some of his advice quite controversial.
The Dr. Oz Show
Years before he landed his own television show, Dr. Oz was a favorite of the queen of daytime television, Oprah Winfrey. According to a Vox profile on Oz, Winfrey began featuring Oz as a guest on her show in the early 2000s. Winfrey started calling him "America's Doctor," and the name stuck.
As The New Yorker pointed out, Oz had a preternatural talent for explaining medical issues in a simple and flashy way that caught the attention of regular people. Oz became such a popular figure on "Oprah" that Winfrey offered him his own show in 2009, and thus "The Dr. Oz Show" was born. Oz quickly became one of the most influential celebrity doctors in America. The show focused heavily on holistic medicine, offering viewers an alternative to Western medicine. Dr. Michael Argenziano, who worked with Oz at Columbia-Presbyterian, told Vox that Oz's show appealed to Americans because he taught them how to take their health into their own hands.
However, as the show went on, Oz's health and wellness advice got more sensational and less science based. He made claims about alternative treatments that weren't backed by research and presented several alternative treatments as "miraculous" secrets of health. The show became known for outrageous claims rather than sound health advice. Indeed, according to a study published in the British Medical Journal that analyzed the content of "The Dr. Oz Show," less than half of the claims Oz made on his show were supported by evidence.
The Federal Trade Commission (FTC) hearing
The ostentatious language and questionable claims Oz became famous for got him in trouble in 2014, per Politico. He was called in front of the Senate Subcommittee on Consumer Protection to testify about false advertising in the weight loss industry. The members of the Senate subcommittee questioned him about claims he'd made about diet and weight loss supplements on "The Dr. Oz Show," calling him out for using words like "miraculous" and "magic" to describe the results of featured supplements. They focused heavily on the fact that Oz did not use scientific research to back up his claims.
Oz defended himself by presenting studies that he claimed supported his statements. He insisted that his sensational language was just a part of showbiz, and also pointed out that he never sold any of the supplements he featured on his show, proving that his statements were not profit-driven. Matthew Eisenberg, an expert on health economics and policy, told Politico that Oz is very careful and intentional about how he talks on his show and in public settings like the hearings. He's very good at crafting a message that pulls in consumers and audiences while not actually saying anything outright false. Eisenberg emphasized that this is a common tactic in the diet and weight loss industry.
Oz continues to make headlines to this day for many of his outrageous claims. Let's review some of the most controversial pieces of health advice the doctor and TV personality has made over the years.