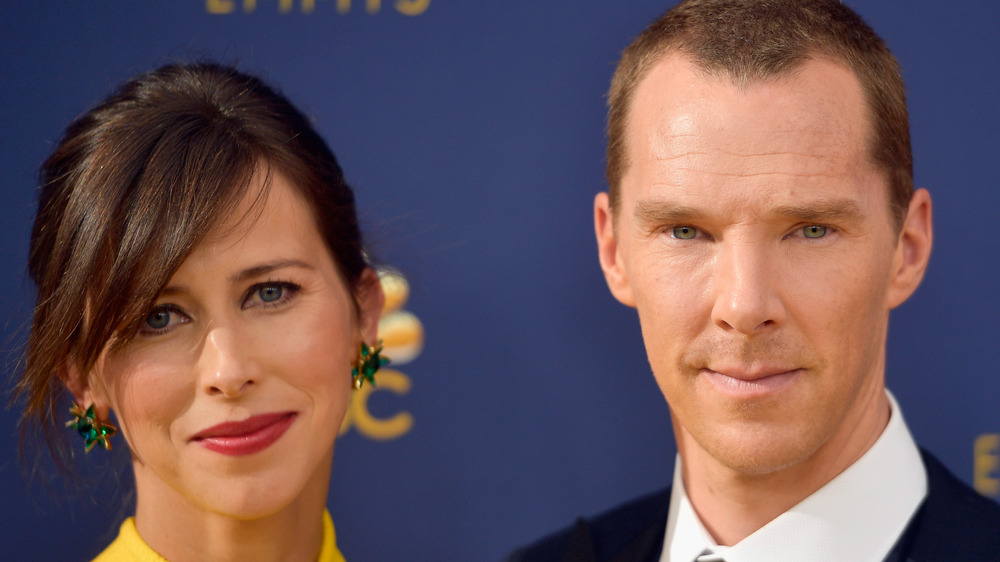 After rising to fame as yet another modern-day incarnation of Sherlock Holmes, Benedict Cumberbatch inevitably became a regular fixture of those lists that attempt to find the world's most eligible bachelors. Anyone hoping to ensnare the classically-trained actor was therefore left broken-hearted when he revealed that he'd been taken off the shelf for good.
Sophie Hunter, an actor-turned-opera director, was the lucky lady who'd captured the heart of the thinking woman's crumpet. And within a year the loved-up pair had become husband and wife. Unsurprisingly for a man who's always been fairly dismissive of the press, Cumberbatch hasn't exactly been too forthcoming about what makes him and his partner tick.
However, there are still several things we do know about one of Britain's most private celebrity couples. From their on-screen beginnings and highly romantic wedding day to their family life and unique sense of style, here's an insight into their rather seemingly picture-perfect relationship.
Benedict Cumberbatch and Sophie Hunter met at work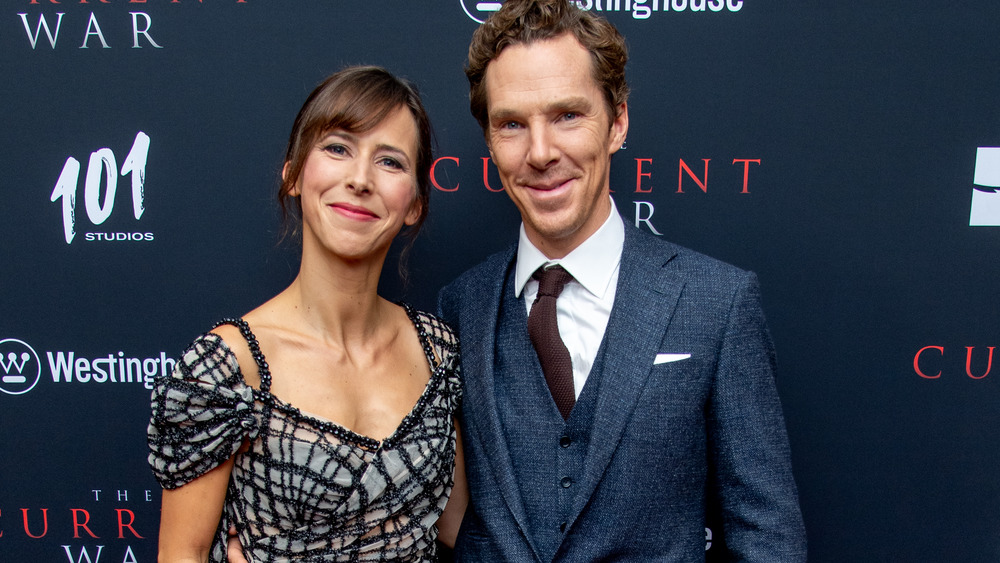 Benedict Cumberbatch and Sophie Hunter first met in 2009 when the pair both starred in Burlesque Fairytales, a 1930s-set thriller staged in a London theatre which brings a whole new meaning to the term "captive audience." The former played Henry Clark in Susan Luciani's directorial debut, while the latter was cast as his sidekick Annabel Blythe-Smith.
But it doesn't seem like sparks flew instantly between the pair. The one-time Julian Assange impersonator was seeing another actor, Olivia Poulet, at the time. And even when they went their separate ways in 2011, he moved onto someone else entirely, designer Anna Jones. In fact, it would only be four years after they first clapped eyes on each other that the slow-burning couple realized they were meant for each other.
Yes, Cumberbatch and Hunter reportedly only began dating in 2013. Of course, they soon made up for lost time as within another two years they'd walked down the aisle and become parents!
Benedict Cumberbatch and Sophie Hunter's classic engagement announcement
It appears as though Benedict Cumberbatch is an old-fashioned kinda guy when it comes to love. As the Daily Mail reported, the Oscar nominee traveled from London to Edinburgh in 2014 where he asked Sophie Hunter's mother for permission to propose to her daughter.
And then once he'd popped the question, The Imitation Game star and his new fiancée decided to reveal all in a very traditional manner. Yes, instead of announcing the happy news on social media or in a press statement, the couple chose to take out an advertisement in the Births, Deaths and Marriages section of British newspaper The Times.
According to the BBC, the very old-school notice — which appeared all the way inside on page 57 — read, "The engagement is announced between Benedict, son of Wanda and Timothy Cumberbatch of London, and Sophie, daughter of Katherine Hunter of Edinburgh and Charles Hunter of London." Express claims that this approach would have set the soon-to-be newlyweds back approximately $500.
In love, Benedict Cumberbatch plays doubles
Before settling down with Sophie Hunter, Benedict Cumberbatch was asked what he looks for in a partner. And the typically private star gave a surprisingly detailed response. So what should anyone who wanted The Hobbit star to put a ring on it have been looking for back in the early '10s?
"A woman who knows that she doesn't have to get all decked out to look good is sexy," was the first criteria he mentioned to Elle Japan (via Daily Mail). The Londoner also stated a sense of humor, intelligence and the ability to be a team player as must-have qualities before providing a slightly cringeworthy analogy about doubles tennis ("You need to work well together if you are to stay partners for a long time").
But Tracy Peacock, Cumberbatch's sister, once claimed that brainpower was the quality that the CBE recipient had previously found most elusive: "You would have to be a pretty smart cookie to keep up," she told The Sun in 2012 (via Digital Spy). "I think that is possibly why he has trouble with girlfriends." Hunter, however, doesn't appear to be lacking on that front. As the Independent noted, "Hunter studied French and Italian at Oxford University, before completing a course at the prestigious Jacques Lecoq school of theatre in Paris."
Valentine's Day is extra special for Benedict Cumberbatch and Sophie Hunter
Turns out that Benedict Cumberbatch and Sophie Hunter are hopeless romantics at heart. What else could explain their choice of wedding date? Yes, in 2015, just three months after getting engaged, the couple said "I do" on Valentine's Day at an intimate ceremony on the Isle of Wight.
According to Hello!, the bride and groom chose to walk down the aisle of a 12th century church in front of 40 of their nearest and dearest before enjoying a reception at a National Trust manor once owned by Hunter's family. Several other famous faces were reportedly in attendance including Tom Hiddleston, Sherlock star Andrew Scott and TV personality Judge Rinder, with the latter apparently serving as one of three best men.
Unsurprisingly for such a private couple, they decided against offering any photos of the happy occasion to the press. And their only remark about the big day was a one-word comment made via their publicist: "magical."
Benedict Cumberbatch and Sophie Hunter have two kids
Benedict Cumberbatch and Sophie Hunter first became parents shortly after getting hitched in 2015 with the birth of their first kid, while a second son arrived two years later. So how did the Patrick Melrose star take to fatherhood? Very well, judging by the comments he made to Hindustan Times.
In 2016 he told the Indian newspaper, "Lots of people, especially women, get told, 'Oh parenthood is really going to affect your career' ― and it does, but for the better I think. I know I'm in a very privileged position in my career but I think everyone, even if they're in a challenging time in their life, draws strength from their children. They are your inspiration. It adds to your work, it never takes away."
The Shakespeare regular also acknowledged that becoming a dad made him appreciate his own parents more. In 2016, he told People, "I can only hope to be half as good as they were to me, to my children. I have their example to follow so I'll be doing something right if I am." So could Cumberbatch and Hunter be adding to their brood? Well, despite reports that they'd be hearing the pitter-patter of tiny feet for a third time in 2018, no further news has emerged since.
Social media isn't Benedict Cumberbatch and Sophie Hunter's thing
Considering they announced their engagement in the Births, Deaths and Marriages section of a British broadsheet, you probably won't be surprised to hear that Benedict Cumberbatch and Sophie Hunter aren't exactly prolific social media users. In fact, they're entirely absent from all platforms. Yes, if you want to know what the Doctor Strange star thinks about the latest development in the Marvel Universe in 280 characters or see what the opera director is wearing to the premiere of a new production on Instagram, then you're out of luck.
As BBC America reported, Cumberbatch explained to attendees at the 2012 Cheltenham Literature Festival why he doesn't do Twitter. "I think if I did you'd very soon be disappointed because it really is a skill — it's a skill I genuinely don't have," he said. "Tweeting is about being pithy. I think tweeting would take so many hours of editing I'd be lost for doing my job."
The Emmy Award winner was also no doubt deterred from social media after discovering that a nosy neighbor was live-tweeting his movements. In 2013, Cumberbatch told The Telegraph, "It was such a strange and a direct thing to see these tweets saying what I was doing as I was doing them. I found it really worrying, and, yes, of course, very hard to deal with."
Style is Benedict Cumberbatch and Sophie Hunter's thing
Benedict Cumberbatch always appears to be immaculately dressed on screen, but his sense of style is just as impressive off it. In fact, the Laurence Olivier Award winner and his wife Sophie Hunter may well be one of the most fashionable celebrity couples around.
They certainly always seem to coordinate their outfits perfectly whenever they hit the red carpet. Take their appearance together at the 2018 Emmy Awards, for example, when, as the Daily Mail noted, Cumberbatch "cut a dapper figure" a classic three-piece suit and Hunter "looked showstopping" in a bold yellow gown. Or the time they rocked up for the final day of Wimbledon 2019 in a pastel blue suit and tailored floral two-piece, respectively. The pair also stole the show at the famously OTT Met Gala in 2018 thanks to Cumberbatch's bamboo suit and Hunter's lilac taffeta.
The Parade's End actor was all-too-happy to define his fashion sense in a 2020 interview with DMARGE: "I like to dress down … Loose-fitting cotton trousers are a staple, [as is] Japanese denim and layering. I like vegan clothes, although I'm not a vegan through and through. Oh and underwear's important — that's a good starting point!"
Benedict Cumberbatch and Sophie Hunter are cool with PDA
Benedict Cumberbatch and Sophie Hunter's attitude to PDA has certainly changed since they first started dating. In their early days together, the Daily Mail noted that "the couple were at pains not to be seen together as they arrived [at a restaurant] separately" to avoid the prying eyes of the media. But since getting married, the pair can't seem to keep their hands off each other in public.
At the 2019 BAFTA TV Awards, Cumberbatch gave his wife a smooch on the red carpet and then while making his acceptance speech for his Leading Actor winning performance in Patrick Melrose, he gushed, "I do have to thank one other person who is very important in my world, which is my wife, Sophie, and our family. You're my rock."
Hunter was also given a peck on the red carpet of the 2015 Academy Awards which took place shortly after their Valentine's Day wedding and subsequent honeymoon road trip across Southern California. The newlyweds were just as amorous with each other throughout the latter journey, with one onlooker reportedly telling E! News that they "kissed, hugged and held hands even when they were pumping gas."
Sophie Hunter is Benedict Cumberbatch's biggest champion
Benedict Cumberbatch certainly dazzled his nearest and dearest with his 2015 performance in the Barbican Theatre's staging of Hamlet. Mark Gatiss, his co-star in and co-creator of Sherlock, told the BBC, "I always knew he had it in him. We're all very proud and impressed." The star's mother, Wanda Ventham, meanwhile, simply proclaimed that he was a "bloody good Hamlet."
But the person that appeared to be most bowled over by Cumberbatch's Shakespearean turn was his wife, Sophie Hunter. The opera director, who'd married the play's leading man just six months earlier, couldn't stop beaming at the aftershow party, according to Hello! magazine.
The year previously, Cumberbatch had told People that not only was Hunter now his number one fan but she was also accepting of his fervent fanbase. "She's proud of my work, she's proud of me, and she loves me," he said. "That's the bottom line, isn't it? That's one of the reasons it's a good fit. It could be a really difficult thing, but she's just so in command of it."
Benedict Cumberbatch tries to leave his job at work
In 2017 Benedict Cumberbatch was cast as Stephen Lewis, a man who loses his four-year-old daughter, in the BBC's take on Ian McEwan novel The Child in Time. Understandably, the actor did his best to take himself out of the role whenever he left the set, as he told The Telegraph that same year.
The Oscar nominee, who has two sons with wife Sophie Hunter, explained, "I don't think I did [take the work home]. I mean, the joy of returning home to the family is what that is, and if you're portraying something other in your work, then the divide is very, very simple. I didn't want to bring that subject matter even into our family life, so Sophie didn't read the script and she hasn't read the book, so that's I suppose an example of how I try to separate the two things in this instance."
While Cumberbatch made sure not to distress his partner with the drama's storyline, he did admit to becoming rattled himself: "It's hard sometimes, because you're running that all the way through the day and there are many beats in the story … But there was a point when I was worried I was getting a bit too upset in all of these scenes, which is hard to avoid."
Now, about that weird theory about Benedict Cumberbatch's marriage
Benedict Cumberbatch and Sophie Hunter have experienced one of the more modern downsides of fame since getting together: the online conspiracy theory. As noted in a 2019 The Atlantic article, according to certain sections of the tinfoil hat brigade, their marriage is nothing but a sham that's been masterminded by the apparently criminal opera director.
And that's not the only theory about the pair that's being bandied about. As detailed by The Atlantic, there are some who remain skeptical about the number of children they have, with an image of Hunter in the early stages of her first pregnancy apparently revealing that her bump was upside down and therefore fake. And escorting, drug-enabling and even human trafficking are just some of the things that the former actor has been accused of getting involved in.
Cumberbatch was keen to point out the absurdity of such allegations in a 2016 chat with Vanity Fair. "There are people who believe that my wife is a PR stunt and that my child is a PR stunt," he said. "I think really it's to do with the idea that the internet's boyfriend can't actually belong to anyone else but the internet. It's impossible he belongs to anyone but me. And that's what stalking is. That's what obsessive, deluded, really scary behaviour is." Well, you can't quite blame them for steering clear of social media.