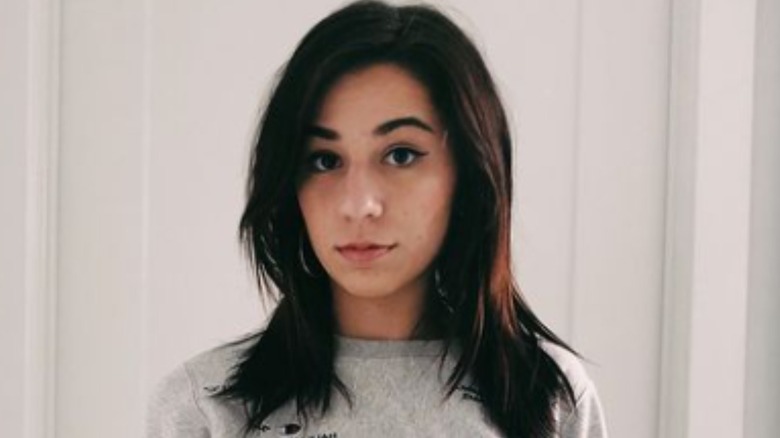 Some of the biggest YouTube stars have years' long track records, and Markiplier is one of those lucky few. He's been on YouTube since 2012, and his popularity has grown through the years bit by bit. With over 31 million subscribers and a surprising net worth, there's a lot of attention on his life, and he's not shy about sharing details. He's even been very open about some of the tragic things he's gone through, sharing his lows along with his highs.
Markiplier has also been incredibly generous with information about his dating life. Meet Amy "Peebles" Nelson, Markiplier's long-time girlfriend. While the two might have been more reserved early on in their relationship — for understandable reasons — they've been much more public as their relationship went on. In fact, Peebles was a key part of Markiplier's "Unus Annus" series.
While the two have been together for quite a bit of time, not everyone knows who Peebles is. Just like Markiplier, Peebles has her own personality complete with her own hobbies and passions.
Amy and Markiplier have been together since 2015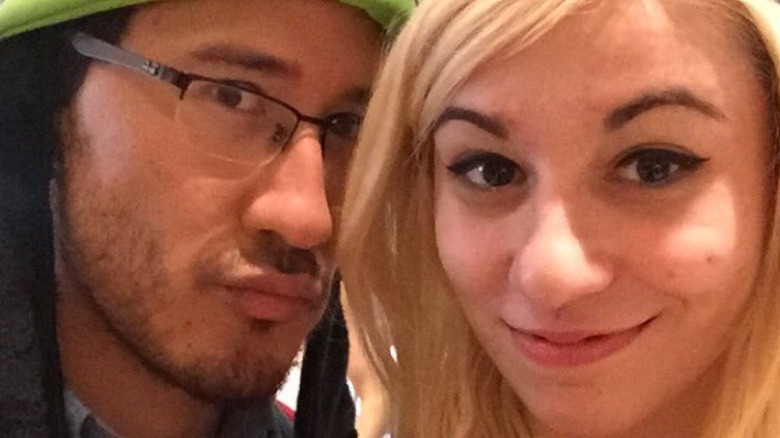 In 2016, Mark and Amy showed up to VidCon together, though there hadn't been any confirmation that the two were together before that first appearance. On Twitter, Amy posted a picture of the two with the caption "oh jeez," and immediately followed it up with "what more do you guys want from us heck."
Some of Markiplier's fans were quick to try and deny the evidence that the two were romantically involved, claiming that they could just be friends who went to an event together. Even Jacksepticeye replied that he'd need the details in writing, signed. However, the two made it pretty clear that they were dating as time went on.
Peebles' Instagram suggests that the two had actually been dating a little longer than they'd let on. In 2020, she posted a picture of the two with the caption "5 years so we're allowed to be a lil corny!" While the two aren't shy about showing each other off, they have been pretty secretive about how they met. They've even made up "how we met" stories to get people off the subject.
Amy's made plenty of appearances on Markiplier's channel
Not only have the two been together for quite some time, but Peebles has been making appearances on Markiplier's channel for almost as long. In 2016, Amy appeared for the first time in Markiplier's "DON'T LAUGH CHALLENGE #5" video, where she participated by attempting to not laugh at Mark, Ethan, Wade, and Bob's antics. While the others took turns trying not to laugh, she appeared for one turn and then went off-screen.
Since then, she's been in a ton of Markiplier's videos, including one where she did his makeup. She's even involved off-screen, which she's shown through the years on her own social media. For example, she's shared pictures of herself being involved in "Unus Annus" and Markiplier's "Heist" video.
While she now pops up in Markiplier's videos from time to time, she used to be more involved in her own online channel on Twitch.
Amy had her own Twitch channel
Amy's run her own Twitch channel in the past: PlanetPeebs. On her channel, she would sculpt her own pottery and even sell some of it. She's extremely talented, and her latest custom collection featured a unique polka-dot design reminiscent of a circus tent or clown. She would also occasionally stream games, according to her Twitch About page.
She hasn't streamed in over three years, but she's gained 20,000 followers on her channel despite the lengthy break. Her VODs are also gone, but there's plenty of compilations on YouTube that show off her livestream videos and her talents now that she doesn't stream there. She's also shown up on Markiplier's live streams, too, of course.
According to her Instagram, Peebles seems to be leaning more heavily towards editing and working behind the scenes of the camera. She's got multiple posts about her work, which may have called her away from her pottery.
Amy loves coffee
Who doesn't love a good cup of joe to wake you up in the mornings or give you the extra boost of caffeine you need to get through your day? Peebles certainly does, and her love for the beverage has been expressed in several different ways.
On Instagram, she's posted a ton of pictures of her coffee cups, captioned "every coffee across America." There were both takeout and homebrew coffee cups, including popular choices like Chick-fil-A, McDonald's, and Starbucks. Even the Holiday Inn's coffee made it into the group.
Additionally, her social media handles are directly related to coffee. On Twitter, her name is iceddarkroast, and her Instagram name is a witty take on that: iceddorkroast. Even a lot of her pottery involves coffee cups.
While she shows off coffee quite a bit on social media, there's something else that she also shows off quite a bit with the drink: her pups.