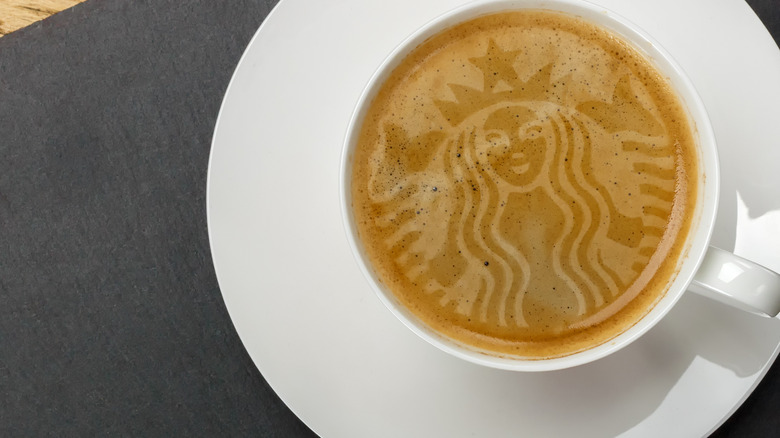 It seems like Starbucks has always had fantastic intuition into what people want. From their humble roots in Seattle's Pike Place Market in the early 1970s to their rapid expansion during the grunge wave of the 1990s, Starbucks managed to maintain their image of outsider cool even while popping up franchises on every corner.
Fast forward to now. They're one of the most iconic coffee houses of all time, with locations serving up huge cups of goodness in every corner of the globe. Starbucks' coffee is solidly good, and its core menu is full of tried-and-tested favorites that hit all the right notes. In addition to their classic drinks, there's also an unofficial secret menu of sorts concocted by internet connoisseurs who've put their own particular spin on Starbucks favorites.
These are the 52 best items you can order at Starbucks, from the classic to the zany to the downright legendary, ranked.
52. Orange Lemon Smoothie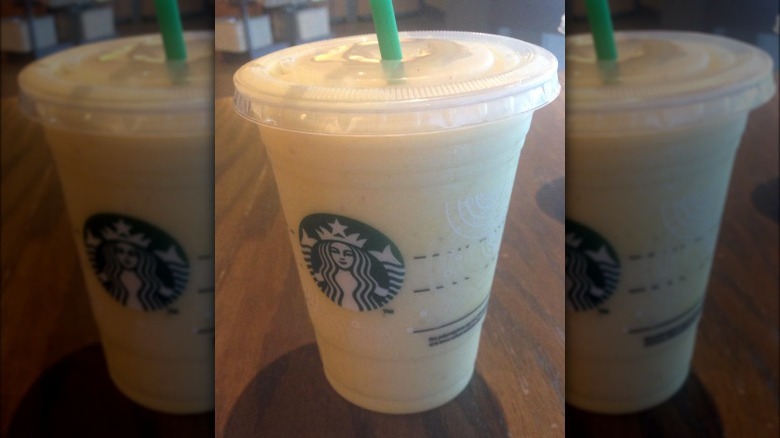 Starbucks' Orange Lemon Smoothie is a bright, sweet gulp of summer in a glass. This secret menu item is an inspired brew of lemonade, orange juice, one pump of vanilla syrup, and vanilla cold foam.
To get it, your barista has to be willing to do a little legwork, specifically blending a bottle of orange juice into your Venti Lemonade and adding in a touch of vanilla syrup and cold foam. For a sweeter treat, add in some classic syrup too. Pro tip: You can't bring in your own OJ, so be prepared to buy a small bottle of it in Starbucks. This one isn't the easiest to make, so it comes in last place.
51. Minnie Mouse Frappuccino
Another Starbucks secret menu stunner, the Minnie Mouse Frappuccino, is a downright beautiful beverage that starts with a Grande White Mocha Cream Frappuccino. Ask your barista to blend in a touch of strawberry puree, dragon fruit inclusions, and some java chips. Then, top the whole thing off with mocha cookie crumble, and you're good to go.
Thanks to the dragon fruit inclusions and the java chips, the resulting drink is delightfully flavorful with a mild punch of strawberry and some texture. It's a sweet treat that the reigning matron of the Mouse House would be happy to sip on any day, but with its intense mixture of flavors, it may not be right for everyone.
50. Raspberry Mocha Eggnog
Although the regular Starbucks menu has plenty of items that bring the holiday cheer, their secret menu special Raspberry Mocha Eggnog is in a class all of its own. Although some may balk at the idea of combining eggnog, mocha, and raspberry, we can attest to the fact that it's a proper winning combination — though some may prefer the regular holiday menu items instead.
Ask your barista to make a White Mocha — iced or hot, your choice — with eggnog in place of the milk. Add one or two pumps of raspberry syrup depending on taste preferences, and you've got the ultimate holiday drink. Plus, it's red, white, and delicious all over.
49. Pumpkin Juice
Pumpkin Juice is a solid non-coffee-related secret menu item on our list, though it's not our favorite. However, it's definitely worth checking out if you want to get into the seasonal spirit. Although recipes vary, most Starbucks secret menu connoisseurs agree that you need to combine apple juice, cinnamon syrup, and pumpkin spice.
For a bit of a nuanced and sophisticated taste, you can also add a pump of chai syrup. Pumpkin Juice is best served super cold, so ask your friendly barista to load up a tall frosty glass with plenty of ice before pouring in your new fall favorite drink.
48. Nutella Drink
Starbucks' Nutella Drink is a secret menu item based on their Caffe Misto, a delicate and delicious blend of steamed milk and coffee. Although Caffe Mistos are marvelous all on their own, you can take them to the next level by asking your barista to make a series of minor enhancements.
Start with a Grande Cafe Misto, and add one pump each of mocha and hazelnut syrup. Top the whole thing off with a healthy drizzle of caramel, and you have a luxe drink that's totally reminiscent of Nutella without being too over the top. If you're a chocolate lover, give this drink a try.
47. Peach Cobbler Frappuccino
Not everyone likes peach, which is why this one is relatively low on our list. This summery spin on your classic Vanilla Bean Creme Frappuccino is bursting with peachy goodness. Starbucks' Peach Cobbler Frappuccino is a thing of beauty dripping with peach and cinnamon dolce syrup and deep, sweet vanilla flavor. Crown it with a generous dose of whipped cream, and you have a drink that rivals any dessert.
To make it, your barista starts with a Vanilla Bean Creme Frappuccino, then adds two to three pumps of peach syrup, depending on your taste, and one pump of cinnamon dolce syrup. The delicate balance of ripe peach and rich cinnamon makes this drink a true Starbucks superstar — for all the peach lovers, at least.
46. Golden Girls Frappuccino
Do you want to thank someone for being a friend? Get them this secret menu drink! All kidding aside, the Golden Girls Frappuccino is a lesser-known Starbucks secret menu item that serves up some seriously solid flavor and is relatively easy to make. This is an excellent drink to order if you want something a little offbeat but don't want to ask your barista to mess around with the menu too much.
Invoke the feisty spirits of Blanche, Sophia, Dorothy, and Rose by ordering this White Mocha Frappuccino topped with vanilla and hazelnut syrup, plus whipped cream and caramel crunch topping. It may not be the most exciting drink you can get at Starbucks, but it's still delicious.
45. Candy Corn Frappuccino
Candy corn has a long and strange history in American confectionery food lore, and it's undoubtedly one of the more polarizing sweets out there. So if you're on Team Never Candy Corn, skip this one, but if you're on Team Candy Corn 4Ever, this secret Starbucks menu item was made for you!
Essentially, the Candy Corn Frappuccino is a Pumpkin Cream Frappuccino with a bit of extra pumpkin and some caramel drizzle on the top. If your barista feels benevolent, you might even get them to put a few pumps of caramel on the bottom of the cup to really satisfy that sweet tooth.
44. Medicine Ball
Not all menu items at Starbucks are loaded with sugar, as the humble and relatively healthy Medicine Ball proves. This secret menu drink is so popular that some locations even offer a version called Honey Citrus Mint Tea. Of course, if Medicine Ball isn't on the menu under any name, you can concoct it yourself.
The Medicine Ball is Jade Citrus Mint Green Tea and Peach Tranquility Tea bags steeping in half hot lemonade and half water. Top the whole thing off with some honey, and you have a cold-busting, throat-soothing beverage that's just as fortifying as it is tasty. If you want something sweet, this is not for you. But if you're not a huge fan of Starbucks' over-the-top offerings, you're going to love this option.
43. Wendy's Frosty Frappuccino
A traditional Starbucks Frappuccino and a Wendy's Frosty are a match made in heaven, and you can have this magical hybrid if you know how to customize your drink. Ask your barista for a Grande Mocha Frappuccino made with heavy whipping cream instead of milk. Then add in a few pumps of vanilla syrup to taste and a touch of mocha drizzle on the top.
The result is a premium coffee drink that hits the same notes as a Wendy's Frosty. But, of course, if you want the real deal and don't want to trek to your local Wendy's, you can make the copycat version at home.
42. Blonde Roast
This simple, solid, regular Starbucks menu item easily rates as one of the chain's best drinks because of its bright blend of East African and Latin American premium coffee beans. Grab a grande Blonde Roast, and you will not feel any of that lingering stomach acidity or icky feeling after drinking it down, thanks to a balanced roast that's just a little bit sweet and not bitter at all.
This lighter blend is a true cult favorite, surpassing other Starbucks varieties as the preferred coffee for those looking to get a good caffeine buzz without any of the unpleasant aftereffects. It didn't rank higher on our list because it's not something super out of the ordinary, but we can't dislike such a top-notch coffee.
41. Caramel Snickerdoodle Macchiato
The secret menu Caramel Snickerdoodle Macchiato is a fun upgrade on the classic Caramel Macchiato with an extra shot of cinnamon dolce and vanilla syrups. As a huge added benefit, you can ask your barista to whip up this concoction without seriously putting them out.
This recipe works best with iced beverages, but you can swap in a hot one if you'd prefer. Start with a soy or regular Caramel Macchiato, then add single pumps of cinnamon dolce and vanilla syrups. If you want an even more sugary treat, you can always opt for a bit more, but remember to keep the ratio right for that sweet snickerdoodle flavor. This one would rank higher if it weren't so sweet, but we can't deny how much we love it regardless.
40. Blackberry Cobbler Frappuccino
Just like with the Peach Cobbler Frappuccino, this delectable summertime beverage starts with a Vanilla Bean Creme Frappuccino. This begs the question: Is there anything the mighty Vanilla Bean Creme Frappe can't do? The Blackberry Cobbler Frappuccino is a pale blue and purple beauty, with a tart hint of blackberries against the smooth backdrop of vanilla.
Start by ordering your Vanilla Bean Creme Frappuccino, then add a shot of white mocha syrup and some freeze-dried blackberries. When it's all blended together, the blackberries lend this drink its signature hue and add a layer of deliciousness that makes this drink a star.
39. Smoked Butterscotch Latte
Leave it to Starbucks to inject a shot of sophistication into its standard Butterscotch Latte. The Smoked Butterscotch Latte is a deeply layered regular menu item that strikes the right balance between sweet and salty, with some rich smoky undertones. Their Smoked Butterscotch Latte starts with a robust shot of espresso, combined with steamed milk and special smoked butterscotch sauce.
They finish off the drink with some whipped cream and butterscotch topping. It's a sweet, salty, creamy, intense beverage experience that will warm you right up on a chilly fall afternoon or get you through the darkest days of January. It's also excellent iced. There are better, less intensely sweet drinks on the menu, but who doesn't love smoked butterscotch?
38. Captain Crunch Frappuccino
Have you ever wanted to take a big sip of nostalgia? Congratulations! Now you can with the Captain Crunch Frappuccino. This Starbucks secret menu item is a beautiful blend of strawberries, toffee, hazelnut, and caramel. It tastes just like the best parts of Captain Crunch cereal and is the ideal treat for a blustery day.
First, ask your barista to make you a Tall Strawberries & Creme Frappuccino, then add in half a pump each of caramel and hazelnut syrup. Next, add a full pump of toffee syrup and stir in a generous portion of java chips for a little texture. You can order larger sizes, too— just make sure that you keep the ratio of caramel and hazelnut to toffee the same. People who don't love super-sweet drinks won't enjoy this one, but that doesn't mean you shouldn't give it a try if you do have a sweet tooth.
37. Matcha Green Tea Latte
Enjoy Starbucks' regular menu Matcha Green Tea Latte hot or cold. With its bright, emerald-green hue and delicate aroma, the Matcha Green Tea Latte is one of Starbucks' signature and more cherished drinks. Essentially, this latte is a blend of matcha tea and whole steamed milk.
It's not too sweet, but you can certainly add in a little bit of sugar if you would like. Ask your barista to stir in a pump of classic syrup, or simply add the sugar to taste yourself. For a fresh, springtime drink that's a fun alternative to iced coffee, try an Iced Matcha Green Tea Latte.
36. Cherry Mocha
Starbucks' Cherry Mocha occasionally appears as a seasonal item on the regular menu. If it's not there, you can make your own by adding a pump of cherry syrup to your standard mocha. This drink proves that sometimes the simplest things are the best and that the classic chocolatey flavors of Starbucks' signature mocha mingle perfectly with sweet cherry.
The Cherry Mocha tastes a bit like a chocolate-covered cherry, only better. It's decadent and intensely flavored, with just the slightest hint of fruit and plenty of delicate sweetness. Order yours hot or iced, and don't forget to crown it with whipped cream. While this isn't one of our top seasonal offerings, it's still a winner.
35. Iced Pineapple Matcha Drink
Starbucks transports you to the tropics with their Iced Pineapple Matcha Drink, a regular menu item that's a yummy combination of green tea, coconut milk, and ginger syrup. Served over a tall glass of ice, the Iced Pineapple Matcha Drink is a vacation in a glass.
This drink is an amazing option for people who don't consume dairy and even omnivores who just want something dairy-free for once. The coconut milk lends an island vibe to the drink, playing perfectly nicely with the pineapple. The ginger works well, too, cutting the creaminess with just the right amount of sharpness and spice.
34. Cinnamon Roll Frappuccino
Proving yet again that it's the MVP of Starbucks' secret menu, the Vanilla Bean Creme Frappuccino is the base for this delicious drink that's bound to become one of your new favorites. Meet the Cinnamon Roll Frappuccino, a tasty combination of vanilla, mocha, and cinnamon that genuinely tastes like the real thing.
Ask your barista for a tall Vanilla Bean Creme Frappuccino, then add one pump each of white mocha and cinnamon dolce syrup. Add an additional pump each for every size you go up, keeping the portions the same. Finally, top it all off with some cinnamon dolce powder. Delicious! Again, this one is only for the sweet drink lovers.
33. Java Chip Frappuccino
This regular menu fan-favorite hits all the right flavor and texture notes with a generous serving of java chips and a creamy, sweet blend of mocha and coffee. Add a little bit of whipped cream, a drizzle of mocha syrup, and a few extra java chips, and you have a great beverage that is equally good hot or cold.
You can also use the Java Chip Frappuccino as the base for some of your own special drinks. Toss in a pump of caramel or hazelnut syrup for a new twist on this old favorite, or ask for coconut milk for a sweet, tropical undertone. This one may feel basic for some drinkers, but others can't get enough of this classic.
32. Lemon Bar Creme Frappuccino
Starbucks' seasonal Lemon Bar Creme Frappuccino can be yours any time of the year if you know the ingredients. This bright beauty is popular during the summer months when you can savor the smooth taste of lemon and vanilla while sitting poolside, but why limit yourself? The Lemon Bar Creme Frappuccino goes just as well on a chilly winter day.
It's a customized Vanilla Bean Creme Frappuccino. Have your barista fill your cup with lemonade to the first line, then add in milk, syrup, and blend as they would for a standard Frappuccino. Finish it all off with whipped cream and caramel sugar. While we love this one for summer, it's probably not the best in the winter months.
31. S'Mores Frappuccino
S'mores are a fireside favorite, and this childhood dessert tastes twice as nice as a coffee drink. Starbucks' S'mores Frappuccino is a seasonal menu item at certain locations, but if you're not lucky enough to live near one of the cool Starbucks, don't worry. You can always have your barista concoct it on the fly.
Start with a Java Chip Frappuccino. You can ask your barista to add in some extra java chips to get that coveted crunch. Then, ask for one pump each of toffee nut and cinnamon dolce syrup. Next, have your barista blend in whipped cream, and then top the drink with extra whipped cream. Viola! All you need is a campfire.
30. Cotton Candy Frappuccino
The Cotton Candy Frappuccino is a secret menu item that's deceptively simple and super flavorful. It's also got a lovely deep pink hue that's ideal for spring and summer. Start with a Vanilla Bean Creme Frappuccino, and ask your barista to add in some raspberry syrup.
Generally, you'll want to add in one pump for tall, a pump and a half for grande, and two pumps for venti, although you should definitely let your taste buds be your guide. If you're craving more tart raspberry flavor, go wild and get two or three pumps. You can experiment with other fruit syrups too.
29. Iced Green Lemonade
This regular menu item is one of Starbucks' most popular options and has been for years. There's a good reason why too — it's absolutely refreshing and delicious. The Iced Green Lemonade is a frosty, fresh mix of green tea and lemonade. The citrusy flavors of the lemonade match perfectly with the tea and elevate notes of lemon verbena and lemongrass.
If you're in the mood for something heady, cold, and moderately healthy, this Iced Green Lemonade is just the ticket. You can also add a shot of syrup for some additional sweetness and flavor. Peach and raspberry are both lovely with this drink. If you want something super interesting, this may not be the drink for you. But if you don't mind the simplicity, it may just become your new fave.
28. Mocha Frappuccino
Starbucks' classic Mocha Latte gets a massive glow-up in this frothy, creamy Mocha Frappuccino. Like the original, you can expect an ideal blend of coffee and chocolate flavors in this drink, plus a huge dollop of whipped cream on the top.
The thing that sets the Mocha Frappuccino apart and makes it unique is that the ice is blended right in. It's almost like the tastiest coffee milkshake that you never knew you needed in your life but can't live without now. If you really want to get fancy and up your caffeine intake a bit, you can ask for an additional shot of espresso. Some may not like that it's essentially a dessert, but we can't get enough of it.
27. Vanilla Latte
Another tried-and-true favorite, Starbucks' Vanilla Latte, is a regular menu item that you can customize to fit your tastes and dietary preferences. Most locations offer regular and sugar-free vanilla syrup, allowing you to sip without the sugar rush and still enjoy the harmonious blend of sweet vanilla and robust Starbucks coffee.
This old-school icon is excellent hot or iced, and you can add in some additional flavor shots for sweetness and depth. Vanilla Lattes are amazing with hazelnut, almond, toffee, or cherry syrup. Just make sure that you balance the ratio of vanilla to flavoring right for a nuanced, sophisticated cup of joe.
26. Thin Mint Frappuccino
Everyone loves Girl Scout Cookies, and Thin Mints have achieved almost legendary status as one of the highest-ranked of the bunch. These cookies are famous for their beautiful balance of dark chocolate and mint, and you can recreate the joy of tearing into a sleeve of Thin Mints at your local Starbucks.
Meet the Thin Mint Frappuccino, a secret menu item that starts off with a tall Green Tea Creme Frappuccino, plus java chips and a pump of mocha and peppermint syrup. Add more mocha and peppermint syrups as you go up in size, but keep the ratios the same. This one is definitely on the more intense side, so it's not right for everyone, though.
25. Mango Dragonfruit Refresher
Starbucks has seen some pretty good success with its dragonfruit drinks, so it's really no surprise that they rolled out their Mango Dragonfruit Refresher on the regular menu. We're happy they did. This delicate drink is a sweet celebration of all things tropical, all wrapped up in a pretty fuschia-colored package.
Served over ice, this drink really hits the spot. It also has some authentic dragonfruit pieces, lending it an interesting texture. If you're not a dragonfruit devotee yet, this drink just might make you a convert. Be warned, though: The Mango Dragonfruit Refresher has as much caffeine as your average cup of coffee.
24. Grasshopper Frappuccino
Indulge in an old-school flavor with the Grasshopper Frappuccino, a secret menu spin on the Mocha Frappuccino that incorporates java chips and a hit of peppermint syrup into the mix. If you love mint chocolate ice cream, you have to try this delicious take.
Ask your barista for a tall Mocha Frappuccino with a pump of peppermint syrup. As with most drinks, you add more syrup to taste. Then, stir in some java chips and enjoy. The result is like a decadent chocolate mint milkshake with just the slightest hint of coffee. Amazing! This one would've ranked higher if not for the mint — we know it's not everyone's fave.
23. Irish Cream Cold Brew
You will find Irish Cream Cold Brew on Starbucks' seasonal menu. It's a great holiday beverage alternative to some of their other sugar-laden beverages. So, if you're looking to cut back on the sweet stuff or simply want a more classic coffee drink, reach for the Irish Cream Cold Brew.
Like all of Starbucks' cold brew drinks, this beverage is mellow. You get all of the deep, roasted coffee flavors without any of the bitterness. Although you can add sugar or classic syrup, it's not necessary. The Irish Cream Cold Brew tastes just as good as is, with a touch of Irish cream syrup blended in and a perfect crown of vanilla foam on top.
22. Baby Yoda Frappuccino
Can we ever get enough of Baby Yoda? The wee star of "The Mandalorian" has been getting us right in the feels with his adorable antics ever since Disney rolled him out back in 2019. These days, you can get your Baby Yoda fix in the form of kitchen appliances and this secret menu Starbucks drink that's out of this world (we couldn't resist!).
Have your barista put a generous drizzle of caramel into your cup and top it with a Matcha Green Tea Frappuccino. Top off your updated Matcha Green Tea Frappe with some whipped cream and caramel crunchies. Tasty, it is.
21. Coconut Milk Latte
Although Starbucks' regular lattes are good all on their own, sometimes, you want to try something a little bit different. That's where the Coconut Milk Latte comes in. Whether hot or iced, this latte brings a boost of tropical flavors to your favorite coffee drink and is complimented by authentic vanilla bean powder and Starbucks' smooth Blonde Espresso.
The result is a decadent coffee drink that's big on flavor but not bitter or overpowering. Instead, you'll get the subtly sweet notes from the vanilla and coconut, the richness of the Blonde Espresso, and the delicate blanket of foam on the top.
20. London Fog
This tasty tea drink is generally only available in certain Starbucks locations in Canada, but you can create it yourself from the secret menu if you know the recipe. It's exceptionally simple to make. All you need to do is order a tall Earl Grey Tea and add two pumps each of vanilla and caramel syrup.
The vanilla and caramel amp up the natural flavors in the tea, including lavender and bergamot, for a complex beverage that's full of layered flavor and sweetness. Whether hot or iced, a London Fog is a fun and sweet variation on your standard tea and one you'll want to order again.
19. Iced Chai Latte
Starbucks' Iced Chai Latte is the teatime answer to its standard iced coffee. It's a great summer go-to drink that you can order off the regular menu and customize to your liking. Their Iced Chai Latte is black tea steeped with a number of different rich spices like cloves and cinnamon, then served with milk over ice.
You can personalize your latte by getting it with coconut, soy, or oat milk or adding in a few shots of vanilla for sweetness and an additional depth of flavor. If you want to go for a cozy fall feeling, add a pump or two of pumpkin spice syrup.
18. Hot Chocolate
Starbucks' Hot Chocolate is rich, not overly sweet, and full of layers of chocolate flavor. It's the ideal beverage for cutting through the chill of a winter day or rewarding yourself after a long day. Although you can make it your own with different flavor shots, their traditional Hot Chocolate is pretty amazing just as is, even if you're not a chocolate purist.
Starbucks' Hot Chocolate recipe is simple: steamed milk, mocha sauce, and whipped cream. The result is a homemade-tasting cup of chocolate that warms you from head to toe. Of course, if you want, you can always get Iced Hot Chocolate, although we don't think it has the same magic as the original.
17. Squid Game Frappuccino
Netflix's surprise hit "Squid Game" sucked us all in with its deadly takes on innocent childhood games. While we seriously will not be getting over the nightmarish bloodbath that was red light/green light for several years, there's no denying that "Squid Game" is a cult masterpiece. So, it's not super shocking that there's a secret Starbucks drink dedicated to the show.
The Squid Game Frappuccino is a scrumptious combination of a Grande Strawberry Creme Frappuccino, white mocha sauce, and dragonfruit pieces. Top it all off with a slight drizzle of mocha, and you have something tastier than Dalgona candy!
16. Eggnog Latte
Up until 2021, you could get Starbucks' festive Eggnog Latte on the regular menu, but they discontinued it for reasons best known to Starbucks, per Eat This, Not That! Fortunately, with some minor adjustments, you can transform the Chai Tea Latte into a reasonable rendition of this holiday classic and still get your Eggnog Latte fix.
Ask your barista for a tall Chai Tea Latte and add in one pump of caramel syrup. Top it all off with a sprinkle of cinnamon sugar, and you'll be transported straight into Eggnog Latte heaven. There's also a silver lining: Now, you can order your Eggnog Latte all year long.
15. Flat White
The elegant Flat White is one of Starbucks' most popular drinks. It's a classy and visually pleasing union of coffee, milk, and the most delicate dab of foam on the top. The secret to the Flat White's success is all in its execution. Your barista makes it with ristretto shots, which are essentially more concentrated shots of espresso.
This high-octane brew sets the framework for your Flat White. After pouring in the ristretto, your barista tops the drink with steamed milk and an artful layer of foam. Each sip has a highly concentrated, layered flavor and a touch of sweetness. It's a chic beverage that makes a splash.
14. Iced Caramel Macchiato
This summertime favorite is a full-bodied, sweet iced drink with strong notes of caramel and vanilla, and you can get it right off the regular menu. The Iced Caramel Macchiato is one of Starbucks' signature drinks, full of espresso, milk, vanilla syrup, and a generous drizzle of caramel to round out the flavors.
This drink gets both its intensity and balance from the espresso and caramel. The two flavors play off each other well, with the caramel cutting through the espresso's bitterness. Vanilla syrup provides a sweet, velvety backdrop. If you prefer your Iced Caramel Macchiato on the sweeter side, just ask for an extra pump of vanilla syrup.
13. Peppermint Mocha
Starbucks' Peppermint Mocha is a seasonal item from their regular menu that's ideal if you're looking for your holiday fix of mocha and rich peppermint. You can't go wrong with this classic formula of dark espresso, milk, mocha, peppermint, and whipped cream. Top it all off with some chocolate shavings, and you're ready to get your seasonal cheer on.
In addition to its flavor, the Peppermint Mocha has the optics down pat. It's a visually stunning drink, with the dark chocolate shavings standing out on a blanket of thick whipped cream. So get your mitts on this stunner when the mercury starts dropping — there's a reason it's one of our absolute favorites.
12. Vanilla Sweet Cream Cold Brew
The Vanilla Sweet Cream Cold Brew is one of Starbucks' best drinks from its family of fine cold brews, and you just have to take one sip to understand the appeal. It's not too sweet, not too bitter, and it won't fill you up like a lot of their other designer coffee drinks.
Instead, the Vanilla Sweet Cream Cold Brew has just the right amount of vanilla and heavy sweet cream. This concoction trickles down the inside of the cup as you drink it, creating a stunning visual masterpiece that looks as good as it tastes. It's smooth, rich, and completely satisfying, which is what earned it its place on our list.
11. Caramel Brulee Latte
Although the Caramel Brulee Latte certainly sounds like something you'd order off of Starbucks' secret menu, you can actually get it with their regular fare. It's a fun riff on their Caramel Latte, with just a bit of burnt sugar added at the end for an authentic brulee flavor.
This drink combines espresso, milk, and a decadent caramel brulee sauce. You'll taste rich caramel flavor in every sip. It's almost like a dessert. Your barista will top off the whole glorious drink with a heaping serving of whipped cream and some caramel brulee bits if you'd like. So much yum.
10. Mermaid Frappuccino
This secret menu item is great if you want to unleash your inner Ariel or if you just want something beautiful to sip on. The Mermaid Frappuccino is not only a decadent drink — it's also endlessly Instagrammable with heaps of blackberries, matcha powder, white mocha sauce, coconut syrup, and whipped cream.
As with many inspired secret menu drinks, the base is a Vanilla Bean Creme Frappuccino. Then, have your barista add blackberries, matcha powder, and white mocha sauce to give it a signature purple-and-green striped look. Finally, top it off with whipped cream, and you're ready to take your rightful place as ruler of the seven seas. This one ranks so highly not just because of its taste but because it looks so gorgeous.
9. Salted Caramel Cold Brew
Starbucks' Salted Caramel Cold Brew edges out the Vanilla Sweet Cream Cold Brew for a higher place on our list for one simple reason: the combination of sweet caramel and salt is absolutely intoxicating. As with all of Starbucks' cold brews, this one is just sweet enough without being overpowering, and it's a joy to watch the salted caramel foam cascade down the inside of the glass as you drink.
Although you could add some sugar, you hardly need it. The mellow sweetness of the caramel pairs perfectly with the understated but flavorful cold brew for a delicate and drinkable experience.
8. Butterbeer Frappuccino
Don't worry if you never got your admissions letter to Hogwarts — you can always have the next best thing. The Butterbeer Frappuccino is a secret menu item that will transport you right to the magical world of Hogsmeade. It's super sweet, really tasty, and the perfect drink for a hot summer day.
First, ask your barista to pour some caramel sauce in a cold coffee glass. Then, have them prepare a Vanilla Bean Creme Frappuccino with three pumps each of toffee nut and caramel syrup. Top the whole glorious concoction with whipped cream and another generous squirt or two of caramel sauce.
7. Cappuccino
Real talk: You can't go wrong with a Starbucks Cappuccino. It's one of the best drinks on the menu, and whether you get yours iced or hot, you can count on it to be consistently delicious. Starbucks starts with their classic espresso and then tops it with steamed milk and foam. That means you'll get a heady mix of milk, foam, and richly flavored espresso in every single sip.
Their Iced Cappuccinos are equally good, except that you have cold milk mingling with espresso over just the right amount of ice. Enjoy them plain, or add a shot of flavor for an additional dimension of flavor.
6. Pink Drink
Starbucks' Pink Drink is a secret menu success! This covert favorite got so popular with Starbucks consumers in the know that the company actually put it on their actual menu at select locations. The Pink Drink is a beautiful fusion of Strawberry Acai Refresher, strawberries, and coconut milk.
The Pink Drink is another menu option as tasty as it is gorgeous. With a muted millennial pink hue, it rivals the Mermaid Frappuccino as one of Starbucks' most Instagrammable beverages. Scroll through your Instagram feed, and you'll find tons of posts and stories featuring this rosy beverage with the hashtag #pinkdrink. That's just one of the reasons it ranks so high on our list.
5. Cake Batter Frappuccino
This Starbucks secret menu item is a little bit more challenging to make, but devotees will tell you that it's totally worth it. The Cake Batter Frappuccino is a luscious combination of the Vanilla Bean Creme Frappuccino, hazelnut syrup, and a secret ingredient from Starbucks' bakery.
To make the best version of this super-secret menu item, you need to have your barista blend one cake pop of your choice into the frappuccino. Birthday Cake Pops tend to work reasonably well, but just about any will do. Stir in the cake pop plus one big pump of hazelnut syrup to complete the drink. This festive sipper will always be a success.
4. Dole Whip Frappuccino
Aside from Mickey Mouse, Dole Whip is Disney World's most famous export. This creamy, tropical dessert has a cult following all over the world. You can even make your own Dole Whip at home or get your Dole Whip fix at Starbucks.
This secret menu frappuccino is a simple combination of the Vanilla Bean Creme Frappuccino, ginger-pineapple syrup, and a lot of whipped cream. The flavors are so on point that you might just think that you've died and woken up at Epcot Center. Ask your barista to mix your tall Vanilla Bean Creme Frappuccino with six squirts of ginger pineapple syrup. Although this might seem like a lot, it's the right amount to get that perfect Dole Whip flavor.
3. Iced Passion Tango Tea
This ruby-red tea is probably one of the prettiest regular menu items Starbucks has to offer. It's also a fruity and floral celebration of tasty flavors like apple, lemongrass, and hibiscus. Starbucks' Iced Passion Tango Tea will certainly refresh and invigorate you, and it's one of the best non-coffee menu items you can order from the chain.
The hibiscus really makes this tea shine. It is not overpowering, but it does lend a warm, tropical flavor to the tea that plays well with the lemongrass. The hibiscus is also what gives Iced Passion Tango Tea its signature bright red hue.
2. White Chocolate Mocha
Starbucks' White Chocolate Mocha is a nice twist on the traditional mocha. It's a little milder than the original, and the white chocolate sauce gives it a mellow, almost buttery flavor. If you want a hint of chocolate but don't want to be overpowered by it, this drink is an excellent option for you.
Like most of their drinks, the White Chocolate Mocha starts with espresso and milk. Your barista will flavor this mixture with white chocolate sauce, then top your drink with whipped cream for a satisfying, just-sweet-enough beverage. It's fabulous hot, but you can get it iced during the warmer months. We love it so much that this drink takes our number two spot.
1. Pumpkin Spice Latte
Starbucks' Pumpkin Spice Latte, or PSL as its fans know it, is such an iconic drink that it's fully infiltrated pop culture. Every year, people wait anxiously for PSLs to hit the menu, and for a good reason — they're fantastically delicious, full of fall flavor, and hit that expert balance between sweet and spicy.
You get notes of nutmeg, clove, cinnamon, and pumpkin in every sip, plus the richness from the coffee and the creamy sweetness from the whipped cream. Although you can customize your PSL with additional flavor shots or add-ins, why would you? Don't mess with perfection. Just enjoy the undisputed Holy Grail of Starbucks drinks.