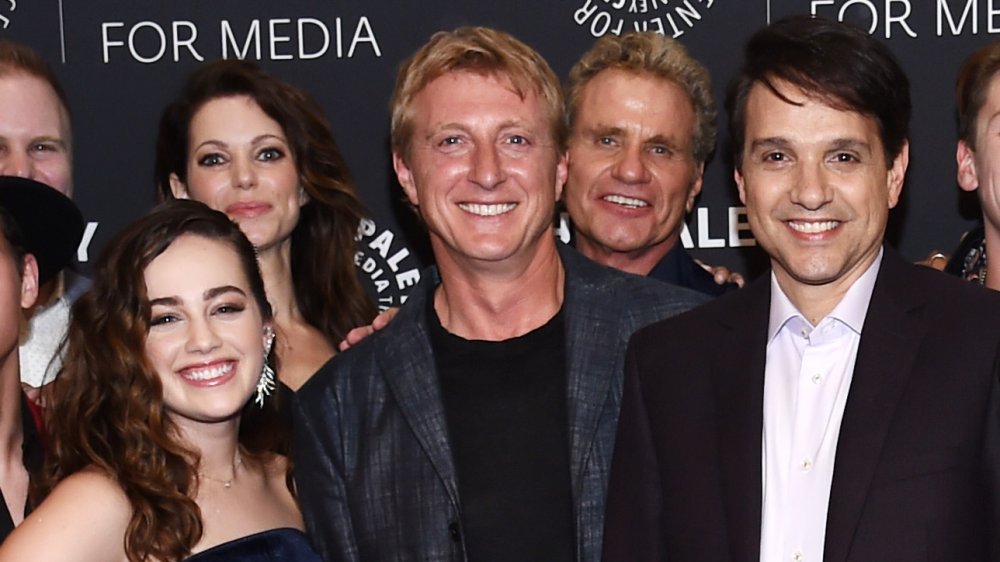 You may be wondering… what are the real-life ages and partners of the Cobra Kai cast? After all, thanks to the trusty Netflix effect, Cobra Kai has become one of the top shows in the United States in 2020, after moving over from YouTube Red after two seasons (via Forbes). The series, which picks up decades after where the iconic Karate Kid film franchise left off, thrilled fans, some of whom are in it for the nostalgia. Others, however, just realize how good Cobra Kai is. After all, it's not easy to score over 90 percent on Rotten Tomatoes!
In addition to bringing back the stars of The Karate Kid, including Ralph Macchio and William Zabka, Cobra Kai also brought a new generation of actors into the dojo. Most notably, actor Xolo Maridueña stars as Miguel Diaz, after appearing in the television series Parenthood, as noted by IMDb.
With so many talented stars in its cast, Cobra Kai has fans wondering how old they are in real life and if they're dating anyone. So without further ado, here are the real-life ages and partners of the Cobra Kai cast.
Cobra Kai's Ralph Macchio met his partner when he was only 15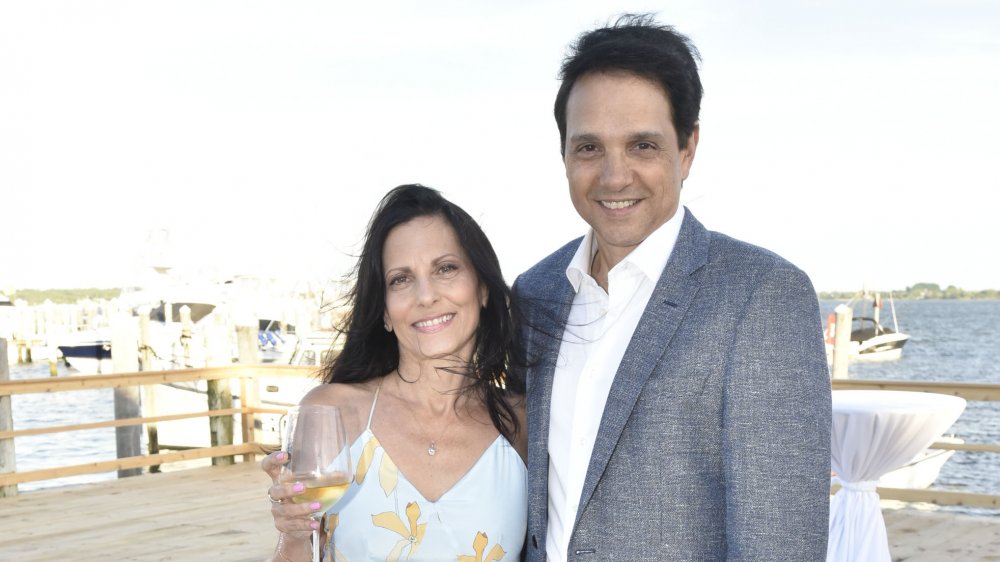 Unlike many romantic partnerships in Hollywood, Ralph Macchio and his wife, Phyllis, have stood the test of time. Before Macchio became world-famous for playing Daniel in The Karate Kid in 1984, he was already smitten with Phyllis — who he met when he was only 15 years old. "We met at my cousin's sweet 16 birthday party," he recalled in an interview with Live with Kelly and Ryan. "It was at my grandmother's house." Talk about wholesome!
After those initial sparks flew, Ralph and Phyllis knew they were destined to be together. The pair got married in 1987, and have two children, as noted by Biography.
Now 58 years old, Ralph is enjoying his resurgence in fame with his wife by his side. "From the earliest days as teenagers, we've just believed that this was meant to be," the Cobra Kai star revealed to Men's Journal. "Even at the toughest times, that is what we believe: that we are meant to be together."
William Zabka from Cobra Kai married his partner in 2008
Just as there could be no Cobra Kai without Ralph Macchio, so too is William Zabka an integral actor in The Karate Kid universe. Zabka starred as Johnny in the original films in the franchise, a role he took on when he was still wet behind the ears. "I just turned 18," he explained to ScreenRant, regarding his early days on set. "I'd … been in high school itself, but I was in college and I turned 18, ten days before we started filming the show."
Fast forward to 2020, and Zabka is on the precipice of his 55th birthday. You wouldn't know it watching Cobra Kai, though, given that Zabka is in pretty fantastic shape!
While Zabka's romance is more under the radar than Macchio's famously enduring partnership, he's been married to his partner, Stacie, since 2008 (via IMDb). The pair also have two children together.
Cobra Kai's Martin Kove steps out on the red carpet with his partner
Martin Kove played Sensei John Kreese in the original Karate Kid movies, a role that minted him as arguably the most memorable antagonist in the franchise — quite the honor. So when he was invited to reprise the role in Cobra Kai, Kove was excited, as fans' love for the character endured through the years. "I found out, through autograph shows and talking to people, that everybody felt, in some way, the Karate Kid experience," he shared in a chat with The Hollywood Reporter. "I wanted to come back to the role."
Believe it or not, but Kove is 74 years young, and he has enjoyed being a perennial bag guy in Hollywood for the duration of his long career. In real life, though, he looks super adorable when he steps out with his partner, Mary Squire. The couple are equally cute on Instagram, and they were lucky enough to share a smooth in Paris on Christmas in 2019. Lucky!
Xolo Mariduena is dating Cobra Kai co-star Hannah Kepple
While Xolo Maridueña wasn't even alive then the original Karate Kid movies took the world by storm, the young actor is arguably the beating heart of Cobra Kai. Maridueña plays Miguel in the series, the best student in Johnny's dojo, who sought refuge there to escape his troubles on the street.
The 19-year-old Maridueña is proud to be part of The Karate Kid's new generation in Cobra Kai, which came with a fandom built in. "Yes, 90 percent of the people are coming for those big names but learn to find something else that they love with the younger cast," he told SlashFilm.
As it turns out, Maridueña found love on the set of Cobra Kai as well as fame, as he's been romantically linked to co-star Hannah Kepple, who's the same age as Maridueña. "Season 1, we were actually friends, a little flirty and then we started talking after season 1, and it clicked," she revealed to MEAWW. So Moon and Miguel are a thing!
Cobra Kai's Courtney Henggeler shares two kids with her partner
In Cobra Kai, Courtney Henggeler plays Amanda, the wife of Ralph Macchio's Danny. Known for being down to earth, Henggeler's character is perhaps the most reasonable character in the series. Given that Danny's first love broke his heart in The Karate Kid 2, it's nice to see him with someone dependable.
In real life, Henggeler's partner is actor and producer Ross Kohn, as noted by IMDb. In 2019, the happy couple announced they were expanding their family. "We're mostly excited and only partially terrified to announce that we're expecting Baby Kohn: Part Deux," she shared in an interview with People. "Also, I would like to thank baby Spanx for keeping this bump in check during the filming of Cobra Kai season 2."
The 38-year-old actress took to Instagram on Father's Day in 2019 to celebrate her husband and the father of her children, saying he's "hands down the best person to ever make babies with." That is so sweet!
Tanner Buchanen from Cobra Kai has been spotted with this actress
Tanner Buchanan is another member of the new generation of Karate Kid actors. He plays the role of Robby in Cobra Kai, who trains with Danny, much to his father's chagrin.
Buchanan, who's fairly new to the acting scene, relied on his dance background to master Robby's fight scenes. "Learning that choreography is way harder than I expected," he explained to Interview, "because you really have to be in tune, not only with what you're doing, but almost exactly with what the other person is doing."
As for the romance in Buchanan's life, though he doesn't appear to be dating anyone at the moment, the 21-year-old actor has been linked to actress and model Lizze Broadway in the past. For example, in 2017, he tagged her in a romantic post on his Instagram page. And the pair were definitely smooching in a video uploaded to their joint YouTube channel. But since then, there haven't been many additional signs of life in their romance, so chances are it's a thing of the past.
Cobra Kai's Mary Mouser thinks her partner is magical
Just as Johnny has a son that's proficient in karate in Cobra Kai, so too does rival Danny, who has a daughter named Samantha in the series. Mary Mouser, who plays Samantha, discovered she really loved The Karate Kid movies after she finally sat down to watch them deep into her audition process. "It's got a universal message and a universal theme and warmth and lots of heart, and I was excited to see how they would bring that into the show," she shared in a chat with BriefTake. "I feel like they did a really amazing job of keeping it."
When Mouser took the time to watch all three of the original Karate Kid movies, the 24-year-old actress had her boyfriend, Brett Pierce, by her side. Mouser had praised her partner on Instagram before, celebrating his birthday in 2019. "You are my balance, my excitement, my magic, my rage, my sweet, and my eternal love," she wrote in the caption. "I love celebrating your existence and your life." Aww!
Jacob Bertand from Cobra Kai loves his partner
Unlike his co-star Mary Mouser, Jacob Bertrand was already familiar with The Karate Kid when he auditioned for Cobra Kai. "My brother and I, after we saw that movie, my parents were just so mad because we ran around trying to do karate moves all over," he recalled in an interview with Crooked Llama. "Like knocking down vases and stuff." Raise your hand if you can say the same!
The 20-year-old Bertrand plays Eli in Cobra Kai, who has to work hard in order to turn his frustrations into triumphs. "To have this kind of turnaround, [to] join Cobra Kai, beating everybody up and getting a [mohawk] and a back tattoo, that was really, really fun for me," he continued.
Bertrand took to Instagram in real life to wish his partner a happy birthday in 2019. "Thanks for loving me. Every version, red hair, blue, pink, bleached and brown," he wrote in the caption.