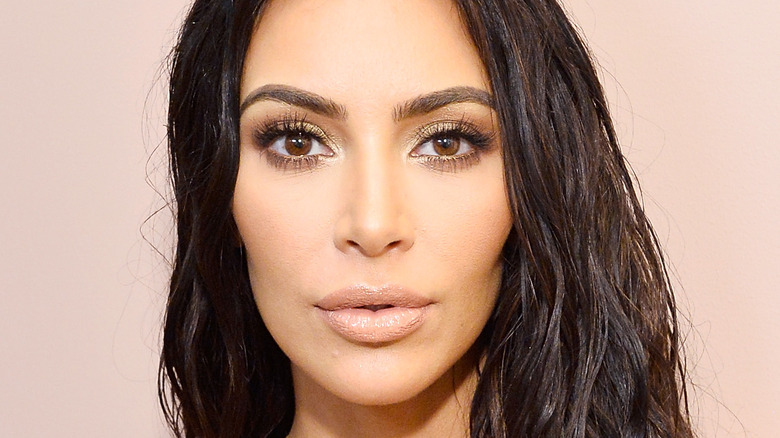 Kim Kardashian has been a cultural figure for almost two decades. "Keeping Up With the Kardashians" kicked off in 2007, and 20 seasons later, the family decided that it was time to stop. Thanks to the transparent nature of reality TV and the invasion of privacy that social media inevitably creates, fans have had constant access to Kim K. through the years. As such, we've seen not only the changes in her personal life, but also the evolution of her look.
Kim went from a complete unknown to a major force, and in many ways, pioneered the phenomenon of the Instagram influencer. She's also become largely responsible, along with her sisters, for shaping the changing aesthetic in our culture, and this is becoming more and more apparent. In 2018, Kim won the Influencer Award at the CFDA Fashion Awards, quipping: "I'm shocked that I'm winning a fashion award when I'm naked most of the time." What a great response.
It happened again in 2021. Kim won Fashion Icon at the People's Choice Awards in early December. "I started off as a closet organizer and a stylist, so the fact that I am winning a fashion icon award [is] like a pinch-me moment," Kim said upon receiving her award, according to Fashion magazine. "I have those every single day that designers are willing to work with me. There was a time when they weren't," she said. It's been an incredible evolution for the reality star.
How Kim's dad influenced her makeup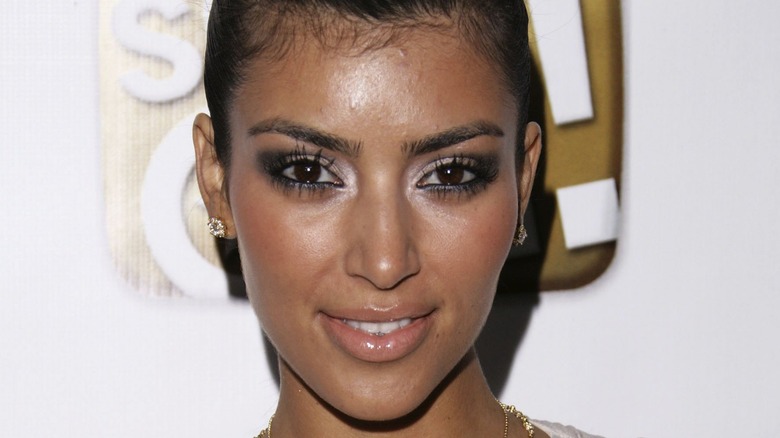 Kim Kardashian has come a long way since she first started popping up in tabloids. And she's the first person to point this out. "I have a million cringeworthy moments," she said to Us Weekly's "Stylish" in 2019. "Like I die when I see like me in an Ed Hardy shirt with the Ed Hardy hat. I mean, it's so funny." To be fair, Kim, we all thought Ed Hardy was cool back then.
While Kim is a force to be reckoned with, she's also been open to influence and suggestions along the way, just another piece of evidence that it's okay to ask for help. Who was Kim's first source of support? Her dad, lawyer Robert Kardashian. In December 2018, Kim shared a video for Vogue, and while she was contouring her forehead, she said: "For Christmas one year, my dad got me and Kourtney [Kardashian] makeup lessons when we were 14, because he was like, 'If my girls are going to start to wear makeup, I do not want you guys to look like clowns.'"
Just because she got lessons didn't mean that Kim skipped the '90s horror of the ultra skinny eyebrow. "In the 90s," she said in the video, "I would, in high school, make my brows so thin. Drew Barrymore was my everything inspiration." Clearly, Kim grew out those brows to be the thick, expressive, arches we know and love today.
Kim K. and the fake tan
One thing that Kim Kardashian has insisted on is the spray tan, and that devotion hasn't waned over the years. It might be the one part of her evolution that has remained the same, but she's shared some useful tips. "No matter what time of year it is, I always love a good spray tan," Kim wrote on her website in 2018 (via Metro). "After so many years of having them done, I picked up an unusual trick that makes all the difference. I always ask if I can have the part in my hair sprayed, as well as my body! I normally have a center part, so if it's not sprayed, it becomes obvious and appears really pale." Good to know.
Kim also shared her most embarrassing spray-tan moment on "The Ellen DeGeneres Show" in 2014. At the time, while she and Kanye West were having their home renovated, they were living with mom, Kris Jenner. Kim had a spray tan artist come to the house to apply the tan in a tent. Unfortunately, the tent didn't fit in her bedroom, so she did it in the front hallway. "You go in the tent, but you're naked," Kim explained, and said that little sisters Kendall and Kyle Jenner were home with all their friends and walked in on Kim. When she's not getting spray tans, Kim said on her app (via Page Six) that her favorite at-home product is the St. Tropez Self Tan Express Bronzing Mousse. Now we know.