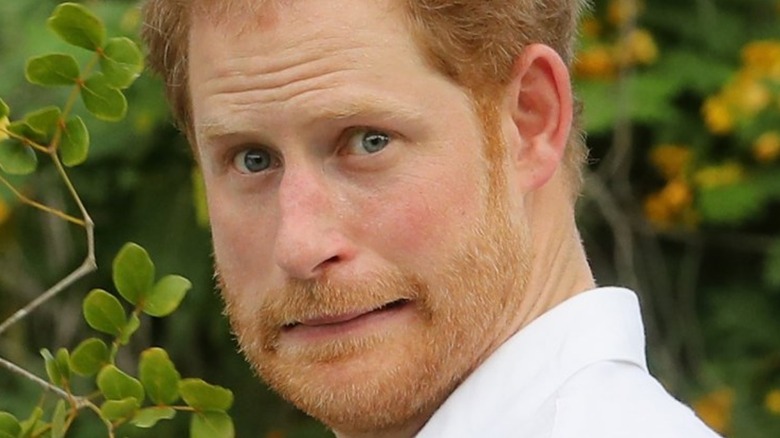 The following article includes mentions of disordered eating and mental health struggles.
The royal family — they're just like us! Except with castles, titles, unbelievable wealth, vaults stuffed full of huge diamonds, solid gold, gem-encrusted tiaras, and so on. But one thing we do share is what all humans share, being subject to really uncomfortable incidents at times throughout our life. However, thankfully for the majority of us, they're usually not caught on video and broadcast worldwide.
The minute they step outside palace gates or their homes, the British royals are placed firmly in the spotlight, with the public, paparazzi, and TV cameras watching their every move. So, when they suffer a mishap, it can make for some cringe-worthy but classic viewing material. However, not all controversial or awkward royal moments are unintentional or accidental — sometimes they occur from their own willful actions and interactions.
But hey, despite all the pomp, ceremony, and entitlement, who doesn't love to watch embarrassing mishaps involving other people? Especially when they're wealthy and privileged — it's one reason "The Real Housewives" franchise is so popular. Luckily for us commoners, when it comes to the House of Windsor, many awkward situations play out in public. So, grab a towel, because we're about to spill the (earl grey) tea on some of the most uncomfortable royal moments caught on video — and things are going to get pretty wet.
Prince Phillip's awkward photocall moment
At the ripe old age of 94, Prince Philip — husband of Queen Elizabeth II — clearly didn't have much time to waste while posing for a picture at the 75th anniversary event for the Battle of Britain in 2015. During the photocall, things weren't moving quite fast enough, so he did what any other self-respecting elderly royal would: snapped at the photographer to "just take the f**king picture." Judging from the laughter in the background, he probably echoed a lot of others' sentiments.
Frankly, no one could be that surprised at Prince Philip's outburst, since he's become known for his public gaffes. Back in 2010, he had an interesting, albeit slightly inappropriate, exchange with a 24-year-old female Navy sea cadet instructor, who also worked in a bar at the time. She recalled: "I just said that I worked in a club, and then he asked, 'Oh what, a strip club?' Obviously I said no. And then he said, 'Oh, it's a bit too cold today anyway.'"
The Daily Mail reports that other cringe-worthy moments involving the Duke of Edinburgh include the time he asked a member of a Bangladeshi youth club in London, "So, who's on drugs here?" and told a Filipino nurse at the opening of a hospital, "The Philippines must be half-empty — you're all here running the NHS." Obviously, he's like that grandfather whom you absolutely adore, but really wish you could rein in.