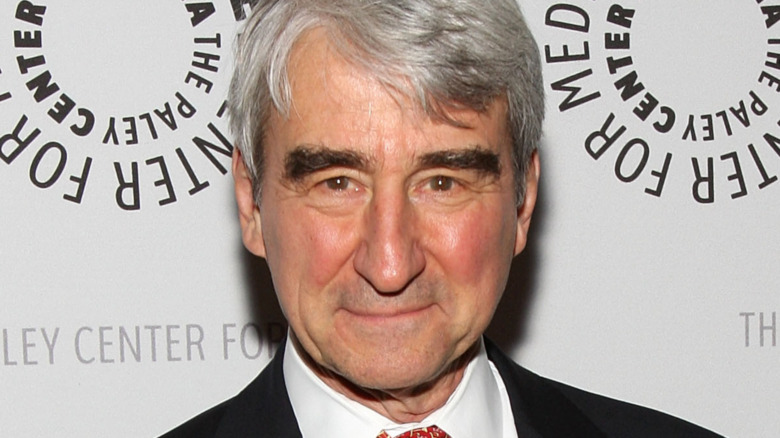 The following article includes allegations of domestic abuse.
Law & Order is one of the most iconic shows in television history. Premiering on September 13, 1990, it ran for a whopping 20 seasons. It led to the creation of four different spin-off series and even a movie. Created by Dick Wolf, the series is "tied with Gunsmoke as the second-longest running primetime American TV series, behind The Simpsons," according to the NBC website. That longevity led to some iconic moments, like the highly recognizable "thunk, thunk" sound that's now associated with the show almost exclusively, and as the network notes, "Law & Order helped clear a space for the many crime- and investigation-based shows that are now household names, such as NYPD Blue, NCIS and CSI."
One other notable part of Law & Order was its ever-changing cast. Numerous actors have lent their talents to the show over its 20-year run, and many now-famous actors can credit their start to Law & Order. As it filmed on location in New York, many Broadway veterans also made an appearance on the show, including Jerry Orbach who played Detective Lennie Briscoe for 12 seasons and Jesse L. Martin of Rent fame who played Detective Ed Green for nine. And while fans grew attached to many members of this roster, most of the main cast had emotional connections in their own lives as well. The life of a TV actor is not easy, but that burden can be lifted with the right support system, which, thankfully, many of Law & Order's primary cast members had.
Chris Noth is married to his long-time girlfriend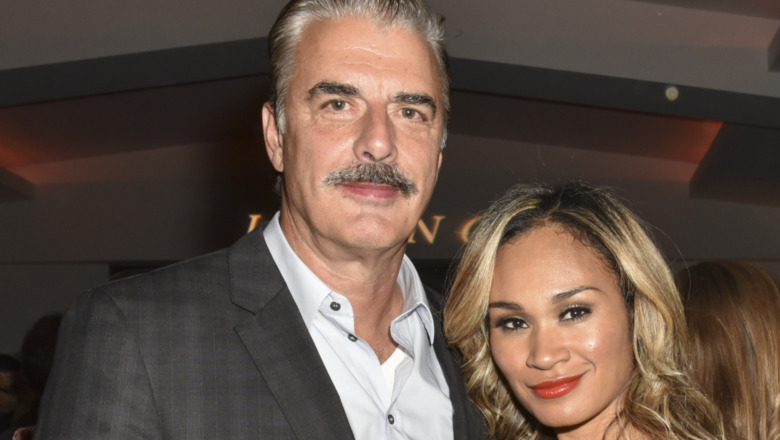 Chris Noth, who catapulted to fame as Mr. Big in Sex and the City and Peter Florrick on The Good Wife, got one of his first big breaks on Law & Order. Noth played Detective Mike Logan on the procedural drama for the first five seasons. He ultimately was fired from the production because Executive Producer Dick Wolf cited that Noth would be owed a "huge " pay bump should his contract be renewed, which the show couldn't afford at the time, reported the AP. While Noth would go on to have a very successful career in the acting department, it took him a while to be successful in the romance one.
In fact, Noth wouldn't get married to his wife, actor Tara Wilson, until 2012, though the two had been dating for a long time before they got hitched, reported People. The couple met in Noth's New York City bar, the Cutting Room, and got engaged in 2009. They tied the knot in Maui in an intimate ceremony.
Noth and Wilson are parents to two kids: Their first son was born in 2008 and their second 12 years later. A scroll through Noth's Instagram profile seems to showcase a happy life together.
Dann Florek has been with his wife for years
Following a recurring role on legal drama L.A. Law, Dann Florek was cast as Captain Donald Cragen for the first season of Law & Order. However, he was fired after three seasons when the show wanted to add more female cast members to the roster, reported the Los Angeles Times. The publication wrote Dick Wolf stayed in contact and offered him to reprise his role of Captain Cragen for Law & Order: SVU. He accepted and kept the role for 15 years, only retiring to keep with the realism of the show.
Throughout his career, Dann's wife, Karen Florek, has been by his side. According to Michigan Humane, the two met at Eastern Michigan University, and they've been a thing ever since. The couple married in 1983.
Dann told the Chicago Tribune that "Karen, a painter, … has been with him since the struggling days." He said "there were times when she was working and I was making $1.38 a week." The struggles didn't seem to get to them, however, as they are still together and bringing in four-legged family members. "Over the years my wife and I have rescued all of our dogs (six and counting), and they've all enriched our lives in unexpected ways," Dann told Best Friends. "Our lives are better for having rescued these dogs."