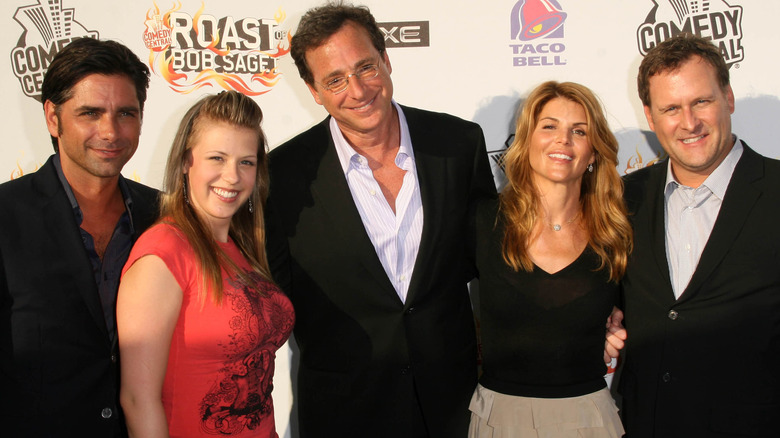 Airing for eight seasons, "Full House" was a family-friendly sitcom that stole America's hearts. According to Us Weekly, the series centered on the Tanner family of San Francisco. Following his wife's death, Danny Tanner (played by Bob Saget) is left to raise his three daughters: D.J. (Candace Cameron Bure), Stephanie (Jodie Sweetin), and Michelle (Mary-Kate and Ashley Olsen) on his own. Realizing that it isn't a one man job, Danny recruits his brother-in-law, Jesse Katsopolis (John Stamos) and best friend, Joey Gladstone (Dave Coulier), for help (via Full House Fandom).
Full House Forever writes that the first season wasn't promising, but by the third season, "Full House" was pulling in millions of viewers. Per Ravishly, the series was renowned for breaking gender norms and the "traditional family structure." "Full house," which ran from 1987 to 1995, ultimately ended due to increasing production costs. A spinoff, "Fuller House," would premiere in 2016, with much of the original cast. Although the show presents each character with a squeaky clean persona, the actors' off-screen lives have been marred with misfortunes and personal blows.
Bob Saget's death at the age of 65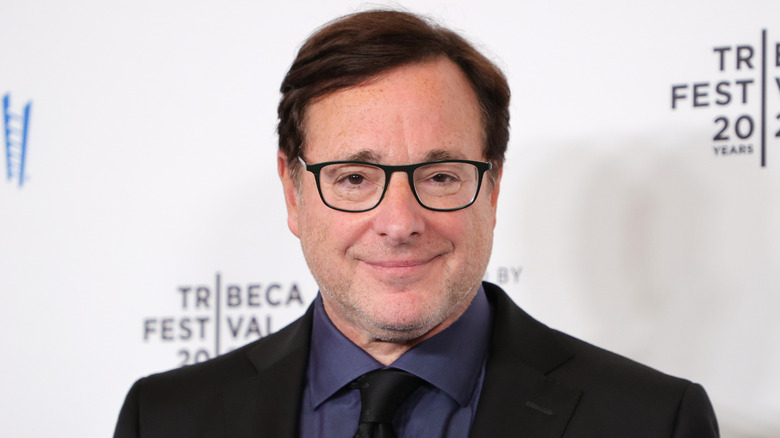 According to Biography, Bob Saget, a Philadelphia native, considered a career in medicine before deciding on film school. However, he dropped out days later and ultimately pursued standup comedy. He landed small parts, but his luck would change in 1987 when he joined CBS' "The Morning Program." Considered "raunchy" for the time, Saget would go on to become a '90s icon for his "wholesome" TV shows including "Full House" and, later, "America's Funniest Home Videos" (via Vulture). Enjoying a bountiful decades-long career, Saget started 2022 by going on his "I Don't Do Negative" tour (per Yahoo).
Entertainment Tonight reports that on January 9, the 65-year-old comedian was found dead in his hotel room at the Ritz-Carlton in Orlando, Florida. Only the night before, Saget had performed a two-hour set at the Ponte Vedra Concert Hall near Jacksonville. Per ABC7, drugs and foul play were not a factor. Although his cause of death is currently unknown, it's been revealed that Saget had recently recovered from COVID-19. He is survived by his wife, Kelly Rizzo, and his three daughters, Aubrey, Lara, and Jennifer.
Bob Saget's sister's heart-wrenching death
Weeks before his own death, Bob Saget had opened up about his sister, Gay Saget (via CBS News). According to "Today," his sibling was diagnosed with systemic scleroderma in 1992. Once a school teacher in Philadelphia, Gay had to move in with her parents in Los Angeles once the disease progressed. She would tragically die two years later, age 47. The autoimmune disease causes "inflammation of the skin" and can ultimately damage "the heart, lungs, and digestive system" (per Fox 35 Orlando).
Saget later said that he could never "get the images of the end of her life out of my head" and that his family ultimately used comedy to survive the tragedy. In another post, Yahoo reports that throughout his lifetime, he would raise over $26 million for scleroderma research with the help of other notable celebrities, including Robin Williams. Saget described it as an "homage" to Gay, as he didn't want other people to suffer as she did. Coincidentally, People writes that Bob Saget died on what would have been his sister's 75th birthday.
Mary-Kate Olsen's and Candace Cameron Bure's eating Disorders
After the end of "Full House," Mary-Kate and Ashley Olsen's careers flourished until they stepped out of the limelight (via Biography). In 2004, they announced they were attending New York University and halted their acting careers. Though it has never been confirmed or denied, the rumors at this time were rampant about Mary-Kate's possible eating disorder, as the petite star appeared to be too thin. The rumors were later fueled by an interview with Oprah. According to Grazia Magazine, Oprah asked the then-18-year-old twins what their size was, which clearly made them uncomfortable. Biography writes that Mary-Kate entered rehab for Anorexia shortly after.
Their co-star Candace Cameron Bure later revealed she developed bulimia after the end of "Full House" (also per Yahoo). She noted that it was due to "emotional issues" instead of "body image issues" that occurred after she got married and moved to Montreal. Bure recovered with the help of family, and Good Housekeeping reports that she is now an eating disorder recovery advocate. She later said that dealing with the disorder "never goes away."
If you are struggling with an eating disorder, or know someone who is, help is available. Visit the National Eating Disorders Association website or contact NEDA's Live Helpline at 1-800-931-2237. You can also receive 24/7 Crisis Support via text (send NEDA to 741-741).
Jodie Sweetin's battle with addiction
Olsen and Bure were not the only ones dealing with personal demons. When "Full House" ended, CBS News writes that Jodie Sweetin was only 13 years old and "didn't know how to grieve" the show's end. She instead turned to drugs and alcohol to cope. According to AmoMama, Sweetin later went to college and failed to book acting jobs, which worsened her addictions. She began doing hard drugs like cocaine and, eventually, crystal meth. In 2008, the then-26-year-old Sweetin got sober and became a drug and alcohol counselor (via Fox News).
According to The U.S. Sun, she has been married and divorced three times. Sweetin is also the mother of two daughters, Beatrix and Zoie. She told the fix that she is honest with her children about her past. In addition, Sweetin stated that being sober has made her a "patient and understanding mother." In 2009, she released her memoir, "UnSweetined," about her descent into, and ongoing recovery from, drug addiction.
If you or anyone you know is struggling with addiction issues, help is available. Visit the Substance Abuse and Mental Health Services Administration website or contact SAMHSA's National Helpline at 1-800-662-HELP (4357).
John Stamos and Lori Loughlin's legal woes
According to Full House Fandom, John Stamos and Lori Loughlin played married couple Jessie and Becky Katsopolis on the famed sitcom. Both on and off screen, Stamos and Loughlin portrayed themselves as clean-cut. However, The U.S. Sun reports that in 2015, this image became tarnished as Stamos was arrested for DUI. He later entered rehab and pleaded no contest to the misdemeanor charge against him. Per USA Today, he avoided jail time and receive three years' probation.
Loughlin, however, would not be so lucky. NBC News writes that Loughlin and her husband paid $500,000 to have her daughters, Olivia Jade and Isabella Rose Giannulli, admitted to the prestigious University of Southern California. Loughlin was sentenced to two months in jail, a $150,000 fine, and was ordered to complete 150 hours of community service for her role in what is known as the college admissions scandal. She was released in December 2020 and has recently made her acting comeback on the small screen (via People).