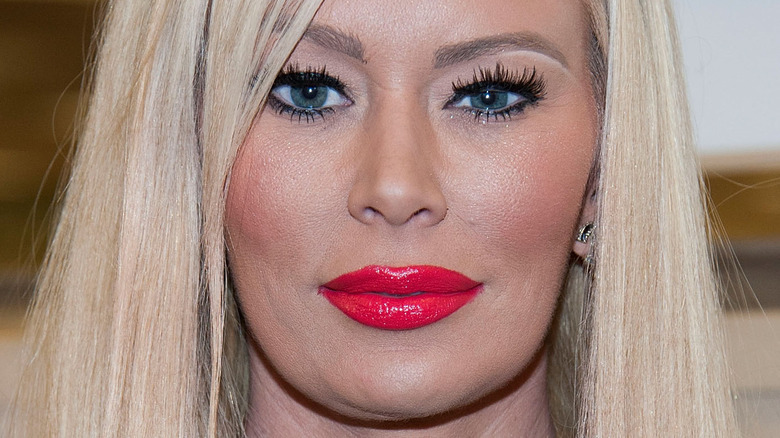 The following article references addiction and sexual assault.
Jenna Jameson is one of the few adult film performers to have become famous for having sex onscreen, only to become even more famous for not having sex onscreen. In the process, she also managed to launch both porn and herself into the mainstream.
For Jameson, porn wasn't a goal so much as it was a means to an end. "When I was 17, I knew that I was going to be a star," she once told Entertainment Weekly, "and I was going to become a star one way or another. It wasn't about the money. I wanted fame." That was a goal she achieved, with adult movies serving as a vehicle toward stardom — while also pulling off the tricky balancing act of putting her porno past behind her.
In recent years, Jameson has positioned herself in the spotlight due to an array of factors that have nothing to do with porn, ranging from motherhood to her diet to getting diagnosed with a severe medical condition that affects one in 100,000 people. Although Jenna Jameson has been part of the pop-culture landscape since the 1990s, there's a lot about her that may not be commonly known. To find out more, read on and discover the untold truth of Jenna Jameson.
Jenna Jameson overcame a difficult childhood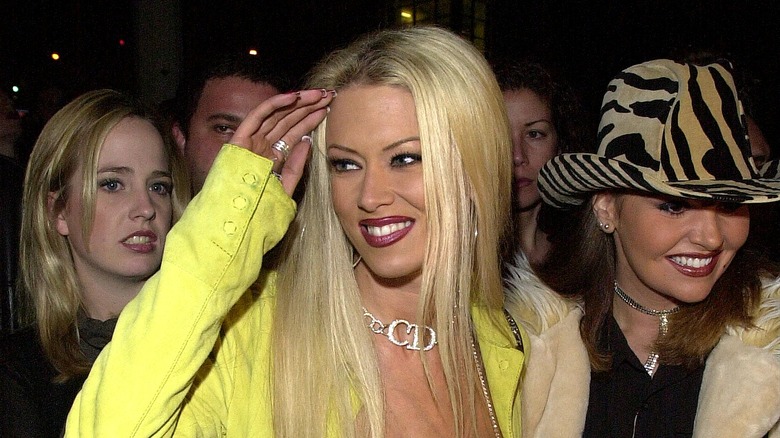 Jenna Jameson had a challenging childhood, with her world thrown into a tailspin when she was just three years old. That, The Age recounted, was when her mother, a Las Vegas showgirl, died from melanoma. Her family struggled financially following her mother's death, and in an attempt to support himself and his kids, her father ended up taking a job with the Las Vegas Sheriff's Department. However, that gig only brought on more trouble for them. Per the outlet, her dad began "a one-man, anti-corruption crusade" which resulted in mobsters trying to kidnap his children. After the incident, the family moved around a lot, and Jameson started using drugs with both her brother and her father. In her teens, she was sexually assaulted twice, once by a four teenage boys who beat her until she was unconscious and "left her for dead."
"There were a lot of things that happened that would have broken anybody else," Jameson said of her upbringing in The Sydney Morning Herald. "I was able to survive. That's all that really matters."
Asked by CNN's Anderson Cooper whether her painful past contributed to her choice of career, she said, "It's something that I've thought about a lot, and I can't really say for sure if that is reasoning behind why I've gotten into the adult industry."
If you or anyone you know has been a victim of sexual assault, help is available. Visit the Rape, Abuse & Incest National Network website or contact RAINN's National Helpline at 1-800-656-HOPE (4673).
Her meteoric rise in adult entertainment
When she was still in high school, Jenna Jameson was so determined to land a job dancing at a strip club that she became an amateur orthodontist. As she recalled on "E! True Hollywood Story," she promptly landed the gig after she pulled the braces off her teeth using a set of pliers. She was soon raking in $2,000 a night.
Changing her last name from Massoli to Jameson (as she shared on "THS," she saw the surname in a phonebook and it stuck), she set out for California. In the spring of 1993, she filmed her first X-rated movie. With that, her career hit the ground running. As Forbes recounted, she soon signed a contract that guaranteed her "$6,000 a month to perform in eight to ten feature films a year." She then launched her ClubJenna multimedia company, which at its peak earned tens of millions each year. That success, noted Biography, led to exposure beyond the world of porn, including popping up in animated comedy "Family Guy," lending her voice to video games "Grand Theft Auto: Vice City" and "Tony Hawk's Pro Skater 4," and appearing in Eminem's music video for "Without Me."
As Jameson told CNN anchor Anderson Cooper in 2004, she was proud to be one of the top stars in "a billion-dollar industry." By that point, she contended, pornography had become more mainstream than ever before. "So everybody watches porn," Jameson told Cooper. "It's just a fact of the matter."