The world of comedy was deeply shocked when news broke of the sudden death of Bob Saget, who was found unresponsive in his hotel room in Orlando, Florida, on January 9, 2022, just hours after performing stand-up to a packed audience, according to AP News. He was 65.
Before earning a reputation for his adults-only brand of riotously crude and provocative stand-up, Saget was best known for his roles playing lovable dads in hit sitcoms such as "Full House" and "Raising Dad," as well as his long-running gig as the host of "America's Funniest Home Videos," which became a hit show shortly after its launch in 1989, per The Los Angeles Times.
But while Saget's career was one of unalloyed joy, the comedian's private life was beset by countless tragedies. In his book, "Dirty Daddy: The Chronicles of a Family Man Turned Filthy Comedian," Saget is candid portraying the trauma he and his family had suffered through, even discussing those that had occurred before his birth. Saget, who went on to have three children of his own, described the experiences of his own mother and father, writing, "Honestly, I don't know how my parents did it. They lost four children in total — twins before I was born and then my sisters. My mom tells me, 'Not a day goes by that I don't think of them.' She's not speaking only of grief and sadness either … When tragedy strikes, it's more important than ever to look for anything that can bring humor and joy to every moment." Here are some of the struggles he faced.
Bob Saget's difficult childhood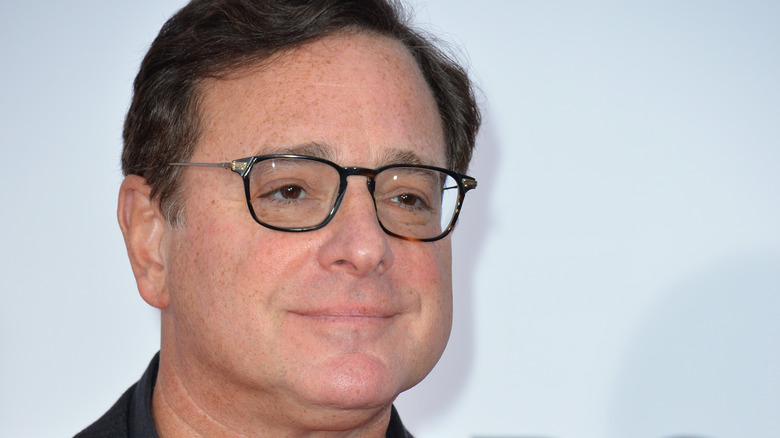 In a 2006, Bob Saget told Esquire that he knew he's been very fortunate. But by his own admission, his personality, his attitude to life and comedy, and the trajectory of his career were all arguably shaped by the tragic circumstances that the comedian found himself having been born into.
In "Dirty Daddy," Bob describes the trauma that his parents, Benjamin and Rosalyn Saget, had suffered just two years before his birth. In 1954, Rosalyn gave birth to twin boys, named Robert and Faith, at the hospital in the family's hometown of Philadelphia, Pennsylvania. What the family didn't know at the time, however, was that the hospital was dealing with an outbreak of dysentery, which proved fatal to the twins within days of their birth and which took the lives of several other newborns. The young Bob Saget was aware of his family's prior loss, having been born two years to the day after the twins and receiving one of their names, which the comedian explains in his book always felt like an honor.
Bob also explains that he didn't enjoy the typical perks of a traditional father-son relationship growing up. Benjamin began his career as a butcher in a supermarket before working his way up into management, smoking six packs of cigarettes a day in the process. When Bob was 6, his father suffered a massive heart attack and had another six months later that "damn near killed him." As such, though his father was a constant presence in his life, his health issues meant he and Bob didn't share typical father-son pastimes.
He suffered a burst appendix
Bob Saget also had to deal with his own health issues, which began when he was just a young man and which would come to affect him deeply.
As Biography details, Saget didn't perform particularly well at school, with his low grades becoming even worse after his family relocated from Pennsylvania to California, though the Sagets soon returned to their home state. Saget succeeded in graduating high school, and, though he had harbored dreams of being a doctor, he was encouraged to pursue a career in a creative field after enrolling at Philadelphia's Temple University. There he studied film, and he won an award for one he made in 1978.
While he was then accepted into graduate school at the University of Southern California, the future comedian soon dropped out, later citing his own vanity for his lack of motivation. But as he explained in an interview with the Saturday Evening Post in 1990, a sudden brush with death changed his mentality.
"I was a cocky, overweight 22 year-old," Saget said. "Then I had a gangrenous appendix taken out, almost died, and I got over being cocky or overweight" (via Biography).