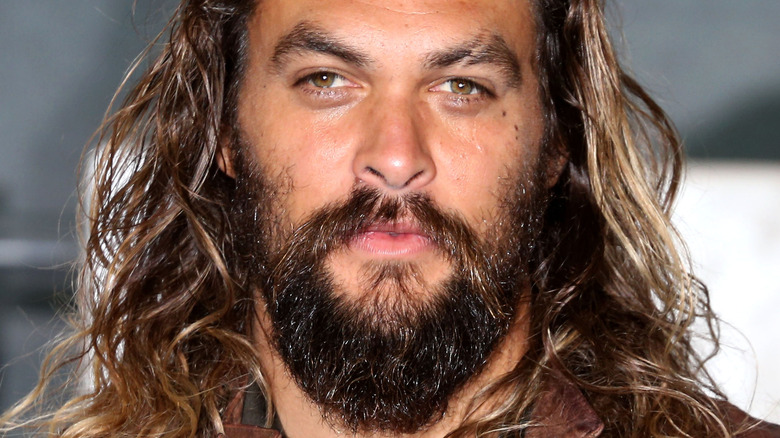 It's hard not to love Jason Momoa. Not only does the "Aquaman" star always give off warm and friendly vibes in interviews and through his social media, but he truly seems like a fun person to be around, one who hasn't been jaded by Hollywood. The Hawaii native has been in the spotlight for some time, though, making his debut in 1999 on "Baywatch Hawaii" at just 19 years old. While he managed to land other roles from there, like the TV series "Stargate Atlantis," it's safe to say that it was the hit series "Game of Thrones" and the film remake of "Conan the Barbarian" that launched him into fame. Since then, Momoa has become a household name, appearing in major blockbusters like "Aquaman" and "Dune."
Although Momoa comes across as big and tough on screen, he's often referred to by his costars as a "teddy bear." His "Game of Thrones" costar Emilia Clarke even gushed on the "Armchair Expert" podcast that on set, "He was so kind and considerate and cared about me as a human being."
When Momoa isn't charming people on and off-screen, he seems pretty low key in his personal life, revealing to E! in 2018 that he liked to spend his downtime, "Cuddling babies, kissing my wife … just being with my kids." However, in January 2022, Momoa made headlines for his shocking and sad split with his wife, actor Lisa Bonet. Because of Momoa's usual positive demeanor, fans may not know that the actor is no stranger to tragedies.
Jason Momoa lived far from his dad and home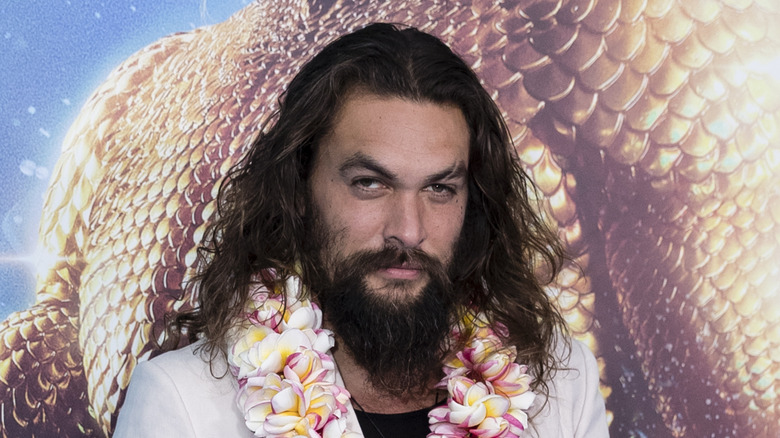 Jason Momoa was born in Hawaii but actually grew up in Iowa due to his parents' divorce. Momoa explained to Star Advertiser, "my mom made it over there [to Hawaii] in the '70s and met an amazing Hawaiian family and had me." Unfortunately, when it came to his parents' relationship, "that marriage never made it." Because of that, Momoa had to move with his mother back to her native Iowa, away from his father who remained there. His father, Joseph Momoa, dished that while he wanted to be with his son, "I explained to him when he got older that it's hard for a Hawaii boy to go up there on the mainland, you get so homesick."
It seems Momoa was homesick as well, even though he spent summers in Hawaii before returning for college. Joseph recalled, "I told him, you need to go and gain all this knowledge, and when you graduate you can come back here." It wasn't that Momoa didn't like Iowa, but he explained, "there's just not a lot of diversity … And with no diversity you definitely have a singular view of what the world is."
His mother also had a hard time making ends meet. Momoa revealed to EW, "My mom's a single mother, and she just couldn't afford a babysitter … she worked three jobs." Momoa is thankful for all her sacrifices, though, writing in an Instagram tribute to her, "God bless all the single mothers. You are truly superheroes."
The Dune star was bullied as a kid
While it's hard to imagine "Aquaman" being bullied, Jason Momoa admitted he was tormented as a kid and had a hard time fitting in. The "Frontier" actor told InStyle that he was harassed by bullies because he stood out as "the only mixed-race kid," in his school, explaining, "I'm definitely a product of two very opposite worlds." He continued, "I got beat up a lot. Just for being slightly different — it was gnarly."
Momoa revealed that the other kids also teased him for his artsy, skateboarder style. He recalled, "I wore Birkenstocks in middle school, and it was like, 'You are a freak!'" It probably didn't help that Momoa didn't have his famous bulging muscles yet, telling EW another reason he was picked on was because, "I was small." He pointed out, "I graduated when I was 16. So I was the youngest boy in my class."
While Momoa clarified, "I love Iowa, but I just didn't fit in," he believes, "If you're a Hawaiian kid in Iowa, you're kind of a fish out of water." Yet he apparently didn't have it any easier back in Hawaii, either. He dished, "I went back to Hawaii and I got ostracized there too," explaining to InStyle that he wasn't seen there as a local since he grew up on the mainland. Despite his difficult experiences in Iowa and Hawaii, Momoa claims, "I loved both, but just made my own path."