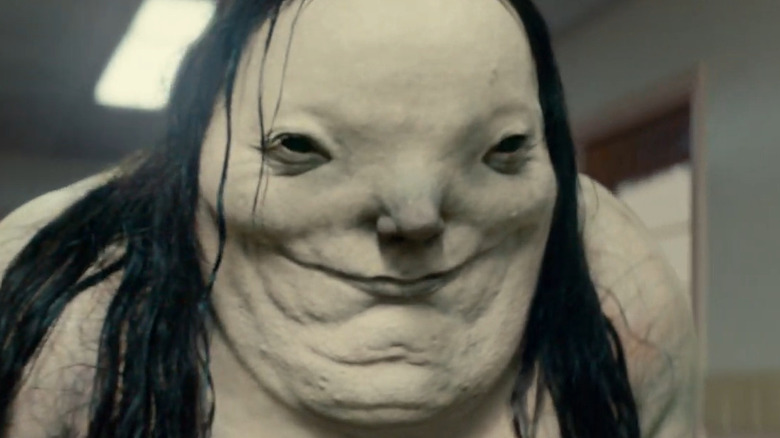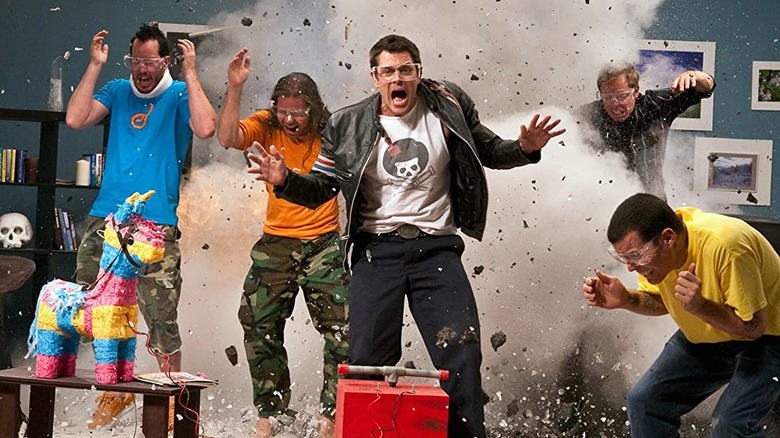 Texas Chainsaw Massacre – February 18, 2022
Beginning with the first film in 1974, "The Texas Chainsaw Massacre" films have been staples of the American horror canon for decades, with multiple sequels, comics, and a video game adaptation. Now, a ninth "Texas Chainsaw Massacre" film is in the works from director David Blue Garcia and writer Chris Thomas Devlin. This film will be a direct sequel to the original film, but it will be set many years later, with the cannibalistic serial killer Leatherface — who serves as the antagonist in all of "The Texas Chainsaw Massacre" films — now an old man.
The newest "Texas Chainsaw Massacre" film — titled simply "Texas Chainsaw Massacre" — will feature an ensemble cast, including names like Elsie Fisher, Sarah Yarkin, Alice Krige, and Jacob Latimore. Plus, Olwen Fouéré will play Sally Hardesty, the final girl from the first film. As for the plot, it will follow a group of young adults who hope to start a business in a small Texas town. Needless to say, when they eventually encounter Leatherface, he doesn't want to invest in their new venture. However, our heroes might have a fighting chance when Sally returns for some Texas justice.
Producer Fede Alvarez told Bloody Disgusting that fans of the original can expect the sequel to pay homage to the 1974 film in more than just its story. "Everything is classic, old school gags," Alvarez said of the film's practical effects, adding, "Never VFX … do everything on camera. It's a very old school approach to filmmaking. Vintage lenses … it's very similar to the original film."
When the film is released on February 18, 2022, it'll slash its way onto Netflix.
Downton Abbey 2 – March 18, 2022
After the hit British TV series "Downton Abbey" successfully transitioned to the big screen, continuing the story of the Crawley family and their household staff in 2019, Focus Features confirmed in 2021 that a second film is in the works. The original announcement confirmed the return of the entire cast, along with newcomers Hugh Dancy, Laura Haddock, Nathalie Baye, and Dominic West. It also revealed that the film would release around Christmas 2021. However, a few months later, the film got bumped down the road a bit to spring of 2022.
The "entire 'Downton' cast" includes all the main players from the series and first movie, including Hugh Bonneville, Elizabeth McGovern, Michelle Dockery, Laura Carmichael, Maggie Smith, Joanne Froggatt, Allen Leech, Jim Carter, Brendan Coyle, Robert James-Collier, Tuppence Middleton, and Penelope Wilton, among many other familiar faces. The first official teaser trailer indicates that the story will see the Crawley family headed to a villa in the south of France, presumably temporarily, and will also include the wedding of Tom Branson (Leech) and Lucy Smith (Middleton). The events set up in the first film also included a pregnancy, a wedding, and a terminal illness, opening up a host of story possibilities for the sequel.
According to Coyle (via Metro), who plays enigmatic valet Mr. Bates, "I think ['Downton Abbey 2' is] the best romp — our funniest and our most exotically beautiful in terms of where we shot it. They understandably keep a very tight lid on it, but this one's a cracker." We'll see what twists the newest has in store for the entire Downton crew when "Downton Abbey 2" hits theaters on March 18, 2022.
Sonic the Hedgehog 2 – April 8, 2022
When the film adaptation of the popular video game franchise "Sonic the Hedgehog" sped into theaters in February 2020, it quickly blew away the opening weekend record for video-game based movies, and even though it was forced to halt its theatrical release early due to the coronavirus pandemic, it still managed to perform well enough for Paramount Pictures to move ahead with a sequel. Announced in May 2020, the sequel will reunite the creative team of screenwriters Pat Casey and Josh Miller and director Jeff Fowler.
Star Ben Schwartz revealed the release date for the sequel in a tweet that read, "SONIC 2 IS OFFICIALLY COMING 2 THEATERS 4/8/22!!!" Schwartz voiced the titular hedgehog in the first film, and he'll be joined once again in the sequel by returning cast members James Marsden as Sonic's human best friend, Tom, Tika Sumpter as Tom's wife, Maddie, and Jim Carrey as the villainous Dr. Robotnik. As for the plot, we know Robotnik will be returning to get his greedy hands on the Master Emerald, and Sonic will have to stop him with the help of Tails, a fox played by video game voice actor Colleen O'Shaughnessey.
But our two heroes will have a second foe standing in their way, as the sequel will introduce Knuckles the red echidna — voiced by Idris Elba – who in the game serves as the guardian of the Master Emerald. However, although Elba is known for playing swoon-worthy roles, don't hold your breath for a sexy Knuckles. "I wouldn't say he was sexy," Elba told Screen Rant in a 2021 interview. "I don't think I'm going for that. That's for sure."
Legally Blonde 3 – May 2022
It's been almost 20 years since audiences followed effervescent sorority girl Elle Woods to Harvard Law School in the bubblegum-hued "Legally Blonde." She continued to ascend the professional ladder in 2003's "Legally Blonde 2: Red, White & Blonde," which saw Elle head to Washington, D.C.
Now Elle is back, along with producer Marc Platt and his Platt Productions president Adam Siegel. In addition to starring as Elle, Reese Witherspoon will also act as a producer this time through her Hello Sunshine banner. Also returning for the sequel is Jennifer Coolidge, who starred in both previous films as Elle's friend Paulette, although whether any other members of the original cast will be reprising their roles is still unknown. Originally, "Legally Blonde" scribes Kirsten "Kiwi" Smith and Karen McCullah were attached to pen the script, but since then, "The Office" alum Mindy Kaling and "Brooklyn Nine-Nine" creator Dan Goor have stepped in to completely rewrite the screenplay.
We've yet to hear much in the way of plot details, but as a big fan of the original film, Kaling is very much looking forward to revisiting an older and wiser (and likely even more fabulous) Elle Woods. "I can't wait to see what Elle Woods — what people will think of the way we wrote Elle Woods at 40," said Kaling in an interview with Access Hollywood. "How Elle Woods is at 40 versus how she was at 21 has been really fun to imagine." But for those who worry that Elle may have outgrown the Bend and Snap, never fear. "Bend and Snap is forever," Kaling reassured fans. "We definitely have a lot of fan favorites from the original movie." "Legally Blonde 3" is expected to arrive in May 2022.
Predator 5: Prey – Summer 2022
Yet another franchise that's endured for decades, the first "Predator" film tore into theaters in 1987, starring Arnold Schwarzenegger, Carl Weathers, and Jesse Ventura. And now, a fifth film is on the horizon. The most recent installment, 2018's "The Predator," was directed by Shane Black and starred the likes of Boyd Holbrook, Trevante Rhodes, Jacob Tremblay, Keegan-Michael Key, Olivia Munn, and Thomas Jane. That film was hardly a critical success, currently sitting at a dismal 33% on Rotten Tomatoes, but it still made enough money at the box office to justify yet another sequel.
"Predator 5" will be helmed by "10 Cloverfield Lane" director Dan Trachtenberg, from a script written by Patrick Aison. Originally, the fifth "Predator" film was announced as "Skulls," but the official title has since been confirmed as "Prey." Each "Predator" installment thus far has focused on groups of people being hunted by a race of alien trophy hunters, and "Prey" seems like it will follow in that same tradition. This time, the story will be set 300 years in the past and center on the Comanche Nation, following "Naru (Amber Midthunder), a skilled female warrior who fiercely protects her tribe against a highly evolved alien predator," according to Deadline.
While the fifth "Predator" seemed to hit an unforeseen snag in the form of a lawsuit filed by Jim and John Thomas (the writers of the original film), that apparently hasn't stopped the movie from moving forward. "Prey" wrapped filming in September 2021, and it's set to premiere on Hulu sometime in summer 2022.
Puss in Boots 2 – September 23, 2022
Audiences were first introduced to the character of Puss in Boots in 2004's "Shrek 2," where the ferocious feline was hired as an assassin to take out the titular ogre. Of course, he never managed to carry out his mission, and the film ended with the two characters on the same side. Voiced by Antonio Banderas, Universal deemed the character of Puss in Boots popular enough to warrant his own spinoff, which was released in 2011. Set before the events of "Shrek 2," "Puss in Boots" fleshed out the character's origin story, and it went on to earn an Oscar nomination for Best Animated Feature.
In 2019, it was announced that "Puss in Boots" would be getting a sequel helmed by "Spider-Man: Into the Spider-Verse" co-director Bob Persichetti. However, in 2021, Universal announced that Persichetti had been replaced by Joel Crawford, who most recently directed "The Croods: A New Age." The sequel will be called "Puss in Boots: The Last Wish," and it will follow the courageous kitty — now on his ninth life — as he searches for the mythical Last Wish that he hopes will restore the other eight. "Puss in Boots: The Last Wish" is set to release on September 23, 2022.
Creed III – November 23, 2022
After six "Rocky" movies and two "Creed" films, MGM may finally be making a "Rocky" movie without Rocky. Although the studio has hired writer Zach Baylin to pen a third "Creed" film, Sylvester Stallone went on the record after "Creed II," claiming that he was done playing Rocky Balboa for good. Granted, there's still plenty of story to explore even without Rocky, with Michael B. Jordan's character Adonis Creed ending the second movie not only a victor in the boxing ring, but also a father of a baby girl with his fiancée, Bianca (Tessa Thompson).
We don't know a whole lot about the plot of the third "Creed" film. However, we do know that in addition to starring in the film, Jordan will be making his directorial debut with "Creed III," saying in a statement, "This franchise, and in particular the themes of "Creed III," are deeply personal to me. I look forward to sharing the next chapter of Adonis Creed's story with the awesome responsibility of being its director and namesake."
On top of that, we also know who will be showing up on the other side of the ring. Trading blows with Adonis in "Creed III" will be "Lovecraft Country" actor Jonathan Majors. In addition to his lead role in the HBO series, Majors is likely most recognizable to fans from his surprise appearance as He Who Remains/Kang the Conqueror in Marvel's "Loki" and the upcoming "Ant-Man and the Wasp: Quantumania." Of his "Creed III" role, Majors told NME, "With intimacy comes complexity. It's he and I. It's a story about these two men trying to work something out, and it's very different from the others."
Majors' comments make it sound as though his character may be someone from Adonis' past, possibly even with ties to previous "Rocky" films. That would be in keeping with the themes of previous movies, as the villain of "Creed II" was the son of Ivan Drago (Dolph Lundgren), the villain from "Rocky IV." Whoever he's playing, we look forward to seeing Majors and Jordan go toe to toe on November 23, 2022.
Hocus Pocus 2 – Fall 2022
While "Hocus Pocus" failed to make much of a splash when it was first released in 1993, it has since gathered a significant following as a Halloween staple, with new fans discovering the witchy joys of the Sanderson sisters each year. The film follows a group of kids who accidentally resurrect the trio of sisters on Halloween, three hundred years after their execution in 1693. The sisters then set about to suck away the souls of every child in Salem so that they can stay alive, unless the children who resurrected them — alongside an enchanted cat — can stop them.
While details on the sequel film remain scarce, original "Hocus Pocus" stars Bette Midler, Kathy Najimy, and Sarah Jessica Parker are set to return in the sequel, which will bow on Disney+. Also joining the cast for "Hocus Pocus 2," which will hit Disney+ in the fall of 2022, will be original star Doug Jones, Tony Hale of "Arrested Development," Hannah Waddingham of "Ted Lasso," and Sam Richardson of "Veep" and "The Tomorrow War." Plus, they'll be joined by Whitney Peak, Lilia Buckingham, Belissa Escobedo, Juju Brener, Froy Gutierrez, Taylor Henderson, and Nina Kitchen.
Working from a script by Jen D'Angelo, "Hocus Pocus 2" was originally set to be directed by Adam Shankman, but he was replaced in 2021 by Anne Fletcher. And Bloody Disgusting revealed the official plot synopsis for the film, which reads, "Three young women accidentally bring the Sanderson sisters back to modern day Salem and must figure out how to stop the child-hungry witches from wreaking a new kind of havoc on the world."
Disenchanted – Fall 2022
In 2007, Disney captivated audiences with "Enchanted," a princess story with a twist: the animated princess Giselle (Amy Adams) accidentally tumbles into real-world, live-action New York City. Although Giselle eventually found her happy ending with single dad Robert (Patrick Dempsey), that didn't stop talk of a sequel from spinning soon after the film's release. While the sequel, titled "Disenchanted," was slow getting off the ground, the production is now full steam ahead, and will be premiering exclusively on Disney+.
In 2016, "Hairspray" director Adam Shankman was brought on board to direct Disenchanted, and he confirmed in 2019 that he's still attached to the production and ready to go. According to Disney, the story will pick up 15 years after the first film, following Giselle as she moves to the suburbs with Robert and his daughter, Morgan, "where she must juggle the challenges that come with a new home and discover what happily ever after truly means to her and her new family." Composer Alan Menken is also on board for the sequel, along with lyricist Stephen Schwartz.
As for the cast, "Enchanted" stars Amy Adams and Patrick Dempsey will be returning for the sequel, along with co-stars Idina Menzel and James Marsden (who got married in the cartoon kingdom of Andalasia at the end of "Enchanted"). Considering the Tony Award-winning Menzel never got to belt out a musical number in the first film, it seems only right that she should get a chance to showcase her impressive pipes in the sequel. Joining the original cast will be Yvette Nicole Brown, Jayma Mays, Kolton Stewart, Oscar Nuñez, and Maya Rudolph in a villainous role. Additionally, Gabriella Baldacchino will be stepping into the role of the teenage Morgan, who was played by Rachel Covey in the first film. "Disenchanted" will debut on Disney+ in the fall of 2022.
Four Avatar sequels – December 17, 2022
James Cameron has been talking about "Avatar" sequels almost from the moment the first film exploded onto screens in 2009, smashing box office records and eventually becoming the highest-grossing film of all time (a title it's since contested with "Avengers: Endgame"). However, despite years of Cameron's repeated promises — which ballooned over time from a modest two "Avatar" sequels to a whopping four sequels — it was beginning to feel as though a follow-up was as far off and unreachable as the fictional moon of Pandora.
But believe it or not, four more "Avatars" really do appear to be imminent. In fact, according to Sigourney Weaver, the first two have already finished shooting. They've even got titles: "Avatar: The Way of Water," "Avatar: The Seed Bearer," "Avatar: The Tulkun Rider," and "Avatar: The Quest for Eywa."
What does it all mean? No one knows but James Cameron and his eclectic cast, which, in addition to original "Avatar" stars Weaver, Zoe Saldana, and Sam Worthington, also includes newcomers Edie Falco, Kate Winslet, Michelle Yeoh, Jemaine Clement, and Vin Diesel. The rest of us will have to wait a while to find out; "Avatar: The Way of Water" is scheduled for release on December 17, 2022, with "Avatar: The Seed Bearer" arriving on December 22, 2024, "Avatar: The Tulkun Rider" following on December 19, 2026, and "Avatar: The Quest for Eywa" concluding the franchise on December 17, 2028.
Murder Mystery 2 – 2022
After earning its crown as the most popular Netflix film of 2019, it shouldn't come as a surprise twist that "Murder Mystery" is getting a sequel. The original film starred Adam Sandler and Jennifer Aniston as a married couple who find themselves wrapped up in a murder mystery aboard a billionaire's yacht. Sandler and Aniston will both be reprising their roles as Nick and Audrey Spitz, respectively, for the sequel, which will bring together a new ensemble cast for a whodunit that will film in both the Caribbean and Paris.
Also returning for the sequel is writer James Vanderbilt, and Jeremy Garelick will be replacing Kyle Newacheck in the director's chair. Considering that the Spitzes stumbled into their first murder mystery mostly by chance, it will be interesting to see how they wind up entrenched in another, but perhaps the circumstances that Vanderbilt's script will cook up will stem from the promotion to detective that Nick received at the end of the first film. We'll find out when "Murder Mystery 2" hits Netflix sometime in 2022.
Sherlock Holmes 3 – 2022
Although rumor has it that a third "Sherlock Holmes" film starring Robert Downey Jr. has always been part of the Warner Bros. plan, the actor has spent the past decade anchoring the Marvel Cinematic Universe as the genius billionaire playboy philanthropist Tony Stark, aka Iron Man. Saving the world every couple years is a draining gig, and Downey's superhero commitments kept him from being able to take on the detective role for a third time. However, now that Downey has finally exited the MCU for good (save, perhaps, for an encore appearance in "Black Widow"), he finally has time to team up with Watson (Jude Law, also expected to return) and solve one more case.
The third "Sherlock Holmes" film will be helmed by "Rocketman" director Dexter Fletcher, a departure from the first two films, which were both directed by Guy Ritchie. The script comes from "Narcos" creator Chris Brancato, with Susan Downey, Joel Silver, Dan Lin, and Lionel Wigram producing. While "Sherlock Holmes 3" was originally scheduled to release on Christmas Day, 2020, it's since been delayed due to the uncertainty caused by the COVID-19 pandemic. After having its theatrical release bumped from 2020 to December 21, 2021, Fletcher remarked in the fall of 2020 that the sequel is "sort of sitting on the back burner at the moment until it becomes clear where the world is at and what's going to happen." While the film won't make its Christmas 2021 release, at the moment, it's suspected "Sherlock Holmes 3" will hit theaters sometime in 2022.
Extraction 2 – Late 2022
When the action-thriller "Extraction" hit Netflix in 2020, it quickly established itself as the most-watched original film in Netflix's history, making a sequel practically inevitable. Sure enough, less than two weeks after "Extraction" premiered on the streamer, Deadline reported that a sequel was already in the works, with MCU veterans Chris Hemsworth and Joe Russo set to star and pen the script, respectively. Original director Sam Hargrave will be returning to direct.
The sequel will once again center around Hemsworth's mercenary character of Tyler Rake, who the first teaser confirms survived the original film despite all evidence to the contrary. That said, Russo has indicated that he's just as interested in exploring Rake's backstory as he is following him after the events of "Extraction," so the plot really could go in any direction. Although we don't yet have a release date for "Extraction 2," Hemsworth indicated it would start shooting in late 2021, meaning we could see a finished film as early as late 2022.
Russo also has big plans for the "Extraction" franchise beyond the sequel, saying at his CCXP panel, "We are working at building out a universe of films that could potentially explore some of the other characters from the first movie and some new characters and see more historical interaction between the characters." In a previous interview, Russo elaborated on this position, telling Collider, "We're trying to find more interesting ways to tell these stories and cross-pollinate them. … Can we go backwards and forwards at the same time? Can things that happened in the past affect the movies in the present? … Can we see different points of view? … I think what makes that a compelling element to the 'Extraction' universe is it is a global franchise telling global stories, and we'd like to diversify the point of view in those movies."
Attack the Block 2 – Early 2023
Before John Boyega was known for fighting intergalactic space battles in "Star Wars," he was fighting unsettling monstrous aliens in the urban sci-fi adventure "Attack the Block." Written and directed by Joe Cornish, the 2011 film starred Boyega as Moses, the leader of a teenage street gang in South London — a gang that decides to rid their neighborhood of vicious extraterrestrials after they unexpectedly start falling from the sky.
The sequel will reunite Boyega and Cornish, who's once again both writing and directing. This time, Boyega will also be acting as co-producer, in addition to reprising his role as Moses. Speaking to Deadline, Boyega said, "It's been a decade since 'Attack the Block' was released, and so much has changed since then. I'm excited to see this heightened story return to the streets of London. Moses has remained one of my favorite characters to play and bringing him back is a huge honor."
Cornish echoed his enthusiasm, saying, "I'm thrilled we're officially announcing our return to the world of 'Attack the Block' on the tenth anniversary of the film's release. I can't wait to work alongside John again, bringing audiences an even bigger slice of inner-city alien action." According to Cornish, filming on "Attack the Block 2" is expected to start at some point in 2022, indicating we can potentially hope to see the sequel premiere as early as 2023.
Transformers: Rise of the Beasts – June 9, 2023
After announcing that they'd be taking their successful "Transformers" franchise in a new direction in the wake of director Michael Bay's departure after finishing "Transformers: The Last Knight," Paramount has chosen Steven Caple Jr. to direct the next film in the "Transformers" universe, which will be titled "Transformers: Rise of the Beasts." The film will bring back popular Autobots such as Optimus Prime and Bumblebee while introducing several new-to-the-films "Beast Wars" characters such as Optimus Primal, who will be voiced by Ron Perlman. The main villain of "Rise of the Beasts" will be the Terrorcon Scourge, and the film will also introduce his sidekick Nightbird, although voice actors have not yet been confirmed for either character. "Transformers: Rise of the Beasts" is set to hit theaters June 9, 2023.
Caple will be working from a script written by Joby Harold, who was also responsible for the screenplay for "King Arthur: Legend of the Sword" and will be serving as a writer for the upcoming "Obi-Wan Kenobi" series at Disney+. Caple is best known for directing "Creed II," starring Michael B. Jordan. "Transformers 7" will star "Hamilton" and "In the Heights" actor Anthony Ramos, alongside "Judas and the Black Messiah" actor Dominique Fishback. Although Paramount hasn't yet revealed anything definitive about the plot for "Transformers 7", producer Lorenzo di Bonaventura previously revealed that the studio wasn't interested in developing a direct sequel to "The Last Knight" and that the next Transformers film wouldn't pick up where that one left off.
Indiana Jones 5 – June 30, 2023
As part of Disney's whirlwind of announcements during their 2020 Investor Day event, the studio reaffirmed that a fifth installment in the iconic Indiana Jones franchise is on the way and will once again star Indy himself, Harrison Ford. At 78 years old, Ford will likely be retiring his trademark whip and fedora by the end of "Indiana Jones 5," although the studio hasn't yet indicated whether the film will see him pass the baton to a younger generation (as was the fumbled intent of 2008's much-maligned "Indiana Jones and the Kingdom of the Crystal Skull") or close out the franchise. However, we do know he'll be joined in his adventure by Phoebe Waller-Bridge of "Fleabag," Mads Mikkelsen of "Hannibal," and Oscar nominee Antonio Banderas, along with Boyd Holbrook and Shaunette Renée Wilson. And they'll be accompanied by the score of John Williams, who's returning for Indy's newest adventure.
In the director's chair for "Indiana Jones 5" is James Mangold, who already knows what it's like to bring the legacy of a beloved action hero to a dignified end. Mangold previously directed 2017's "Logan," which served as the final adventure for Hugh Jackman's Wolverine and Patrick Stewart's Charles Xavier, characters they'd both been playing in numerous films since 2000's "X-Men." "Logan" earned Mangold an Academy Award nomination for Best Adapted Screenplay and served as a thrilling and satisfying conclusion for Jackman and Stewart's characters. While "Indiana Jones 5" isn't likely to skew nearly as dark as "Logan," we can only hope that its farewell to the adventurous archaeology professor will be as moving when the film hits theaters on June 30, 2023.
The Exorcist sequel – October 13, 2023
In our current age of sequels, remakes, and reboots of what can sometimes feel like every significant film ever made, revisiting one of the most iconic horror films of all time was all but inevitable. And sure enough, "The Exorcist 2" — and "3" and "4" — are in the works from fright factory Blumhouse Productions. David Gordon Green, who most recently wrote and is in the process of directing the new "Halloween" trilogy for the studio, will helm the new trilogy, which will be penned by Green, Danny McBride, Scott Teems, and Peter Sattler.
The original "Exorcist" centered a on 12-year-old girl, played by Linda Blair, who was possessed by a terrifying demon. Her mother (Ellen Burstyn) hires two priests, played by Jason Miller and Max von Sydow, to perform an exorcism. Although — spoiler alert — both priests died in the original film (and Miller and von Sydow have both since passed on), Burstyn will be reprising her role, aiding new protagonist Leslie Odom Jr. as he searches for help with his own possessed child. The first film in the new "The Exorcist" trilogy will get a theatrical release on October 13, 2023, although there's a possibility that the following two films could premiere on the Peacock streaming platform.
Paw Patrol: The Mighty Movie – October 13, 2023
If your kids (or you — we won't judge) loved "Paw Patrol: The Movie," brace yourself for maximum excitement because it's getting a sequel. In early November 2021, Nickelodeon and Spin Master Entertainment greenlit "Paw Patrol: The Mighty Movie," which is set to receive an exclusive theatrical release instead of the day-and-date theatrical and Paramount Plus streaming release that the first film got. Additionally, the studios also announced a television spinoff series centered around a yet-to-be-announced pup.
"Paw Patrol: The Movie" followed a team of search and rescue puppies, led by a young boy named Ryder, who work together to save their city from an evil mayor. The film featured voice talent from the TV series alongside actors including Kim Kardashian West, Dax Shepard, Tyler Perry, Randall Park, Yara Shahidi, and Jimmy Kimmel, but none of the actors have yet confirmed their involvement in the sequel. However, director Cal Brunker is confirmed to return for part two, which will hit theater screens October 13, 2023.
Dune 2 – October 20, 2023
Within days of the simultaneous theatrical and HBO Max release of "Dune," a sequel was officially greenlit, with a release date set for October 20, 2023. "Dune: Part Two" won't come as a shock to anyone who read Frank Herbert's novel or saw the first film, which ended at what seemed to be a pretty pivotal point in the character arc of protagonist Paul Atreides (Timothée Chalamet) and not long after the official introduction of Zendaya's character, Chani. "Dune" began a sprawling tale of feuding households, political maneuvering, religious intrigue, and resource mining on the desert planet of Arrakis, told through an impressive ensemble cast that included Oscar Isaac, Rebecca Ferguson, Josh Brolin, Jason Momoa, Javier Bardem, and Dave Bautista, in addition to Chalamet and Zendaya.
Of course, not all the central players in "Dune" survived until the end, but those that did are expected to reprise their roles in the sequel. Also returning are director Denis Villeneuve and composer Hans Zimmer, the latter of whom joked in a tweet, "Thank goodness I have some music left." As for Villeneuve, the director clarified that he considers "Dune: Part Two" the same movie as "Dune" rather than a traditional sequel, telling The Hollywood Reporter, "It's not a sequel where it's another episode or another story with the same characters. It actually has direct continuity to the first movie. It's the second part of the big, huge movie that I'm trying to do."
Unlike "Dune," "Dune: Part Two" will receive an exclusive 45-day theatrical window, as opposed to the simultaneous theatrical and streaming release that the first film got. This was a "non-negotiable" for Villeneuve, who says that for him, "The theatrical experience is at the very heart of the cinematic language."
Star Trek 4 – December 22, 2023
"Star Trek" has been a shining gem in Paramount's crown for decades, and there are a number of directions the popular franchise could head next. While there's definitely the intent to boldly take the established interstellar adventurers of the United Federation of Planets on a new adventure, the studio is also considering a couple other intergalactic options.
Moving forward right now is a fourth "Star Trek" film in the current franchise, which would bring back the cast of 2009's "Star Trek" (minus, sadly, Anton Yelchin, who played Pavel Chekov in the first three films and was tragically killed in an accident in 2016). The studio is also considering "Trek" films from "The Revenant" scribe Mark L. Smith (which was originally intended to be directed by Quentin Tarantino) and from "Fargo" and "Legion" creator Noah Hawley (which would feature a new cast of characters).
While Noah Hawley's project has been moved to the back burner by Paramount's motion picture group president, Emma Watts, "Star Trek 4" is full steam ahead. "WandaVision" director Matt Shakman has signed on to helm the project, working off a script from Lindsey Beer and Geneva Robertson-Dworet, making this the first "Star Trek" film to be penned by women. "Star Trek 4" is set to hit theaters on December 22, 2023.
Triplets (Twins 2) – 2023
On his 35th birthday in 1988, Julius Benedict (Arnold Schwarzenegger) was informed that he was separated at birth from his twin brother, Vincent (Danny DeVito), after they were both conceived in a lab as part of a genetic experiment. "Twins" followed the unlikely duo as they reconnected and uncovered the long-buried secrets about their past. Now, 33 years later (nearly the lifespan of Julius and Vincent before they each learned they were part of a mismatched set), the Benedict clan is growing yet again in "Triplets."
The sequel will bring back Schwarzenegger and DeVito as Julius and Vincent, and they'll be joined by Tracy Morgan as a yet-unnamed third brother. The premise, as conveyed by director Ivan Reitman, will start out similarly to the first film, with each of the brothers being surprised to learn of another brother's existence. "They don't know each other, and very early in the movie, they meet," Reitman said of the film's plot to Deadline. "It's how they achieve a bond together after all these years. It's really a film about family, and no matter how different we all are, we have to learn to get along." The film will start shooting in early 2022 from a script penned by Dylan Dawson and Lucas Kavner, meaning we could see the "Triplets" family reunion as early as sometime in 2023.
The Ballad of Songbirds and Snakes – Late 2023/Early 2024
After the runaway success of the "Hunger Games" series, which dominated the box office from 2012 to 2015 and moved more than 65 million books in the U.S., it seemed likely that audiences would one day get the opportunity to return to the dystopian world of Panem one way or another. Sure enough, in June of 2019, publisher Scholastic announced that it would be releasing another novel by Suzanne Collins set in the "Hunger Games" world, and "The Ballad of Songbirds and Snakes" hit shelves on May 19, 2020.
Set 64 years before the events of "The Hunger Games," "The Ballad of Songbirds and Snakes" follows an 18-year-old Coriolanus Snow, who would eventually grow up to become the ruthless ruler of Panem in Collins' original novels. The story focuses on the Tenth Hunger Games, for which Coriolanus is chosen to become a reluctant mentor to a girl from District 12, the same district which would eventually produce "The Hunger Games" protagonist Katniss Everdeen.
A film version of "The Ballad of Songbirds and Snakes" was confirmed by Lionsgate prior to the book's release, to be directed by "Hunger Games" veteran Francis Lawrence. Lawrence previously directed the last three films in the four-part "Hunger Games" franchise. The screenplay will be adapted by "Catching Fire" writer Michael Arndt, from a treatment by Suzanne Collins, who will also serve as an executive producer on the film. "The Ballad of Songbirds and Snakes" is expected to start production in the first half of 2022, aiming for a release sometime in late 2023 or early 2024.
Mad Max 5 and Furiosa – May 7, 2024
In 2015, "Mad Max: Fury Road" reinvigorated the long-dormant "Mad Max" franchise, which began in 1979 with Mel Gibson in the title role. "Fury Road" offered a new spin on the post-apocalyptic tale, casting Tom Hardy as Max and shifting focus to Charlize Theron's rage-fueled Imperator Furiosa. "Mad Max: Fury Road" wowed audiences and critics alike, with many considering it one of the best action films of all time, so it seemed that sequels would be inevitable.
Sure enough, five years after "Fury Road" roared into theaters, two follow-up films are in the works, one of which is a direct sequel, while the other is a prequel centered around a younger Furiosa. The sequel, which has been given the working title "Mad Max: The Wasteland," was reportedly greenlit by Warner Bros. in early 2020, and will follow Hardy's Max Rockatansky but won't feature the return of Furiosa. And while "Furiosa" will bring back the title character, Theron herself won't be making an appearance in that film either. Director George Miller said that much as he loved Theron's performance in "Fury Road," he doesn't have enough faith in de-aging technology to allow Theron to reprise her role for the prequel.
Instead, the younger Furiosa will be played by Anya Taylor-Joy, who will be joined by MCU star Chris Hemsworth. Emmy-winning "Watchmen" actor Yahya Abdul-Mateen II was also set to star in the sequel but had to leave due to scheduling conflicts. Instead, Tom Burke will be stepping into the role originally intended for Abdul-Mateen. Miller hasn't yet revealed who Hemsworth and Burke will be playing in "Furiosa," but the characters have likely existed in the director's head since before the previous film, as he and co-writer Nick Lathouris developed origin stories for every character while prepping "Fury Road." In fact, Lathouris wrote an entire screenplay for "Furiosa" in the process. "Furiosa" will be tearing into theaters on May 27, 2024.
Blade of the 47 Ronin – TBA
When the Keanu Reeves-starring samurai fantasy "47 Ronin" hit theaters in 2013, it didn't exactly blow anyone away. Not only were the reviews largely negative, but it failed to earn back its $175 million budget, making it one of the biggest box office bombs of 2013. Between the lack of critical acclaim and the lack of commercial success, it wasn't the type of film that typically gets a sequel, yet in August 2020, we learned that a new "47 Ronin" adventure is on deck at Universal 1440 Entertainment, the production arm of Universal Studios Home Entertainment, and will be headed straight to Netflix.
Titled "Blade of the 47 Ronin," the sequel will be directed by Ron Yuan, who stars as Sergeant Qiang in Disney's live-action "Mulan." Of the film, Yuan said, "I'm incredibly excited to be working with Universal and the producing team on this genre-blending, martial arts, action, horror and cyberpunk film. This will be a fun, intense, supercharged thrill ride for viewers globally." As for the screenplay, that'll be penned by Aimee Garcia of "Lucifer" fame and AJ Mendez, a "New York Times" bestselling writer who's also known to WWE fans as wrestling superstar AJ Lee.
While the original Keanu Reeves film told a fictionalized version of an 18th-century samurai tale, the new sequel will take place in modern-day Budapest and focus on three female warriors who aren't exactly welcomed by the samurai elite. Needless to say, when the katanas come out and things get intense, the old-school swordsmen will see our three heroes can totally hold their own. According to Collider, YouTuber Anna Akana will lead up the cast, along with names like Teresa Ting, Dustin Nguyen, Chris Pang, Fukuyama Chikako, Luna Fujimoto, and Nino Furuhata. Also watch out for Mike Moh (Bruce Lee from "Once Upon a Time in Hollywood"), Mark Dacascos (the bad guy from "John Wick 3"), and Koieyama Akira, who actually played in the original "47 Ronin."
Aladdin 2 – TBA
Disney's live-action reimaginings of their animated classics have proven to be a home run at the box office, and the live-action "Aladdin" was no exception, bringing in over $1 billion globally. So it comes as no surprise that it's getting a sequel, although unlike the first film, this one likely won't be modeled directly off the animated version. (The original animated "Aladdin" got a direct-to-video sequel in the form of 1994's "The Return of Jafar.")
Few details are known about the "Aladdin" sequel, although stars Will Smith, Mena Massoud, and Naomi Scott are all expected to reprise their respective roles as the Genie, Aladdin, and Jasmine. Guy Ritchie is also expected to return to the director's chair, working off a script from John Gatins ("Flight") and Andrea Berloff ("Straight Outta Compton"). As for the plot, it's still very much an unknown, although it's possible that the sequel could take the form of an adaptation of another folk tale from "One Thousand and One Nights."
Argylle – TBA
It's a little unusual for a sequel to make this list when the first movie hasn't even come out yet, but that's exactly what's happening with "Argylle," the upcoming spy thriller directed by Matthew Vaughn. Apple Original Films is circling the rights to the project, which is based on the debut novel from author Ellie Conway, set to be published in September 2022. And even though the source material hasn't even been published yet, the studio already hopes that the film will launch a new franchise in the style of James Bond.
The plot of "Argylle" follows "the world's greatest spy as he is caught up in a globe-trotting adventure," and it will feature a star-studded cast including Henry Cavill, Sam Rockwell, Bryce Dallas Howard, Bryan Cranston, Catherine O'Hara, John Cena, Rob Delaney, Ariana DeBose, Dua Lipa, and Samuel L. Jackson. The script comes from "Wonder Woman" writer Jason Fuchs. Vaughn calls the novel "the most compelling spy thriller I've ever read," setting the bar pretty high for the film.
Atomic Blonde 2 – TBA
Fans of Charlize Theron in action roles are in for a treat. The "Mad Max: Fury Road" and "The Old Guard" star will soon be slipping back into the platinum wigs of Lorraine Broughton, her enigmatic character from "Atomic Blonde." Theron told The Hollywood Reporter in an interview in July of 2020 that an Atomic Blonde sequel was in active development, and that the lockdown due to the coronavirus pandemic was actually helping move the process along, giving Theron and the writers more time to work on the script over Zoom.
Theron elaborated in an interview with Total Film that "Atomic Blonde 2" would likely be headed to Netflix this time around, the home of the actress' 2020 smash action hit, "The Old Guard." "[Lorraine Broughton] was set up in a way where she didn't really reveal much of herself," Theron said, speaking of her character's journey in the first film. "So I feel like there's a lot of potential there. The bar's pretty high, but we're excited about it."
Also starring John Goodman, James McAvoy, and Sofia Boutella, the first film found Theron's ruthless MI6 agent investigating a murder and dodging double-crosses coming from every angle in Cold War-era Berlin. "Atomic Blonde" director David Leitch isn't sure whether he'll be involved with the sequel, but sounds as though he'd be game if asked to return. No details have yet been revealed about the plot of "Atomic Blonde 2," but if the first film is any indication, we expect another twisting spy caper with plenty of hard-hitting action.
Baby Driver 2 – TBA
Start your engines, because it sounds like a sequel to 2017's motor-tastic heist hit "Baby Driver" may eventually be zooming its way into production. Ansel Elgort, the star of the first film, mentioned in 2019 that he'd seen an early version of a sequel script and that he thought the film was likely to happen. Wright himself confirmed in early 2021 that three drafts of the script had indeed been completed, but that due to the COVID-19 pandemic, he wasn't sure what, if anything, the next steps might be.
As for what the plot of a "Baby Driver" sequel would look like, Wright told Empire in 2017, "[With] most sequels, you have to contrive something so they go back to square one, unless there's somewhere deeper for them to go. I think with 'Baby Driver' there's more that you can do in that realm, and I sort of have an idea that if you did another one you would subvert his involvement in the crime in a different way so he's not kind of the apprentice anymore." However, following the allegations of sexual assault against Elgort in 2020, it's unclear if Wright's original idea for the sequel will work, if he'll want to center it around Elgort's character at all or if he'll decide to go in a different direction.
Bad Boys 4 – TBA
Before the third "Bad Boys" film, "Bad Boys for Life," had even hit theaters in early 2020, Sony was already prepping the fourth installment. "Bad Boys 4" was announced in January of 2020 as a follow-up to the first three films in the hit buddy cop action franchise, which first kicked off in 1995 with the original "Bad Boys." Starring Will Smith and Martin Lawrence, "Bad Boys" follows two Miami detectives as they investigate a case of stolen heroin while protecting the witness to a murder.
"Bad Boys" was successful enough to earn a sequel, "Bad Boys II," which came out in 2003. "Bad Boys for Life" catches up with Detectives Lowrey (Smith) and Burnett (Lawrence) 17 years later, as they investigate a string of murders with connections to Lowrey's past. No plot details have yet been revealed about the fourth film, but the script is being penned by Chris Bremner, who also worked on "Bad Boys for Life." While nothing is official yet, it's safe to assume that Smith and Lawrence would both return for part four, which will hopefully not take another 17 years to become a reality.
Beverly Hills Cop 4 – TBA
We appear to be in the midst of an Eddie Murphy renaissance. After gradually fading from the spotlight since his heyday in the '80s and early '90s, Murphy is suddenly back in a big way, giving a critically acclaimed performance in 2019's "Dolemite Is My Name," making a triumphant return to "Saturday Night Live" as host, lining up new standup comedy specials for Netflix, and announcing a sequel to one of his biggest hits from the '80s — "Beverly Hills Cop."
Marking the fourth installment in the "Beverly Hills Cop" franchise, this newest sequel will also be a collaboration between Murphy and Netflix, after Paramount previously pulled the plug on a planned "Beverly Hills Cop 4" back in 2016. Murphy will be reprising his role as Axel Foley, the Detroit cop who repeatedly finds himself traveling to Beverly Hills to investigate various crimes. "Beverly Hills Cop 4" will be directed by "Bad Boys for Life" directors Adil El Arbi and Bilall Fallah, and Murphy says he's ready to go as soon as the script is complete. There's no word yet on when that might be, but considering Murphy says that "we're nearly there," it hopefully won't be too much longer.
Big Trouble in Little China 2 – TBA
Directed by the one and only John Carpenter, the 1986 fantasy-adventure "Big Trouble in Little China" follows trucker Jack Burton (Kurt Russell) as he's drawn into the magical underbelly of San Francisco's Chinatown. Hoping to save a kidnapped woman from the forces of darkness, Burton encounters ninjas, monsters, and an ancient sorcerer.
With its mythic warriors and magical sword fights, "Big Trouble in Little China" has become a beloved classic, so naturally people were a bit concerned when a remake with Dwayne Johnson was announced in 2015, but it turns out the next film will actually be a sequel. Speaking to Collider, producer Hiram Garcia admitted, "You can't remake a classic like ['Big Trouble'], so what we're planning to do is continue the story. We're going to continue the universe of 'Big Trouble in Little China.'"
As Garcia went on to explain, the events of the first film will still exist in the new Dwayne Johnson movie, and the Rock will be playing a brand new character, not Jack Burton. However, while that would seem to leave room for Russell to return, the actor told USA TODAY that he "probably won't be" in the sequel, so we're a bit sad that we won't get to see ol' Jack Burton back in action.
Bohemian Rhapsody 2 – TBA
Despite closing with an explanation of frontman Freddie Mercury's death in 1991, the Oscar nominated "Bohemian Rhapsody" — which followed the rise of the band Queen — may be getting a sequel. The film depicted the early days of the iconic group, from 1970 when Farrokh Bulsara (Rami Malek) first joined up with the other musicians in the band, through him changing his name to Freddie Mercury, rising to fame, and eventually breaking up the group in the early '80s. "Bohemian Rhapsody" culminated in the band reuniting for Queen's performance at Live Aid in 1985.
There's no word yet on what the plot of "Bohemian Rhapsody 2" could be or whether it would delve into the last six years of Mercury's life or follow the other members of the band after his death. "It's going to be hard to follow ['Bohemian Rhapsody'] as none of us could have predicted how massive that was going to be," guitarist Brian May said on an Instagram Live in 2021. "We put a lot of heart and soul into making it and no one could have predicted [its success] as it was bigger than 'Gone with the Wind.' But yes, we are thinking maybe it could happen, but it would have to be a great script. It's going to take a while to figure that out." But as far as whether the band has interest in a sequel, May said, "We are looking at it. Yeah, we have been looking at ideas."
The Boondock Saints III – TBA
After first blasting onto screen in 1999, and then again in a 2009 sequel, "The Boondock Saints" looks to be getting a third installment, which would bring back director Troy Duffy along with stars Norman Reedus and Sean Patrick Flanery. In the first two films, Reedus and Flanery played fraternal twins Murphy and Connor MacManus, who become vigilantes seeking to rid Boston of all crime after dispatching a couple members of the Russian mob in self-defense. The sequel caught up with the twins in Ireland eight years later, when they were forced to return to Boston after being framed for murdering a priest.
That film ended with the brothers in jail, and the third film will see them stepping out of prison into a world that's much different from the one they left. This time, based on input from the fanbase, Duffy says they'll be going up against a different type of villain — politicians. "Where we're going is, the brothers are older," Duffy told Deadline. "They are coming out into a brand new world that is not like the one they left. They are at odds. One wants to continue, the other doesn't. There's a new enemy out there, not like the traditional ones they've faced. That's the thing that is timely about this one."
Bright 2 – TBA
On paper, "Bright" sounded like it was going to be awesome. An urban-set buddy cop movie full of elves, dragons, and fairies, the action-comedy starred the ever-charismatic Will Smith (as a human) and the incredibly talented Joel Edgerton (as an orc). But when the film premiered on Netflix in 2017, it was thoroughly trashed by critics who attacked everything from its mishandled metaphors to its lazy worldbuilding.
While critics were underwhelmed, the movie attracted quite a few eyeballs. After it was released on Netflix, "Bright" was watched by at least 11 million viewers. With those numbers, it's no surprise that Netflix gave the green light to "Bright 2" in 2018. Although "Bright" director David Ayer was originally attached to helm the sequel, he later stepped away to focus on his "Dirty Dozen" remake for Warner Bros. Instead, "Now You See Me" and "Dark Crystal: Age of Resistance" director Louis Leterrier will be stepping into the director's role, although Ayer will still get a writing credit for the original script, along with "Beauty and the Beast" and "The Huntsman: Winter's War" scribe Evan Spiliotopoulos. Ayer and Spiliotopoulos' script has since been given a rewrite by "The Maze Runner" trilogy writer T.S. Nowlin. "Bright 2" will reunite Smith and Edgerton, this time taking them outside the city limits of Los Angeles and throwing them into a new adventure that plays out on an international stage.
Chicken Run 2 – TBA
In April 2018, The Hollywood Reporter announced that Aardman Animations — with StudioCanal and Pathe — will be revisiting the hens and roosters of "Chicken Run" in a brand new sequel. While the follow-up film was originally intended for theaters, Netflix announced in 2020 that the streamer would actually be the home of the "Chicken Run" sequel.
It seems the barnyard is in for a casting shake-up, as it has been reported that the two lead voice roles of Rocky and Ginger have been recast. Julia Sawahla says she was not asked back as Ginger for the dubious reason that she sounds "too old." As for why Mel Gibson might not have been invited back to voice Rocky, well … it's not hard to guess.
The screenplay for "Chicken Run 2" is being crafted by Karey Kirkpatrick and John O'Farrell, both of whom worked on the original "Chicken Run," along with Rachel Tunnard. As for the director, the film is in the fine stop-motion hands of Sam Fell, the filmmaker behind "ParaNorman." The story will once again feature Rocky and Ginger, now living happily in a human-free island sanctuary with their young chick, Molly. But when chickens come under threat yet again, Rocky and Ginger decide to leave their peaceful home to once again fight for all chicken-kind.
Clerks 3 – TBA
In early 2020, most of the world's plans were upended by the rapidly spreading coronavirus pandemic, and Hollywood was no exception, with production on a number of films halting, theaters closing, and many completed films having their release dates pushed back by months or more. However, one of the few films to actually experience some forward movement as a direct result of the pandemic was the long-awaited "Clerks 3." In a Facebook post, writer and director Kevin Smith wrote, "And now that everything has been canceled for a month or two, I will have time to finish the 'Twilight of the Mallrats' and 'Clerks 3' scripts. Hiking and writing: that's my pandemic plan."
The original "Clerks," released in 1994, followed a pair of clerks who worked at a combination video rental shop/convenience store, and took place in and around the store. The followup, 2006's "Clerks II," follows the same characters a decade later, after a fire at the Quick Stop has forced them to start working at a fast food restaurant. The third film will return to the Quick Stop and will follow Randal (Jeff Anderson) asking his friends to help him tell his life story by making an indie film after suffering a heart attack. In addition to Anderson, original franchise actors Brian O'Halloran, Jay Mewes, Rosario Dawson, and of course, Kevin Smith will all be reprising their roles. While "Clerks III" doesn't have a release date yet, the fact that the film is already in production indicates that it won't be too long before we see the "Clerks" crew reunited again.
Cloverfield 4 – TBA
Even after a lackluster third film, which fumbled its surprise post-Super Bowl launch in 2018, the "Cloverfield" franchise apparently still has enough goodwill and potential to earn itself yet another follow-up. A fourth "Cloverfield" film was announced in January 2021 from producer J.J. Abrams, who's hired "Giri/Haji" creator Joe Barton to pen the script. Although the first "Cloverfield" was filmed as a found-footage story, following a group of young people in New York City fleeing an extraterrestrial monster attack, subsequent "Cloverfield" films have abandoned the found-footage device, and the fourth film will be no exception.
Thus far, each "Cloverfield" movie has been relatively self-contained, each following a different cast of characters in a totally different type of storyline, all within the same universe. The first film was a more straightforward urban monster film, while the second was a claustrophobic psychological thriller, and the third was sci-fi horror. There's no telling what the fourth film will look like, other than that it will almost certainly tie in the same monster invasion that has appeared in each of the "Cloverfield" films so far. However, unlike the second and third films, which were originally developed as standalone features and then retrofitted into the "Cloverfield" universe, the fourth "Cloverfield" will be the first sequel designed with the franchise in mind, meaning the ties to the rest of the franchise could be much more pronounced this time around.
Crazy Rich Asians 2 and 3 – TBA
Coming off of the runaway success of 2018's "Crazy Rich Asians," it would be surprising if the opulent film didn't earn a sequel — and in fact, it's getting two. Based on Kevin Kwan's books of the same names, "China Rich Girlfriend" and "Rich People Problems" are both moving ahead at Warner Bros., although it may be a while before we get to see them.
Due to the busy schedules of the franchise's A-list cast and director Jon M. Chu, who's been adapting Lin-Manuel Miranda's musical "In the Heights" for the big screen, it may be a while before everyone can get together again for the next two installments in the "Crazy Rich Asians" saga. However, producer Nina Jacobson says that the plan is to shoot both sequels back-to-back, so that fans aren't waiting years between the second and third films. So although there may be a long wait for "China Rich Girlfriend," Jacobson promises, "We'll make it up to them on the back end by shooting two films together."
Cruella 2 – TBA
While 2021's "Cruella" was set up to serve as a prequel to Disney's animated film "One Hundred and One Dalmatians," by the time the end credits rolled on the high fashion film, it was clear that there was plenty more of Cruella's story to tell. Sure enough, "Cruella 2" is in the works, which will see Emma Stone returning to the role of Estella and her ruthless alter ego, Cruella de Vil. Also coming back is director Craig Gillespie and writer Tony McNamara, although none of Stone's fellow "Cruella" cast members are yet confirmed for the sequel.
The first film saw aspiring fashion designer and petty criminal Estella scheming her way to the top of the fashion industry and usurping the reign of reigning fashion queen Baroness von Hellman (Emma Thompson). By the end of the film — which is part "The Devil Wears Prada," part "Joker" — Cruella has claimed the Baroness' empire as her own and fully embraced her dark and semi-villainous persona. Yet she still has a great love of dogs, particularly Dalmatians, which begs the question of just how she transforms into someone who would want to make coats out of puppies. Perhaps we'll find out — or perhaps this version of Cruella will decide to ditch the dog-skinning altogether — when "Cruella 2" eventually struts into theaters.
Demolition Man 2 – TBA
Released in 1993, the original "Demolition Man" follows a cop who gets cryogenically frozen — alongside the crime lord he's pursuing — in 1996, and is subsequently thawed out in the year 2032 in order to help the police of the future catch him again. The film stars Sylvester Stallone as LAPD Sergeant John Spartan, Wesley Snipes as the villainous Simon Phoenix, and Sandra Bullock as future police officer Lieutenant Lenina Huxley. The film was a modest success at the box office despite a lukewarm critical response, but a planned 1995 sequel never panned out, and it seemed like "Demolition Man" would remain a standalone film.
However, in May of 2020, Stallone revealed during an Instagram Q&A session that a new "Demolition Man" sequel is in the works at Warner Bros. Responding to a fan's question, Stallone said, "We're working on [a 'Demolition Man' sequel] right now with Warner Bros. It's looking fantastic. So that should come out. That's gonna happen."
Stallone didn't offer any further details on the "Demolition Man" sequel, including whether Bullock or any of the rest of the original cast will return, what the plot could be, or when we can expect the film to come out. Whenever the sequel does arrive, it will be interesting to revisit the film's vision of the future, since we're much closer to 2032 now than we were when the film originally came out in 1993, and as we've closed that gap, life has eerily imitated art in some surprising ways.
Den of Thieves 2 – TBA
"Den of Thieves" might have been a flop with critics, but this heist thriller got away with $72 million at the box office. And in Hollywood, crisp dollar bills talk way louder than rotten tomatoes. So if you were hoping to see the further adventures of Gerard Butler and O'Shea Jackson Jr., then it looks like you're in luck. The two are reuniting with writer-director Christian Gudegast for "Den of Thieves 2." According to Deadline, the film "will find Big Nick (Butler) on the hunt in the streets of Europe closing in on Donnie (Jackson Jr.) who is embroiled in the dangerous world of diamond thieves and the infamous Panther mafia…." On top of all that, there's going to be a big-time jewel heist, so expect to see gunfights, Gerard Butler badassery, and familiar faces like Curtis "50 Cent" Jackson. However, we don't know if any UFC fighters will show up this time around.
Django Unchained 2 – TBA
Ever wonder what happened to Django and Broomhilda after they blew Candieland to kingdom come? Well, wonder no more, because it looks like the fastest gun in the South is riding back into theaters. Eventually. Maybe.
According to Collider, a sequel to Quentin Tarantino's "Django Unchained" is in the works, and this time, he's teaming up with one of the most legendary heroes in vigilante history. Based on a comic series co-written by Tarantino and Matt Wagner, the sequel will find Django a wanted man after burning down Calvin Candie's plantation. However, he's still collecting bounties, and he heads out west to avoid winding up in jail. And that's when he runs into a Spanish nobleman named Diego de la Vega … who we all know better as Zorro. That's right. Django is going to team up with the famous masked swordsman, and together, these two are going to use bullets and blades to free the local indigenous people from some very nasty bad guys.
That right there sounds like an incredible premise for a sequel, but it's important to note that Tarantino himself would not likely be in the director's chair, though he may serve as producer. As for the screenplay, we know comedian and creator Jerrod Carmichael ("The Carmichael Show") will be writing the script, but we're unsure if Tarantino is just overseeing the screenplay or co-writing with Carmichael. Either way, this is a truly epic crossover, and we can't wait to see Django and Zorro shoot and stab their way through a whole bunch of racists.
Edge of Tomorrow 2 – Live Die Repeat and Repeat – TBA
The "Groundhog Day" of alien invasion movies, "Edge of Tomorrow" (aka "Live Die Repeat") is one of the best sci-fi films in recent memory. Starring Tom Cruise and Emily Blunt, this Doug Liman flick focuses on a cowardly major who finds himself reliving the same day over and over. Unfortunately, said day involves an army of extraterrestrials dead set on conquering Earth.
According to The Hollywood Reporter, "Edge of Tomorrow 2" is officially in development, and Tom Cruise, Emily Blunt, and director Doug Liman are all expected to return should the movie move forward. Warner Bros. has also tapped Matthew Robinson ("The Invention of Lying," "Monster Trucks") to write the screenplay. Liman seems pretty psyched about directing a sequel, and in the past, he's claimed part two will be "much better than the original film." Should a sequel take shape, Liman says it would be much smaller in scope, telling Collider, "I've always been interested in the idea of a sequel being more character-driven than the first film because that's not how things are normally done. That's been my approach when developing the sequel and because Tom Cruise and Emily Blunt are such phenomenal actors. I get sometimes the sequel just has to have more firepower or more explosions, but no visual effect is going to top what you're going to get from a great scene performed by Tom Cruise and Emily Blunt."
However, Blunt expressed doubts in 2021 that the sequel would ever find its way to screens. During an appearance on Sirius XM's "The Howard Stern Show," Blunt said that while the team was all interested in a part two, logistical factors might get in the way. "Honestly I think the movie's too expensive," Blunt said. "I don't know how we're going to do it, and I think that it's hard to align everyone's schedules, and I would love it, Doug Liman would love it, Tom would love it — we'd all love to do it, but I think until we figure out what's going on with the industry, honestly I think we need to figure out what is the next roadmap for the kinds of films people want to make."
Enola Holmes 2 – TBA
The game is afoot — again! After the smash success of 2020's "Enola Holmes," Netflix's detective YA caper starring Millie Bobby Brown as the younger sister of Sherlock Holmes (Henry Cavill), the streamer has greenlit a sequel that will bring back both Holmes siblings for another twisting caper. Based on a series of novels by Nancy Springer, the first film saw teenage Enola running away from home to investigate her mother's (Helena Bonham Carter) mysterious disappearance, against the explicit instructions of her older brother, Mycroft (Sam Claflin), who steps in as her guardian. During her journey, she befriends the Viscount Tewkesbury, Marquess of Basilwether (Louis Partridge), a young runaway who's been targeted for assassination.
Of course, by the end of the film, Enola has solved both mysteries, as well as earned the respect of her famous detective sibling. While the plot of the sequel isn't yet known, it will undoubtedly see Enola taking on another mysterious case, although whether she and Sherlock will work together this time or if Enola will venture out entirely on her own again remains to be seen. The creative team of director Harry Bradbeer and writer Jack Thorne will be returning for the sequel, along with Brown in the starring role, Cavill as Sherlock, Bonham Carter as Eudoria, Partridge as Tewkesbury, Adeel Akhtar as Inspector Lestrade, and Susan Wokoma as Edith. While we don't yet know if Claflin will be reprising his role as Mycroft, "Enola Holmes 2" will be adding a number of new actors to its impressive cast, including David Thewlis, Sharon Duncan-Brewster, Hannah Dodd, Abbie Hern, Gabriel Tierney, and Serrana Su-Ling Bliss.
The Expendables 4 – TBA
Sylvester Stallone and "The Expendables 4" have been engaging in a will-they-won't-they dance for a few years now, but now, it's official. The muscle-bound gang is getting back together again, with Scott Waugh directing and Spenser Cohen writing the script.
In addition to Stallone, the "Expendables" franchise has been a veritable who's who of current and former action superstars, including Jason Statham, Arnold Schwarzenegger, Bruce Willis, Jet Li, Jean-Claude Van Damme, Chuck Norris, Dolph Lundgren, Harrison Ford, Mel Gibson, Antonio Banderas, Wesley Snipes, Terry Crews, and Steve Austin. This time around, we know that Stallone and Statham are coming back, as are Lundgren and UFC legend Randy Couture. Additionally, Megan Fox, Andy Garcia, Levy Tran, Jacob Scipio, Tony Jaa, and rapper 50 Cent have signed onto the film in undisclosed roles. Plus, the former holder of the World's Strongest Man title, Eddie Hall, was personally offered a role by Stallone himself. Hall will play a villain, as will martial arts star Iko Uwais, who will be facing off against Statham's Lee Christmas in the film, according to Statham's Instagram.
Of course, these are still early days for the project, so we totally expect more "Expendables" veterans to return, and we'll keep an eye out for any exciting newcomers who might join the project.
Face/Off 2 – TBA
As bizarre action movie premises go, it doesn't get much weirder than the original "Face/Off," which starred Nicolas Cage and John Travolta as a terrorist and an FBI agent, respectively, who literally swap faces via a gnarly surgery in order to each take the other's place. Yet even though (spoiler alert) Cage's villainous Castor Troy is killed at the end of the first film, a direct sequel is now in the works from filmmakers Adam Wingard and Simon Barrett. While original reports assumed that the new "Face/Off" film would be a reboot with a totally new cast taking on the story, Barrett and Wingard were quick to clarify on social media that they had no intention of reimagining the original, which Wingard wrote was "a perfect action movie."
Wingard and Barrett have previously worked together on pulse-pounding films such as "You're Next" and "The Guest," suggesting they're more than capable of taking on the violently wacky tone of a "Face/Off" sequel. Speaking to the Associated Press, Cage expressed enthusiasm at the possibility of reprising his role for the sequel, saying, "I would love to get back into that character and to work with Travolta," adding that the first film was "such a fun movie to make." Of course, with Troy dead at the end of the first film, bringing back the original stars could be tricky. But on the other hand, there's no rule that either Cage or Travolta would have to play their original characters in order to return, especially in a film all about people wearing faces that don't belong to them.
G.I. Joe 3 – TBA
Although a "G.I. Joe" spinoff titled "Snake Eyes," starring Henry Golding, was delayed from its intended 2020 release to July 23, 2021 due to the coronavirus pandemic, that hasn't stopped Paramount from moving forward with yet another "G.I. Joe" sequel. The next film in the "G.I. Joe" universe will be scripted by writers Joe Shrapnel and Anna Waterhouse, who most recently penned the Kristen Stewart political thriller "Seberg." In the film, Stewart starred as real-life actress Jean Seberg, who was targeted by the FBI COINTELPRO project in retaliation for her support of the Black Panther Party.
While no plot or casting details for the third "G.I. Joe" film have been confirmed, back in 2018 it was reported that the title would be "G.I. Joe: Ever Vigilant," and that it would star Dwayne Johnson, reprising his role from "G.I. Joe: Retaliation." Also rumored to be included in the third film were the characters Daina Janack, Dr. Adele Burkhart, Wild Bill, Barbecue, General Flagg, Doc, and Keel-Haul, with the main antagonists being Tomax and Xamot.
Of course, at the time that those details were announced, "Mission Impossible: Ghost Protocol" writers Josh Appelbaum and Andre Nemec were also attached to write the script, which is no longer the case. With the script changing hands, it's very possible that none of the other previously announced details, including Johnson's involvement and the rumored character list, are still true. However, producer Lorenzo di Bonaventura assured EW in 2021 that "G.I. Joe 3" was still in the works. "We want to get it right," Bonaventura said. "How fast? There's always a question, but no, there's absolutely a commitment from Paramount to get another Joe up and running."
Gladiator 2 – TBA
We thought this day would never come, but it looks like Ridley Scott is heading back to ancient Rome. Nearly 20 years after the original "Gladiator" hit theaters, Scott is finally making a sequel to the story of Maximus Decimus Meridius. Of course, old Maximus is busy walking through wheat fields in heaven, so what's the sequel going to be about?
Well, according to producer Walter F. Parkes, the film is going to start about 25 to 30 years after the original ended. And according to The Hollywood Reporter, part two will focus on Lucius, the son of Maximus' old flame, Lucilla. While Spencer Treat Clark played Lucius in the first film, we don't know if he's going to reprise his role for "Gladiator 2." (We're thinking probably not.) However, it does sound like Connie Nielsen, who played Lucilla, could come back. Speaking to Collider, Nielsen said that the sequel was still "on the ledger," and when asked if she'd be willing to return as Lucilla, she said, "It would obviously be amazing, and I know that a lot of people want to see more of that."
Peter Craig will be working on the screenplay, whose previous credits include "The Town," both "Mockingjay" movies, and the upcoming "Top Gun" sequel. And in October 2021, Ridley Scott told Empire that the script is currently being written, and that once he's done making his new Napoleon movie, "Kitbag," "Gladiator 2" will be next on his to-do list. And with Scott at the helm, we're pretty sure we'll be entertained.
Gremlins 3 – TBA
It's been more than 30 years since we last saw the fuzzy little nightmare friends who can only be fed after midnight at the owner's peril, but now it sounds like there's a chance that the gremlins could return to theaters in a new horrific adventure. Original "Gremlins" director Chris Columbus has been working for a while on getting a third "Gremlins" off the ground (a sequel to the original movie, "Gremlins 2: The New Batch," was released in 1990), and he told Collider in November 2020 that it could still become a reality.
"I would love to do it," Columbus said of a third "Gremlins" film. "I wrote a script, so there is an existing script. We're working out some rights issues right now, so we're just trying to figure out when the best time to make that film would be. I would still do it the same way -– I would do it as tangible puppets, not CGI. Maybe having — you know we had one stop-motion scene in the first 'Gremlins,' but I don't think I'd use much CGI in 'Gremlins 3.'"
The "rights issues" that Columbus is referring to is Warner Bros., which gained the registered trademark of the name and franchise and subsequently greenlit an animated "Gremlins" series for HBO Max, "Gremlins: Secrets of the Mogwai." Whether the studio will also give the go-ahead to Columbus' "Gremlins 3" script remains to be seen, but we can only hope that Columbus will eventually get to see his vision come to life — as long as he keeps it away from water.
Has Fallen sequels – TBA
Gerard Butler just keeps on falling. Following the success of "Angel Has Fallen" in 2019, Millennium Media announced plans to keep the franchise going for a fourth, fifth, and sixth film, and possibly even more than that. Alan Siegel, president and CEO of Alan Siegel Entertainment, also said that there was a possibility of the franchise spawning international TV series, which could introduce new characters that could then be brought into the film universe. Speaking at the American Film Market's finance conference in late 2019, Siegel explained, "If we do it in India, the star of that could come into 'Angel Has Fallen 4.' It could be a symbiotic relationship."
Regardless of what happens with future spinoffs and series, the next installment in the "Has Fallen" franchise will once again center around Gerard Butler's secret service agent Mike Banning, and it will be titled "Night Has Fallen." The action-heavy "Has Fallen" films focus on Butler's character as he attempts to thwart all manner of cataclysmic conspiracies. For example, "Angel Has Fallen" saw Banning racing to clear his name after being framed for an attack on the U.S. president (Morgan Freeman). And "Night Has Fallen" will reunite the creative team behind "Angel Has Fallen," bringing back Ric Roman Waugh to direct and Robert Mark Kamen to pen the script. Despite the studio's plans for many sequels, we don't have a solid release date yet for "Night Has Fallen," and with Gerard Butler now suing the producers of "Olympus Has Fallen" over their alleged failure to pay the actor his share of the profits on the film, there's no telling when we may see him fall again.
Insidious 5 – TBA
The long-running "Insidious" franchise is getting a fifth installment. And this time, franchise star Patrick Wilson will be settling into the director's chair.
The first two films follow a couple whose young son is haunted by otherworldly beings and what happens when the family fights back, while the third and fourth are prequels that focus on the psychic who aided the heroes of the first two films. "Insidious 5" will follow the son from the original movie, now a decade older, as he heads off to college.
"I'm honored and thrilled to be at the helm of the next 'Insidious' installment, which will provide an amazing chance to unpack everything the Lamberts went through a decade ago, as well as deal with the consequences of their choices," Wilson said in a statement regarding his directorial duties for "Insidious 5." "Directing the movie is both professionally and personally a full circle moment for me, and I am extremely grateful to be entrusted in continuing to tell this frightening and haunting story. Into the further we go…"
"The further" refers to the demonic realm that houses the entities which haunt the characters in the "Insidious" films. The script for "Insidious 5" was penned by Scott Teems and based on a story by Leigh Wannell, who wrote the first four "Insidious" films.
Jump Street: Now For Her Pleasure – TBA
Although producer Phil Lord has said that the team behind the "Jump Street" movies is putting a pin in "23 Jump Street," which would mark the third outing for "21" and "22 Jump Street" stars Channing Tatum and Jonah Hill, the studio is moving forward with a spinoff of the comedy franchise, this time focusing on a female duo. The first two "Jump Street" films followed a pair of male cops who went undercover at educational institutions (high school in "21," college in "22") in order to ferret out elusive drug suppliers. Presumably, the plot of "Jump Street: Now For Her Pleasure" would be much in the same vein, and it would exist in the same universe as the existing "Jump Street" films, functioning as a continuation of the story started by officers Morton Schmidt and Greg Jenko in the first movie.
This time, the stars at the center of the "Jump Street" tale will reportedly be Tiffany Haddish and Zendaya, whom we assume will both be playing undercover narcotics officers, similar to Tatum and Hill's characters in the first two movies. After directing the first two "Jump Street" films, Chris Miller and Phil Lord will be stepping aside for this third outing, and Rodney Rothman is coming aboard to helm the "Jump Street" spinoff, collaborating on the script with "Bob's Burgers" writers Lizzie and Wendy Molyneux. Rothman previously helped write the screenplay for "22 Jump Street," and co-directed Lord and Miller's acclaimed animated film "Spider-Man: Into the Spider-Verse." No word yet on what the plot will entail or whether Schmidt or Jenko will make an appearance.
Kingpin 2 – TBA
For fans of the 1996 bowling comedy "Kingpin," you're in luck because a sequel is rolling down the pipeline. The original film featured Woody Harrelson as a former bowling prodigy who believes he's found his claim to fame when he discovers an Amish bowling superstar, played by Randy Quaid. It also starred Bill Murray as Harrelson's lifelong rival, as well as Vanessa Angel, Chris Elliott, Rob Moran, and Lin Shaye.
No details have yet been revealed about the sequel, other than that Peter and Bobby Farrelly, who directed the first film, will be back on board to produce "Kingpin 2." However, it's unclear whether the Farrelly brothers are intending to write or direct the sequel in addition to their producing duties. Similarly, none of the original cast is confirmed to be returning for the sequel, although fans would surely welcome another chance to see Harrelson and Murray unite on the big screen.
Kingsman sequels – TBA
Although "The King's Man," the third film in the Kingsman franchise is slated for December 22, 2021, that hasn't stopped the studio behind the edgy action franchise from looking far into the future of the series. Marv, the production company responsible for the "Kingsman" films, is making ambitious plans for a whopping seven more "Kingsman" installments — a tall order by any measure but especially considering the second film was much more poorly received than the first, currently sitting at an unimpressive 51% on Rotten Tomatoes.
Still, the franchise already has built in plenty of room for more storytelling. While the first two "Kingsman" films starred Taron Egerton as newly minted British secret agent Eggsy, "The King's Man" is a prequel focused on the early days of the Kingsman agency. So while Marv is looking at seven more "Kingsman" films, it's possible some of them could be prequels or spinoffs following other characters, rather than direct sequels focused on Eggsy. So far, we've heard of a potential third Eggsy-centric film, possibly titled "Kingsman: The Blue Blood", and a spinoff focused on the American counterparts to the Kingsmen introduced in the second film, titled "Statesman." No release is yet scheduled for either of these films, nor any of the others, but it looks like we can expect plenty of "Kingsman" adventures for years to come.
Knives Out 2 and 3 – TBA
Although 2019's wildly fun whodunit "Knives Out" was written in a pretty self-contained way, telling the story of the affluent Thrombey family and how they dealt with the mysterious death of their patriarch Harlan Thrombey (Christopher Plummer), director Rian Johnson wasted no time in letting audiences know that he'd be open to a sequel, telling Collider, "If this movie does even okay, I will in a heartbeat make more of these with Daniel." As it turned out, "Knives Out" did a lot better than okay, bringing in more than $300 million worldwide and justifying not one but two sequels, which will go directly to Netflix.
The move to Netflix is a surprising one, considering that the first film was distributed theatrically through Lionsgate, but it was Johnson's call — along with his producing partner, Ram Bergman — to take the sequels directly to the streaming site. Both films will follow Daniel Craig's drawling private investigator, Benoit Blanc, but he'll be the only carryover from the first movie. Aside from Craig, Johnson says the "Knives Out" sequels will each feature a different cast, different setting, and a different donut-shaped mystery for Blanc to solve, similar to Agatha Christie's Hercule Poirot novels, which served as an inspiration for "Knives Out."
While no release date has been set for either "Knives Out" sequel, the ensemble cast is shaping up to be every bit as impressive as that of the first film, with Kathryn Hahn, Dave Bautista, Janelle Monae, Leslie Odom Jr., Edward Norton, Kate Hudson, Jessica Henwick, Madelyn Cline, Ethan Hawke, and Jada Pinkett Smith all signing on to appear in the second film, playing characters that, according to Bautista, "are even more quirky than the [characters in the] first one." Bautista also boldly stated that he believes "Knives Out 2" will be "as good, if not better, than the first one," and that "people are really going to dig this."
Labyrinth 2 – TBA
Jim Henson's cult classic fantasy "Labyrinth" has a diehard following thanks to its fantastical and creepy storytelling, Henson's imaginative creature creations, and of course, an iconic performance from David Bowie as Jareth the Goblin King. Making a sequel to Henson's final feature film seems like a pretty intimidating task, but the Jim Henson Company feels up to the task.
News of the "Labyrinth" sequel first broke in 2017, with "Don't Breathe" filmmaker Fede Alvarez attached to direct. However, Alvarez announced in April of 2020 that he'd decided to step away from the film, telling Bloody Disgusting, "I just decided I didn't want to do things as a director that people knew already what it was. Or have a preconceived notion of how it should look on the screen. So "Labyrinth" would be something that people would judge that way, so I decided not to do it."
The project didn't stay rudderless for long, though. In May of 2020, Deadline reported that "Doctor Strange" director Scott Derrickson has stepped in to helm the highly anticipated sequel. Maggie Levin, the writer and director of "Into the Dark," will be writing the screenplay. While we don't yet have any details on the story that will bring us back into the world of "Labyrinth," back when Alvarez was attached to direct, project insiders confirmed to THR that the sequel would indeed be a continuation of the story that began in the original film, but that the character of the Goblin King would not be making an appearance.
The Last Starfighters – TBA
Despite the better part of four decades having passed since "The Last Starfighter" first wowed audiences, the time may actually be ideal for a sequel to the film about a teenager who beats a video game, only to discover that the game was really a recruiting tool in order to find soldiers to fight in an interstellar alien war. Video games have changed a lot since then, which could present a natural way to continue the story. Speaking to Moviehole, Jonathan Betuel, the writer of the original film, said of the sequel, "It's not a remake. It's going to continue the story. What's changed is time itself, certainly as the video world and the alien world have continued to tick away. It's not a time capsule of the '80s by any means, we're taking it to the next level. Passing the torch … or the joystick."
Betuel will be co-writing the sequel, titled "The Last Starfighters," with "Rogue One: A Star Wars Story" screenwriter Gary Whitta. In March 2021, Whitta tweeted a sizzle reel that hints at the plot of the film, which would involve an alien attempting to assassinate an adult Alex, the protagonist of the first film, and Alex then heading off into space to get to the bottom of what's going on. According to Betuel, the road to making a sequel has been a rocky one that's taken years, but he's optimistic it will finally get off the ground. "It looks like we'll be making the deal to get it going," Betuel said toMoviehole in 2020. "Gary's a gifted collaborator, we'll be writing the script together, but it's taken a long time. I had to go through a process that took years to recapture the rights, but that was recently completed, and although nothing is ever clear sailing, it looks like we have a really good opportunity now. So I'm really looking forward to taking it up."
So while the sequel still has a long path to travel before it makes it to theaters, Betuel is hopeful it will get there.
The Last Witch Hunter 2 – TBA
When the Vin Diesel-starring fantasy action film "The Last Witch Hunter" was released in 2015, it was far from a box office or critical smash. Commercially, the film performed significantly under expectations, and reviews were mostly abysmal, with Rotten Tomatoes summarizing it as "grim, plodding, and an overall ill fit for Vin Diesel's particular charms." All the pieces seem to add up to "The Last Witch Hunter" quietly fading into oblivion, yet according to Diesel, his immortal character Kaulder may be embarking on another witchy adventure after all.
"Lionsgate is coming and saying, 'We're putting a writer on for the next one.' That's kinda cool!" Diesel revealed during an interview with Collider. "And this is just recent, by the way. But it's funny that you mentioned 'Last Witch Hunter' because I'm in a meeting with Lionsgate and they're actively creating the sequel to 'The Last Witch Hunter.'"
The first film starred Diesel as a warrior cursed with immortality after slaying the Witch Queen in the 13th century, and Michael Caine as the "Dolan," a modern-day priest tasked with helping keep the peace between witches and humans. While it sounds like Diesel is sure to return for the sequel, there's no word yet on whether Caine or any of the other original cast will be making an appearance.
Lethal Weapon 5 – TBA
Since the first "Lethal Weapon" hit theaters in 1987, introducing audiences to the buddy cop duo of Riggs (Mel Gibson) and Murtaugh (Danny Glover), it has spawned three sequels and a television series. However, with no new "Lethal Weapon" films since "Lethal Weapon 4" in 1998, it was still a surprise to learn at the beginning of 2020 that Warner Bros. intended to reinvigorate the franchise with a new entry.
Prior to the death of acclaimed director Richard Donner — who directed the first four "Lethal Weapon" films in addition to numerous other beloved films, including "Superman" and "The Goonies" — producer Dan Lin said that the fifth film was particularly special to Donner, who at the time was attached to direct. "We're trying to make the last 'Lethal Weapon' movie," Lin told The Hollywood Reporter in 2020. "Donner's coming back. The original cast is coming back. And it's just amazing. The story itself is very personal to him and to the cast, and so I really want to make that one." Lin also produced the "Lethal Weapon" television series and claimed that "Lethal Weapon 5" will be a continuation of the existing films, with Glover and Gibson both set to reprise their roles.
Of course, none of that may pan out now, as Donner passed away in 2021. However, in the wake of the filmmaker's death, Mel Gibson has confirmed that he is in talks to take over directorial duties, although a deal has not yet been reached, following third-party speculation that he could step into the role.
The Lion King 2 – TBA
After the massive commercial success of Disney's photo-realistic remake of "The Lion King," it seemed like only a matter of time until a sequel was announced. However, the person taking over the directorial reins from Jon Favreau for "The Lion King 2" is probably not a name most people would have expected to hear: Barry Jenkins, the Academy Award-winning writer and director best known for making poignant dramas with strong racial themes, including "Moonlight" and "If Beale Street Could Talk."
Jenkins won't be writing "The Lion King 2," but he'll instead be working from a script by Jeff Nathanson, who also penned the first "Lion King." While no specific details of the plot have been revealed, we know that "The Lion King 2" will be a prequel to the first film, following Mufasa (played by Aaron Pierre of "The Underground Railroad") and Scar in their younger years. It will also introduce a number of new characters, who are reportedly named Adah, Horatio, Elijah, Celia, Kaliban, Cardi, Zola, and someone named Taka, voiced by Kelvin Harrison Jr. ("The Trial of the Chicago 7"). However, no further information has been provided about these characters, including what types of animals they are or whose side they might be on.
Although "The Lion King 2" seems like an outlier in Jenkins' filmography, the director sounds excited about working on the sequel for Disney, saying, "Having the opportunity to work with Disney on expanding this magnificent tale of friendship, love and legacy while furthering my work chronicling the lives and souls of folk within the African diaspora is a dream come true."
Magic Mike's Last Dance – TBA
Probably not many predicted back in 2012 that the Channing Tatum-led, semi-autobiographical stripper film "Magic Mike" would go on to spawn a successful trilogy, but the magic is set to continue in "Magic Mike's Last Dance." Original director Steven Soderbergh is returning to the director's chair, and Tatum will reprise his role as Mike Lane. While the first "Magic Mike" centered around a teen played by Alex Pettyfer first entering the world of stripping, Tatum's Mike took center stage in the 2015 sequel, "Magic Mike XXL," which saw a retired Mike donning his rip-away pants once more to join his friends on a road trip to a stripping convention in Myrtle Beach.
The plot of "Magic Mike's Last Dance" is still under wraps, but based on the title, we assume it will once again find Mike looking to retire from his stripping career (but not before getting in at least a few final lap dances). Like the first two films, "Last Dance" has been penned by Reid Carolin, and Gregory Jacobs, who directed "XXL," is acting as a producer this time around. We don't yet know whether any of Mike's friends from either of the first two films — which also included Matt Bomer, Joe Manganiello, and Matthew McConaughey — will be showing up for the threequel, but we know that Thandiwe Newton is in talks to play the female lead of the film, who will most likely help Mike Lane's last magic dance be the best it can be.
Mallrats 2: Twilight of the Mallrats – TBA
Along with "Clerks 3," another Kevin Smith script that got polished up while social distancing in 2020 is the sequel to 1995's "Mallrats," which he penned under the working title "Twilight of the Mallrats." The plot of the original film pivots around a dating game show being filmed at a shopping mall, and stars Jeremy London, Jason Lee, Claire Forlani, Shannen Doherty, Ben Affleck, and Michael Rooker.
This time, instead of a game show, the plot will focus on some sort of convention taking place at the mall. According to Smith, "The whole thing is, there's a big convention at the mall, so there's plenty of places and opportunities [for things to happen]."
Of the original cast, while Shannen Doherty was the first actor confirmed to be returning, Smith has since revealed that the entire main cast of the first film will be appearing in the second. "Everybody comes back," he told ComicBook.com. He even confirmed that iconic comic book creator Stan Lee, who passed away in 2018, will have a scene to parallel his cameo in the first movie. "The thing I feel most clever about in regard to the movie, obviously one of us can't come back, right? Stan's gone. So, there is a Stan Lee scene, and it makes absolute perfect sense," Smith said. "And when you see it, it'll f***ing break your heart and make you cry and while you're laughing. It is so like, I'm not saying I'm clever, but it's f***ing clever. And I get to pull it off without bringing in somebody that's not part of the family, so to speak. It's pretty damn wonderful."
Joining them for "Twilight of the Mallrats" will be newcomer Aparna Brielle, whom Smith says will be at the center of the sequel — which he hopes to begin shooting soon. "I was so impressed with [Brielle], I built my next flick around her," Smith tweeted. "Aparna will play [Lee's character] Brodie Bruce's daughter Banner Bruce in the movie I hope to shoot next – TWILIGHT OF THE MALLRATS."
The Meg 2 – TBA
When "The Meg" swam into the public consciousness, some might've scoffed at this ridiculous-sounding "Jaws" ripoff. But this megalodon movie earned some serious coin at the box office, drawing $528 million worldwide against its $130 million budget. After all, this is a movie where Jason Statham goes to war with a gigantic shark. Who doesn't want to see that?
After audiences went into a feeding frenzy for the film, plans were almost immediately set in motion for a sequel. In October 2020, Warner Bros. confirmed that "Rebecca" and "High Rise" filmmaker Ben Wheatley will be helming the shark-tastic sequel. We don't really know what the plot will be, but since "The Meg" is actually based on a series of books by Steve Alten, the sequel might draw on the next novel, which involves an even bigger shark, as well as the giant, crocodile-like Kronosaurus. The latest script for "The Meg 2" was written by Jon and Erich Hoeber working off a draft by Dean Georgaris, all of whom shared writing credit on the first film. And filming for this crazy sequel starts in January 2022.
Midnight Run 2 – TBA
More than 30 years after the original hit theaters, the action-comedy "Midnight Run" is getting a sequel. The original film starred Robert De Niro as a bounty hunter in pursuit of a former Mafia accountant, played by the late Charles Grodin, after the latter skips bail. The road trip comedy sees the two travel together across the U.S. while evading both the FBI and the mob. When the film was released in 1988, it did well with audiences and critics alike and led to several direct-to-TV sequels without De Niro or Grodin. However, with De Niro acting as producer for the new "Midnight Run," hope remains that he may reprise his role as Jack Walsh.
The sequel will star Regina Hall, although the story is still under wraps. At one point in the early 2010s, there was discussion of a sequel centered around De Niro's bounty hunter pursuing a new, younger character, but it's unclear whether that will be the premise of this film. "Midnight Run 2" will be written by "Brooklyn Nine-Nine" scribe Aeysha Carr, but with no news yet on a director or additional cast, it's still unclear when we can expect to see it hit screens.
My Spy 2 – TBA
One of the early theatrical casualties of the coronavirus pandemic was the Dave Bautista comedy "My Spy," which paired him with nine-year-old Chloe Coleman as the tiny, precocious foil to Bautista's tough-as-nails spy. The film was originally supposed to premiere in theaters on April 17, 2020, but ended up pivoting to a streaming release once most theaters shut down due to the pandemic. "My Spy" ultimately wound up premiering in the United States on Amazon Prime on June 26, although it did enjoy a theatrical release in several other countries.
Despite being forced to alter its original plan, "My Spy" did well enough on Prime Video that the streamer is now exploring possibilities for a sequel, which would bring back Bautista, Coleman, and director Peter Segal. "My Spy" follows JJ (Bautista), a CIA operative who gets demoted to surveil a family whom the CIA suspects are in possession of construction plans for a nuclear bomb. The family's young daughter catches on to JJ's plan, and in exchange for not blowing his cover, convinces him to teach her how to be a spy. Nothing about the sequel is official yet, including what the plot might be, but it's safe to assume it would find JJ and Sophie teaming up again for a brand new spy caper.
National Treasure 3 – TBA
Some films get theatrical or streaming sequels while others get turned into TV series, but if you're the Nicolas Cage treasure hunting film "National Treasure," you get both. The long-awaited threequel to 2004's "National Treasure" and 2007's "National Treasure: Book of Secrets" seems to finally be moving forward at Disney, tapping "Bad Boys 4" scribe Chris Bremner to write the script. But that's not all; "National Treasure" will also find new life as a Disney+ TV series, which producer Jerry Bruckheimer says is currently in the development process.
While "National Treasure 3" is expected to reunite the cast from the first two films, presumably including Diane Kruger, Justin Bartha, and of course, Cage as protagonist Benjamin Franklin Gates, the TV series will follow a young woman named Jess (Lisette Alexis) "who embarks on the adventure of a lifetime to uncover the truth about the past and save a lost Pan-American treasure," according to Deadline. Serving as one of the executive producers for the series is Jon Turteltaub, who helmed both of the first two films and is expected to direct the third as well. Although the Disney+ series is currently further along in the development pipeline, with production set to start in early 2022, Bruckheimer says he's hopeful that both projects will ultimately come to fruition, delivering a veritable treasure trove of new "National Treasure" adventures.
Now You See Me 3 – TBA
Abracadabra, another "Now You See Me" is in the works. The newest take on the magician-heist franchise will be penned by "Top Gun: Maverick" writer Eric Warren Singer, who will reportedly introduce new characters into the illusion-filled world of the films while also bringing back the original cast. Released in 2013, the first "Now You See Me" starred Jesse Eisenberg, Woody Harrelson, Isla Fisher, and Dave Franco as a group of magicians who banded together to pull off an elaborate heist in order to earn entrance to an elite secret society.
In "Now You See Me 2," Fisher exited, and a new "Fourth Horseman" was introduced, played by Lizzy Caplan. Both films also featured characters played by Mark Ruffalo, Michael Caine, and Morgan Freeman, and the second film brought in Daniel Radcliffe as its charismatic antagonist. The story for the third film has yet to be revealed, but according to Lionsgate Motion Picture Group president Nathan Kahane, we can expect a new and surprising narrative that keeps us on our toes. "The 'Now You See Me' franchise has been built on keeping the audience surprised and guessing," Kahane said. "Any great magician knows, you can't keep doing the same tricks. And Eric [Singer] and his team of illusionists have something special up their sleeve for this new film."
The Old Guard 2 – TBA
With the open-ended conclusion of the 2020 Charlize Theron action hit "The Old Guard," it seemed as though the film was begging for a sequel. Sure enough, "The Old Guard 2" is in the works for Netflix, which will bring back star Charlize Theron as Andy, the millennia-old mercenary who, in the first film, realized her immortality was finally beginning to wane. Also returning will be Marwan Kenzari and Luca Marinelli, who played Joe and Nicky, respectively, life partners for centuries who were also part of Andy's group.
Production is set to start in the first quarter of 2022, with Victoria Mahoney attached to direct, and while no plot details have been released yet, the first film set up some intriguing possibilities. Spoiler alert – After betraying the other members of their group and being punished with a century of exile, Booker (Matthias Schoenaerts) comes face to face with Quynh (Veronica Ngo), a former member of their immortal squad who they had thought was lost forever at the bottom of the ocean. Although Quynh used to be Andy's closest ally, who knows whose side she'll be on now after centuries of drowning over and over.
Paddington 3 – TBA
If anyone would have predicted in the early 2010s that one of the most universally beloved and critically acclaimed franchises of the decade would center around a marmalade-loving CGI bear, people would have likely dismissed them as living in a fantasy world. Yet the two existing "Paddington" films managed to enrapture critics and audiences alike, with the second film still sitting at 100% on Rotten Tomatoes two years after its release. Viewers can't seem to get enough of the sweet-natured bear and his kind-hearted family, so it's only fitting that a third "Paddington" is on the way.
However, while the first two "Paddington" films were helmed by director Paul King, the third will have to find its way without him. King will be staying on as executive producer and called directing the first two films "one of the great treats of my life," but he's decided to step away from the director's chair for "Paddington 3," telling Empire Magazine, "At some point, you just have to stop. It might be time for somebody else to do a twist on it."
Who that someone will be is still up in the air, although King did reveal that the script has already been written and keeps the door open for even more sequels. "It's not like Paddington dies at the end," King said of the possibility for future adventures. "He doesn't ascend into the sky on a rocket-powered marmalade jar."
The Passion of the Christ: Resurrection – TBA
Mel Gibson's "The Passion of the Christ" focuses on the last hours of Jesus Christ's life, following the holy man as he undergoes torture after torture before his death on a cross. It isn't exactly an upbeat film, but despite the gore, "The Passion" became the highest-grossing R-rated film in U.S. history. With that kind of money involved, it's easy to see why Gibson is interested in a part two. Back in June 2016, it was reported that "Braveheart" scribe Randall Wallace was working on the screenplay for the sequel, which Gibson said would be a "huge undertaking" called "The Resurrection."
In November 2016, Gibson gave some additional plot details on "The Late Show with Stephen Colbert." If you're familiar with the New Testament, then you know Christ's resurrection only takes a couple of pages, and there aren't any really dramatic low points or bad guys involved. When asked about the story, Gibson said the film would focus on Jesus' descent into Hell, where the Bible says he spent three days before returning to Earth.
Despite being two decades older than he was when he originally portrayed Jesus Christ (who most scholars believe was 33 at his death), Jim Caviezel (who's now over 50) will be returning for the sequel, and he's gone on the record as saying, "The film [Gibson is] going to do is going to be the biggest film in history. It's that good." As of the fall of 2020, Caviezel said he was still reading through drafts of the script, and he appeared as excited as ever to battle demons in the afterlife.
Pet Sematary 2 – TBA
Although the Stephen King novel "Pet Sematary" ends pretty definitively, the same cannot be said for the 2019 film adaptation, which reimagined the ending to be a lot more open-ended. So it makes sense that "Pet Sematary 2" is now in the works from Paramount, which will be helmed by "Chaos Walking" scribe Lindsey Beer and will also be her directing debut. The film is set to skip theaters, debuting exclusively on the Paramount+ streaming service.
The 2019 film starred Jason Clarke and Amy Seimetz as parents who discover a small cemetery (with a misspelled sign reading "Pet Sematary," hence the title) near their new house. After their cat is hit by a car and killed, they bury him in the cemetery, only for him to shockingly come back to life. Of course, everything goes downhill from there when one of their young children is accidentally killed, presenting the couple with a horrifying decision. The second "Pet Sematary" film will be a prequel, providing an origin story for the supernatural cemetery. The cast will include Jackson White, Forrest Goodluck, Jack Mulhern, Natalie Alyn Lind, Isabella Star LeBlanc, and the legendary Pam Grier. As for White, he'll be playing a younger version of Jud Crandall, the ill-fated character who was portrayed by John Lithgow in the 2019 film.
RoboCop Returns – TBA
Your move, creeps. RoboCop is back. According to Deadline, the cyborg star is returning to the big screen, although it seems this new film is going to mess around with the continuity. The original "RoboCop" was directed by Paul Verhoeven, and it made quite a killing when it was released in 1987. After two sequels starring original actor Peter Weller, the franchise was rebooted in 2014, with actor Joel Kinnaman and director Jose Padilha.
The latest entry in the franchise will be called "RoboCop Returns" and will feature a fresh cast. Though Neill Blomkamp was initially attached to direct, he announced in August 2019 that scheduling conflicts had forced him to depart the project, tweeting that he was "excited to watch it in theaters with other fans." In November 2019, Orion Pictures announced that "Little Monsters" director Abe Forsythe had taken up the helm of "RoboCop Returns." The screenplay for "RoboCop Returns" was originally penned in 1998 by Ed Neumeier and Michael Miner, the same scribes behind the first film, and it will receive a rewrite from Forsythe.
Of Forsythe's version of the script, Neumeier had nothing but good things to say, telling Syfy Wire, "I didn't want to say too much [about what the script should be], I wanted him to have the ideas and not worry about any other version of it, including ours, and just do his own thing. It was very nice to be able to say that to someone like Abe with confidence. What he came back with was really interesting, it felt relevant and really crackled."
Scary Stories to Tell in the Dark 2 – TBA
For anyone who spent their childhood staying up late at night reading the spine-tingling "Scary Stories to Tell in the Dark" short story collections by Alvin Schwartz and illustrator Stephen Gammell, the news that master horror filmmaker Guillermo del Toro was adapting some of those stories into a feature film was likely creepy music to their ears. The "Scary Stories to Tell in the Dark" film, which was created from a screen story co-written by del Toro, Patrick Melton, and Marcus Dunstan and directed by André Øvredal, arrived in 2019, weaving a number of the chilling short stories from the books into a single narrative.
The film was a success, receiving mostly positive reviews and performing respectably at the box office. In April 2020, a sequel was officially announced, which would reunite Øvredal, del Toro, and brothers Dan and Kevin Hageman, who contributed to the final script for the first film. Set in 1968, "Scary Stories to Tell in the Dark" followed a group of teens who are horrified to realize that the terrifying stories written in a book they found are becoming a reality. Of the sequel, Øvredal told Collider, "I do think that we'll tap even more into [illustrator Stephen] Gammell's visual world in the sequel than we did in the first movie," referring to the iconically creepy illustrations included in the books.
Once again, del Toro will be crafting the story for the second film, although he hasn't revealed yet whether "Scary Stories to Tell in the Dark 2" will continue the story that began in the first film — which left the door wide open for a sequel — or if it will follow brand new characters and events unrelated to the first film.
Searching 2 – TBA
In 2018, "Searching" offered audiences a tight, tense thriller about a desperate father frantically trying to locate his missing daughter, told entirely through screens. Using phones, computer monitors, and televisions, "Searching" managed to weave the everyday technology used by its main characters into its central narrative, turning what could've been an eye-rolling gimmick into a compelling storytelling device. However, the mystery told in "Searching" felt pretty definitively concluded by the end of the film, which makes the idea of a sequel somewhat surprising.
And yet that's what we're getting, with Deadline reporting in August of 2019 that "Searching 2" is in the works. It will mark the directorial debut of Will Merrick and Nick Johnson, who edited the original film and will also be penning part two. But before you worry that making a sequel to the innovative thriller — whose plot relied heavily on chance — pushes the boundaries of plausibility, rest assured that this follow-up won't be hurling John Cho's David Kim into an improbable scenario. "Searching 2" will feature a new mystery featuring an entirely new cast of characters. In response to the sequel news on Twitter, producer Aneesh Chaganty wrote, "It's true. But note: the story will not follow the same characters or plot line as the first. Most importantly, we see this as an opportunity to tell another original, tech-driven thriller."
While there's still no word on when we can expect to see "Searching 2" or what its plot will be, "Euphoria" and "A Wrinkle in Time" star Storm Reid will play the lead in the tech-driven sequel, and she'll be accompanied by the likes of Nia Long, Ken Leung, Joaquim de Almeida, and Amy Landecker, among others.
Sister Act 3 – TBA
In an act of divine providence — or just Hollywood nostalgia — it looks like Sister Mary Clarence will be donning her habit once again. Whoopi Goldberg announced on "The Late Late Show with James Corden" that "Sister Act 3" is finally in the works, after years of being told that there was no interest in a threequel. The film, which will premiere on Disney+, was confirmed by Disney at their 2020 Investor Day event. Goldberg will indeed be returning as both star and producer, with Tyler Perry also coming on board to produce, Madhuri Shekar signing on to pen the script, and "High School Musical: The Musical: The Series" creator Tim Federle attached to direct.
Released in 1992, the first "Sister Act" saw Goldberg play Deloris Van Cartier, a lounge singer who goes into witness protection at a convent after witnessing a murder. There, in the guise of a nun named Sister Mary Clarence, Deloris transforms the convent's humdrum choir into an upbeat musical sensation. "Sister Act" got a sequel in 1993 with "Sister Act 2: Back in the Habit," which found Deloris stepping in as a music teacher for a group of low-achieving students at a Catholic school. Once again, she turned the struggling music program around into a high-energy phenomenon. Goldberg suggested in her profile for Variety in 2021 that we could even possibly see some of those kids again. "Maybe there's gonna be some of the kids [from 'Sister Act 2']," Goldberg teased. "Who can say?"
The first two "Sister Act" films also featured Maggie Smith, Kathy Najimy, and Wendy Makkena. While there's no word yet on whether any of them will be reprising their roles for the third film, it's hard to imagine a new "Sister Act" movie without them. Goldberg seems to agree, telling Cordon, "We're working diligently to try to figure out how to get the gang together and come back."
The Social Network 2
Released in 2010, the Aaron Sorkin-penned drama "The Social Network," chronicling the early days of Facebook, went on to receive tremendous critical success and win three Oscars for its screenplay, editing, and score. Now, a decade later, Sorkin is eager to return to the tech empire of Mark Zuckerberg, this time looking into what Facebook has become and the role it plays in modern politics. Speaking to MTV's "Happy Sad Confused" podcast about the possibility of a "Social Network" sequel, Sorkin said, "I do want to see it. And [producer Scott Rudin] wants to see it. People have been talking to me about it because of what we've discovered is the dark side of Facebook."
However, although Sorkin and Rudin seem to be on board, there's one thing that could still stand in the way of "The Social Network 2" becoming a reality: a commitment from director David Fincher. "I will only write it if David directs it," Sorkin said. "If Billy Wilder came back from the grave and said he wanted to direct it, I'd say I'd only do it with David."
In addition to Jesse Eisenberg, who starred as Mark Zuckerberg, "The Social Network" starred Andrew Garfield as Eduardo Saverin, Armie Hammer as Cameron and Tyler Winklevoss, Max Minghella as Divya Narendra, and Justin Timberlake as Sean Parker. Although it's safe to assume that "The Social Network 2" would see the return of Eisenberg, there's no knowing which, if any, of the other high-caliber cast members of the first film might make an appearance in the sequel.
Spiral 2 – TBA
Ahead of the release of "Spiral: From the Book of Saw," the ninth installment in the "Saw" horror franchise, star Chris Rock was already campaigning for a sequel. Speaking to RadioTimes.com, Rock said, "I hope this movie is like 'Creed.' In the sense that 'Creed' is technically like 'Rocky 7.' So, hopefully there's more 'Spirals,' and hopefully, I'm in more 'Spirals.' But, we'll see. We'll see if people like it. We'll see if people turn out."
People have indeed turned out, with "Spiral" pushing the horror franchise over the $1 billion mark at the global box office. However, on its own, the numbers for "Spiral" haven't been particularly impressive, although it's also not abysmal when compared to other horror films or when considering that it was released amid a very odd theatrical season due to the COVID-19 pandemic. And even without knowing how much "Spiral" would make, Bloody Disgusting reported ahead of release that Lionsgate was in active development on a tenth "Saw" film, although that hasn't yet been confirmed by the studio.
However, "Spiral" director Darren Lynn Bousman, who's also a veteran "Saw" franchise director, thinks Rock and fans may be getting ahead of themselves. "You know, I think a lot of that [sequel talk] is wishful thinking from the fans," he told RadioTimes.com. But he went on to say that a sequel wasn't out of the question. "[The producers of the 'Saw' films] are very smart creatives, as well as businessmen," he said. "And I think that, you know, if ['Spiral'] is successful, they'll continue it on. But if this has to be successful, fans have to embrace what this is. And if they do embrace it, I think they'll continue on as they have in the past."
Tomb Raider 2 – TBA
After two "Tomb Raider" films starring Angelina Jolie in 2001 and 2003, the franchise was rebooted in 2018 with Alicia Vikander in the lead role. Now, that new franchise is also getting a sequel, which was previously set to release March 19, 2021 but was then delayed indefinitely due to the COVID-19 pandemic. Vikander is set to reprise her role as Lara Croft, but after originally tapping Ben Wheatley in 2019 to direct from a script penned by his wife and frequent collaborator, Amy Jump, the studio pivoted in early 2021 to announce that "Tomb Raider 2" will be written and directed by "Lovecraft Country" showrunner Misha Green.
Adapted from the popular "Tomb Raider" video game series, the first film follows adventurous archaeologist Lara Croft as she journeys into perilous locations in search of her missing father. Although little is known about the plot of the sequel, the first film set up one possible storyline with its reveal that her father's former business partner, Ana Miller (Kristin Scott Thomas), heads up the very company that was set to release the world-ending virus that Croft prevented. The door is wide open for Thomas to return for the sequel, stepping more fully into the role of villain than she did in the first film.
The Tomorrow War 2 – TBA
Mere days after the 2021 Chris Pratt sci-fi action film "The Tomorrow War" dropped on Amazon Prime, Amazon Studios and Skydance were already talking about a sequel. The first film — which also starred Yvonne Strahovski, Betty Gilpin, Sam Richardson, Edwin Hodge, and J.K. Simmons — centered around Pratt's character, who's recruited as a soldier to travel to the future and fight a war to save humanity. The sequel would reportedly bring back the entire main cast, along with director Chris McKay and writer Zach Dean.
"The Tomorrow War" earned an enthusiastic reaction from Amazon Prime subscribers, who viewed it enough for it to debut as the number one film across streaming platforms over the July 4 holiday weekend. So it's no wonder that the studios would be eagerly circling a sequel, although no plans are confirmed yet. And while we don't yet know what the story of a potential "The Tomorrow War 2" would be, we have no doubt it will be just as thrilling and action-packed as the first film.
Tron 3 – TBA
Although the original "Tron" wasn't a big hit when it was released in 1982, it developed a growing cult following in the decades that followed, which ultimately proved big enough to warrant a sequel. "Tron: Legacy" premiered in 2010, starring Garrett Hedlund, Olivia Wilde, and original "Tron" star Jeff Bridges, reprising his role from the first film. "Tron: Legacy" did well enough to earn a sequel of its own, and "It Runs in the Family" writer Jesse Wigutow was brought aboard in 2012 to pen the script, after an earlier version of the screenplay was written by David DiGilio. However, Disney couldn't figure out how to best approach a new installment in the "Tron" story, and the project was put on hold.
Now, the third "Tron" film now appears to be moving forward again, with "Lion" director Garth Davis coming aboard to direct and Jared Leto attached to star. While Davis is not known for the type of big-budget, CGI-heavy filmmaking that a "Tron" film would require, insiders say that he fought for the job, eventually convincing Disney executives that he was the right person to bring the Grid back to life. As for Leto, he may have inadvertently revealed the title for the third "Tron" in a now-deleted tweet confirming his casting, referring to the film as "Tron: Ares." Although the project has yet to receive a green light, Davis' and Leto's involvement may signal a light at the end of the tunnel for the long-gestating threequel.
We Can Be Heroes 2 – TBA
Not long after the Christmas Day premiere of the 2020 superhero film "We Can Be Heroes" on Netflix, the streamer announced that a sequel was already on the way. Featuring characters from both "Spy Kids" and "The Adventures of Sharkboy and Lavagirl," "We Can Be Heroes" is a similar sort of family adventure film focusing on superpowered kids tasked with saving the day when the adults go missing. According to Netflix's own internal metrics, "We Can Be Heroes" was viewed by 44 million households during its first four weeks.
With such impressive numbers, it's no surprise that writer and director Robert Rodriguez was already planning the sequel by January. Speaking to Collider about the possibility of a part two, Rodriguez said, "I've already got ideas in mind because we'd have to jump right into it." The tight timeline is referring to how quickly kids grow up, meaning that the sequel would need to move into production rapidly in order to keep its young stars relatively the same age. So while we don't have an official timeline for "We Can Be Heroes 2" yet, rest assured that we won't be waiting long.
What We Do in the Shadows: We're Wolves – TBA
While he'd already won attention with movies like "Boy" and "Eagle vs. Shark," director Taika Waititi really broke into the cinematic consciousness with his supernatural mockumentary "What We Do in the Shadows." Starring Waititi and fellow New Zealander Jemaine Clement, this improv-heavy comedy tells the story of three vampire roommates just trying to get by (and get dinner) in the 21st century. The film wound up on multiple "best of the year" lists, and since then, Waititi has gone on to direct a little indie picture you've probably never heard of called "Thor: Ragnarok." But despite his new job with the Marvel Cinematic Universe (to which he will return for "Thor: Love and Thunder"), Waititi is still eyeing a return to the world of the undead.
In January 2016, Waititi told Crave Online that his "Shadows" sequel will focus on the werewolf pack led by actor Rhys Darby (werewolves, not swear-wolves). In fact, he's already got a clever title ready to go, saying, "It's going to be called 'We're Wolves,' like, 'We are wolves.'" In June, the director explained the plot would focus on a power struggle between Darby's alpha male and Stuart Rutherford's recently transformed computer programmer.
However, Waititi has explained that making "We're Wolves" is going to take a while. Speaking with IGN, the director said he was working on the story with Jemaine Clement, but "the Jemaine and Taika works is a very long and slow machine… We put an idea in one end, and it takes about six years to come out the other end. And sometimes it doesn't even come out." In other words, "We're Wolves" is still currently creeping its way through the creative "sausage maker," but if you need your "Shadows" fix sooner than later, then check out the spin-off shows set in the same universe: "Wellington Paranormal" and FX's "What We Do in the Shadows" series.
Young Guns 3 – TBA
Although it's been more than three decades since the first two "Young Guns" films hit theaters — which followed accounts of the life of Billy the Kid — it sounds like a third film in the series may be on its way, according to star Emilio Estevez. "Yeah, it's definitely in the works," Estevez said, when asked by Collider about the possibility of a "Young Guns" threequel in March 2021. "The Kid is a fun character to play. There's a lot of speculation about what happened that night, in 1881 in Fort Sumner, New Mexico. Did he die? Did he not? And so, there's a lot of mythical, historical, and actually some factual things that we can examine, if we're serious about going back to that franchise, as well."
The plot of a third "Young Guns" is a bit of a mystery, since the first "Young Guns" ended with the historical account of the death of Billy the Kid, and then the 1990 sequel was forced to walk that back. Whatever "Young Guns 3" looks like, "Young Guns" co-star Lou Diamond Phillips has already said he's on board if there's a role for him. "If they can make it happen, I'll be there," he told Forbes. The actor, who played the real-life outlaw José Chavez y Chavez in the film, said he's already had conversations about returning for the threequel. "I got that phone call a year ago," he said to Forbes in April 2021. "I know that Emilio has been working on it, and what's even more encouraging is that John Fusco, the creator of the first two movies, is working on it with him. There's just enough ambiguity about Chavez's death that means he might have survived just like Billy the Kid did."
In addition to Estevez and Phillips, the original cast of "Young Guns" included Kiefer Sutherland, Charlie Sheen, Dermot Mulroney, and Terence Stamp, but it's unknown which, if any, would return for a third film.