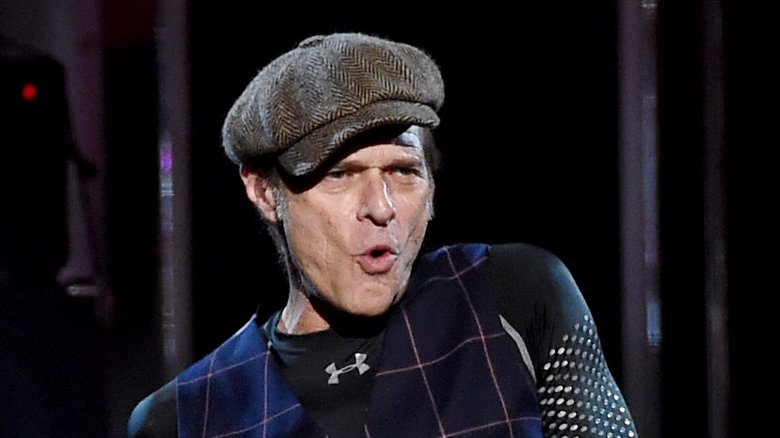 Van Halen jumped into the music scene in the late '70s, and the music scene didn't quite know what to do with them. Disco was huge, and punk bands considered huge rock bands like Led Zeppelin old hat. Yet the band was so good and so charismatic that they succeeded beyond their wildest dreams. Eddie Van Halen rewrote what was possible on the guitar with his signature tapping style, and front man David Lee Roth shimmied on stage while letting out some of the highest yelps you've ever heard.
Then suddenly, after six or seven years of infighting and differing visions of what the band should be, Roth was gone, embarking on his own huge solo career. Van Halen recruited ex-Montrose singer Sammy Hagar and continued their streak of success without much of a hiccup. Roth would actually return to the fold more than once in the following decades, showing that he and the brothers Van Halen are a very volatile mix. But what made Roth leave Van Halen in 1985, at the very height of their fame?
Eddie Van Halen is a bit of a nightmare to deal with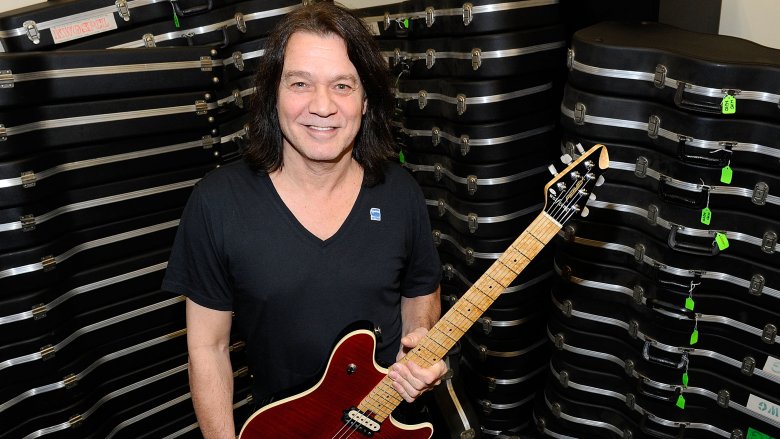 When you have a band named after you like Eddie Van Halen does, you probably want to have a say in the direction the music and image are headed in. That became more and more clear as their popularity surged, with Roth wanting to keep things loose and fun, and Eddie wanting to become more diverse and music-oriented. There was even more tension when Eddie built a studio for the band, leading Roth to believe Eddie was trying to wrest even more creative control for himself (which Eddie didn't deny).
The tour behind their massive 1984 album was where the friction between Eddie and Roth came to a head. And one thing that Eddie excels at is taking stabs at people after they've left the band. Once Roth departed, the barbs flew. When he discovered Roth was working on a movie prior to his Van Halen departure, Eddie publicly said that "Dave left to be a movie star" and that he even boldly asked if Eddie would write a score for him. Years later, after Sammy Hagar came and went, Eddie talked smack about his work ethic and described his songwriting as "cheesy." Eddie even went on the attack toward bassist and fan favorite Michael Anthony in 2015, saying he had to teach him every note he ever played. So being in a band with Eddie may not always be rainbows and sunshine.
A simple photo shoot became a metaphor for the band's issues
Imagine being a youngster in 1980, headed home from the record store with your very own copy of Van Halen's Women and Children First. You rip the plastic off, and inside the sleeve along with the vinyl itself is a poster of a shirtless David Lee Roth in an adult chains-and-leather costume. That's the kind of stuff that was making Eddie and David butt heads more and more. And the photo shoot behind the album was an even more frustrating affair.
David Lee Roth decided to take the reins when choosing the artist for Van Halen's third LP album cover, and eventually settled on Helmut Newton, a fashion photographer. Newton recalls that when he met Roth, the singer was clad in "leather everything." He must have impressed Newton with his look because the photographer agreed to shoot the band. The thing is, no one told the band about Newton. Nonetheless, Newton set up a shoot, and Roth was first in, immediately steering toward explicit things, like being chained to a fence. When the rest of Van Halen showed up, they were understandably taken aback, especially when it seemed the group photo shoot had started without the group. As far as Roth's vision for the imagery, the shot of him in chains was stuffed inside the record sleeve. Another photographer named Norman Seeff was hired to compose a more band-oriented cover.
Debauchery was rampant
When Van Halen toured opening up for Black Sabbath in 1978, they were on the upcrest of their meteoric rise. Sabbath, however, was declining both musically and physically. Drugs were partly to blame. What Van Halen could have taken from that cautionary tale was presumably obscured by their own drug excesses. One instance saw Roth and Ozzy Osbourne having a cocaine duel that ended with Ozzy missing for hours and a canceled gig. Van Halen became known for chugging Jack Daniels from the bottle during their shows. There's even a famous clip of Roth drunkenly addressing the crowd during their infamous US Festival show in 1983, before someone showed up on stage with a bottle of booze for the singer.
Other members of the band, like Eddie, would treat their burgeoning addictions more quietly. He would often get drunk or do coke privately, and use those as his muses. He said "the blow keeps you awake and the alcohol lowers your inhibitions," which showed that the ways the leaders of the band treated even substance abuse magnified their inherent differences. Roth was the type to get drunk onstage and hit on girls, and Eddie was the kind to sit in his room with his guitar.
Eddie's dream studio was a point of contention
Eddie Van Halen constructed the studio of his dreams for the band in 1983 with the help of producer Donn Landee, who helped engineer the first few Van Halen albums. He called his studio 5150, and every album the band did from then on was recorded there. That included 1984, the album that propelled the band into superstardom. But that album and the circumstances surrounding the band at the time would help push David Lee Roth to quit the band, and the actual studio itself was a major reason for his decision.
Roth believed Eddie had too much control of the overall creative process in the studio, and it turns out that's partly why Eddie built it. He hated the way previous Van Halen producer Ted Templeman made a record. Templeman loved having the band do cover songs, and Eddie wanted to make his own music. The producer turned a beloved riff of Eddie's into the Van Halen cover "Dancing in the Street," which was the last straw for Eddie. He no longer wanted to be known for singles or other people's hits, which featured on other early Van Halen records. Although Templeman would still help with the making of 1984, it was clear he was operating in Eddie's house now — almost literally, since the studio was so close to his home.
Eddie actually turned Roth down several times
Though Van Halen's debut album came out in 1978, their history actually goes back several years before that. They started off in 1972, calling themselves Genesis (which was taken), and then Mammoth. Eddie was actually the lead singer back then, and bassist Michael Anthony had not yet joined the fold. They rented their sound system from a singer in another local L.A.-area band. His name was David Lee Roth. Roth had failed several previous auditions to be the singer in Mammoth but was still renting his PA gear to them for a reported $50 a gig.
As luck would have it, Eddie was getting tired of being the lead singer and probably wanted to focus on his insane talents on guitar instead. He decided it would be cheaper to just ask Roth to join the band, as then he would have a rather nice two-for-one of singer and sound equipment. (In 1974, the band would officially change their name to Van Halen, which Roth takes credit for, saying the rest of the band wanted to name themselves after a Black Sabbath song.) It might sound crazy, but maybe getting asked to join a band because you own a sound system is not the best start to a long-lasting relationship.
A rumor about Eddie leaving to join Kiss didn't help matters
The more that gets revealed about Eddie Van Halen and David Lee Roth's relationship in the first iteration of Van Halen, the more it seems like an insane chess game between the two. One person who was hearing a lot of Eddie's side of things was Kiss bassist Gene Simmons, who actually got the band their first big break. Eddie kept telling his mentor how he and Roth were increasingly at odds, and around 1982, things apparently got bad enough that Eddie (according to Simmons) began asking to join Kiss. Gene said he persuaded him that it wouldn't be a good fit. Kiss guitarist Paul Stanley says it never came that close to actually happening, but they both agree that Eddie and David were not getting along at all, and it was becoming public knowledge.
The rumors of Eddie nearly joining Kiss are something Eddie downplays, saying even if the notion had been brought up, he likely would have been under the influence or joking. In his own autobiography, Roth seems to think it was a very real episode and that Simmons was actively trying to recruit Eddie for Kiss, even before 1982. When Eddie jammed with Gene once in 1977, several of those jams became Kiss songs, and Simmons even made Kiss bandmate Ace Frehley learn one of Van Halen's solos note-for-note for an album.
David Lee Roth's failed turn as a movie star
David Lee Roth already had a successful solo debut EP under his belt, 1985's Crazy From the Heat, before he decided to leave Van Halen. (Just a few months before, but still.) But the singer had his sights set on something bigger than music: He wanted to dip his toes into acting, and judging from his charismatic music videos from that era, he might have been able to pull it off. He already had a movie project in mind, and it would be a semi-autobiographical tale of a rock star named Dave (who else?) who gets into all sorts of shenanigans with his manager on the beaches of Dongo Island. Think Fear and Loathing in Las Vegas, but with bikinis.
Roth even kept Eddie Van Halen in mind to do the soundtrack, before the band folded officially in summer 1985. Eddie would decline the offer. Still, storyboards were drawn up, and a cast was assembled to begin production. Sadly, CBS, with whom Roth had the movie deal, was changing things up and canceled production of several upcoming movies, including Roth's pet project. He sued CBS and pocketed a settlement, but the movie was never made. You can, however, find the script online.
David and Eddie had differing visions for the band
David Lee Roth was a great self-promoter, and so his going solo in 1985 was probably inevitable. And part of what made him such a great front man was likely what made him and Eddie Van Halen butt heads so often. From Roth's desire to feature himself in the Women and Children First album art, to Eddie confiding in other rock stars how difficult things had become, it was clear that the future of the band and where it was headed musically were very much up in the air. It was driven home by a quote from Eddie to Rolling Stone in 1984, a full year before the band and Roth would part ways: "I'm a musician, Dave's a rock star."
Roth's partying ways on stage differed from Eddie's desire to huddle in his studio and write music. Warner Brothers art director Richard Seireeni, who was working with the band on album art, noticed the friction almost immediately upon beginning work with them. He saw Eddie and his brother, drummer Alex, and how much they hated Roth and his lust for the spotlight: "They saw themselves as the sound of the band," Seireeni observed. "From their perspective, they'd hired [Roth] just to be the voice of Van Halen." Eddie had a desire to make Van Halen as eclectic and well-rounded a band as possible, something he thought near-impossible with Roth.
Roth poked fun at Eddie's legendary "Beat It" solo
Michael Jackson was on top of the world already when he began crafting his Thriller album in 1982. He still felt he hadn't crossed over to the mainstream as much as he thought he should. That would change with Thriller, and one small part of the reason was Eddie Van Halen appearing on the song "Beat It." The crossover to other music audiences was huge, and having a guitar solo from one of the biggest rock stars on the planet surely helped.
But David Lee Roth couldn't help taking a jab at the famous musical collaboration. Some time after Thriller came out, Roth told Rolling Stone, "What did Edward do with Michael Jackson? He played the same solo he's been playing in this band for 10 years. Big deal!" Roth didn't love Eddie taking a gig outside the band in the first place (even though Eddie did it for free as a favor to producer Quincy Jones), but to take a shot at what is considered one of the biggest guitar breaks of all time on one of the biggest albums of all time shows the tense relationship the two Van Halen bandmates shared.
Their biggest hit was the beginning of the end
Van Halen's most famous album is probably 1984, released that same year. It was also the album where Roth and Eddie Van Halen realized how impossible their relationship had become. This was the first album Eddie and the band completed in their new homemade studio, 5150, and it's where Eddie stuck it to their longtime producer, Ted Templeman. Eddie wanted no cover tunes, something that Templeman had usually had them include prominently on previous albums. But no, this was Eddie's album, made in Eddie's studio.
The lead single from that album, "Jump," was a smash success. It seemed that Eddie knew what he was doing in his quest to control the producing of Van Halen albums. Roth noticed this and decided to concentrate his energies on the band's music videos. The video producer, Robert Lombard, shot a video that was very group-oriented and performance-based, and it's something that was copied for years for other band's videos. Lombard noticed the drama surrounding Roth immediately, as the singer wanted to dominate the shots and show himself on his hot rod or with scantily clad girls. When Lombard balked at the seemingly self-centered Roth, he was fired. He was paid for his work, and the video stayed the way it was, focusing on the band playing together. And "Jump" was given one of the first music video awards on MTV, though Lombard never received it.