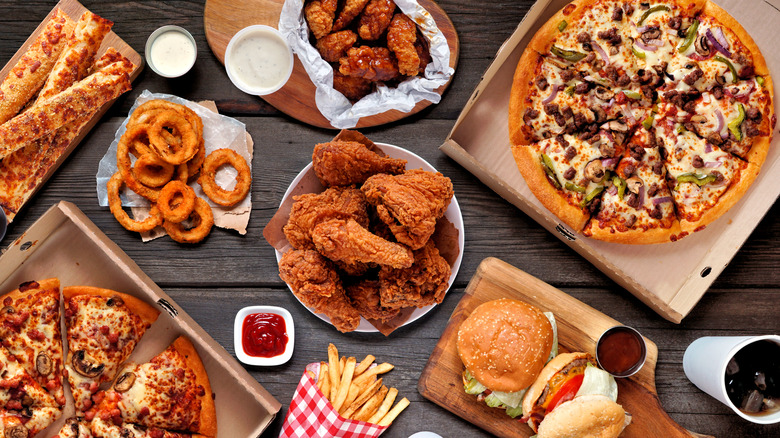 What's your go-to lunch order? Do you bring a lunch box to work or are you the type that dines out? While every day is different, packing a lunch is a great way to save money and choose healthier food options. However, no one is perfect, and sometimes you need a meal and you need it quickly. This is where fast food can be the perfect solution thanks to the convenient locations, typically low prices, drive-through lanes, and late hours. And quite frankly, it's delicious! However, fast food restaurants are not ideal when it comes to choosing healthier meals, as they tend to be high in saturated fat, cholesterol, sodium, and carbohydrates.
Nonetheless, there are often limited options for dining, and whether you are looking for a quick bite during your busy workday or driving across the country, fast food restaurants are always available when you need them. Instead of indulging in something you'd regret, or worse not eating altogether, we've compiled a list of 16 fast food orders that are surprisingly good for you.
1. McDonald's Egg McMuffin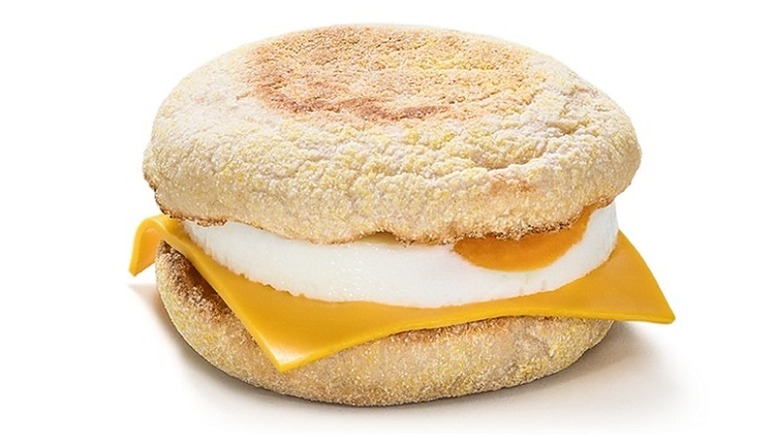 You probably weren't expecting to see McDonald's suggested among the restaurants with healthy fast food choices, but hear us out — it's all about how you customize your order. The various McDonald's breakfast options are delicious and quite popular, but one item in particular stands out as a healthy pick: McDonald's Egg McMuffin without meat.
When you order the Egg McMuffin minus the meat, you are left with a toasted English muffin, a freshly cracked egg, and a slice of American cheese. Skipping the meat saves you from a bunch of extra calories, fat, and sodium. Even better, the combination of carbohydrates from the English muffin and protein from the egg may be the ideal pairing for your morning meal, according to the American Society for Nutrition. We're pleased to learn that this breakfast staple can be considered healthy since it is consistently among our top picks.
2. Starbucks Oatmeal
Let's face it, we are always heading to Starbucks to try the latest new espresso drink on our way to work. While we're at it, picking up a nutritious breakfast to go is a convenient option. Starbucks is actually great at offering a variety of food products that hit many different dietary needs and preferences. The most nutritious on their menu is likely their Rolled & Steel Cut Oatmeal with Blueberries. This dish contains oatmeal made with water, topped with almonds, walnuts, pecans, blueberries, and agave nectar syrup.
Oatmeal is a whole grain breakfast option that can benefit heart health, according to the Harvard School of Public Health. Because it is packed with fiber, not only will you feel full throughout the morning, but you may also experience positive changes in your blood cholesterol. Additionally, fiber can aid in managing blood sugar levels, according to Healthline. All those benefits in a simple bowl of oatmeal — who knew?
3. Chipotle Salad Bowl
Chipotle is one of our favorite restaurants for all the versatility that it offers. Whether you are a vegetarian, omnivore, or following a keto diet, you will likely be able to find a solution that works for you. As for nourishing options, Chipotle's salad bowl seems to be the healthiest item on the menu, especially if you customize it just right.
We suggest loading up on micronutrient-rich foods like whole grains, leafy greens, vegetables, and flavorful seasoning for the most nutritious bang for your buck. It's also best to include a source of low-fat protein such as beans or chicken, to avoid the excess saturated fat and cholesterol that are associated with red meat, according to Verywell Health. So what's in our order? We love a salad with brown rice, black beans, fajita veggies, pico de gallo, corn salsa, guacamole, and salad dressing. As long as you stick to the guidelines, you can make it your own!
4. Wendy's Apple Cranberry Chicken Salad
When you are on the road, you often have to make do with what's available if there aren't a lot of options for a healthy lunch. Luckily there are more than 6500 Wendy's locations across the United States according to their website. With such a large number of locations, you are likely very close to a Wendy's as we speak.
While the fast food spot isn't known for its healthy food options, it does have one menu item that we particularly love when we're looking for something that's good for us. The Apple Cranberry Chicken Salad contains lettuce, apple chips, dried cranberries, sunflower seeds, cheese, grilled chicken, and a pomegranate dressing. Not only does this salad taste delightful thanks to the combination of savory cheese and sweet fruits, but it's also fairly nutritious. According to Healthline, sunflower seeds contain a lot of vitamin E and omega-6 fatty acids, which can assist with inflammation and heart health. Additionally, dried cranberries pack a major punch of antioxidants, Livestrong explains.
5. Jack in the Box Grilled Chicken Salad
We know that fast food restaurants don't always have the best salad options, but Jack in the Box has a tasty and nutritious choice you'll love. The Grilled Chicken Salad contains iceberg lettuce, romaine lettuce, cucumbers, carrots, grilled chicken, shredded cheddar cheese, grape tomatoes, seasoned croutons, and a low-fat balsamic dressing.
We love that this salad contains a combination of plenty of vegetables, a lighter dressing, protein, and even some croutons for added crunch. While some people might think to avoid croutons altogether, according to Women's Health Magazine, many experts point out that including some starchy carbohydrates in your salad can provide a nice balance that will keep you full and energized throughout your day. We're thrilled because croutons are definitely the highlight of this salad and any salad for that matter. We're pretty sure we aren't the only ones that feel that way, right?
6. Taco Bell Black Bean Taco
Taco Bell has numerous options on its menu, but we'll admit, most of them are not remotely close to what we'd call healthy. However, the chain does carry a taco in its wide selection that is simple and nutritious. The Black Bean Soft Taco consists of a warm flour tortilla packed with seasoned black beans, shredded lettuce, and shredded cheese.
According to Healthline, black beans are a great source of plant-based protein and they're packed with fiber. Even if you aren't a vegetarian or otherwise avoiding meat, Forks over Knives indicates that a number of research results agree that we could all use a bit more beans in our lives. Eating more black beans can assist in weight loss, balance your blood sugar, lower blood pressure, maintain healthy bones, prevent cancer, and even help support a healthy heart, as per Medical News Today. All of that from eating more beans? Count us in.
7. Chick-fil-A Grilled Market Salad
The Chick-fil-A Market Salad contains mixed greens, crumbled blue cheese, red and green apples, strawberries, blueberries, sliced grilled chicken (optional), harvest nut granola, roasted almonds, and their zesty apple cider vinaigrette. Not only is this colorful salad delicious, but it's also packed with nutrients.
The berries alone contain loads of antioxidants which have been shown to prevent damage to your body from free radicals, in turn reducing the risk of cancer, according to Healthline. Additionally, berries help slow down the aging process and even boost heart health due to their ability to reduce inflammation in the body, Very Well Fit reports. Due to the high fiber content in berries, eating this salad can increase feelings of satiety and help improve digestion. It's amazing to think that you can get such a nutritious meal from a fast food chain, but here it is! We'd recommend Chick-fil-A's market salad in a heartbeat.
8. Subway Turkey Sandwich with Veggies
Subway restaurants can be found almost everywhere, thanks to the 41,600 locations worldwide (via Statista). Consequently, if you're stuck without options you should be able to find a Subway for a quick meal. The healthiest option at this sandwich hub is without a doubt the Oven Roasted Turkey Sandwich loaded up with veggies.
For starters, Healthline indicates that turkey meat is a great source of protein that is rich in B vitamins. Add to that the ability to customize your sandwich and you have yourself the potential for a very nutritious meal. Because Subway has a plethora of vegetable toppings to choose from, you can add more fiber and micronutrients to your sub with each additional topping you choose. What's our go-to order? We love the six-inch sub on whole wheat with turkey, mustard, mayo, green bell peppers, lettuce, tomato, olives, spinach, and cucumber. These veggies add a lot of nutrients and flavor without adding a ton of calories and grams of fat, according to Healthline.
9. Panera Baja Bowl
Panera's menu boasts many healthy sandwiches, salads, soups, and more to fill you up when hunger strikes. However, our favorite healthy menu item has got to be the Panera Baja Bowl. With brown rice, quinoa, chicken, black bean corn salsa, salsa verde, grape tomatoes, avocado, feta, and Greek yogurt, you can see why — this dish is packed with flavor!
According to the Harvard School of Public Health, quinoa is a whole grain and a complete source of plant-based protein. It's also loaded with fiber and a good source of folate. With the inclusion of chicken as well as quinoa in this bowl, the Baja Bowl boasts plenty of protein. The increased protein content can help you feel and stay full longer, increase muscle mass, and even maintain weight loss, according to Healthline. Sign us up! We are ordering this bowl next time we are at Panera.
10. Arby's Roast Turkey with Swiss Wrap
It's very tricky to try to find a healthy option at many fast food restaurants, and that's especially true at Arby's. Many of their menu items are exceptionally high in sodium and saturated fat, which should be limited according to the Dietary Guidelines for America. However, one option stands out above the rest: The Roast Turkey and Swiss Wrap. It contains roast turkey, Swiss cheese, leaf lettuce, red onion, tomato, mayo, and spicy brown mustard all loaded up in an artisan wrap.
With about 530 calories, 42 grams of carbohydrates, and 37 grams of protein, as far as macronutrients go this meal is well-balanced. The high protein content helps to increase satiety or feelings of fullness, according to Healthline, which means you might not be as tempted to indulge in an order of fries. Unlike some healthy foods which leave you hungry and eager to snack unnecessarily, Arby's Roast Turkey and Swiss Wrap will keep you full until your next meal.
11. Burger King Impossible Whopper
Okay, hear us out! We know that Impossible meat and other plant-based meat alternatives tend to get a bad rap. According to Harvard Medical School, these meat alternatives are highly processed and loaded with saturated fat, which can also be said about beef. Saturated fat is often associated with an increased risk of heart disease, as per the American Heart Association. On the other hand, Harvard Medical School notes that these plant-based meat alternatives can be a good source of protein, vitamins, and minerals, including vitamin B12, which is particularly difficult to obtain on a vegetarian diet.
Because of this, we think that Burger King's Impossible Whopper can be a good option if you're low on healthy choices on the road. This burger contains a plant-based Impossible meat patty, lettuce, tomato, ketchup, pickles, onion, and mayo. If you haven't tried one of these yet, chances are you'll be pleasantly surprised at how delicious and juicy it is.
12. Carl's Jr. Big Hamburger
Carl's Jr. Big Hamburger contains a beef patty, dill pickles, onions, mustard, and ketchup on a sesame seed bun – basically a quintessential fast food burger. We know you probably weren't imagining a hamburger to make this list of healthy orders, but in fact, at around 480 calories it makes a fairly low-calorie option for a complete meal.
According to the Mayo Clinic, counting calories can be an efficient way to lose weight in conjunction with maintaining an active lifestyle. By maintaining a 500 calorie per meal goal, you will total your daily intake at 1,500 calories. While everyone has different caloric needs, exercise routines, and health concerns, a 1,500 calorie per day guideline can be a good tool to lose weight, according to Eating Well. Since Carl's Jr.'s hamburger isn't loaded with veggies, we don't think it's the best option available, but it will certainly do in a pinch.
13. In-N-Out Protein Style
We've got to know … are you team In-N-Out or team Five Guys? We are team In-N-Out all the way, mostly because of their delicious In-N-Out Burger Sauce. While In-N-Out has a limited menu compared to many other fast food chains, did you know they have a not so secret menu?
Among the list of secret menu items on the chain's website, you will find some amazing burger creations including the Triple Triple, Quad Quad, Animal Style (a mustard cooked patty with grilled onions and pickles), and the Protein Style. This last order is our favorite since when you order a cheeseburger or hamburger protein style, it is served wrapped in lettuce leaves instead of a bun. This simple swap saves you 150 calories and 28 grams of carbs (via In-N-Out). This is also a great solution for anyone who avoids gluten or is opting for a low-carb diet.
14. Shake Shack Chicken Shack
Alright, so fried chicken isn't necessarily the healthiest, but we had to include this option because chicken is leaner than beef, according to Healthline. While WebMD indicates that deep-frying anything is not ideal for heart health, chicken can be an excellent source of protein. Not to mention, it's very tasty!
The Shake Shack Chicken Stack contains crispy fried chicken over lettuce, pickles, buttermilk herb mayo, and a bun. Interestingly, pickles actually offer some health benefits. Shocked? We were too. Nonetheless, Nourish by WebMD reports that pickles can lower your risk of heart disease and aid in weight loss due to the high water and vinegar content. The source explains that vinegar has been shown to slow the rate at which your body processes carbohydrates, which is certainly an impressive feature. We're definitely going to use that fact as an excuse to eat one of these bad boys today!
15. Freddy's Veggie Burger
Freddy's is known for its extensive menu, including a wide array of ice cream dessert options — we know from experience! However, one surprisingly healthy option found on the menu is the Veggie Burger. This meat-free burger is made from black beans, which Clean Eating Magazine confirms are packed with fiber and plant-based protein. Plus, the source notes that black beans can promote weight loss, gut health, and heart health. What's not to love?
Nutritionally, Freddy's Veggie Burger totals 440 calories, 15 grams of fat, 49 grams of carbs, and 23 grams of protein. For such a low-calorie vegetarian meal, the protein count is quite high. While it does not taste like a meat substitute in the way that Impossible Burgers or Beyond Meat do, this here tastes like a classic veggie burger, which we happen to enjoy. Be sure to try this veggie burger next time you are at Freddy's! You won't be disappointed.
16. Sonic Grilled Cheese
Ah, there is nothing like Sonic's Grilled Cheese to bring us back to our childhoods. Their grilled cheese truly stands out among the rest, even compared to mom's. With buttered Texas toast and melted American cheese, it truly does not get better than this. While this menu item does not contain any vegetables and is consequently lacking in many micronutrients, this grilled cheese is a simple low-calorie option that will please even the pickiest of eaters.
Sonic's Grilled Cheese clocks in at 430 calories, 19 grams of fat, 51 grams of carbohydrates, and 14 grams of protein. Although the caloric total is reasonably low, with this nutritional profile we probably wouldn't recommend getting a side of tater tots if you are really trying to be healthy and watching your caloric intake. But we realize that's asking a lot, so if you have to get the tots, make it a special occasion — we won't judge.