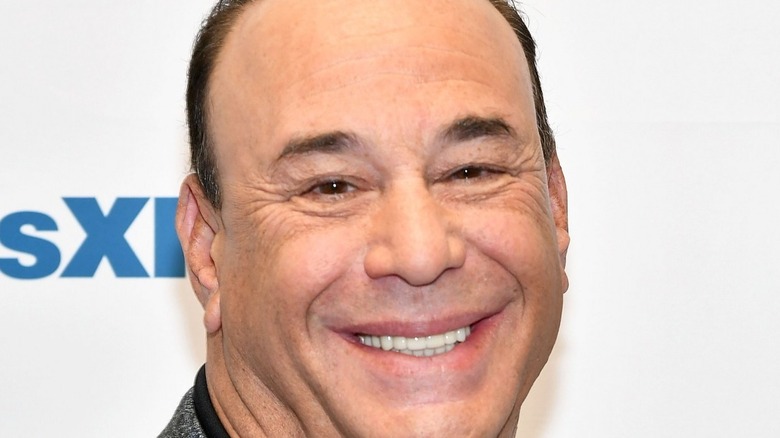 Whether you're a legit alcohol enthusiast or simply a fan of reality TV drama, show fan site Bar Rescue Updates tallies that"Bar Rescue" has tried to help save more than 200 bars across the United States — and you've likely seen host Jon Taffer bailout at least a few of them. These bars appear to be in the worst financial conditions imaginable, and many of them are in frightening physical condition, too, ripe for an overhaul by Taffer and his team of experts.
With all that these bars receive throughout production, aside from just, you know, having their entire businesses saved, most fans and even casual viewers find themselves wondering what rules the "lucky" bars have to follow in order to score a coveted spot on the successful show. With only a single bar featured in each episode, competition is high for these life-changing makeovers, so you might expect that desperate bar owners would be willing to do just about anything for the opportunity, and it turns out they often are. Who can blame them? Still, there are rules the bars on "Bar Rescue" have to obey, and here are some of the most firm.
Bar employees sometimes have to lie on demand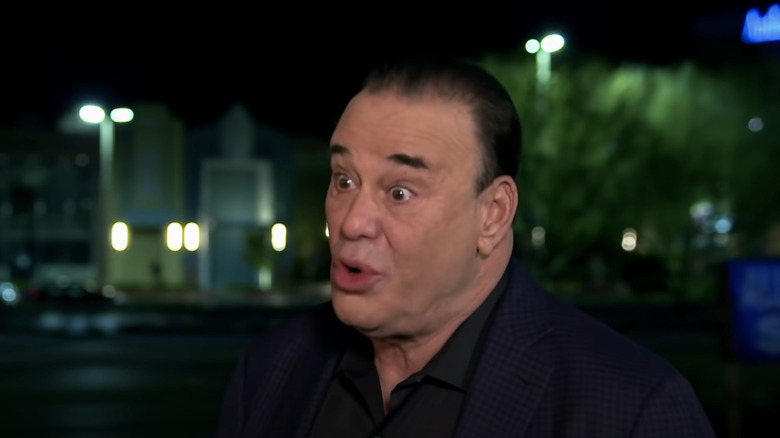 If there's one thing all owners on "Bar Rescue" have in common, it's that they seem to be drowning in serious debt and facing financial threats like losing their businesses. Some degree of this is surely true (why else would a bar apply to be rescued?) but it turns out that plenty of these disastrous claims are exaggerated, to say the least. Featured bar owner Ryan Burks says producers fed him lines, specifically telling him, "For our story you are losing $10,000 a month and losing your house and closing down next month." None of that was true.
Not all bar staff are given the same lines to spew — that would get old fast — but the common thread across episodes is that everyone is given something, from being ordered to simply play up annoying personality traits all the way to ignoring obvious boundaries, like hitting on Taffer's wife. That last one led to a physical altercation and a lawsuit. But hey, this is reality television, so you shouldn't be too surprised to learn that not everything you see or hear is entirely authentic.
Bars must commit to five full days of filming
If a bar wants to be rescued by Taffer, the owners better be ready to hand over their property for five straight days of filming. Already eight seasons in, "Bar Rescue" is a well-oiled machine that knows precisely how to capture the footage it needs, and that includes a rigid five-day filming schedule that even Taffer, himself, has to abide by, however, exhausting it is for the busy bar boss. The host spends Day 1 doing recon in the area so he may not be present at the imperiled bar and much of this is off-camera work, but rest assured there are still cameras rolling onsite to give the host and producers insight into its daily operations and set them up for the all-important Day 2.
The infamous stress test is filmed on the second day, and this day is no joke, taking up to 20 hours of production that can stretch until 4 in the morning. Staff receive re-training on Day 3, and Day 4 is reserved for the physical remodeling of the beleaguered bar before the big reveal around sundown on the final fifth day. It's certainly no walk in the park but, hey, all the bar really has to do is let the crew in. Taffer and his "Bar Rescue" team do all the heavy lifting.
The bar staff have to embrace the element of surprise
Again, this is reality TV. Plenty of reactions and, um, overreactions, are something less than genuine. Still, it's fairly easy to tell when emotions are real, so producers of "Bar Rescue" do try to elicit some bona fide sentiment whenever possible. Every rescue begins with the surprise arrival of Taffer, and you might logically assume this can't be a true shock because cameras are already rolling within the bar. That's more than fair, but the producers do have some tricks up their sleeves to bring some level of authenticity to this gag.
In more recent seasons, bars already know with certainty they've been selected for an overhaul before Taffer arrives, but they don't know when he's coming. In a Reddit thread, Taffer explained that producers give bars fake times (yes, it would be fair to say they lie here) and the only guarantee is that Taffer will not appear at this hour. In fact, he may show up anywhere from a few hours from the scheduled time to an entire day off. So yes, there is some genuine surprise on the faces of bar staff when Taffer toddles in — it's just not for the reason the show would like you to think.
In early seasons, there was even less certainty for bar owners, who were told they were one of three shortlisted finalists, as explained by Taffer to BroBible, and may or may not receive a rescue at all.
Bar staff had better not insult the experts
Among the more memorable altercations on "Bar Rescue" was the fight that ensued in the episode centered on Zanzibar in Denver. After bar owner, Ami Benari, repeatedly addressed Executive Chef Brian Duffy as "fat boy," Taffer had enough of the serious line crossing and exploded on the failing business owner. As he explained to BroBible, the show host doesn't think he would have become quite as outraged if the inappropriate slurs were hurled at him. He even held his cool as Benari consistently called his own employees "jerks" throughout production, but he wasn't about to tolerate personal attacks against his friends and experts, and he put an abrupt end to the inexcusable behavior.
There's a silver lining to this unfortunate incident, though. The blowup eventually became a teachable moment for the insensitive owner and he ended filming by declaring Taffer an angel sent by God, hopefully having learned not just that insulting "Bar Rescue" experts is a no-no, but that bullying is vile in general.
Staff have to obey more than just Jon Taffer
You might think that Jon Taffer is the supreme authority on all decisions and, in many cases, he is. Renovations, remodels, culture changes, and business practices all come down to the revered nightlife expert, but there's at least one area where Taffer doesn't have full control. In an interview with Los Angeles Magazine, "Bar Rescue" expert mixologist Joseph Brooke confessed that the show's beloved signature cocktails are not produced purely from his and Taffer's imaginations.
Someone has to pay the bills, and one of those someones is show sponsor Diageo, one of the world's largest producer of spirits and beers. While they don't completely call the shots (get it … shots), Diageo usually has a brand in mind for a given episode, and you can bet that's the one that will be featured. From here, Brooke whips up a list of about 10 drinks for Diageo to consider, then Taffer gets final say on the winner's name and proportions. If bars think the only opinions they'll need to appease are Taffer's, they better guess again.
Bar owners can't pay for anything
Not all rules are hard to follow. You might even call this one a bonus rather than a hard rule, but one of the audience's most persistent questions surrounding "Bar Rescue" is how much of the bill is paid for by the owners, and the answer is absolutely none. From construction and consultation fees to décor and inventory, Jon Taffer explained on his website it's 100% covered by a combination of the show's budget and donations from sponsors (who are generally named, repeatedly, on-air).
It doesn't cost anything to apply or be chosen, either. In fact, it's so completely covered that Taffer, himself, is often surprised how resistant bars are to the changes he suggests when he shows up to rescue their dire businesses without allowing them to pay a single penny (via BroBible). Rumors continue to circulate surrounding the notion that Taffer, as the show's executive producer, gets a percentage of the bar's profits for a period after filming, but no verifiable source has come forward to confirm this. Either way, bars are not only being saved, but it's all free.