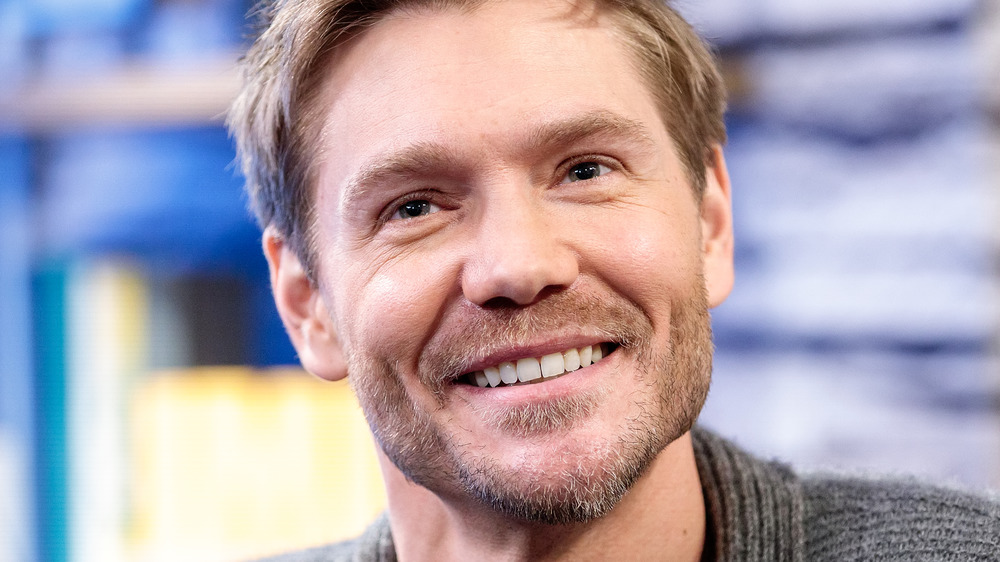 After supporting turns in Gilmore Girls and Dawson's Creek, Chad Michael Murray cemented himself as one of his generation's premier teen drama stars when he bagged the leading part of basketball prodigy Lucas Scott in One Tree Hill (even if his character wasn't always considered to be the most exciting).
Big screen roles in the hit remake of bodyswap classic Freaky Friday, modern fairytale A Cinderella Story and slasher House of Wax followed, as did various high-profile endorsements, magazine covers and the adoration of millions of teenage girls worldwide. But like the majority of The WB favorites, the heartthrob failed to sustain the same level of attention once he left the world of navel-gazing young adult soaps behind.
Not that the Buffalo native has entirely disappeared from view, of course. Chances are you've seen Murray pop up in everything from superhero spinoffs to schmaltzy Hallmark Channel movies over the past decade. But what else has the 2005 Teen Choice Award Hottie Male winner been up to since he entered his mid-30s? Here's how Chad Michael Murray's been staying busy.
Wedding bells for Chad Michael Murray and a co-star… again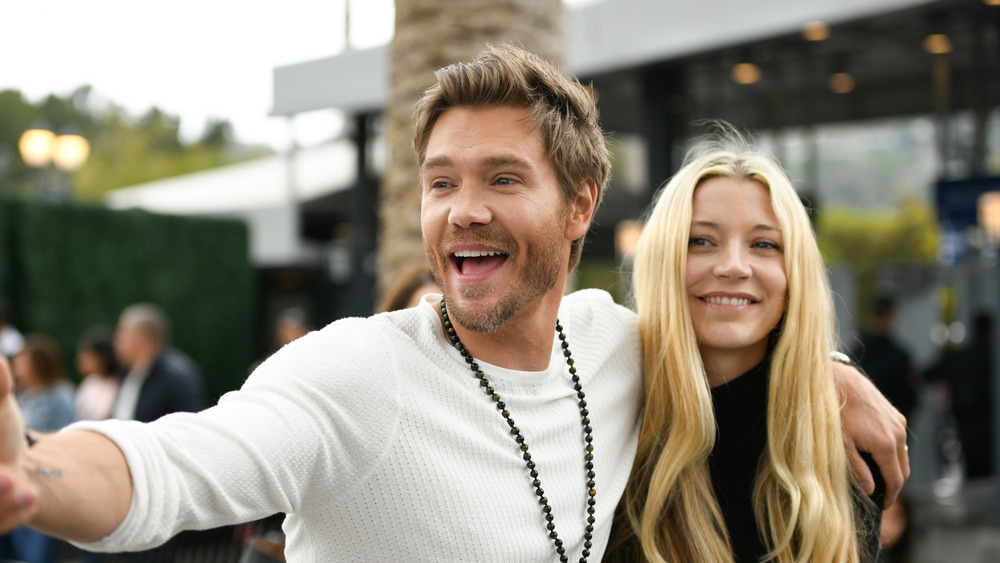 Seems like Chad Michael Murray has no qualms about mixing his personal life with his professional. In 2005 he got hitched to his One Tree Hill co-star Sophia Bush, aka on-screen girlfriend Brooke Davis, although the pair's marriage barely lasted longer than an average season of The WB teen drama.
Murray then got engaged to Kenzie Dalton, a former beauty queen who'd appeared as an extra on the same show. The couple stayed together for a further seven years before calling it quits in 2013. And then two years later, he walked down the aisle again. In 2015, E! News confirmed that he got hitched to Sarah Roemer, a fellow actor who he starred alongside in Crackle's action thriller Chosen. In keeping with the star's private nature, the couple decided to tie the knot secret.
He appears to be third time lucky. Roemer and Murray are still very much together, and judging by the number of cozy, intimate selfies they both share on their respective Instagram accounts, are still very much loved-up, too.
Fatherhood has been major for Chad Michael Murray
2015 was certainly an eventful year for Chad Michael Murray. About six months after news of their nuptials broke, Murray announced on Twitter that he and Sarah Roemer had become parents to a baby boy. As he made very clear in another tweet, the new dad couldn't contain his joy: "Sarah & I couldn't b happier & intend 2 spend many a day having family adventures & watching @buffalobills football! & also @Chargers now."
Murray was equally excited when he welcomed his first daughter into the world two years later, captioning a photo of the tot's hand on Instagram, "Don't worry little girl you can hold on as tight as you want for as long as you want, I'm already yours and I'll never let go. I've now two incredible women in my life. My son and I are two lucky guys."
The One Tree Hill alum has yet to share the names of his kids, having previously told E! News in 2015, "I'm a family guy. I want that core. I tend to keep everything quiet. I love my life. That's the part that I keep for myself."
Chad Michael Murray got into a feud with his ex-wife
Twelve years after Chad Michael Murray and Sophia Bush's very brief marriage officially came to an end, the latter opened up a whole can of worms about what went down. During a 2018 interview on Andy Cohen's Sirius XM show, Radio Andy, Bush claimed that she'd never actually wanted to walk down the aisle with her One Tree Hill co-star and hinted she was pressured to do so for monetary reasons.
Unsurprisingly, Murray didn't appreciate this narrative, with E! News reporting that he later tweeted a GIF of Disney's Pinocchio in response to the interview. (That tweet has since been deleted.) A rep for the Agent Carter actor also addressed Bush's remarks, telling People magazine, "Chad conducts himself in a completely professional manner and would never marry for any reason but love." According to Us Weekly, Sarah Roemer also waded in with a bit of Instagram shade when she shared a meme that read, "Wait a second … my producers also made me marry Chad Michael Murray."
Bush took to Twitter to maintain that her comments had been taken out of context. "When you're taking the piss out of yourself — because people can't let the past go and you really wish they would — and gossip rags try to turn it into inappropriate drama rather than self-deprecation," she wrote. "Don't twist people's words, y'all. If it wasn't clear, I was making fun of MYSELF."
The made-for-TV Christmas movie scene welcomed Chad Michael Murray
Chad Michael Murray sure seems to love the festive season. He's appeared in no fewer than four of those chocolate box Christmas movies that always dominate the Hallmark Channel and Lifetime schedules every December. The New Yorker first showed up as Danny in 2018's Road to Christmas before playing Luke in 2019's Write Before Christmas. And then the following year, he appeared in Hallmark's Love in Winterland and Lifetime original Too Close for Christmas.
In 2020, Murray told Hollywood Life why he's so drawn to the season of goodwill. "I think a big part of it is I'm a dad," he shared. "I'm a family guy. Put God and family first, that's how we run, and these cater to that in a large way." And as for why he has taken to the Hallmark/Lifetime holiday genre? "They're family films … I think the light there is good for the world. It feeds the spirt and that's what we need." A spirit fed by a yuletide schmaltzfest is a well-fed spirit indeed.
Chad Michael Murray worked with his hero
They say you should never meet your heroes. But Chad Michael Murray ignored that piece of advice when he signed up to star in 2020 movie Survive the Night alongside the man who inspired him to take up acting, Bruce Willis. And luckily, the Hollywood tough guy, who played Murray's father in the action thriller, didn't shatter any illusions.
In an interview with Express that same year, Murray revealed how honored he was to share the screen with such an icon. "It's one of those great moments in your life," he said. "Working with an actor of Bruce's caliber, I grew up watching Bruce in everything, from Die Hard on. He's a legend, and he's left a mark in such a way that people try and emulate him and try to be like him, and have careers that can be even just a little bit close to his."
Willis might not exactly be known for his personable nature, but it seems as though Murray managed to catch him during a relatively happy period. In the aforementioned Express interview, Murray said, "Before we started, there was this incredible anticipation, like: 'What is Bruce going to bring to the table?' First off, he's a great guy. I got starstruck in some instances, because you're looking into the eyes of your childhood hero, and now, you've been given the opportunity to go toe-to-toe with him in a scene and tell a new story onscreen!" Well, that sure is yippee-ki-way delightful.
Chad Michael Murray is open to a One Tree Hill reunion
As the likes of Saved by the Bell, Punky Brewster and Beverly Hills, 90210 have all shown, no TV series is ever permanently canceled. Rumors about One Tree Hill coming back from the dead have continued to mount ever since it was taken off air in 2012. And luckily for fans of The WB teen drama, its leading man is certainly open to the idea.
In 2020, Chad Michael Murray, who played the basketball playing heartthrob Lucas Scott, told Page Six it's inevitable that it will be revived in some way, shape or form. "[T]hat show has affected so many people in the most positive way," he said. "I've seen it for years and years now. When I see that positive impact I can't help but be in awe and feel so humbled. I don't know if it will ever come to fruition. I have to believe at some point there will be some kind of reunion or a second edition for the new generation."
However, Murray's confidence may be misplaced. When asked about a possible revival in 2021, co-star James Lafferty, aka Lucas' brother Scott, told the New York Daily News, "I don't know how that would be possible for many different reasons." One of those reasons may well be the bad blood that bubbled up between Murray and his on-screen girlfriend/off-screen ex-wife Sophia Bush in 2018.
The very strict diet Chad Michael Murray follows
Don't expect to see a Chad Michael Murray cookbook hitting the shelves any time soon. In a 2020 interview about his daily routine, the one-time fashion model told GQ that he eats not out of desire, but necessity. And he sticks to the same rather joyless-sounding menu every single day.
"I bring my own food to work — have done for the last ten to 15 years,' the Riverdale actor explained. "I live on the same thing every single day: nuts, coffee, Kind bars. I bring tuna to work every day for lunch with some Wheat Thins — American Wheat Thins. I'm going to hard-preface that: American Wheat Thins, they're far better than the Canadian Wheat Thins. One's more salty sweet and one's just really really salty and thinner, so it's not as easy to make a sandwich out of."
The former Teen Choice Awards favorite makes a point to "eat pretty clean the entire day," but he does allow himself at least one treat as he winds down. "I have no sugar the entire day, then right at bedtime I eat Airheads," he shared. "If I don't have them, I can't sleep. I purchase cases online and they're delivered right to the door." It's as the old saying goes: An Airhead before bed makes sleep incred…ible.
Chad Michael Murray is serious about working out
Chad Michael Murray got plenty of opportunities to showcase his efforts at the gym during his early years on The WB, and even ahead of the big 4-0, he managed to stay in similar shape. Indeed, paparazzi snaps taken at the beach in the summer of 2020 proves that the actor has the maintained his muscular physique.
And the Agent Carter star hasn't let the small matter of a worldwide pandemic stop him from working out, either. In a 2020 interview with GQ, Murray revealed that he was way ahead of the curve when it came to installing a home gym. "I'm one of those guys who thought it was coming for a long time, so I did a lot more preparation than most," he shared. "I ran out and snagged a home fitness center. I think they installed it the day before we locked down California. I already had a bench and free weights and [was] making new playlists to keep me focused."
Murray seems to be enjoying his pared-back fitness regime, too, adding, "Necessity is the mother of invention. You find ways to do everything that you were doing previously, and now I find I don't need these devices that I would at a gym. I'm more of an old-school, Rocky Balboa, ropes and chains kind of guy anyway when I'm working out." Could this mean he will eventually add raw eggs to his diet? They may not pair well with Airheads, but what do we know!
Faith is a huge part of Chad Michael Murray's life
Chad Michael Murray's first big screen credit was in 2001's Megiddo: The Omega Code 2, a religious sci-fi flick featuring Michael York. Over a dozen years later, he starred alongside Nicolas Cage in another Christian science fiction movie called Left Behind. And the Hallmark Channel regular is a man of faith in real life, too.
In 2020 Murray discussed his spiritual beliefs in an interview with Page Six, and particularly how he shares them with his wife Sarah Roemer and their children. "We read the Bible, I start the day reading a chapter," he shared. "We teach the kids about Jesus and who Jesus was and the story and we do church on Sundays."
The Freaky Friday star also makes sure that the Murray brood say a prayer at the dining table, too. He added, "That's one of the foundations of teaching a good moral compass in our children. Having the fear of God is vital because, to be honest, what do you have to lose if you have no fear of that. If you have no fear of God it would be chaos here."
Chad Michael Murray has had recurring roles on several hit shows
Chad Michael Murray will perhaps always be associated with One Tree Hill. But the former Tiger Beat pin-up has also graced several other hit TV shows in more recent times. In 2017, he portrayed record producer Sam Phillips in CMT's acclaimed miniseries Sun Records, and a year later he bagged the role of unscrupulous realtor Xander McPherson in the third season of Lee Daniels' musical drama Star.
Murray has also enjoyed screentime in two comic book adaptations. In 2019 he followed in the footsteps of another former teen heartthrob, the late Luke Perry, when he joined the cast of Riverdale as cult leader Edgar Evernever. The actor told Vanity Fair that same year that he'd taken the part after his wife Sarah Roemer became hooked on The CW show in-between their kids' naptimes: "Anything I can do to please the Mrs., I'm in."
But Murray's first foray into the comic book world came four years earlier when he was cast as Agent Jack Thompson in Marvel spin-off Agent Carter. The father of two told Australia's News.com that he relished being able to play such a complex man. "When you have a character who isn't the moral compass, they tend to do the wrong thing, or at least the unexpected thing," he said. "So it's fun for me to be able to make crazy choices and to do whatever. I tend to get a good laugh whenever I read the script."
Showbiz has been good to Chad Michael Murray's bank account
According to Showbiz CheatSheet, Chad Michael Murray earned a not-too-shabby $22,000 per episode during his first year playing Lucas Scott in One Tree Hill. But that figure was eclipsed by the $100,000 per episode each member of the teen drama's cast started earning in Season 4.
Of course, as one of the nation's premier heartthrobs, Murray also got the chance to boost his bank balance with various endorsements. Big screen roles in box office hits such as Freaky Friday and A Cinderella Story no doubt came with impressive paychecks, too. And even though his money-spinning show ended in 2012, the Buffalo native has still been raking in the dollars thanks to gigs on high profile shows such as Agent Carter, Star and Riverdale, not to mention several made-for-TV Christmas movies. As a result, Celebrity Net Worth lists Murray's net worth in the region of $12 million.
The actor is no stranger to paying it forward. In 2007, at the height of his teen idol fame, WECT reported Murray bought and donated a bunch of toys to a children's charity in North Carolina. And a few years later, The Buffalo News reported he gave $20,000 to a local children's hospital. And in 2020, he helped to launch a line of jerseys, signed in character as Lucas Scott. As he noted on his Instagram page, the proceeds would partly go toward the Rock Foundation for COVID-19 relief.