With "Downton Abbey: A New Era" set for a March 2022 release, many of us are excited to see our favorite characters again. The critically-acclaimed TV series ran for six seasons before the cast was reunited in 2019 for a highly-anticipated motion picture — and now they're back for a second movie. Maggie Smith, as Violet Crawley; Michelle Dockery, Mary; Elizabeth McGovern, Cora; Hugh Bonneville, Robert; Jim Carter, Mr. Carson; and many more beloved cast members are set to return for the second feature film (via IMDb).
The series and movie display the lives of the aristocratic Crawley family and the servants working at their manor during the early 20th century. Through the years, the large cast experience historical events, scandals, tragedies, and, of course, romances. With the story continuing, many of us are revisiting the old episodes to brush up on the many characters and plot points. The best part about returning to the show is seeing our favorite couples come together, but we have to admit that some of the series' couples would have been better off apart. Today, we're taking a look at the best and worst of "Downton Abbey" couples.
Robert and Jane's secret, adulterous romance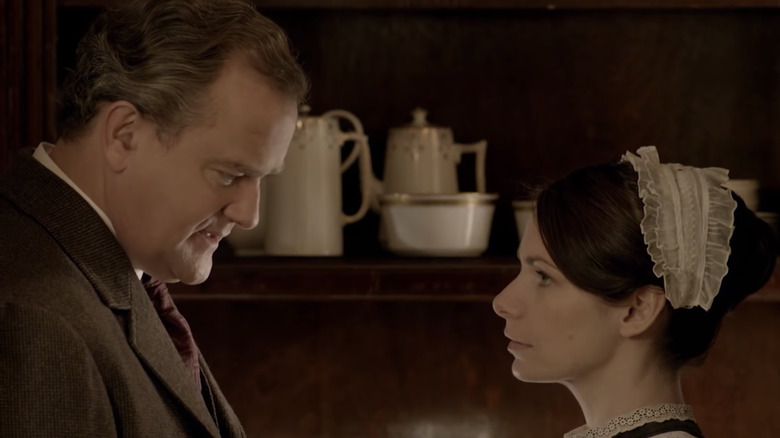 This brief romance has to be ranked dead last. If you'll recall, in Season 2 of "Downton Abbey," The Earl of Grantham, played by Robert Crawley, has an affair with the new maid, Jane. Normally, we'd be all for a class-defying romance, especially in a series where that's so rare, but when it comes as a result of Robert cheating on his wife, Cora, it's unacceptable.
At the time, Cora is quite busy managing the estate, which they had turned into a convalescent home for soldiers. Apparently, his wife not being available for social gatherings or to entertain him becomes too much for Robert. When the recently-widowed Jane begins working at the estate, Robert takes an instant interest in her. After the two share a secret kiss, Jane offers to resign to make things more comfortable for him, but Robert refuses. The pair then has another brief encounter in Robert's room, but they're interrupted by Mr. Bates knocking on the door. This second tryst is an even greater betrayal because Cora is sick with the Spanish flu at the time. At least Robert feels guilty enough afterward that he allows Jane to resign and decides to help pay for her son's schooling.
Daisy and William's forced marriage
Although the relationship on "Downton Abbey" between the scullery maid, Daisy, and the footman, William, was cute at times, overall, it was uncomfortable to watch how it was forced on Daisy. William had been infatuated with Daisy from the beginning of the show, but Daisy is hesitant to return his obvious affection. However, when William goes to war, Mrs. Patmore pushes Daisy into accepting William's marriage proposal.
Then, when William is badly injured in battle, Daisy is again pushed into taking their relationship further and marrying him. Mrs. Patmore insists that, because William is dying, it would be wrong for Daisy to turn him down. Daisy still doesn't want to accept, even telling Mrs. Patmore, "I can't lie to him at the end. Don't make me be false to a dying man." But, despite her objections, Daisy is backed into a corner, feeling too guilty to reject William when he's dying. The pair marry in one of the Abbey's bedrooms while William is confined to bed, where Daisy stays with him until he dies.