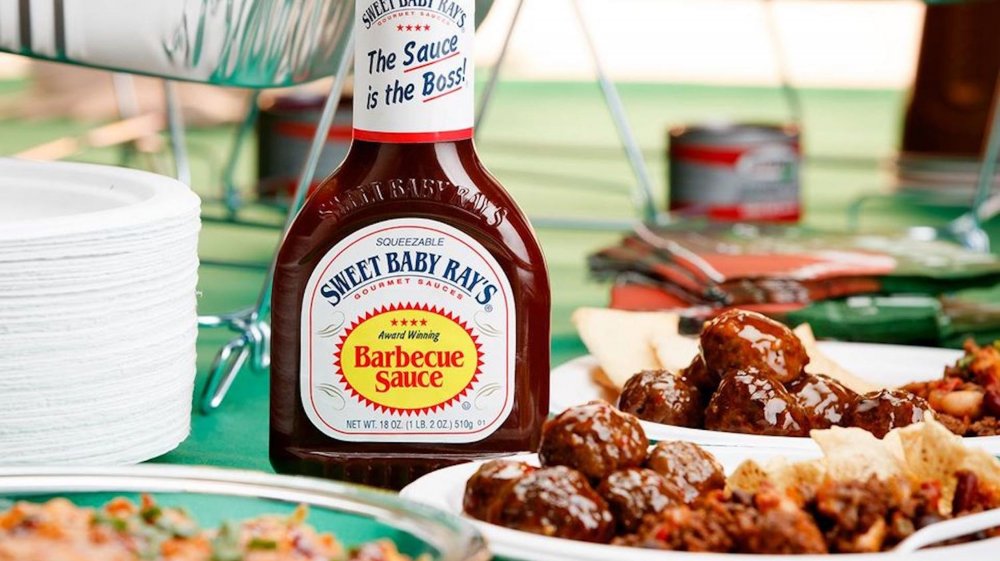 When it comes to barbecue, the sauce is one of the most important factors (unless you're at a Texas barbecue joint, but that's a whole different world of barbecue). Secret sauce recipes, commercial adaptations, and brand loyalty abound among amateur and professional pitmasters alike. Regardless of the preference, though, a vast number of barbecue fans appreciate, or have at least tried, Sweet Baby Ray's.
Sweet Baby Ray's lives by a saucy motto: "The sauce is the boss." And as one of the most recognizable names in the industry, this sauce is indeed the boss, though the sweet and tangy flavor isn't always the most appreciated. From humble barbecue beginnings to its omnipresent place on grocery store shelves, Sweet Baby Ray's has come a long way in the past three and a half decades.
Before you light up the grill and douse your meat in sauce, get the inside scoop on what makes Sweet Baby Ray's the barbecue legend that it is.
Sweet Baby Ray's got its start in a barbecue sauce competition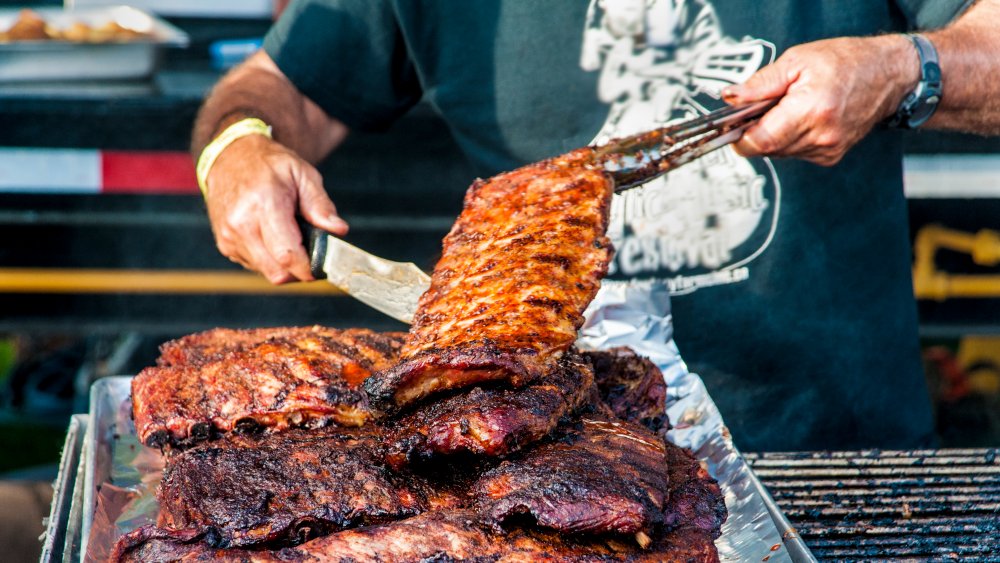 Larry Raymond was a young Chicago restaurateur before he was a barbecue sauce inventor. He did, however, have a family recipe for sweet and tangy barbecue sauce that he tinkered with starting around 1982, according to the Chicago Tribune. He had properly adjusted the recipe enough by 1985 that he decided to enter it into a local barbecue competition called the Mike Royko Rib-off. Sweet Baby Ray's company history notes that the competition was at the time the largest rib cook-off in the country.
Raymond landed in second place out of 700 contestants. A second place finish was more than enough. After all, the Rib-off had a reputation for crowning future barbecue stars. It was started by a popular Chicago columnist named Mike Royko, and in the first year of the competition in 1982, the winner out of 400 participants was Charlie Robinson. Robinson would go on to start a beloved barbecue chain of his own and sell a branded sauce within a year of winning, according to the Wisconsin State Journal.
Raymond found similarly quick success after being in the Mike Royko Rib-off. Sweet Baby Ray's barbecue sauce was incorporated by Larry, his brother Dave, and a childhood friend named Mike O'Brien a year after coming in second place.
Sweet Baby Ray's took its name from a basketball nickname
There's a story behind every beloved product name. Sometimes that story is manufactured, other times the name has an endearing history. In the case of Sweet Baby Ray's, the name came before there was even an inkling of starting a barbecue sauce company, Dave Raymond told the Chicago Tribune in 1990.
According to legend, Dave's brother Larry, named the sauce in honor of Dave's childhood nickname, Baby Ray. Dave earned the nickname while playing basketball on Chicago's west side as a kid. In a short documentary, Dave Raymond said that he grew up in a place where "you had to either kinda be in a gang or play sports" to go out, and basketball was a big part of his life. His brother was called Ray (short for their last name), so the younger Dave became Baby Ray.
One day, he told the documentarians, Dave's team was playing a bigger and older team. He made a fancy move during shooting drills, and one of the guys said, "Hey, that's sweet, Baby Ray." That stuck, and it eventually lost the pause between "sweet" and "Baby Ray". Larry went with the nickname when he entered the family's barbecue sauce into the Mike Royko Rib-off, and the rest is history. Since the early days of the company, Dave has been the face of the brand that's named after him.