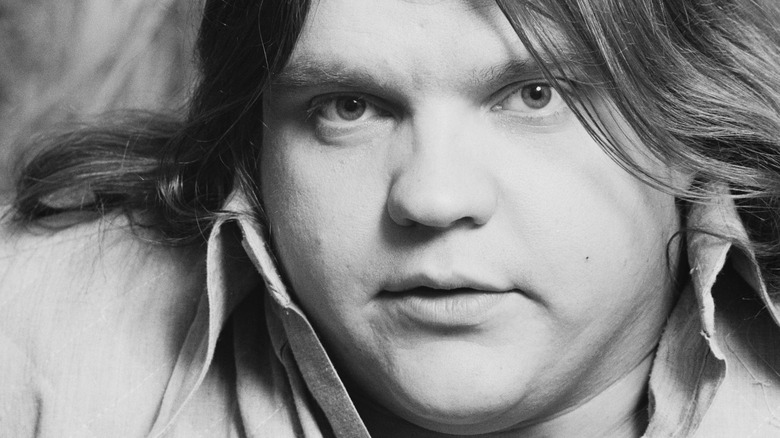 It didn't take long for 2022 to show that it was going to be pretty relentless when it came to taking away beloved celebrities, and the first month wasn't even over when it was announced that another had gone: Meat Loaf. Confirmation of his death came when his family posted on Facebook, says the BBC, and tributes rolled in from everyone from Bonnie Tyler to Brian May and Alice Cooper. (May wrote: "Always full of madness, with the innocent sense of naughtiness of a five-year-old, Meat was forever young," while Andrew Lloyd Weber proclaimed that "The vaults of heaven will be ringing with rock.")
The cause of his death wasn't immediately released, but it wasn't long before news outlets were reporting that the 74-year-old rocker had succumbed to COVID. According to The Telegraph, Meat had previously had a lot to say about COVID, and those he called "power-mad" and "Nazis." He was quoted as saying, "If I die, I die, but I'm not going to be controlled."
Meat Loaf left behind his wife, two daughters, and legions of fans — proving that the old adage about how someone should never give up on their dreams is absolutely true. At the time of his death, "Bat Out Of Hell" was, says Slate, the fourth best-selling album in the world. Given that it was initially rejected by multiple record labels and the session musicians who played on it thought it was a joke album … that's not too shabby for a life's legacy.
His childhood was horrific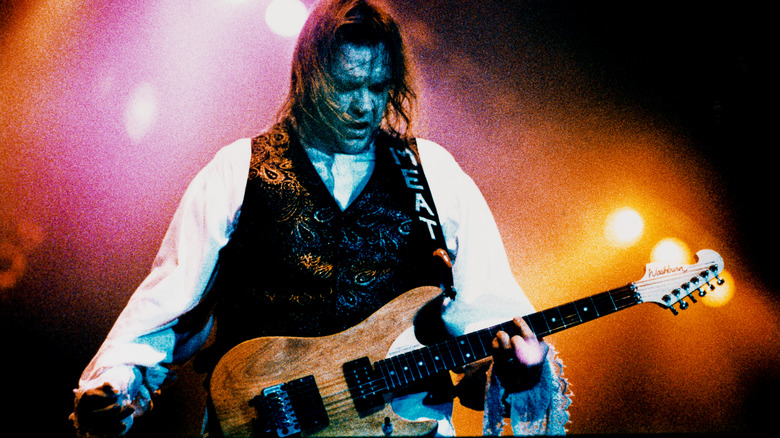 Meat Loaf was 70 years old in 2018, and when he sat down to talk to Rolling Stone, he was already struggling under the weight of countless health problems, used a walker to get around, and needed the help of his wife for the most basic of tasks. Still, they found the same fire was in his soul, and it particularly came out when he talked about his childhood. Always a heavy kid, he recounted how he weighed 240 pounds by the time he was in seventh grade. "Oh, man, I was tormented," he recalled.
Homelife wasn't much better. His father was — in addition to being "a salesman who could sell four tires to a man with no car" — an angry alcoholic. His mother — who tried her best to hold things together — died of cancer in 1966. (How old he was at the time varies: Meat has, says The Guardian, variously claimed he was born in 1947 and in 1951.) It wasn't long after his mother's funeral that his father burst into his room in a drunken rage, wielding a butcher knife and demanding to know the truth about all the girls the teenage Meat had in his room. (There were none.)
Meat recalled: "I rolled off the bed just as he put that knife right in the mattress. I fought for my life … and left the house barefoot, in a pair of gym shorts and a t-shirt." He never returned.
Marvin, Michael, or Meat?
Everyone knows him as Meat Loaf, but he was born Marvin Aday. The story of his name is actually sort of a complicated one, and he's been known just as "Meat" for a long, long time. He told Rolling Stone that he got the name when he was just 4 days old. It was a gift from his father, who — upon seeing his newborn son — remarked, "He looks like meat." Flattering, it was not, but the name stuck.
Lots of people take stage names and keep their birth names, but Meat got rid of "Marvin" as soon as he could. According to The Guardian, he had it legally changed to Michael. Why? Because of a commercial that had left a lifelong scar.
Meat said that it was a Levi's commercial that featured a child who was overweight, just like him. It lamented, "Poor, fat Marvin can't wear Levi's," and hearing it had brought him to tears. Being an overweight child was what shaped him, he wrote in his autobiography, recalling that he had been too fat to play with the others and consequently spent most of his time alone. While getting used to finding his own entertainment meant that he got good at not being bored, even decades later, it still hurt: "… mothers wouldn't let their kids play with me."