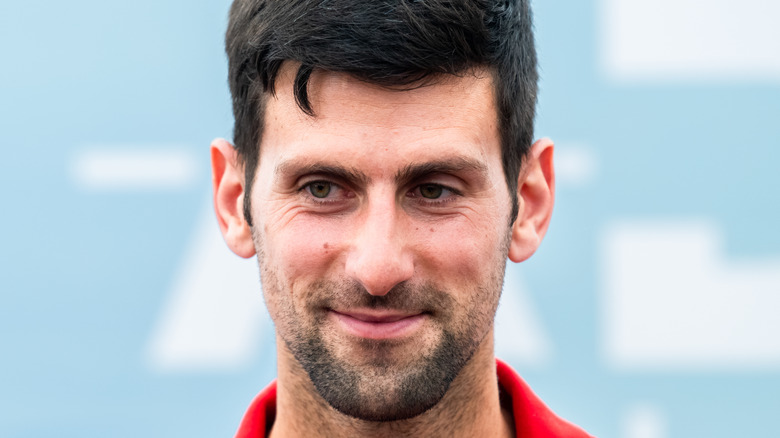 Novak Djokovic is widely considered one of the best tennis players to have ever played the game. The top-ranked men's singles player in the world as of this writing (via ATP), Djokovic has won 20 Grand Slam singles titles, tied with Roger Federer and Rafael Nadal for the most overall, and has spent more weeks ranked No. 1 than any other male tennis player in history (via U.S. Open).
Despite his successes, however, the 34-year-old athlete is far from a universally beloved figure. Recently, his refusal to get a vaccine for COVID-19 resulted in a cancellation of his Australian visa before the Australian Open, a competition he has won more than any other tennis player, man or woman (per The New York Times). Djokovic had received criticism for his perceived abuse of the vaccination exemption rule, and for meeting with journalists after reportedly testing positive for the coronavirus.
Here's what else you may not know about Djokovic if you only watched him in his tennis matches.
He believes in some dubious health practices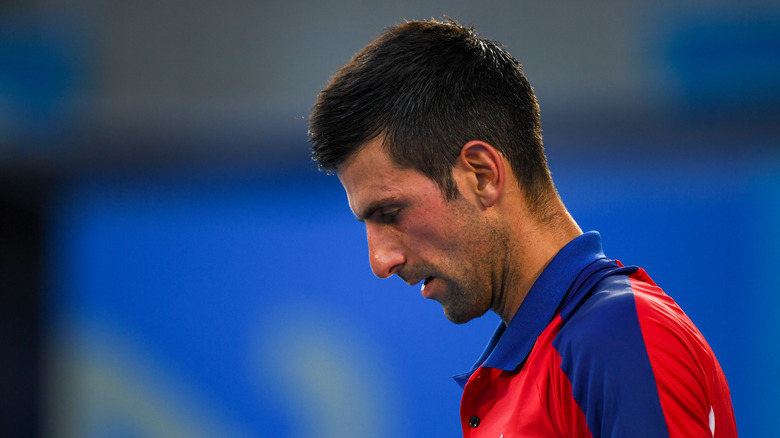 Refusing to take the COVID-19 vaccine isn't the first time Djokovic has engaged in some questionable health practices. The athlete has a long history of dabbling in alternative medicine, according to The New York Times. Recently, he started a YouTube series with his friend Chervin Jafarieh, who runs a supplement company called "The Self Mastery Project." In the series, Djokovic and Jafarieh expound on New Age ideas like the "gnosis of self" — as well as potentially dangerous concepts, like the idea that spiritual focus could make toxic or polluted food or water safe to consume.
"I've seen people and I know some people that, through that energetical [sic] transformation, through the power of prayer, through the power of gratitude, they manage to turn the most toxic food or the most polluted water, into the most healing water," Djokovic said in one video (per USA Today). He also supports plenty of perfectly healthy but somewhat unusual practices. He is one of the highest-profile promoters of veganism in the world (via Plant-Based News) and meditates regularly.
Djokovic can be prone to anger
Novak Djokovic has largely been noted as a considerate and gracious player, according to The New York Times. But during the 2020 U.S. Open, a different side of Djokovic emerged when, in a moment of frustration during a match, he hit a ball in anger and set it careening toward a female lines judge. The move appeared to have been a total accident — he responded with shame and horror. After he was disqualified from the competition, he quickly apologized (per The Guardian).
"This whole situation has left me really sad and empty," he wrote in a post on Instagram immediately after the incident. "I checked on the lines person and the tournament told me that thank God she is feeling ok. I'm extremely sorry to have caused her such stress. So unintended. So wrong."
This wasn't the first time Djokovic's anger got the best of him on the tennis court. Previously, during the 2016 French Open, the tennis player angrily tossed his racquet, narrowly missing a nearby line judge, according to Insider. Had it made contact with the line judge, Djokovic would have been disqualified from the tournament he'd go on to win.
He almost played for Great Britain
Novak Djokovic is strongly associated with Serbia, the country where he was born and continues to live today. At the beginning of his career, he was seriously courted by England and asked to play as a British national, according to Express. In 2006, the U.K. had a dearth of talent — even Andy Murray, the future top-ranked player, was still years away from the heights he would reach in the 2010s. After an up-and-coming Djokovic won a Davis Cup match versus Greg Rusedski, the British Lawn Tennis Association (LTA) reached out to the young Serbian's mother.
Their offer: Better funding and practice grounds for Djokovic in exchange for him moving to the U.K. and competing as a British national, something that would have taken less than six years to go into effect. But Djokovic turned them down.
"But I didn't need the money as much as I had done," he said, several years later. "I had begun to make some for myself, enough to afford to travel with a coach, and I said, 'Why the heck?' I am Serbian, I am proud of being a Serbian, I didn't want to spoil that just because another country had better conditions."
Djokovic's been accused of exaggerating injuries
He might be the greatest tennis player in the world, but some of his opponents have accused Novak Djokovic of being a bit of a baby. In the 2008 U.S. Open, where Djokovic took two medical timeouts, Andy Roddick joked that the Serbian athlete had a "back (injury), and a rib and a cramp, bird flu, anthrax, SARS, common cough and cold," per The New York Post.
"He's either quick to call the trainer or he's the most courageous guy of all time. It's up for you guys to decide," Roddick said.
It wasn't the last time Djokovic would get called out for exaggerating his injuries. In the 2015 Australian Open, he stumbled while playing in a match versus Murray, who later lost. "The third set was frustrating because I got a bit distracted when he fell on the ground," Murray said in an interview afterward. "No, [Djokovic's injuries were] not legitimate. I have no idea what the issue was."
He's a surprisingly good impressionist
In addition to being a dominant athlete, Novak Djokovic has another secret talent: impersonating other tennis greats. At the U.S. Open in 2007, the "Djoker" goofed around for the crowd, physically embodying Rafael Nadal and Maria Sharapova (you can still watch these takes on YouTube). He later added a few more spoofs on other tennis stars — Andy Roddick, Roger Federer — in the tournament's locker room, per The New York Times. Nadal, for one, was not amused.
"I think this is not a show," Nadal said in response to Djokovic's antics. "I think this is a sport. Everyone can do what they want. My opinion, the show or the star is the tennis. It's not the imitation." He later seemed to soften up and is friendly with Djokovic, as the Times points out.
Djokovic, unlike many of his peers, seems to relish being a performer and a goofball. He plays to the crowd at tennis tournaments — even if it means taking off his shirt, as the Times points out.