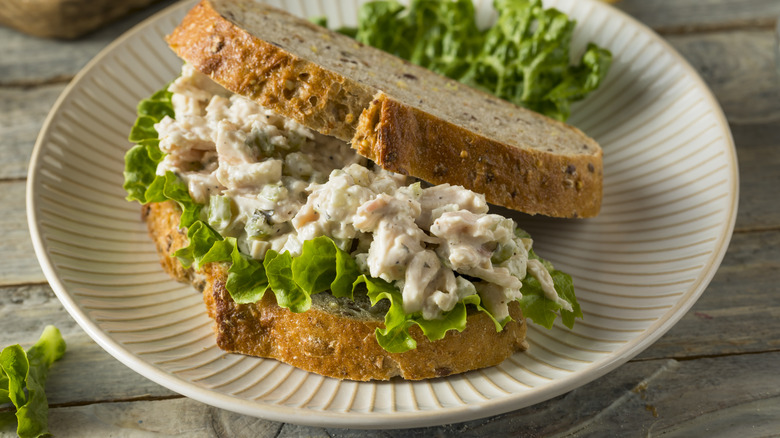 Whether you put it in a sandwich for lunch, use it in a main course for dinner, or throw it into a quick salad, chicken usually does the trick (unless, of course, you don't eat meat). There are so many ways to prepare and enjoy chicken: You can cook the thighs, grill the breast in the oven, fry the legs, and even cut it up for some comforting chicken noodle soup. Be it hot from the pot or cold cut on a sub, it does the trick.
Sometimes, however, you don't have the time to cook or slice up the chicken yourself, and you still want to add some delicious protein to your family dinner. One efficient and tasty way to get around this conundrum? Canned chicken, which happens to be pre-cut and ready to be prepared for chicken salad and hot pot pies. Like other canned products, there's a vast amount of canned chicken options to choose from. If you're overwhelmed by the number of options, fear not: We've ranked some of the most popular canned chicken brands.
12. Yoders Fully Cooked Canned Chicken Chunks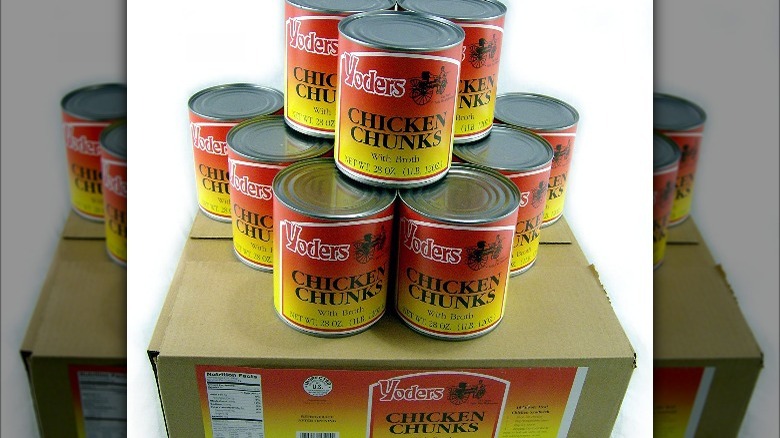 When a box of canned chicken goes for $200, it better be some really good chicken. The first selection on this list is Yoders Fully Cooked Canned Chicken Chunks Case. This case is full of big ol' cans of chicken chunks — 21 pounds total, to be exact. So if you do end up ordering this case, remember to use your legs when you lift the box up off your doorstep. If you'd like to get a single 28-ounce can of Yoders Chicken Chunks, Amazon's got you covered. Sure, it's a lot of chicken, but it will set you back a cool $20.
Because of the high price, we had equally high expectations for the meat. People do seem to enjoy this canned poultry, with one reviewer writing, "Meat overall is pretty good and as with all of these think shredded meat instead of chunks. Both are on par with other suppliers in terms of quality." Despite these positive reviews, it is hard to overlook the steep cost. As good as a can of chicken may be, if it leaves a dent in the wallet, it can be hard to stomach.
11. Wild Planet Organic Roasted Chicken Breast
When looking for canned chicken brands, you want something that can easily be spread on a salad sandwich or ready to add into a soup. What you don't want, however, is a product that barely seems to resemble chicken at all. This next product comes from the company known as Wild Planet, which is their canned Organic Roasted Chicken Breast. There are two variations of this brand's canned chicken: one with no salt added, and another that has sea salt included in its contents. The online cost of this product is more on the pricey side, with one can costing almost $5.50 on Amazon.
The Wild Planet brand is known for their production of tinned seafood, such as salmon, tuna, and sardines. While their canned chicken does have a lot of fans and glowing reviews, some consumers' experiences didn't go as swimmingly. One Amazon reviewer said the product resembled "a disc of pressed chicken like rubber" and another wondered if the chicken went bad before they opened the can.
Across the board, consumers noted the price, and some suggested it may not be worth the extra bucks. "It is ABSOLUTELY more tender than anything I've tried before," wrote one. "But it has no better flavor than any other chicken in water (no salt) that I've bought before." For a canned chicken that's a bit more expensive than what you could find at Aldi or Walmart, we suggest skipping the poultry product.
10. Keystone Meats All Natural Canned Chicken
While some foods manage to taste great without being much to look at, such as sloppy joes or pea soup, other dishes rely on both their taste and appearance. If you were picking out a cake for a party, and your choices were a beautifully decorated layer cake or a messy-looking blob, you'd likely go for the layer cake. Apparently, the same can be said for canned foods. This is the case for Keystone Meats All Natural Canned Chicken.
Keystone's Chicken is another chicken that falls into the "too expensive for what it is" category. The price of 24 cans on the Keystone website is $101, and on Amazon, one can is more than $12. While this canned chicken has racked up a number of good scores on Amazon, some customers remarked that it doesn't have much going on flavor-wise and "doesn't really have a chicken consistency."
Some have also said that isn't exactly easy on the eyes. One reviewer on Amazon shared photos of the can's contents, making note of the "mold all over the outer ridges of the can" and the "disgusting" odor. What's more, they said "the chicken itself looks extremely unappetizing." Unsurprisingly, that reviewer gave the product one star.
9. Brookdale Chunk Chicken Breast
If you're looking for a store with a large range of products with low prices, your first choice might be Walmart, but don't sleep on Aldi, a supermarket chain that originated in Germany and opened its first North American store in 1976. As it has grown, so has Aldi's product list, and the chain has numerous chickens it sells in stores. From orange chicken to frozen chicken strips, you can find almost as much poultry at Aldi as you could anywhere else you shop. Among their chicken offerings, Aldi also sells Brookdale Chunk Chicken Breast, which is 98% fat free, and promises to have no preservatives.
We love good canned chicken at a good price — emphasis on "good." Brookdale chicken had the same problem that we had with several of the canned chicken options on this list: a strong odor. While you can find lots of recipes that use this chicken on Sparkrecipes, there are other canned chicken brands in the sea.
As far as online reviews go? We didn't have much luck finding any, so make of that what you will. We highly recommend shopping at Aldi if you want affordable prices, but maybe not if you want the best of the best canned chicken meat.
8. Tyson Premium Chunk White Chicken
Sometimes, you should skip the can. Tyson is known for their quality chicken, which you're sure to find in the meat section of your local grocery store. Tyson Foods started during the Great Depression, and since then, the company has grown, and offers products varying from whole chicken breasts, air fried breasts, and even dinosaur chicken nuggets. With a company that specializes in chicken, you'd think that their Premium Chunk White Chicken would be out this world in terms of quality. This chicken didn't make us dedicated Tyson fans for life, but it certainly didn't taste half bad in a chicken quesadilla casserole.
This chicken was a lot more tender than other brands, and though it had a strong smell, it wasn't as pungent as other smelly canned foods, like tuna, or other chickens on this list. Most of Tyson's canned chicken was very flavorful and moist, though some Amazon reviews note that some cans contain a chemical flavor, even before the expiration date was close. One reviewer wrote, "About 1 can in every 4, the chicken had a horrible metallic taste. I quickly got into the habit of tasting a small amount whenever I opened a can." With that possibility of a metal taste and a somewhat pricy cost online, this wouldn't be our first choice for canned chicken.
7. Member's Mark Premium Chunk Chicken Breast
A brand that sells canned chicken that you might not be as familiar with is Member's Mark, a line of products offered at Sam's Club. With Member's Mark, you'll find dish soap, paper plates, baby formula, and even brooms, as well as their food products, such as peanut butter pretzels, trail mixes, and of course, their Chunk Chicken Breast. This poultry meat comes in a green and white can, and is sold at about $12 for a pack of six. On the back of a pack of Member's Mark chicken, you'll see the meat used as a topping for a chicken pizza and atop of a bagel sandwich.
The taste wasn't bad, though the flavor was nothing to write home about. Some cans seemed to have more water than chicken, and the meat was a little salty. The product has gotten a little hype, but not much. Its one and only Amazon review reads, "Only three ingredients: Chicken breast, water and salt. No migraines for me! And absolutely delicious!" Compared to other decent canned chickens, Mark's chicken doesn't really stand out, and we wouldn't pick this canned meat first.
6. Kirkland Signature Chicken Breast
Not unlike Walmart or Target, Costco is a retail chain that has swept the nation. Famous for selling all sorts of clothing, food, and bulk items, you may also be familiar with their beloved food court pizza and hot dogs. And, of course, they offer canned foods, including Kirkland Signature Chicken Breast, which can be found in Costco stores or online.
Kirkland's canned chicken was a solid addition to this list. While ordering it online might result in a dented can or two, the meat itself was fairly decent, and had a good amount of nice, flavorful chicken. The reviews of this product are more positive than not, with one Amazon customer sharing, "The chicken was very good and made fabulous chicken salad and chicken veggie soup." If Kirkland is your only choice as far as canned chicken brands go, then you likely won't be disappointed with your purchase, and will enjoy this meat in a hot and old-fashioned chicken pot pie.
5. Valley Fresh Chunk Chicken
Following Kirkland's canned chicken, we have Valley Fresh Chunk Chicken. This particular chunk chicken comes in a 5-ounce can, and is 97% fat free, with 60 calories in a single serving. As the can's label suggests, the larger pieces of chicken would make for a nice sandwich. Furthermore, the can promises there are no added preservatives, no artificial ingredients, and that the meat is not heavily processed.
Canned foods have a reputation for being not the most tasty, as they aren't "the real thing" as far as some people are concerned. However, Valley Fresh's canned chicken was hearty and satisfying, and is an excellent protein-filled addition to add to any meal. While there was a lot of water in a can compared to chicken, the chicken that was there was great. Reviewers on Amazon agree, with one buyer writing, "The flavor is hands-down the best I have ever tried! Wouldn't know I didn't cook it and dice it from scratch. My ONLY complaint would be the small cans, wish they'd at least double the size." With such delicious canned chicken, we would only ask for more meat in the can. Other than that, this is a great canned chicken product to add to your diet.
4. Great Value Chunk Chicken
Sometimes you need to put together a quick but filling meal in a rush, running to the nearest store to gather your ingredients. More often than not, that store for most people is Walmart. As one of the largest retailers in the country, the chain has more than 4,700 locations in the U.S. and over 11,000 total worldwide (per Statista). That being said, there's a solid chance you've visited one of their locations, or at least used their online shopping site. It's also difficult to step into a Walmart and not to find the product you're looking for. It should come as no surprise that they carry canned chicken.
Walmart offers Great Value Chunk Chicken in Water, which goes on their website for $2.44. This is a lot cheaper than many of the canned chickens on this list, and while its price may be low, the quality is not. You'll find this product has about a five star rating on the Walmart website, and high praises all across the internet. As a reviewer on Influenster writes, "When you first open it up it has a weird smell to it. But it's really good to make buffalo chicken dip with." If you're looking for an affordable canned chicken that also tastes decent, then this chunk chicken will satisfy your palette.
3. Sweet Sue Chunk White Chicken in Water
Sweet Sue's Chicken and Dumplings may be something to skip the next time you're in the canned goods aisle at Walmart. However, unlike their dumplings, Sweet Sue's Canned Chunk White Chicken in Water really blew us out of the water. You can find this particular canned chicken at Walmart and other stores that offer canned meats. Sweet Sue, which is owned by Bumble Bee Seafoods, specializes in canned chicken products. While the brand's name may lead you to assume otherwise, this chicken was not sweet, but tender and flavorful, perfect for chicken tacos or dumplings.
You can get several variations of Sweet Sue's chicken, from their two canned versions, their standard chicken, and one that is 98% fat free. One of the best things about this chicken was the price: 24 cans for almost $26 on Amazon. This is much cheaper than some of the other options, and especially better than the Amazon offering of Tyson canned chicken. This canned chicken is something some reviewers describe as a "slack fill," meaning the water to chicken ratio is somewhat misleading, with only half of the can actually being chicken. Regardless, the chicken that was there tasted great, and for the price it was sold at, we'd certainly buy this product again.
2. Hormel Premium No Salt Added Canned Chunk Chicken Breast in Water
Many canned foods are packed with salt, as it keeps the product flavorful, and according to the CDC, "Increases shelf life and helps prevent growth of bacteria and other disease-causing agents." However, many foods that are canned already contain a lot of sodium, which isn't necessarily something people want. Luckily, there are brands that offer variations of their canned products that don't include any added salt to their foods, such as Hormel's Premium No Salt Added Canned Chunk Chicken Breast in Water. This meat comes in a bright yellow can and is made with rib meat.
Like many of these canned products, Hormel's canned chicken is a lot cheaper than fresh whole poultry. On Amazon, you can find these cans for about $0.31 for every ounce. There was also a decent amount of chicken in the can, unlike some of these offerings that had more water in them. The chicken itself, even without the added salt, tastes as good as canned chicken can get. One reviewer on Amazon said that the chicken tastes nice, adding that they "can tell it really is breast meat. It's quality white meat." That same reviewer also was thrilled "that there's no salt added." If you're looking for a quality lower sodium canned meat, then this Hormel meat is great for chicken salads.
1. Swanson Chicken à la King Chicken
To top off this canned chicken list, we have Swanson Chicken à la King Made with White and Dark Meat Chicken. Owned by canned soup giant Campbell's, the Swanson brand rules the canned/boxed broth world. What's more, Swanson has some of the best canned poultry around. Like the name suggests, this particular canned chicken wears the crown. You can get a dozen cans on Amazon for under $17.
The Chicken à la King is made primarily with chicken, chicken stock, mushrooms, and peppers. This canned meat can easily be put on sandwiches or made into a delicious dip for chips. It's hard not to like this chicken, with a creamy broth, tender chicken, and peppers that give the whole thing a nice kick. The product has a 4.6 out of five star rating on Amazon, with many positive reviews, including one Amazon user who wrote, "Bought for my emergency food supply but forgot how good this stuff tasted so bought a second case for regular use. I love it heated over toast." If you want the most out of your canned chicken, then Swanson's is your best bet.