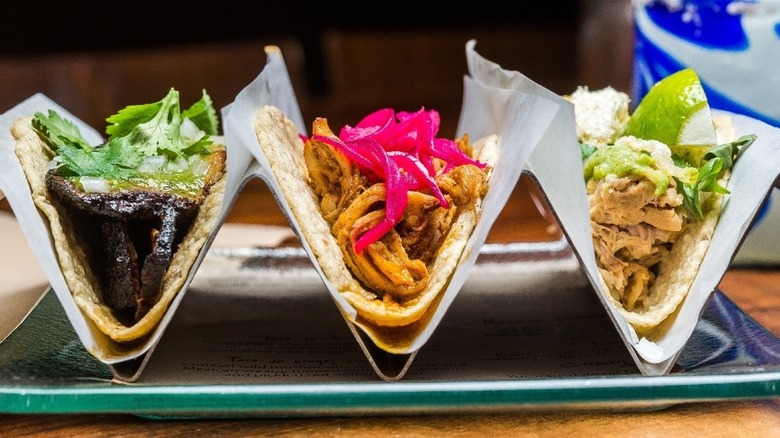 Tacos, enchiladas, and guacamole, oh my! There's no denying the spicy, flavorful, distinctive deliciousness that is Mexican food. Nor is it possible to refute Americans' profound love for the stuff. You don't need to look any further than the almighty dollar for proof: Americans spent more than $66 billion at Mexican restaurants in 2021, according to Statista. America's craving for food from its southerly neighbors has given rise to an ever-growing supply of Mexican-inspired restaurants. As of 2020, there are around 65,000 restaurants serving Mexican food in the United States, according to the foodservice research company CHD Expert. That's a lot of chips and salsa.
While no one will complain about how easy it is today to enjoy a Mexican meal, the abundance of choices does make finding the best south-of-the-border food a tall task. But that's precisely what we've done! From hole-in-the-wall eateries in Philadelphia and legendary taco joints in Los Angeles to the Southwest's bevy of critically acclaimed restaurants and the Big Apple's Michelin-starred destinations, here are some of the absolute best Mexican food options in the U.S.
Cosme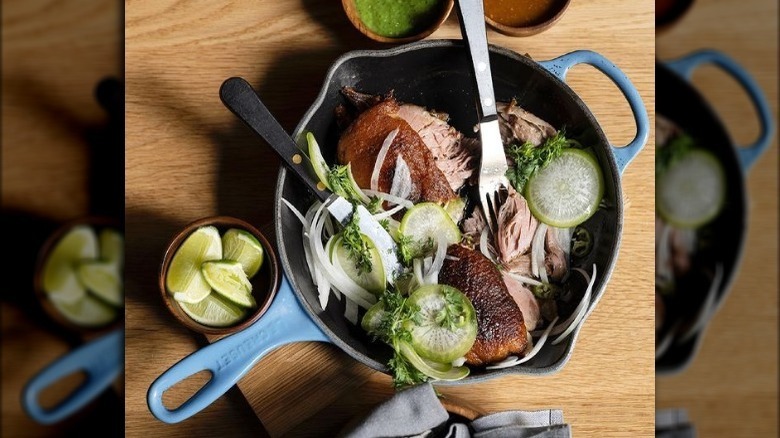 Cosme isn't the best Mexican restaurant in the United States. It's the best restaurant in the United States, period, according to at least one well-respected source. Cosme currently ranks 22nd on the list of The World's 50 Best Restaurants, higher than any other eatery in the country. The New York City destination is the brainchild of world-renowned chef and Mexico City native, Enrique Olvera. He opened Cosme in 2014 with the intention of bringing authentic Mexican flavors to the Big Apple, receiving heaps of praise as soon as the doors opened. This included a rave three-star review from The New York Times – not an easy feat.
For many years, Cosme's kitchen was run by Daniela Soto-Innes, a superstar in her own right as the youngest person ever to be named World's Best Female Chef. Although she's no longer with the restaurant, you can still expect the same delectable food coming out of the kitchen. Combining Mexican flavors with local ingredients, Cosme's menu features south-of-the-border delights such as duck carnitas, octopus tostadas, potato tetelas, housemade mole, and cornhusk meringue. The restaurant's beverage selection is just as enticing, with a host of tequila and mezcal-based cocktails, as well an entire section dedicated to margaritas. If the food is good enough for the Obama's, who enjoyed a meal there in 2016 according to Eater New York, we're sure it will satisfy all of your cravings too.
South Philly Barbacoa
If you're a fan of food documentaries, you're likely familiar with South Philly Barbacoa even if you've never had the pleasure of eating there. The restaurant and its legendary chef Cristina Martinez were the subjects of an episode of Netflix's hit show "Chef's Table" (via IMDb). And rightfully so considering the incredible story behind them both. According to Bon Appétit, after Martinez emigrated from Mexico to the United States, she had trouble landing a job due to her undocumented status. Undeterred, she began cooking batches of barbacoa at home and selling them from her apartment. Word of this now-iconic dish began to spread around town, eventually forcing Martinez to expand her operations into the brick-and-mortar location where it stands today.
While the menu is small consisting of tacos, tamales, quesadillas, and consommé (via Visit Philadelphia), you won't be complaining. After all, you only came here for one dish: the barbacoa. To prepare the restaurant's eponymous item, the staff butchers, marinates, and cooks the lamb overnight in customized steamers (via Bon Appétit). By the time it's cut to order, the meat is so tender it practically melts in your mouth.
The only downside to South Philly Barbacoa is that it's only open three days a week: Friday through Sunday. So come hungry and early. Lines usually stretch out the door and down the street, according to Visit Philadelphia. Once you have your food, grab a seat at one of the communal tables and dig in!