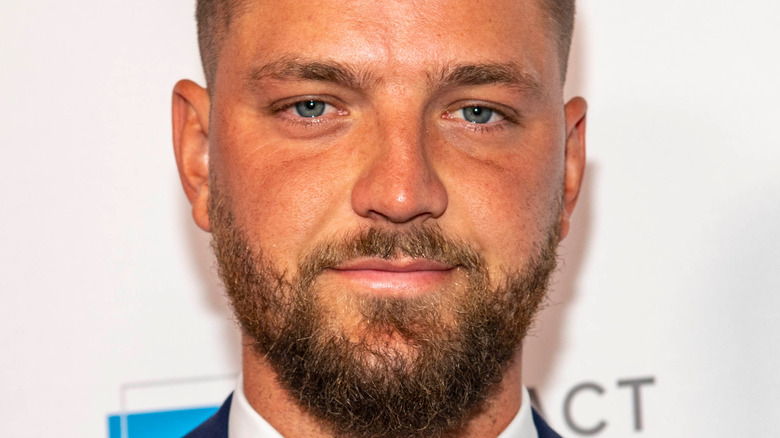 Chandler Parsons certainly experienced a lot of highs throughout his basketball playing career, which had nothing to do with his vertical leaping ability. He was a star player at Florida's Lake Howell High School, where he was named MVP after playing a major part in their team's state championship win in 2007, according to Sportskeeda. He then parlayed his stellar high school play into an athletic scholarship at the University of Florida, where he also had plenty of success. Parsons eventually reached his ultimate goal of getting into the NBA … but after that, the former Atlanta Hawks star ran into a lot of criticism for inconsistent play and for displaying some admittedly ill off-the-court behavior.
For example, in 2016, he asked model Felicia Sanders to expose her breast during an Instagram Live session, per the Daily Mail. Although Sanders was undeniably the victim in that situation, Parsons himself had to face his inappropriate request making headlines while his reputation took a hit. And along with his standout moments as an NBA player, including landing some high-paying contracts, the athlete was unfortunately often sidelined with injuries.
In January 2022, Parsons announced his retirement from the NBA, which put a cap on what seemed to be a stressful time for the small forward as a pro basketball player. Let's take a look at some of the struggles Chandler Parsons has had to endure.
Chandler Parsons dealt with challenges from the start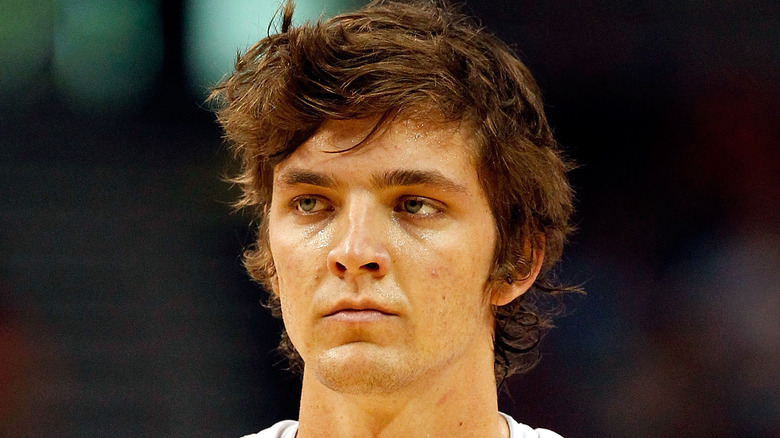 Having received All-Freshman honors for the Florida Gators' 2007-2008 season, been dubbed 2011's SEC Player of the Year, and scored 1,452 points in his college career — making him No. 12 on the University of Florida's all-time scoring list — one would probably think all of that would be enough for Chandler Parsons to go high in the 2011 NBA Draft. However, that wasn't the case when he was chosen by the Houston Rockets. Instead, the 6'9" forward was selected in the second round as the 38th pick.
Of course, there are a countless number of hoop players who would love to be drafted to the NBA, regardless of when they were selected, but there seemed to be an expectation among folks that Parsons would go higher. There were even some, like a journalist from NBC Sports, who criticized him for celebrating being drafted in the second round. "When I actually got drafted, I didn't realize who it was to at the beginning," Parsons himself had told the Houston Chronicle. "I hugged everybody and asked my brother, 'So where am I going?'"
Not only did the Florida native go late in the draft, but he was also unable to start his NBA career on time thanks to the league's 2011 lockout. So, he headed over to France and played for the Cholet Basket team for a handful of games. And while Parsons' challenges in the NBA started from the very beginning, there were unfortunately a lot more coming.
He was plagued with knee problems
Just four years into his NBA career, Chandler Parsons' injuries unfortunately began taking away from his playing time in a significant way. In April 2015, for example, while playing for the Dallas Mavericks, he had to miss much of the first round of the playoffs against his former team, the Houston Rockets, due to a nasty knee injury (via SB Nation). And that was after his bum knee caused him to miss the last six regular season games, as FanSided reported. He did play one game in that Houston playoff series, however, but only scored 10 points.
Parsons returned the following season, but once again missed the end of it after having knee surgery, per ESPN. Mind you, the Dallas Mavericks had signed Parsons for $46 million in 2014 and surely expected to get way more bang for their basketball buck. Once Parsons signed with the Memphis Grizzlies in July 2016, not only did he miss the preseason, as well a bunch of regular season games due to knee problems, but he also tore his meniscus in his left knee, had surgery, and missed the end of the season for the third straight year.
"To suffer a setback like this after working so diligently to rebound from the injury to his right knee is obviously tough," the team's general manager, Chris Wallace, stated at the time, noting that the main focus was "getting [Parsons] healthy" again. Talk about having terrible luck.
Chandler Parsons fought off criticism
Look, if a person is even receiving minimum wage, he or she is expected to produce at their job consistently. So, imagine when an athlete signs a professional sports contract worth a whopping $94 million and is sidelined by injuries — you better believe the criticism will come down on him like golf ball-sized hail in a nasty storm. Unfortunately, that's exactly what happened to Chandler Parsons when he played for the Memphis Grizzlies between 2016 and 2019.
"Chandler Parsons isn't the player that he used to be or the one the Memphis Grizzlies expected him to be. Did he have the quickest decline in NBA history?" asked one FanSided writer in a 2017 article titled in part, "A Fall from Grace." For his part, the former hoop star defended himself during an interview on the "Grind City Getup" podcast and explained some of the hurdles he had to leap over. "I'm used to playing high minutes, and playing in the fourth quarter," Parsons said, according to Fox Sports. "It's all stuff you have to go through to get to the success at the end. … Whether it's making shots or not making shots, whatever it takes right now is what I'm going to do."
Evidently, Parsons' efforts weren't deemed enough by the Grizzlies' higher-ups, because he was eventually traded to the Atlanta Hawks.
The basketball player was hit by a drunk driver
When an athlete receives a potentially career-ending injury due to something he or she did while playing, it's probably hard for that person to get over it. But when another person's reckless behavior causes the injury, it's likely even more of a challenge. On January 15, 2020, Chandler Parsons was the victim of someone else's poor decision when he was struck by a drunk driver in a three-car collision.
The Atlanta Hawks star was driving home in his 2017 Rolls-Royce following a team practice at the time of the incident. After going to the Hawks' training facility, it was determined that he had whiplash as well as a concussion, per TMZ. However, Parsons also suffered "multiple severe and permanent injuries," including a "traumatic brain injury, disc herniation, and a torn labrum," according to a statement by his lawyers published by Sports Illustrated. The driver who caused the crash was eventually hit with a DUI charge.
"Chandler was in peak physical condition at the time of the wreck," said his legal team. "He is now working with a team of doctors to regain his health, and at this time, his ability to return to play is unclear." Ultimately, Parsons tragically went from getting over his pesky knee problems to dealing with a whole new set of injuries in a flash.
Chandler Parsons went from the hoop court to a court of law
It's safe to assume that Chandler Parsons saw himself battling other NBA players on the hardwood in the 2020 season, not preparing for a legal fight. But that's just what happened to him after his January 2020 car crash, because he secured Atlanta-based law firm Morgan & Morgan and filed a personal injury suit against the at-fault drunk driver.
In a 2022 ad for Morgan & Morgan, Parsons called the days after his crash the "toughest, darkest moments of [his] life." He also gave details about that life-changing day. "I was driving home from practice, about to be a free agent, hopefully signing another multi-year deal in the NBA, and I remember seeing this car coming right towards me and a huge loud noise," the basketball star explained. "I knew with my injuries I wasn't going to be able to play. … Having my career cut short by a drunk driver was the worst part of my life, and I never thought I'd retire at 31 years old."
In a tweet sent out in January 2020, Parsons' lawyers, John Morgan and Nick Panagakis, said their main goal for their client was to help him return to proper health and to hold those who caused his permanent injuries "accountable." It looks like their efforts paid off, because The Athletic's analyst Shams Charania shared on Twitter that Parsons "settled" with the driver "for a substantial amount" in January 2022.
He accused Morgan Stanley of doing him wrong
Chandler Parsons unfortunately continued to sail on choppy waters after being in the abovementioned serious car accident: In February 2021, Advisor Hub reported that he had filed a $5 million arbitration claim with the Financial Industry Regulatory Authority. It was said that Parsons had been a client of Morgan Stanley since 2015, but from 2017 to 2019, there were allegedly payments made from his account without his permission. Fellow NBA player Courtney Lee, who was Parsons' roommate once, was also on the claim, and accused the New York-based company of doing the same thing to him.
A man named Darryl Cohen was on the receiving end of the complaint, and according to a report from Erez Law, he was part of the company's Global Sports Entertainment Group and was Parsons' broker at the time. There aren't any specifics released about the claim, aside from Parsons' money allegedly being spent without authorization. However, Cohen reportedly advised him and Lee to establish a "liquidity access line" in both life insurance as well as real estate. Both men have since alleged that "they hold no interest" in either of these policies.
From the way it seems, Parsons' problems just kept surrounding him, similarly to an opposing team's defense.
Chandler Parsons was waived by his team
If Chandler Parsons thought he might return to the Atlanta Hawks after his January 2020 car crash, he was unfortunately dead wrong. Less than a month later, ESPN columnist Adrian Wojnarowski reported on Twitter that the team "waiv[ed]" the athlete "to create [more] roster space." But another logical reason for the move was that Parsons was to be paid $25.1 million in the final year of his four-year contract — so with his playing future being extremely questionable then, the team cut its losses.
In the five games that Parsons played before the crash, he "averaged 2.8 points and 1.4 rebounds," as ClutchPoints reported. Of course, that's a long way from the 15.5 points per game he averaged in his second NBA season as a member of the Houston Rockets. As for the Hawks, they got players Clint Capela and Nene Hilario after waiving Parsons, and there didn't seem to be a whole lot of complaints about the decision from fans.
So here's something to think about: Even before Parsons began launching his potential NBA comeback, he was already without a team. Plus, there were sportswriters — like the one from ClutchPoints — who said that his career was probably done with anyway, which we imagine didn't provide a boost of confidence for Parsons, assuming he paid attention to that kind of chatter.
He called his recovery process 'intense'
Chandler Parsons was pretty tight-lipped about his recovery process after the January 2020 crash, but in November 2021, a TMZ reporter got him to speak briefly about it as he walked to his vehicle. Toward the end of the conversation, the bearded athlete talked about how he and his partner, Haylee Harrison, had welcomed a newborn daughter and expressed joy about it. But outside of that, Parsons had what could be called a somber tone throughout the chat, since it centered on whether or not he'd play in the NBA again.
"We'll see. Working out, staying in shape, but trying to still recover from the car crash," Parsons explained. "[The recovery process has] been pretty intense. Still kind of managing everything." He then refused to answer a question about the specifics of his condition, but admitted to hurting his "neck and shoulder," while saying he also "had a serious brain injury." From there, the former NBA star talked about having a desire to still play professional basketball, noting that he had no intention of being a 31-year-old retiree and calling the car crash itself "bad timing."
From the way it looked in the clip, the famed Floridian was understandably still recovering emotionally from the accident, as well as physically.
The NBA star finally called it quits
After two years of wondering if Chandler Parsons would return to the NBA, he answered that question in an Instagram post shared on January 18, 2022. Although the then-33-year-old didn't say the injuries from the aforementioned car crash made the athlete retire from the league, that could be considered a reasonable assumption.
"I've had so many ups and downs and thankful for every single one of them," Parsons wrote in part at the time. "My entire life all I wanted to be was an NBA player. I didn't even realize, or think what came with that, I just wanted to compete and play basketball at the highest level. I can proudly say, I did THAT! It wasn't perfect, but it was a blast." Parsons, then, would officially go down in the NBA stats book as playing 440 games, averaging 12.7 points and 4.5 rebounds, and having a little over two assists per game, as verified by NBA.com.
One of the more supportive people who responded to his Instagram message was fiancée Haylee Harrison, who sent her man some kind words. "I'm so proud of you and your journey, from start to finish," she wrote in part on her own Instagram post. "… I know you're going to do great things and I can't wait for everyone to see where you go next. Now let's go have more babies and travel the world!" In the comments section, Parsons replied alongside two heart emojis, "i love you baby. it was all for you."
Chandler Parsons received mean comments after retiring
Once Chandler Parsons announced his retirement in January 2022, his social media pages were flooded with plenty of responses — some of them kind, but others not so much. "My brother it was a pleasure!" read one of the nicer comments, which was written by fellow NBA player and University of Florida alum Vernon Macklin. Another person wrote they were going to "miss" seeing the now-retired athlete on the court. "Id say things really worked out nicely for you! Proud of u bud," a third follower shared, possibly bringing up that the basketball star is doing quite well financially. In fact, Celebrity Net Worth estimates his fortune at an impressive $60 million.
As for the meaner comments, some had to do with people thinking the 30-something-year-old had already retired since he hadn't played in quite some time. Bleacher Report shows that Parsons' last game in the NBA was back on December 27, 2019, which was more than two years before he announced his retirement. "He's retiring like somebody care," one person tweeted alongside crying-laughing and peace sign emojis. "What? He has been retired since he signed his last 2 contracts," a second individual wrote on Twitter.
Some might argue that snarky responses in this case aren't all that appropriate, considering the former NBA star's recovery from serious injuries, but given the circumstances and timeline of the announcement, it seems reasonable for fans to have thought Chandler Parsons had already entered retirement.