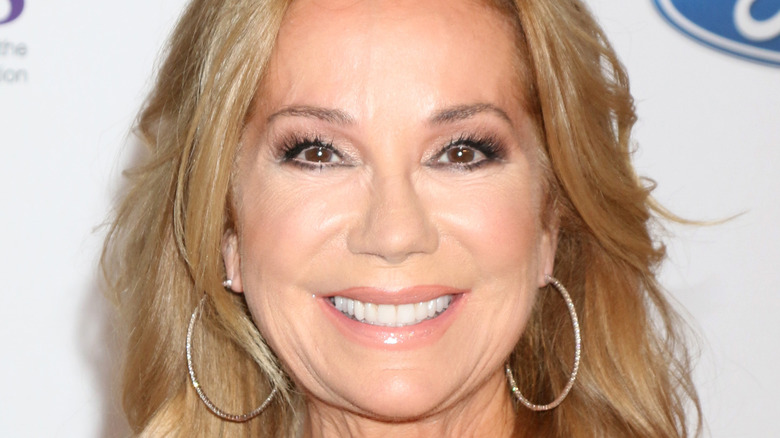 Kathie Lee Gifford is a household name known not just for her long stint on the talk show "Live! with Regis and Kathie Lee," but also for her acting career. Additionally, Gifford has an estimated net worth of $60 million, according to Celebrity Net Worth, but fame and fortune aren't everything. While Gifford may have an impressive career, she has also experienced immeasurable hardships throughout her life, both before she found fame and afterward.
Gifford's journey has not been an easy one, although those who are unfamiliar with her life story may think that she leads quite the charmed life. In addition to professional woes, Gifford has lost some of the most important people in her life, including her husband, Frank Gifford. So while Gifford's life may seem like one of glitz and glamour on the surface, if you peel back the layers it becomes clear that the truth about Gifford's life is far more tragic.
Kathie Lee Gifford's first marriage was "a real disappointment"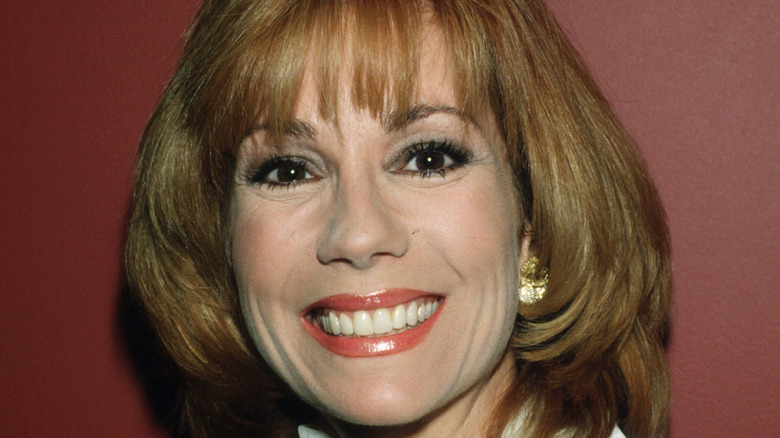 Kathie Lee Gifford married her first husband, Paul Johnson, in 1976 when she was 22 years old. As noted by Biography, Johnson owned a Christian music publishing company, and the couple became well known on the Christian television circuit. Unfortunately, their six-year marriage was an unhappy one. Gifford wrote in her autobiography, "I Can't Believe I Said That!" (via People) that she saw her husband as "the ultimate Christian catch," but that the two weren't well suited, calling their marriage "a real disappointment." Gifford wrote that, while there was a lack of chemistry in their relationship, their marriage "was polite."
It was Johnson who ended the marriage, moving out one day while Gifford was at work — and Gifford was crushed. While she admitted that their marriage "was not passionate," she had still committed herself to the union and hadn't considered the possibility of divorce. "At the end of my marriage, I felt like I had presented myself as a gift to my husband that had been given back," she revealed.
It was not the marriage Gifford had dreamed of, and it was not the ending she had expected, but Gifford later admitted that the divorce ended up being the best thing for her; it opened her up to more opportunities in her career and allowed her to find a more fulfilling relationship.
Kathie Lee Gifford is a survivor of assault
Like too many women in Hollywood, Kathie Lee Gifford was sexually harassed throughout her career. She told People in 1992 that one particularly troubling incident involved a famous man who she declined to name. Gifford was in a car with the man when he "suddenly grabbed my hand and forced it on his lap."
Gifford experienced other abuses in her life, writing in her 2020 memoir "It's Never Too Late: Make the Next Act of Your Life the Best Act of Your Life" that she is a survivor of sexual assault and date rape. Again, Gifford declined to provide many details, including names. She explained that she wasn't comfortable disclosing more information, but that she wanted people who had gone through the same thing to know that they weren't alone. "There's very, very few women in this industry who weren't subjected to that kind of behavior and that kind of abuse," she told Entertainment Tonight.
A sweatshop scandal created some bad headlines for Kathie Lee Gifford
Kathie Lee Gifford's career took a detour in 1996 when her self-named clothing line came under fire for using sweatshop labor. The New York Times noted at the time that Gifford wasn't aware of this, as the line was produced and sold by Walmart and she didn't directly oversee the manufacturing process. Still, the news that children working 20 hours a day were churning out garments with her name on them in the Global South did not go over well — especially because, as The Baltimore Sun wrote, part of the proceeds from the line were donated to programs helping children with AIDS and babies exposed to cocaine in the womb.
The scandal generated a lot of bad publicity for Gifford, but she took the hit as an opportunity to create change. While she did consider disassociating herself from the line, Gifford eventually decided that reforming the clothing industry and stamping out child labor was a better goal. "They told me that I had a unique opportunity to make a difference by using what happened to me to stop the horrible practices of some of these manufacturers," she explained to The New York Times.
Gifford later told the Observer that the money she made from the line was donated to children's charities. "I wasn't angry," she said of the negative headlines the incident attracted from the press. "I was frustrated."
Kathie Lee Gifford went through a devastating miscarriage
Motherhood transformed Kathie Lee Gifford's life. She had been through so much trauma in her life by the time she welcomed her first child, Cody, in 1990, but said on Today that becoming a mother showed her what a true "miracle" looks like. Sadly, there was more tragedy ahead. One of the most devastating moments in Gifford's life came at what should have been a happy time for her: In 1992, Gifford and her husband, Frank Gifford, were expecting their second baby when Gifford experienced a miscarriage.
Gifford was transparent about the grief of her loss, announcing it on "Live with Regis and Kathie Lee." People noted that Gifford was visibly distraught as she explained what had happened. "Until you experience [a miscarriage] yourself, you really don't understand the heartbreak of it," she confessed.
In spite of the heartbreak, Gifford remained optimistic. She said that she was still going to keep trying for another baby and her dream came true. Per the Chicago Tribune, Gifford welcomed her second child, Cassidy, in August 1993, a year after her miscarriage.
The death of Michael Kennedy brought more sorrow into Kathie Lee Gifford's life
Even the biggest fans of Kathie Lee Gifford may not be aware of the connection she and her family have with the famous Kennedy clan. The two families were connected through Gifford's stepdaughter, Vicki, who was married to Michael Kennedy, son of Robert F. Kennedy and nephew of former President John F. Kennedy. Per the Associated Press, the couple had three children together.
Vicki and Michael had ended their marriage shortly before he died in a skiing accident in 1997, following the news that he'd had an affair with their children's babysitter, but Vicki was still in love with him and devastated by his death. "She had loved Michael since she was 15 years old, and although he had betrayed her and left her emotionally destroyed, she had never wished him harm," Gifford wrote in "It's Never Too Late" (via People).
Gifford was there not only for her stepdaughter but also for Michael's mother, Ethel Kennedy. Gifford was at the hospital with Vicki after Michael was pronounced dead and stayed by Ethel's side as she mourned her son. "I quietly walked over to her and embraced her and whispered how sorry I was," she wrote, adding that she comforted the grieving mother with words from the Bible.
Kathie Lee Gifford has frequently found herself the target of mean-spirited jokes
Kathie Lee Gifford is a popular figure, but being in the public eye has also made her the target of some less-than-complimentary people. Gifford has often found herself the butt of cruel jokes, such as from radio personality Howard Stern; the shock jock directed mean-spirited commentary towards her for years on the air. According to Us Weekly, it was "a one-sided feud." Gifford said on Watch What Happens Live With Andy Cohen that she didn't even meet Stern until 2012, when she confronted him at the Today show studio. Gifford said Stern ended up apologizing, telling her, "I used a lot of language but I'm so sorry. … You just pissed me off because you were everything I wasn't."
Stern isn't the only one who has targeted Gifford over the years. The Washington Post wrote in 2019 that she has long been targeted by comedians, including being impersonated by Kristen Wiig on "Saturday Night Live." The vitriol made its way to social media, too; The New York Times reported in 2008 that Facebook had at least three groups dedicated to loathing Gifford at the time.
Kathie Lee Gifford had to deal with a cheating scandal involving her husband
Kathie Lee Gifford found love with her second husband, retired NFL player and sportscaster Frank Gifford. Frank was 23 years Kathie Lee's senior, and in him she found everything that had been missing in her first marriage. "Our almost 30-year marriage was a real love affair and a true marriage in every sense of the word, so God redeemed," she told People.
Things turned rocky for the couple in 1997, though, 11 years into their marriage. Frank was found cheating on his wife with another woman, and a tabloid broke the news to the world, sending Kathie Lee's life into another scandal. Making matters even worse was that the sweatshop scandal had just died down. Kathie Lee found it difficult to cope, saying, "Nobody knows what I went through. You feel hopeless and you don't want to live anymore."
Kathie Lee thought about leaving Frank, but the couple eventually pulled through with the help of therapy. Forgiveness took a lot of work, but Kathie Lee finally was able to reconcile with Frank for the sake of their children. "For every woman who's ever been betrayed … by someone she loves, you show them there is life after it," she told "20/20 Downtown" in 2000 (via the New York Post). "There is life after it."
This is the heartbreaking reason she left Live With Regis and Kathie Lee
Kathie Lee Gifford became a morning TV staple as one of the stars of "Live With Regis and Kathie Lee," which she co-hosted with Regis Philbin from 1985 to 2000. Gifford shocked the nation when she announced that she would be leaving the show in July 2000 after her contract expired. While she could have no doubt renewed that contract, Gifford claimed at the time that she was leaving the long-running show in order to focus on her music and her family.
While this was true, it wasn't the whole story. Biography noted that Gifford later revealed that her father, Aaron Epstein, was dying and that she wanted to spend more time with him as his health declined. Gifford's father died in November 2002 of Lewy Body Dementia at the age of 78. Gifford had a close relationship with her dad and was naturally devastated by his death. "He was the most ethical person I've ever met in my life," Gifford said of her father on Today in 2015. "He had more integrity in his baby finger than most people have in a lifetime."
The death of Kathie Lee Gifford's husband left her lonely
The ups and downs of Kathie Lee Gifford's marriage were difficult, but the couple came out of it stronger than ever. To that end, Kathie Lee was deeply in love with her husband and was heartbroken when Frank Gifford died in 2015. Adding to the trauma was the fact that it was Kathie Lee who found Frank's body following his unexpected death from chronic traumatic encephalopathy at the age of 84 (via NBC News). Kathie Lee told The Hollywood Reporter that she always expected to outlive her husband. Still, she was grateful for the time they did have together. "Well, the Lord gave me 29 years with him and two of the most incredible kids you'll ever me," she mused.
Years after Frank's death, Kathie Lee continued to mourn. "You battle different things as you get older, especially as a widow, you battle the loneliness when you lose a spouse," she told AARP in 2019 (via Today). Kathie Lee also revealed that she had a hard time moving on, saying that she was "dealing with crippling loneliness." She added that she forced herself to "make new memories," saying that if people who have experienced a loss don't do this, "the old [memories] are going to kill you."
Losing her mother had a big impact on Kathie Lee Gifford
In 2017, just two years after the death of her husband, Kathie Lee Gifford went through another major loss when her mother, Joan Epstein, died at the age of 87. "My precious mother, JOANNIE went home to JESUS & my DADDY this morning," announced Gifford on Twitter. "We praise God for His promise of eternal life & we thank God for her."
Gifford and her mother had an especially close bond. She revealed on Today (via Page Six) that the two spoke on the phone every morning, and that Gifford told her mother a joke every single day. Epstein frequently appeared on Today, where it became apparent that Gifford had inherited her sense of humor from her mother.
In 2016, Gifford spoke at length about her special connection to her mother on Today, calling her "the sunniest person I know." Gifford added that her mother was always incredibly supportive of her, especially when it came to her career — something that Gifford has tried to do for her own kids. "She gave me wings," Gifford declared.